Racing
Formula 1's Las Vegas Fever Dream Was An Improbable Triumph
9:31 AM EST on November 19, 2023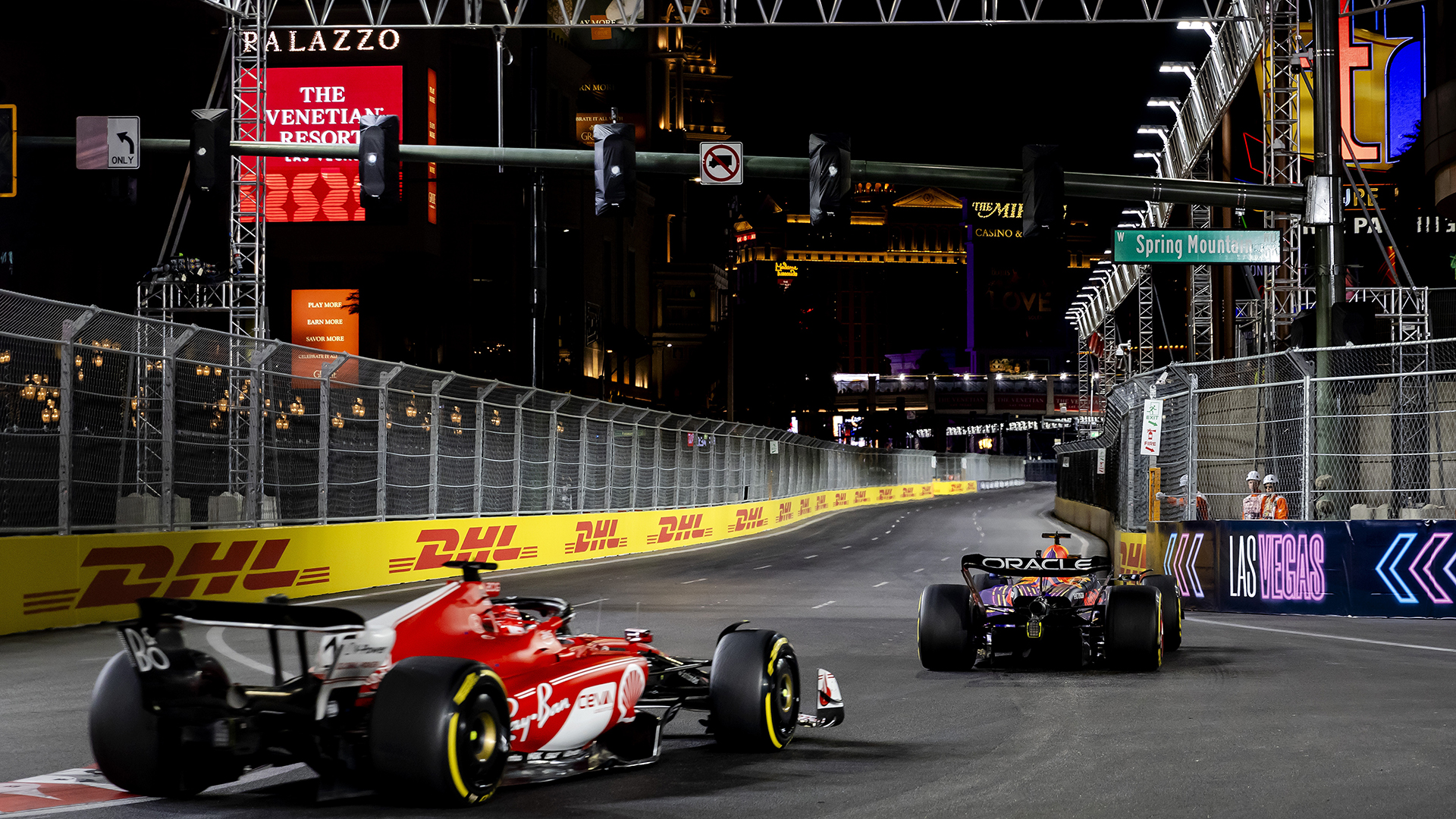 To say my expectations for the Las Vegas Grand Prix were low is an understatement. Ever since it became clear that Formula 1 had not planned for the cold desert weather that descended upon Vegas as the weekend neared, I figured the actual race would be a catastrophe of cold tires and safety cars. In that sense, I was right, because that's how the Las Vegas Grand Prix started. What I didn't expect, and what maybe no one could have expected after Thursday night's free-practice debacle, was that the race would overcome all obstacles, natural and man-made alike, to emerge as the best race of what has been a dull 2023 season.
Where to even begin? Let's start on turn one of the very first lap, for the sake of chronology. Both Charles Leclerc, starting on pole after a blistering qualifying session on Friday night, and Max Verstappen got off the line quickly, but Verstappen forced Leclerc off the track on turn one, to the outrage of the Ferrari driver.
After a long delay, during which Verstappen could have handed the position back, the FIA stewards gave the world champion a five-second penalty. However, by not giving the position back, Verstappen was well placed to try to build a big enough lead to eliminate the penalty's drawback. He failed to do so, though. Leclerc kept up with the Dutch race leader, and even managed to pass him right before Verstappen pitted for the first time. All of this, and specifically the Ferrari's pace, would become important a bit later in the race.
First, there would be safety cars. Two early ones, to be exact. A virtual safety car was deployed on lap one, as five different cars collided with each other behind the battle for first place. Lewis Hamilton, Valterri Bottas, Fernando Alonso, Carlos Sainz, and Sergio Pérez were all involved. That both Sainz and Alonso got spun completely around didn't really ruin their races—Sainz finished sixth, and Alonso finished ninth—but it did slow everyone down while marshals cleaned up the debris on the track. On lap four, those same marshals would be called into action again during a full-on safety car, after Lando Norris completely lost control of his car, slamming into the wall and then flying into the run-off, where he again collided with one of the barricades.
(Norris retired from the race immediately. After a visit to the medical center, he was taken to a hospital as a precautionary measure; all reports seem to indicate that he will be fine, but it was scary nonetheless.)
That safety car bunched up the field again, which was an interesting development on this particular track. The Las Vegas circuit, taking place in and around the Strip, is a high-speed circuit with two powerful DRS zones, particularly the second one on the Strip straight. This meant that the field didn't really separate all that much, leading to a lot of overtakes up and down the field, and giving drivers a chance to really propel themselves forward with smart battery management. I was particularly impressed with, of all people, Lance Stroll, who managed to climb from a 19th-place start all the way to a fifth-place finish.
This also meant that the battle for first was less clear cut than one might've guessed, given the Red Bull's straight line speed and Verstappen's general dominance this season. In fact, on lap 22, after both Verstappen and Leclerc had pitted, it would be Pérez that would be leading the race, and by a wide margin. The Mexican driver was involved in the turn-one disaster on the first lap, but that early pit stop to put on a new front wing and the hard tires, the much better compound on the night, allowed him to roar up the field, and he eventually passed Leclerc when the Ferrari driver took his pit stop.
However, there would be one more safety car to mix things up, and it couldn't have been worse for Leclerc. Pérez had to pit one more time, because his hard tires would not have survived to the end of the race; as long as Leclerc stayed within 21 seconds, give or take, from Pérez, he would be ahead once the Red Bull driver pitted a second time. Unfortunately, Verstappen made contact with George Russell when the latter cut off the former's space on an attempted overtake on lap 27, and pieces of both cars littered the track.
That brought out the second full safety car, allowing both Pérez and Verstappen a second pit stop at a cheaper price: A regular pit stop on this track cost about 21 seconds, but under the safety car, it wound up being about 15 seconds.
Because of that, while Leclerc was first after the safety car, Pérez was able to put on fresher tires while still catching up to Leclerc under the safety car, with Verstappen ending up in fifth. As Verstappen often does, he quickly moved his way up the field to third, leading to a hell of a finish between the two Red Bulls and the Ferrari. Essentially, Leclerc was the loneliest man in the world against a coordinated assault, one that eventually paid off for Verstappen. Leclerc had to use a lot of his defense to try to fend off Pérez, but once Verstappen passed his teammate, it was just a matter of time before he also got Leclerc; the Ferrari was never going to win a one-versus-one race against a Red Bull with fresher tires, and so Verstappen passed Leclerc on lap 37. He would never trail again.
That wasn't the end of the drama, though. Pérez passed Leclerc on lap 43 after a mistake by the Ferrari driver, but Pérez's Red Bull was set up differently than Verstappen's car, and Leclerc's for that matter. While both other drives ran smaller rear wings to maximize top speed at the cost of turning agility and downforce, Pérez opted for a bigger wing. This made Leclerc faster on the long, long Strip straight, which kept him within striking distance of Pérez for the last seven laps. Nevertheless, he couldn't quite catch Pérez until lap 49, when he finally got close enough to spook Red Bull.
Though Verstappen's team told him to pare his four-second lead down to a two-second gap on Pérez—to try to give Pérez a slipstream to help him defend—it wasn't enough. On the final lap of the race, during the final trip down that long straightaway, Leclerc got enough of a boost from both DRS and his faster car to get right next to Pérez, and an excellent inside divebomb on turn 14 allowed the Monegasque driver to slip by Pérez and hold on to second place right into the checkered flag.
So, yes, sure, Max Verstappen won his 18th race of the year, but it was as hard a win as any he's had all season. The action between the three cars on the podium was so good and so intense that it helped overshadow some of the terrible aspects of this whole race weekend. The cold weather definitely played a factor—it seemed like every driver was complaining about tire temperatures, particularly during the safety car laps that slowed all of the heating down—and Leclerc will feel hard done by the second full safety car; without that, he probably wins this race on merit.
It's hard to say exactly how much the decision to hold a race on a cold desert night affected the result, but the spectacle provided by the track layout and that long straightaway mostly outweighed the negatives, even if the track's visuals were a jarring mix of advertisements, the obnoxious Sphere's hyper-luminescence, and the garish street track walls that made this look less like Vegas and more like the Singapore circuit at the track level. (This is not a compliment.) There will have to be a lot of work done ahead of next year's race to not make this whole endeavor an embarrassment, but if the race action is as good as it was for the debut edition of this ill-advised Grand Prix, it might not matter one bit to anyone watching.
Stay in touch
Sign up for our free newsletter