College Basketball
Everything You Need To Know About Maryland–West Virginia
11:48 AM EDT on March 16, 2023
We're right on the cusp of March Madness—that beautiful time of year when a bunch of high-stakes, single-elimination basketball games overlap and blur into each other until we have a whole long weekend that's nothing but last-second prayers and shocking upsets. It will hopefully be very wild and very fun. But before we get into the thick of it, there will be a brief period when just one opening game takes up all of your attention.
Maryland vs. West Virginia, the 8-9 matchup in the men's South region, has the pleasure of coming before the 95 other full-scale tournament games we'll experience between now and the end of Monday. For about 25 minutes today, they will be the only action on your screen. And since many people checking in just for the tourney have probably never seen either squad in action, I feel it is my duty to provide you with a few pieces of context. While everyone else skipping work to watch at the bar will be like, "Duhhh, is that there school named after the John Denver song?" you will be armed with knowledge. Here goes:
Maryland finished sixth in the Big Ten. They're 21-12, but they're stumbling into this tournament with losses in three of their last four.

The Terps have an extremely experienced roster, basically playing no freshmen and just one sophomore. Per the Washington Post, the eight men in their rotation have logged something like 21,000 minutes in D-I.

Their top player is actually new to the team this year, however. Jahmir Young, a transfer from Charlotte, takes a ton of shots as a point guard and gets to the line constantly. In addition to leading the squad in points he's also tops in assists and steals.

Maryland is a pretty common tournament presence but hasn't had a lot of success lately. Since 2003, they've only made it past the first weekend once, and that was seven years ago.

By the way, they're not coached by Mark Turgeon anymore. Kevin Willard came from Seton Hall to take over the job at the end of last season.

Maryland does actually have the most recent basketball titles, men's and women's, of any team in the Big Ten, except theirs shouldn't count because they were in the ACC at the time.

West Virginia was the eighth seed out of 10 at last weekend's Big 12 tournament, which sounds bad if you don't know that the Big 12 went supernova this year. Their 19-14 record is probably the most impressive 19-14 record you'll ever see.

These schools are geographically close to to each other, and they had a regular series on-and-off last century. But they've only met twice since 1992, with one of them a WVU win in the 2015 round of 32.

WVU still has Bob Huggins, who's been around since 2007, when this school was still in the Big East. His postseason record has slipped a bit, but he was very successful in the 2010s, with a Final Four showing and three other Sweet Sixteen visits.

The Mountaineers aren't anywhere near as heavy on the full-court press as they used to be, but they're still an aggressive team that shoots a ton of free throws, attacks the offensive glass, and forces turnovers.

They're also an extraordinarily senior-focused group, led by South Carolina transfer Erik Stevenson at the two-guard. Stevenson took 36.8 percent of his team's shots when he was on the floor in Big 12 games—more than anyone else in the conference.

Maryland's "Terrapin" mascot comes from the diamondback terrapin, which is found all around the Chesapeake Bay. It's even the official reptile of the state.
The "Mountaineer" nickname for West Virginia is probably self-explanatory, but they also have a state reptile! It's the timber rattlesnake.
In addition to other symbols like the state fish (brook trout) and state flower (Rhododendron), the Mountain State also has a state fossil: Megalonyx jeffersonii.
More comfortably known as Jefferson's ground sloth, Megalonyx was an ice-age era relative of our modern sloth, except, as the name implies, it spent all of its time on the ground instead of in trees.
The other part of its name comes from Thomas Jefferson, who presented a scientific paper about Megalonyx in 1797 after Colonel John Stuart sent him some fossils recovered from a cave in what is now West Virginia.
Jefferson originally thought the bones were from an animal "of the lion kind," but the feet of Megalonyx in particular indicate that it was something much goofier and more awkward. Jefferson revised his findings after reading about a similar skeleton, identified as a sloth relative, in a magazine.
Megalonyx apparently covered a pretty wide range of North and Central America, likely moving based on where they could find cold weather. Their remains have been found in Alaska and the Yukon, but also Colorado, western Mexico, and the Midwest.
Oh, and Megalonyx was also super big! Like, up to three meters tall! Look at the size of this guy!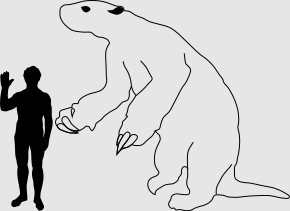 But despite weighing like 2,000 pounds, Megalonyx is believed to have been a plant eater, based on the shape of its teeth. Their teeth were softer than those of other mammals, so to compensate they grew throughout a Megalonyx's life.
You gotta check out this illustration of Megalonyx. It's awesome.

Other, more distant relatives of this creature include anteaters and armadillos.

Now that I mention it, a prehistoric version of the armadillo is one of my favorite fossils at the American Museum of Natural History. It's called a Glyptodon, which is Greek for "grooved or carved tooth"
Glyptodon had this absolutely gigantic shell, with a tail that they could fight with, and some tiny little limbs, too. Early humans may have even used the shell for shelter. Wouldn't you want to live in a Glyptodon shell? Here's a photo from the museum, so you can decide: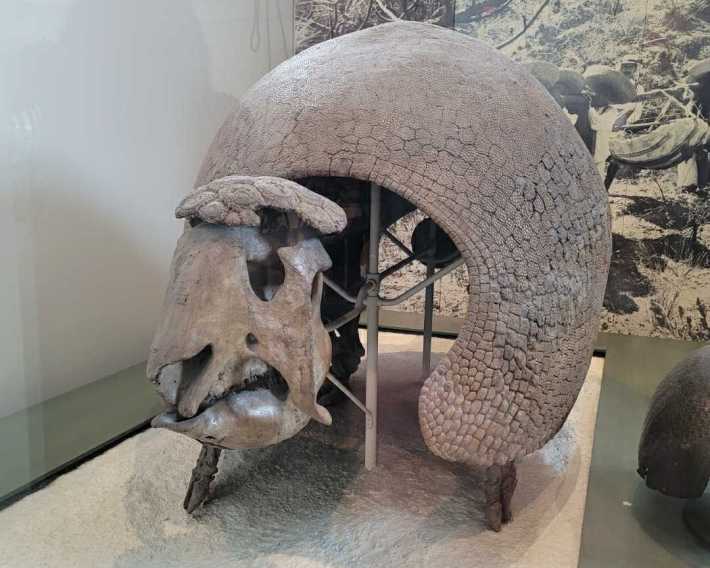 These guys evolved in what's now South America. During the Great American Interchange, their relatives the glyptodonts made it up to the southern U.S.

They could really only see when it was dark, because they were colorblind and sensitive to bright lights, but for a burrowing animal at the bottom of the rainforest that wouldn't necessarily be too much of a hindrance.

No Division I school uses Glyptodon as its mascot. But it could happen!
Maryland's state fossil is the Ecphora gardnerae gardnerae (Wilson). It's an extinct snail's shell.
There. That's everything you need to know about Maryland–West Virginia. You're welcome!
Stay in touch
Sign up for our free newsletter