Pro Wrestling
Even At Half Speed, Kazuchika Okada Is The Main Event
9:04 AM EDT on October 26, 2023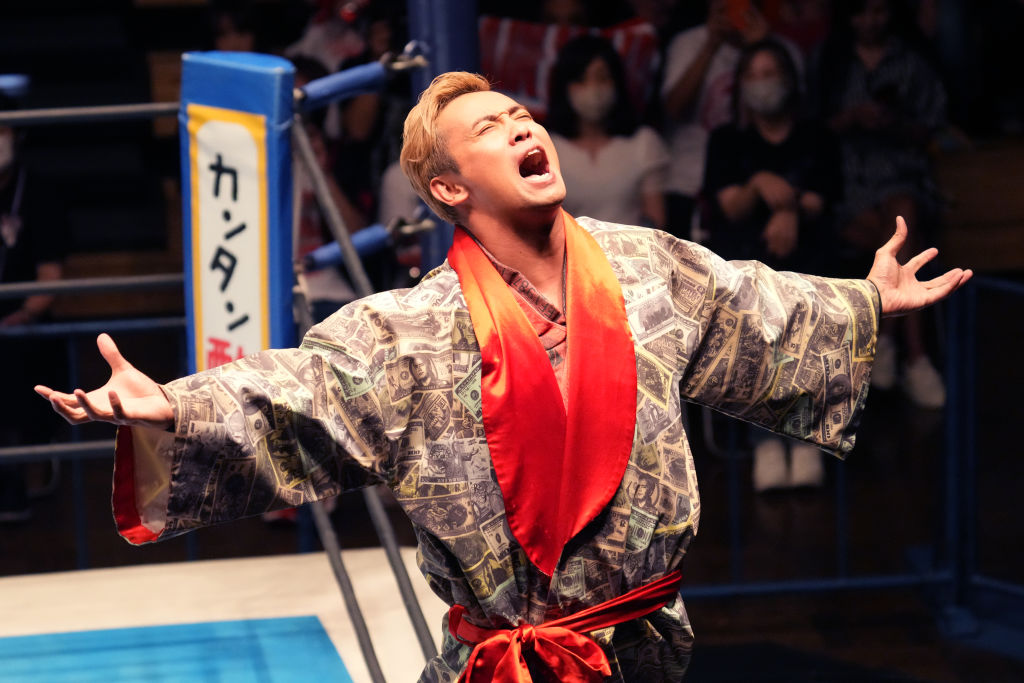 PHILADELPHIA — The first time I became aware of Kazuchika Okada, he was holding a giant Final Fantasy sword and standing next to an animatronic dinosaur. It was 2014, and Okada's entrance at New Japan Pro Wrestling's The New Beginning in Osaka went mega-viral on the wrestling internet. It's not hard to see why:
It would take me almost a year to actually watch an Okada match properly; his 2015 Wrestle Kingdom loss to Hiroshi Tanahashi was a perfect capper to my first NJPW show. Speaking anecdotally, that show got a lot of my wrestling pals into Japanese wrestling, and it's not hard to see why when looking at Okada. Standing 6-foot-3, the man looks like a golden god, even with his slightly doofy blonde dye job. In the ring, Okada has few contemporary peers, and he stands as one of the greatest wrestlers of all time. His sense of match pacing is flawless; to give one example, he doesn't deploy his signature dropkick until a match is about to enter its climax, and it always gets the adrenaline flowing when he does. It doesn't hurt that he gets extreme altitude on what is a basic wrestling move:
Since that 2014 entrance and watching him properly in 2015, I have followed Okada's career closely. I didn't like him at first, and that was on purpose; he played a good guy, but he was so perfect that it felt wrong to root for him. That started changing during his legendary four-match series with Kenny Omega in 2017 and 2018. While I rooted for Omega to beat Okada in each of the matches, it was undeniable that the Japanese megastar was not just great. He was legendary.
The first time I managed to see Okada live, I was a bit disappointed. It wasn't his fault, really. This was at the 2019 Madison Square Garden NJPW/Ring of Honor show, and in the main event, Okada won back the world title from Jay White, a wrestler I've never managed to like, despite his career-best work currently happening in All Elite Wrestling. That match wasn't what I would call an Okada classic. It was fine, even good, but I had just seen Kota Ibushi and Tetsuya Naito lay it all on the line for the promotion's secondary title, the IWGP Intercontinental Championship, and so I was pretty exhausted. Still, though, I got to see Okada not just wrestle in person, but win the wrestling title with the best lineage for great matches.
Seeing Okada wrestle in the United States is a treat. While the Japanese fans love him to death, there's something special about his stateside apperances, because they are so rare. American fans tend to treat Okada with a reverence held for legends of days gone, like Sting. I do, too. That's why I rushed to buy tickets for AEW Dynamite on Wednesday night here in Philadelphia as soon as the promotion, somewhat abruptly, announced on Saturday that Okada would show up in a tag match, teaming with Orange Cassidy to take on the Blackpool Combat Club's Claudio Castagnoli and Bryan Danielson, the latter of which Okada had a banger of a match with at Forbidden Door—AEW and NJPW's now yearly joint show—back in June.
The opportunity to see Okada in person is too good to pass up, and I was curious as to what he would look like on a weekly television show with very little build. The answer is he looked great. These types of tag-team matches are common in New Japan, with stars teaming up to bring some name recognition to random shows without exerting themselves too much before the physically grueling showdowns that tend to happen on NJPW's bigger events. Though usually those NJPW matches tend to have even more people involved—that company loves 8- and 10-man tag matches—the vibe of Wednesday's Dynamite main event was similar.
Aside from Orange Cassidy, who has been on a heater of a run for the last year-plus, none of the competitors really put their whole effort into this. Sure, there were some great spots, such as Cassidy and Castagnoli reversing each other over and over before the latter hit his trademark swing maneuver on the former, but this is what it was on paper: A weekly show's match, with just four days between the announcement and the execution. Okada didn't even wrestle all that much; given that he and Cassidy were playing the good guys, Cassidy played the babyface-in-peril, getting beaten down by Danielson and Castagnoli for most of the match.
When Okada tagged in, though, I and everyone around me got on their feet. There are limited moments of Okada's greatness to be enjoyed in person, and no one wanted to miss a beat. He wasn't at his all-time best, because he simply didn't need to be. Instead, he hit all of his signature spots, to great cheers each time. He hit his elbow drop from the top rope; he hit his dropkick at the perfect moment; he hit his signature pose, only to find himself enveloped in a hug by Cassidy, a nod to the latter's Best Friends stable, which loves to hug: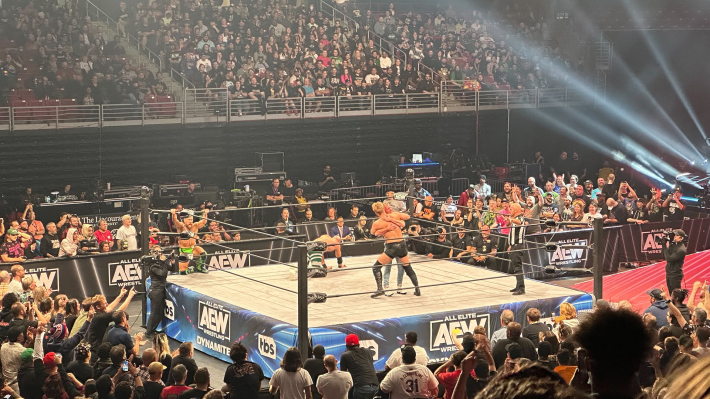 And Okada hit the Rainmaker, his finisher. On paper, this is one of the simpler high-profile moves in top-end wrestling: He grabs a wrestler by the hand from behind, spins the opponent around, and then pulls that opponent towards him for a clothesline. The Rainmaker is a key moment in every Okada match, because it tends not to win on the first try; instead, it's usually the sign that the match will end soon, but not yet. On Wednesday, that was the case: He hit the clothesline on Danielson, but when he went to hit it on Castagnoli, the Swiss giant dodged it in order to set up the finish (he tossed Cassidy into the air and hit him with a gnarly uppercut).
This is the thing with Okada, though: Even when he's just going through the motions, those motions look better than 99.9 percent of the wrestlers who have ever stepped foot in a ring. The man just understands how to give the fans what they want, whether it's an all-time classic match—to this day, I consider his match against Kenny Omega at Wrestle Kingdom in 2017 the best match I've ever seen—or just the greatest hits.
If the Philadelphia crowd is to be believed, all they needed was the latter, and Okada delivered. He's about to turn 36 years old in November, so there's not too much time to appreciate him at the top of his game, but for one random night in AEW, Okada showed up to give the fans what they didn't even know to want. By the end of the main event, the only disappointment was that we all wanted more. Wrestling fans are greedy that way, but Okada has never let us down. He's physically incapable, even at his most formulaic, of being anything less than the very best of professional wrestling.
Stay in touch
Sign up for our free newsletter