MLB
Did The Twins Transfer Their Demonic Energy To The Blue Jays?
10:57 AM EDT on October 5, 2023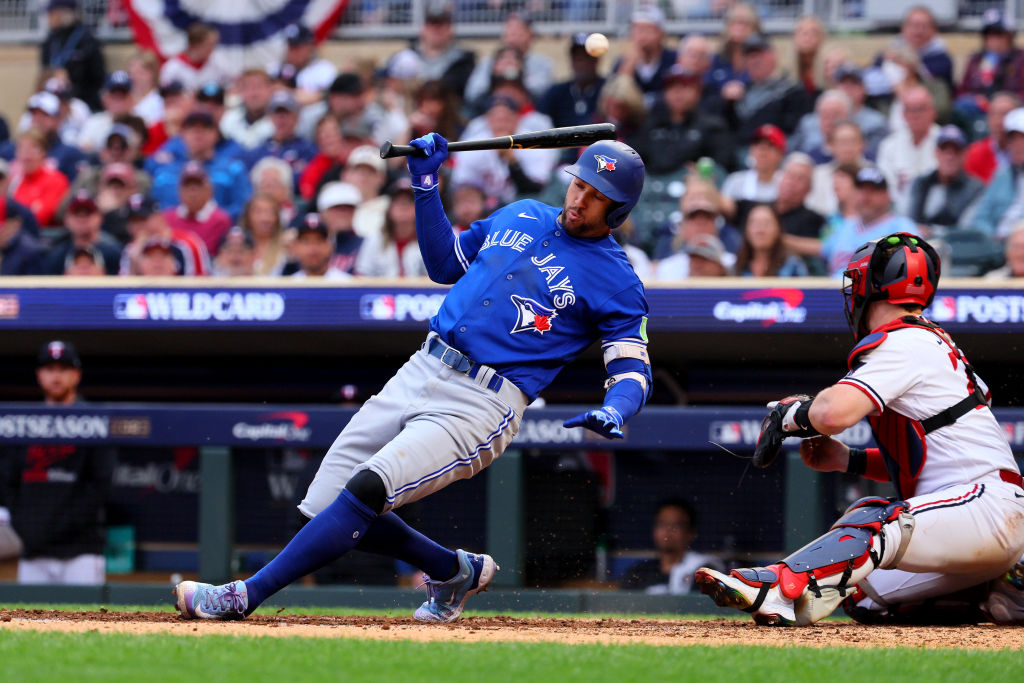 A fun and horrifying defining feature of postseason baseball is that it's a zero-sum game. In the regular season, all losses do not necessarily have the same immediate impact. If the top two teams in a division lose on the same day, for example, it's basically a wash. Or if a team in a comfy wild card spot has a bad afternoon, they can still sleep soundly that night. But in the playoffs, the threat of pain is unavoidable. A good day will always, always get you one step closer to your ultimate goal, and a defeat can only make your path more frustrating. One team gives, another team takes. Or maybe: One team steals, another team cries.
The ones in tears at this moment are the Toronto Blue Jays, who, after the Minnesota Twins used them to snap their mile-long streak of playoff misery and advance to the next round, have slumped into the label of baseball's most disappointing underachievers. With the Twins' 18-game postseason win drought now over, the albatross has been placed on the necks of the Rays and the Jays, who have each dropped seven straight. But while the Rays can at least take solace in their 2020 pennant as clear evidence of success, plus a win as recently as 2021, Canada's only team has to go all the way back to 2016, when they lost in the ALCS to Cleveland.
2016 feels like forever ago, in part because every single event in human history has happened three times over since then, but also because the Blue Jays have completely shifted eras. The mid 2010s Jays were, briefly, a beautifully feisty bunch, who got into scraps with the Rangers and produced a couple of the most indelible dingers in playoff history. But they disappeared from view almost as quickly as they burst onto the scene. In 2019, however, they called up three players familiar to baseball fans from basically the day they were born: Cavan Biggio, Bo Bichette, and Vlad Guerrero Jr. All of them showed early flashes of brilliance. Vlad produced a bombastic season in 2021. He and Bo evolved into the heart of the lineup. They've felt all along like gifts for the fanbase.
The Jays made it back to the 2020 version of the playoffs after an impossible season in which they couldn't even play in Toronto, but were quickly dismissed 2-0 by the Rays. In 2021, still dealing with complicated travel issues, Toronto won 91 games but couldn't sneak back into the postseason field. In 2022, with the home atmosphere finally resembling something more familiar, they won 92 but got broomed by the damn Mariners, who erased a tiny bit of their own troubles in doing so. And now, after a season where they had to play third banana all year to the Orioles and Rays in the AL East, and were probably the least-noticed team in that whole division, the Jays left the Twin Cities empty-handed, as the game's leading sweepees transformed into the sweepers. Once a prime bandwagon candidate for those who wanted to see some big boppers beat up on the Yankees and Red Sox, the Blue Jays of today are just barely good enough to notice, and therefore just barely good enough to prominently fail. You'd have been better off latching onto the Rangers, or the Phillies.
There are actual problems facing the Jays right now. They have some of the league's toughest regular season competition; their failure to progress points to some issues in the player development department; the guys seem upset with manager John Schneider for his lack of faith in Game 2 starter José Berríos; and they only have two more guaranteed seasons of Guerrero and Bichette. But they're also now forced to deal with an even scarier, harder-to-catch monster: malaise. There's nothing more nauseating than getting up for a playoff run and then watching it slip away before it even really begins, and there's nothing more miserable than a long winter in which any good memories of the regular season have been snuffed out by a barren playoffs. Scratch that, actually. There is something: Feeling it happen year after year after year.
The Twins' 18-game run of futility might not ever be matched. But as long as there's baseball, there will be teams that raise your hopes and then bum you out. For now, that's Toronto. And it'll be at least a whole other grind of a season before they can even try to pass their burden on to someone else.
Stay in touch
Sign up for our free newsletter