MLB
The Twins Regained Some Control Over Their Existence
11:43 AM EDT on October 4, 2023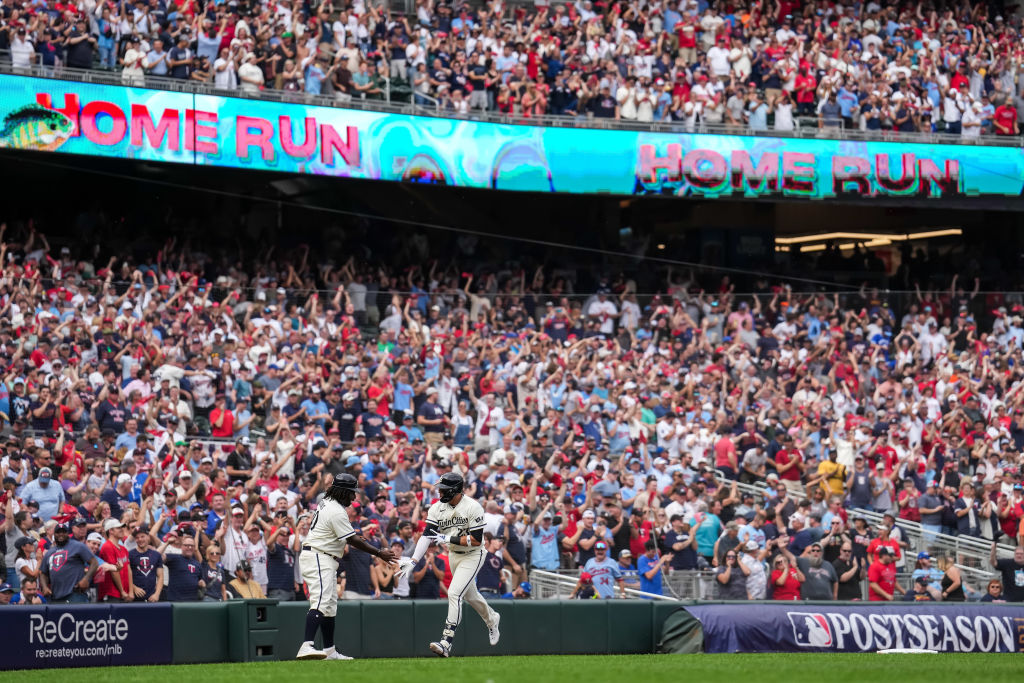 A team doesn't lose 18 playoff games in a row by being bad—that's not how it works. But a team also doesn't lose 18 playoff games in a row simply by being unlucky. The only way you could really explain what's happened to the Minnesota Twins over the last two decades is that they were subject to some sort of divine hatred that we are all fortunate not to fully comprehend. But one of the most painful and blood-curdling streaks in sports history has now come to a merciful, feel-good conclusion. In front of an ear-splitting home crowd on Tuesday afternoon, the Twins built a lead over the Toronto Blue Jays and then clung to it like their salvation depended on it, because it did.
Johan Santana started the last game the Twins won in the playoffs, beating Mike Mussina with seven innings of shutout ball. And even though Pablo López wasn't quite Cy Young–caliber this season, and he was pitching in front of a crowd that carried a severe risk of spontaneous combustion, he set a steady rhythm early. Working with a 2-0 lead provided by a first-inning Royce Lewis dong, he kept the Jays hitless through three, then got some more breathing room when Lewis stepped up to the plate and blasted another drive where the fielders couldn't reach.
Did a 3-0 lead with all that game left to play feel safe? Absolutely not; we're talking about the Twins in the playoffs. But they kept playing crisp baseball. Lewis, obviously, made himself an instant legend, but Minnesota's most famous player, Carlos Correa, contributed in a gigantic way on defense in the top of the fourth. The Jays got two men on with a single and an HBP, and then Kevin Kiermaier hit a ball basically straight down. Twins third baseman Jorge Polanco ran toward it and couldn't figure out where to put his glove on the vertical axis. That mistake brought the ball into no man's land and prompted Bo Bichette to sprint home. But Correa, from short, charged the ball, barehanded it, and then quickly pegged it to his catcher, who tagged Bichette on the leg before he could touch the plate with his hand.
The Twins eventually handed off a 3-1 game to their bullpen, which might have made their fans a little woozy. Or a lot woozy. Their 18 straight losses have been somewhat light on late-game dramatics, but those with long memories know veteran closer Joe Nathan let leads slip through his grasp in 2004 and 2009. However, St. Paul's own Louie Varland bailed out López with a quick fly ball to end the sixth. The 36-year-old Caleb Thielbar, who noted in the postgame that he was a high school senior in Randolph, Minnesota when the Twins last won a playoff contest, got 'em 1-2-3 in the seventh. And then it was time to hold your breath.
In the top of the eighth, Vlad Guerrero Jr. led off with a hard double to the wall. But Griffin Jax dug in his cleats and produced a spectacularly efficient escape with his stealthy sweeper. Bichette couldn't lock onto it, striking out on a trio of pitches even when the last one floated way outside. Cavan Biggio received all three in the strike zone at under 90 mph, but he still didn't make contact. Alejandro Kirk came up determined to hit something, but all he could do was send a grounder to first for the final out. Jhoan Duran still had three more to collect in the top of the ninth, and he briefly put the celebrations on hold with a two-out walk. But a diving stop by Donovan Solano on a ball smoked by George Springer disappeared all of Minnesota's anxiety, at least for the rest of the night.
"The fans have been believing in us for so long," López said afterward. "It was just a matter of believing in ourselves and coming to the game, playing loose, understanding that we didn't need to change who we were or our approach, and just go out and have fun."
Finding joy in the privilege of postseason pressure was a common theme on the roster of a franchise that's historically wilted under it. "This atmosphere, truly, like when I tell you it was electric, it brought that electricity into my body," Lewis said. "I felt different. My heart was beating—it was the most nervous game, exciting game I've ever played in my life. It was so much fun."
It's a small thing, now, to win a playoff game in baseball. Twelve teams get a chance to do it every year, and the Twins would have to pull this off a dozen more times in order to be champs. There's a real chance they end up like this year's Toronto Maple Leafs, shedding the label of choke artists just before being sent home unceremoniously. But there's still a transformative effect from the victory. In Game 1, every Twins at-bat, every pitch they threw, was weighed down by two decades of history—the kind of weight that makes a fan or maybe even a player feel like they've committed some sin along the way. But thanks to a few dingers and some great bullpen work, it's gone. Poof. The streak exists only in the past tense. The Twins are no longer a franchise that's cursed, or uniquely tortured. Now they're just like every other team vying for a title.
Stay in touch
Sign up for our free newsletter