MLB
The Rays Are Masters Of Being Forgotten
9:30 AM EDT on October 5, 2023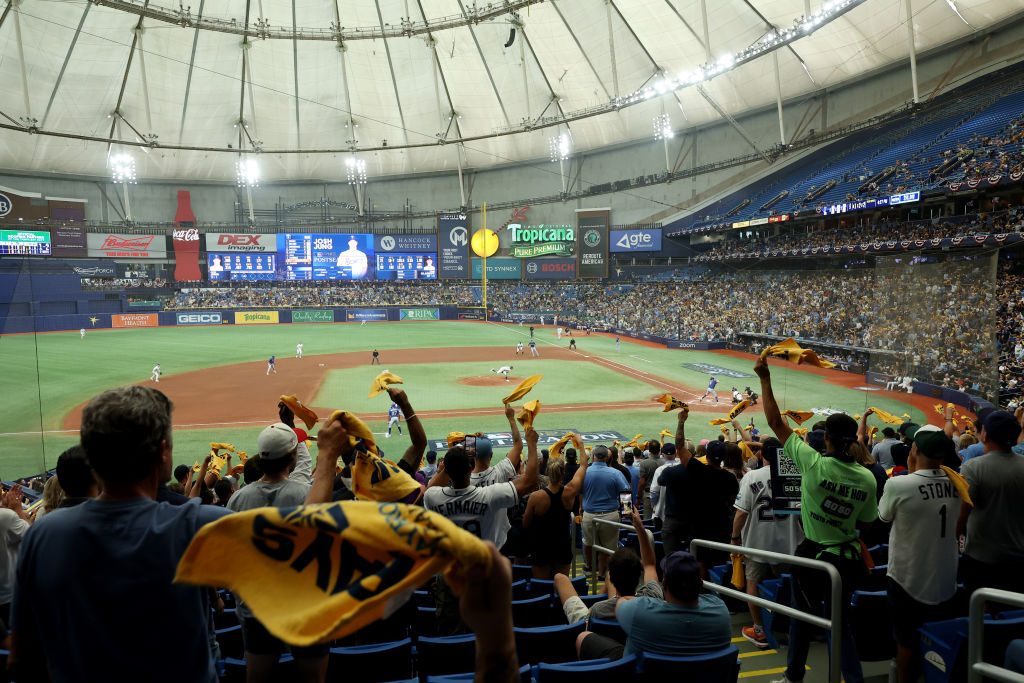 Days like Wednesday were made for Tim Kurkjian yarns, even if yesterday's fastball was the oft-told, six-pack-with-ice-in-Bruce Bochy's-batting-helmet tale beat writers have been weaned on for decades. Bochy has now advanced in the playoffs with his third team, the Texas Rangers, so he has a reason to have a massive head (size 8 1/8 by his telling, though we suspect me may be fudging a fraction or so), but his nickname, "Anthropologist's Delight," is as apt as it is made up for your reading pleasure.
But Kurkjian, the endlessly amused souvenir key chain of ESPN's baseball coverage, who has stories enough to delight boothmates Sean McDonough and Jessica Mendoza until spring training, can only be in one place at a time, and he was needed in all four. The first round of the playoffs came and went in a blink for the second year running—seven of the eight matchups have been two-game sweeps—and the feeling after this round is that the best-of-three series might be worse than one-and-out, and is definitely worse than best-of-five, seven, or whatever else you've got.
And no place was worse for that feeling than Tampa, where the allegedly mighty Rays were eradicated with a barely audible whimper for the second consecutive year. Last year, though, was understandable because they were the lowest seeded American League team, so losing at Cleveland 2-1 and then 1-0 in 15 innings seemed a reasonable enough outcome.
This year, though, they won 99 games, were playing a Texas team that stumbled to the finish line and whose bullpen was essentially a thoroughfare to home plate. This series would erase the memories of that series, or even the 2021 series when the 100-win Rays went up 1-0 on Boston and then got rubbed out in the next three. Plus, the Rays were at home, where the mega-quirky Russian military outpost known as Tropicana Field would serve as some sort of emotional linchpin.
Instead, they vanished even more quickly, 4-0 and 7-1, leaving barely a trace save booing fans—well, some booing fans. Maybe others were disguised as chairs.
The Rays, who have been the game's pluckiest underdogs for 15 years now, a feat in and of itself, drew quite literally the two smallest crowds for any non-COVID-year postseason game since the seventh game (out of eight) of the Eight Men Out series in 1919, and that series was fixed. And it was noticed often by baseball people who happily fell into the old and ever lazy trap of blaming the customers for making choices. Hint: If you can't sell tickets to something, it's your fault every time, not the customer's. Do better or shove off silently.
The 19,704 in attendance Tuesday and 20,198 Wednesday saw, well, essentially nothing. Not even MLB.com could be roused from its traditionally propagandist torpor, making Thursday's story the seventh in its headline stack below three separate Twins-Blue Jays stories. Then again, the Twins had just won their first postseason series of any kind in 21 years and beat Toronto at home before two hefty and appreciative crowds who seemed satisfied that they didn't have to watch the Vikings.
Playoffs move swiftly, and precious little time is wasted on the eliminated. But Miami, swept in Philadelphia, were JHTBT (Just Happy To Be There) and playing a superior team in the Cleavage And Clavicle Boys. Milwaukee failed at home against the surprisingly lively Arizonas but at least put up a tussle. Tampa barely left a trace either on the field or in the stands, and their superb regular season is now reduced to 99 lies. They have scored two runs in their last 42 innings of playoff baseball, and are about to have their first true crisis of confidence since Joe Maddon was manager. They have two wild card wins and the COVID World Series to warm their nightly cocoa, but mostly they have just churned water in October, and the bulk of the attention was directed on the nuclear depository of a stadium off the coast of nowhere, and the people who can't find their way clear to attend games in the middle of the afternoon on a work day.
Tampa should be offering a more charming tale, given that they have the third-best record in baseball since 2008 while spending more than $2 billion less in player salaries than either of the two teams ahead of them, the Dodgers and Yankees, and never paying more than $80 million in any year. People who watch sports so they can pretend that they are general managers (including anyone in a fantasy league that assigns dollar value to players, so there are millions of you bastards out there) love good and cheap. But they love good slightly more than they like cheap, and only love good as long it keeps progressing.
The Rays have the baseball stuff down, whether or not you like their concepts of roster construction and pitching usage. But days like Tuesday and Wednesday reset the emotional odometer because for one of the rare times in their history they have actually set their fan base up for disappointment. When they were terrible, as they were for the first decade of their existence, you knew why. But now they have morphed into something that, while better, is a different level of bummer—the good team that stops being good when people are watching. And worse than not being good, their at-bats don't take very long to complete. They have 23 hits and one home run in their last two playoff series, which may be speeding up the game but not to any good end. With the gift of hindsight, you come away thinking they were lucky to get the crowds they got.
Sure, people in Miami, Milwaukee, and Toronto feel bad about what they got out of the postseason as well, but only Tampa got slagged for both its baseball team and civic pride. It's an across-the-board feel-bad story that usually means some offseason corporate vengeance may be a'brewin'. When your total attendance for an entire series would not fill the home of the Little League World Series, tantrums will be thrown. Maybe the payroll gets cut from its lofty $75 million. Maybe the baseball department gets a personnel readjustment. Maybe manager Kevin Cash gets canned; next year will be his 10th in the job, which is a lifetime in baseball even for successful managers. Or maybe nothing at all happens, and it all gets written off as just another short-series fluke that's bound to happen when you're spotting the opposition $173 million in personnel costs.
The only thing for certain is that while all playoff losses are a drag, Tampa's was worse for everyone with an emotional attachment, except maybe for Tim Kurkjian. He and his joy-drenched attitude make him exactly the kind of exasperating human people in a bad mood least want to see.
Stay in touch
Sign up for our free newsletter