Jamboroo
Chris Fowler Is The Best To Ever Do It
1:29 PM EDT on September 21, 2023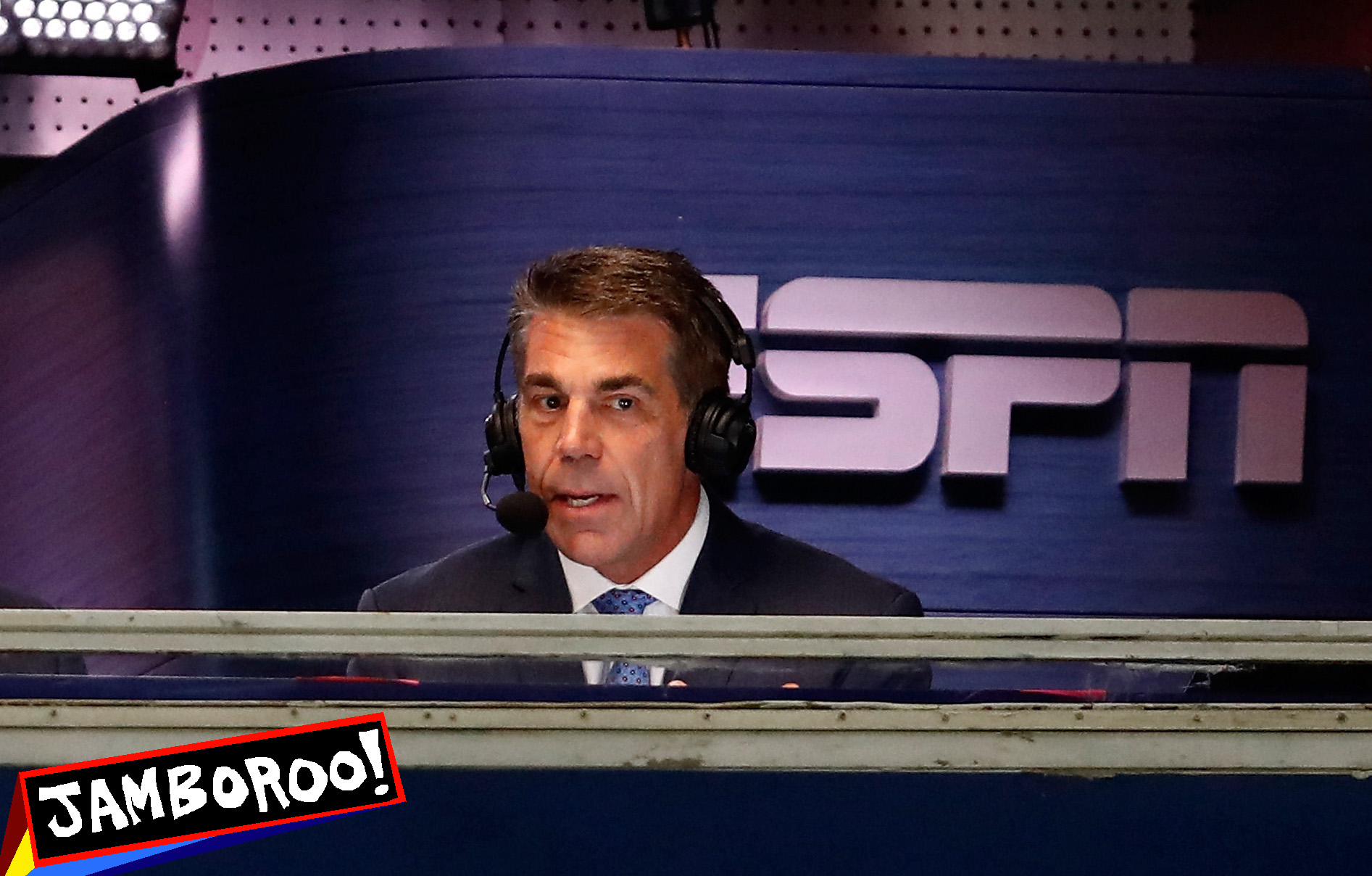 Drew Magary's Thursday Afternoon NFL Dick Joke Jamboroo runs every Thursday at Defector during the NFL season. Got something you wanna contribute? Email the Roo. And buy Drew's book, The Night The Lights Went Out, through here.
There's a video clip I think of often that, as far as I can tell, is only available via memory. It's from an episode of College GameDay that aired 30 years ago, when Chris Fowler was the host of that show before he became ESPN's chief play-by-play man for primetime college football. The game of the week that week featured Notre Dame, because this was back when everyone still had to pretend that Notre Dame mattered. The Irish's kicker that year was a future point-shaving impresario named Kevin Pendergast who did a spot-on imitation of his head coach, Lou Holtz. If you're unfamiliar with the vocal stylings of Lou Holtz, imagine the testiest customer at a bank in 1922.
For his part, Fowler could do his own flawless impression of his on-air colleague Beano Cook. If you're too young to remember Beano, who is now deceased, he's the man who confidently predicted that Ron Powlus would win "at least two" Heisman trophies and national titles for ND before Powlus had ever set foot on campus. You can watch Beano make that prediction, which would later prove spectacularly wrong, live on the air.
If you watch any pregame show now, GameDay included, you're likely to get canned arguments, doomed betting tips, Rob Riggle for some reason, and a handful of soft-focus profiles about a player who's either really good, just lost his foot in an accident, or both. But 1990s College GameDay was no ordinary pregame show. And so, for this episode, producers had Fowler as Beano interview Pendergast as Holtz. They used still shots of Beano and Holtz for the visual back and forth, and replaced their mouths with Fowler's and Pendergast's respectively. Since I can't find video of this segment anywhere on the internet (consider this post a surreptitious plea for someone out there to unearth it; a friend of mine at ESPN was unable to do so), I enter real "I guess you had to be there" territory in describing the comedic majesty of this segment to you. To spare you the awkwardness, all I'll you is that I was fucking DYING.
GameDay under Fowler was special. In fact, every broadcast is special when it's in Fowler's hands. If you're my age, there's a small canon of studio show hosts whose authority over the greater sporting world, and all of its moral complexity, felt total: Bob Costas, Jim McKay, James Brown, Stuart Scott, etc. Fowler belongs in that group. In fact, I'd go right ahead and put him at the top. He's my favorite sportscaster of all time, and not just because of the Beano impression.
Because there is never a moment in any broadcast where I feel as if Chris Fowler has lost command of the proceedings. An open legend, often repeated by Fowler's colleagues, is that he does all of his studio work without the use of a teleprompter. Whether or not it's true is almost beside the point, but it's believable because Fowler makes his job look so natural. He's calm, he's got the timbre, and he can give you the facts without it feeling like a producer just fed them into his earpiece. He's got a sense of humor but, like a shrewd grandpa, saves it for when you're least expecting to encounter it. I had no idea he could do a Beano until he did it on the air.
I used to lament the fact that Fowler dipped out of his GameDay hosting duties to be a play-by-play guy, mostly because it feels inappropriate to hear him raise his voice in excitement. I count on him to play it supernaturally cool while Lee Corso is going batshit over on the other side of the desk. But Fowler seamlessly transitioned into that role as well, even when he's on spot duty. That proved true on Monday night, when Fowler was assigned to a game between the Saints and Panthers, with Louis Riddick and Dan Orlovsky as his color men. You know that three-man booths are inherently worthless: an unwanted byproduct from the age of analyst inflation. Fresh three-man booths are even clunkier. But with Fowler at the wheel on this night, all of the kinks with that setup were inconspicuous, if they were there at all.
I'm on the verge of being too gushing here. This is because I spend every NFL preseason in full Hate Mode and need to decompress thereafter, but also because Chris Fowler has been a welcome part of my life ever since I became a football fan, which was an awfully long time ago. I can make all of the usual, blanket arguments against sportscasters that everyone makes: anyone could do the job, no one watches a game for the announcers, etc. Fowler is the rare breed to render those takes foolish. This is a hard job, especially when you sometimes have to do it while sitting next to John McEnroe for three hours. Fowler, more than any of his peers, makes it look and sound effortless. And if his politics are shit, I'd rather never know.
Because big-name sportscasters are part of your life for longer than most athletes are. You have to reckon with them if you want your sports. That's the real reason why bad ones are so grating. They're an unwelcome, inescapable intrusion upon your sports memory. But the good ones have the opposite effect. They are living milestones of your personal sports history. When I hear Chris Fowler on the mic, I remember his Beano Cook impression, I remember a criminal kicker goofing on one of the most tight-assed coaches in the world, I remember the Kordell-to-Westbrook, and I remember who I was when all of those moments passed through my line of vision. I was in a common room staring at a TV and ordering pizza for lunch at 10:30 a.m. in the morning. I was visiting colleges as a prospective freshman. I was in college and kicking off a Saturday morning hangover that would run through the entire weekend. I was single and living in New York and searching for excuses to put off going out to buy more toilet paper. Chris Fowler was there for all of that. For all of me.
And at my age, I'm entitled to savor my memories, so long as they're real memories and not mere nostalgia. I've also earned the right to snatch up hints of that fall feeling anywhere I can get it. With fall getting shorter and shorter, and perhaps soon fading out of existence, I don't have as much crisp air and crackling leaves to give me that sensation, so I have to grab at any cheap shortcut that I can get to it. Living keywords: bags of candy corn on display far too early at the grocery store, fleece hoodies, the latest pumpkin-spiced foodstuffs, football on my TV, and voices from the ether that tell me the best time of year is at hand. Chris Fowler is one of those voices. He's the best of those voices.
The Games
All games in the Jamboroo are evaluated for sheer watchability on a scale of 1 to 5 Throwgasms.

Five Throwgasms
Eagles at Bucs: Are the Bucs really that good? Is Baker Mayfield about to realize his full potential four teams into his career? Probably not and definitely not. But I must deal with the slate I've been given, so let's hop on the Tampa Bay band-yacht for five seconds and see if we can leap off of it right before it crashes into a loading dock. I'll be generous and say that happens in the fourth quarter of this game.

Four Throwgasms
Bills at Commanders: I have owned the same recliner for nearly 20 years, and only now has one of my children discovered how incredible it feels to sit in it. The child in question is the 11-year-old, and he's taken to hopping into my recliner anytime I'm away from it. In theory, this is acceptable. If I'm not using my chair, then anyone else should be free to use it. And I strive to be the kind of role model who values relationships over material goods.
But that's MY fucking chair. My dad throne. MINE. I did a shitload of parenting to earn that chair. This young whippersnapper has not. So while I'm superficially OK with the boy sitting there, inside I seethe. WHO THE FUCK DOES THIS KID THINK HE IS? I've even repeatedly warned the boy, "Whenever I want to sit there, you're out." I don't phrase it any more politely than that. Dad's chair is a sacred thing. Fuck with it at your own peril.
Falcons at Lions: I saw Arthur Smith rocking a mustache on the sidelines last week and I was like, "Good for him, at least he's making an effort to fix what he looks like." Then I saw one of his assistants with one and knew immediately that I was looking at gimmick mustaches. We need to end the scourge of gimmick mustaches. That Movember shit got old 10 years ago, and bros out there still find it charming. I'm not riding with that shit. Either you grow an honest mustache à la Tom Selleck or you get the fuck out.

Three Throwgasms
Chargers at Vikings: I swear it's not homer-flation that put this game in the three-gasm section. These are two franchises that have forever mirrored each other in terms of both talent and wasting that talent. They also both positively SUCK at playing defense, so this affair is bound to end 42-41 with a dozen missed field goals between them. That's the kind of bad football that even partisan fans can enjoy.
Colts at Ravens: If you watch a local game, it's all but impossible to avoid network promos for all of their primetime dreck. This year's batch is a constant reminder that all of the actors and writers are on strike, because it's nothing but ads for game shows hosted by Josh Duhamel, The Bachelor But With An Old Guy!, and super-mega-sized episodes of every shitty reality show. "Do you love Survivor? Well guess what? Now every episode is gonna be TWO hours long! Five nights a week! We might even just send Jeff Probst right to your house to grill you some dinner!" All really dire shit.

Two Throwgasms
Patriots at Jets: I can't help be impressed with Aaron Rodgers's continued innovations in the field of shoulder chips:
That's right. All the haters and losers will say that you need an intact Achilles tendon in order to walk properly. Well, guess what? Aaron Rodgers is gonna prove you wrong, right after he's done listening to a couple of dolphins fucking one another. You fucked up by putting that chip on his shoulder, and now he's gonna trigger you bad!
We need to do something about the chip-on-the-shoulder cliché. You can't watch any televised NFL game without hearing that phrase at least seven times. Here now is an incomplete list of all the reasons a player, coach, or team might have one such chip:
They just lost

They just won, but the math nerds weren't impressed by it

Someone in the media said something negative about them a year ago

They were drafted too low

They were drafted high, but some people thought too high

Their dad died

They played at a small college program

They're the Lions

They just had an awful season

They just lost a playoff game and people reminded them about it

They get hurt a lot

They were snubbed for a Pro Bowl

The other team just scored and did something disrespectful

They experienced some sort of lite social media drama

They got booed at home

They got booed on the road

They got booed at a local 7-Eleven

The refs fucked them over last game

The refs fucked them over in a playoff game 12 years ago

They're coming off a suspension

They're about to be suspended

They hit a woman and everyone got mad

They weren't heavily recruited out of high school

They're home dogs

They're road dogs

Stephen A. Smith said they don't have that dog in them

The last coach was a dick to them

The opposing coach was a dick to them
The opposing fans were dicks to them
You get the idea. Make one false move around an athlete and Troy Aikman will tell Joe Buck, "…and that gave him a little bit of a chip on his shoulder, Joe." Sign a contract with any team there's a bowl of complimentary shoulder chips sitting right in the middle of the locker room.
Giants at 49ers
Titans at Browns
Saints at Packers
Broncos at Dolphins
Panthers at Seahawks
Rams at Bengals

One Throwgasm
Bears at Chiefs: I'm not highly attuned to Bears Twitter, because I care about myself. But I assume, perhaps wrongly, that they were down with GM Ryan Poles trading away the No. 1 pick this spring and building this team's roster around Justin Fields. Fields did do all that fancy running last year, after all.
We're two weeks into the season and that's already proven to have been an enormous fuckup. Not only is Fields a lost cause throwing the ball, but his coaches ALSO suck ass. Fields said so himself yesterday. So even before DC Alan Williams resigned that same day in a fog of speculation that made the conspiracy theories around Flight MH370 sound legitimate, these Bears were a catastrophe. The "At Least We're Not Them!" team of 2023. Take it from Benjamin Solak over at The Ringer, who lays out the situation in horrifying detail.
Or better yet, take it from a man who's become the definitive word on modern player evaluation: QB School sensei J.T. O'Sullivan:
I get testy if I have to watch any internet video that runs longer than 12 seconds. O'Sullivan is the only exception that my brain allows. His above breakdown of Fields and the Bears offense lasts 90 minutes, and it's riveting. Thanks to this man's YouTube channel, I've learned more about football in the past year than I have in the past decade. I've learned why players and coaches alike can get testy even after a successful play, I notice a QB's feet more during games than I ever used to, and the idea of studying tape doesn't make me want to jump off a mountain. O'Sullivan is fair, he's honest about whether or not he can tell what the play call was or what it intended (it's never easy), and his voice is deeply soothing.
Also, he just gave me all the ammo I need to tell Bears fans that Justin Fields can't play for shit. For this, J.T. O'Sullivan is perhaps our finest American. Very soon, some team—a smart one, not the Bears—is gonna pay him a mint to run their scouting department and we'll all have been robbed of a vital football resource. Like Fields himself, this is not an appealing prospect.
Texans at Jaguars
Cowboys at Cardinals
Steelers at Raiders
Pregame Song That Makes Me Wanna Run Through A Goddamn Brick Wall
"Call To The Warrior," by Affiance! From Alex:
"Not only were these guys one of my introductions to metal, but they were the band that got me through college. This was the first song I heard by them, and it's one of my favorite music videos of all time. The song fucks, the vocals are insane, and the music video itself has so many ridiculous gags in it that I lost count. Makes me want to run through two brick walls at once."
Bonus points to Affiance for rocking their Guitar Hero controllers so hard that it feels like they're playing real instruments. A rare power, and one that must be used judiciously.
Eric Adams' Lock Of The Week: 49ers (-10.5) over Giants
"Now I've lived in San Francisco my whole life, and lemme tell you: Our city is in trouble. We've got homeless people, stores looted, motorcycles on fire, and citizens afraid to buy one of our fabled 'shrimp dogs' because a street vendor might shake them down. That's why I, together with Anna Wintour, am creating a citywide program called Park It San Fran! that will expand public parking spaces downtown by 500 percent. Because as my mom always told me, car trouble is better than people trouble!"
2023 Record: 1-1
Great Moments In Poop History
Reader Ryan sends in this story I call COOGAN'S MUFF:
When I was in grade school, my friend's dad offered to take a bunch of us to a Reading Phillies game. I was pumped. We were going early so that I could get a free baseball bat and maybe even some autographs. The morning of this adventure I woke up and ate my normal breakfast: half a pack of cinnamon raisin English muffins with butter.

We got to Reading early. I got my bat and two autographs from Phillies that I'm pretty sure never made it out of AA. We had fun at the game and then were on our way home back to Philly. It was the four of us and my buddy's dad in their awesome mid-90's conversion van (with a Sega Genesis in it). We were driving down the turnpike when my stomach started to feel weird, gurgling and making all sorts of noises that I didn't recognize.

I told my friend's dad that I needed to go to the bathroom. He said he'd pull over at the next rest stop. It turns out the PA Turnpike is notorious for having NO FREAKING BATHROOMS. I was starting to sweat and get squeamish. It was obvious enough that my friend's dad stopped on the side of the road. My friend's older brother got out with me, thinking that I just had to pee like he did. I was young, so I thought that peeing would make me feel better. Instead, it made me feel worse.

Back in the van, I felt like I was going to explode. My buddy's dad was starting to get nervous that his son's idiot friend was going to shit in his car, so he tried to calm me down. I kept feeling worse and worse. Then it hit me: the point of no return. Next thing I knew, I was shitting myself. Literally shitting my pants, and sweating profusely. It started to smell terrible, and my friend's dad told me to try to hold the rest (which I somehow did) and sit on floor mats.

It was 10 more minutes before we finally got to the rest stop. I ran in, threw my tighty-whities into the trash, and then proceeded to shit out rasins for what seemed like an eternity. I then had to ride the rest of the way home in utter embarrassment. I got home to my dad laughing in ky face and telling me to shower. I haven't had a cinnamon raisin English muffin since then.
Not sure that I can ever eat one again, either.
Gametime Cheap Beer Of The Week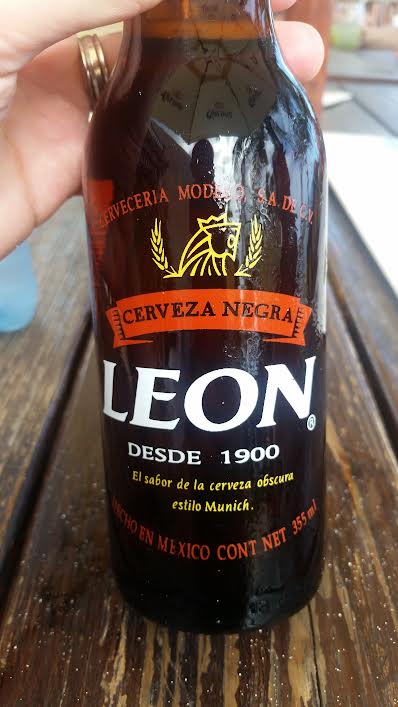 Leon Cerveza Negra! From Pablo:
No backstory needed here. Just a fucking lion of a Mexican beer here. The logo itself makes me thirsty.
Ditto.
Gameday Movie Of The Week For Cardinals Fans
Paul Schrader's First Reformed. As with all Schrader joints, First Reformed is about a man slowly but inexorably, gravitating toward violence. In this case, it's a reverend played by Ethan Hawke, who strangely turned into a cool actor right around the time this movie was released. Hawke's character counsels a man who is freaked the fuck out over climate change, which in turn makes Hawke equally freaked out, so much so that he surreptitiously—almost unbeknownst to even himself—plans to take vengeance on behalf of mother Earth.
First Reformed serves as a kind of unofficial bookend to Taxi Driver­, the 1976 Martin Scorsese masterpiece that Schrader wrote, but with a protagonist who's more righteous than certifiably insane, and an ending that's predictable one moment and then pleasantly surprising the next. Really solid movie. Three and a half stars.
(This is also the second Schrader movie in a row where I've seen him cast one of the biggest stars in comedy in a dramatic supporting role. He made Tiffany Haddish as the love interest in The Card Counter, and for this one he hired Cedric the Entertainer to play Hawke's boss. Only he's credited by his real name, Cedric Kyles, in the opening credits. So I spent a solid five minutes at the beginning of First Reformed thinking, holy shit, is that Cedric The Entertainer? And then I spent the rest of it thinking goddamn, that's really Cedric The Entertainer.)
Gratuitous Simpsons Quote
"I saw this in a movie about a bus that had to speed around the city, keeping its speed over fifty. And if its speed dropped, the bus would explode! I think it was called The Bus That Couldn't Slow Down."
Enjoy the games, everyone.
Stay in touch
Sign up for our free newsletter