Journalismism
Who Is Giving Carlos Watson Money Now?
10:44 AM EST on November 14, 2023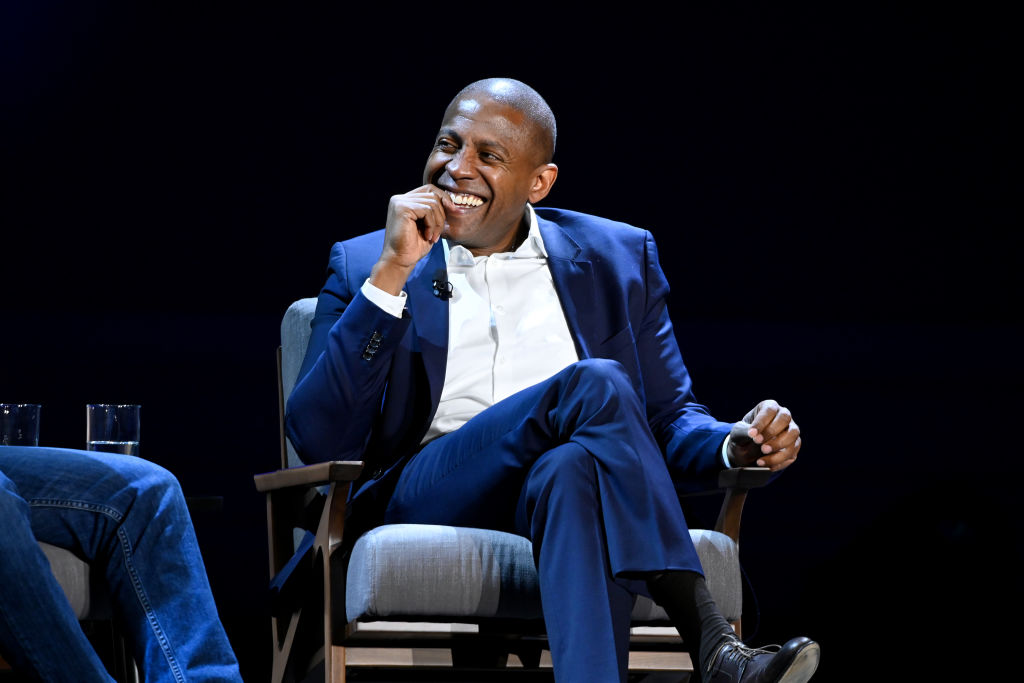 Carlos Watson has pivoted again. The founder of Ozy Media, the digital news-turned-video and events company that collapsed in 2021 following fraud allegations, is now circulating petitions, and raising money under the claim that the federal government's investigation into his mismanagement of Ozy Media is racially motivated. 
Watson was arrested in February and indicted on multiple counts of fraud and aggravated identity theft. Included in the indictment are accusations that he inflated audience sizes and falsified contracts. At its peak the company raised $35 million from investors, including the Ford Foundation and Axel Springer, as well as Laurene Powell Jobs's Emerson Collective. Things began to unravel after an investigation from Ben Smith at The New York Times reported that former Chief Operating Officer Samir Rao impersonated a YouTube executive on a conference call with Goldman Sachs. Both Watson and Ozy Media were charged in the indictment. Additionally, the Securities and Exchange Commission charged Ozy, Watson and other former executives with defrauding investors of $50 million. Rao and Suzee Han, the former chief of staff of Ozy, pled guilty to fraud charges earlier this year. 
Watson mostly avoided commenting around his arrest, aside from a LinkedIn post defending his hard work building Ozy. But something changed in months since his arrest, as Watson and his team have now chosen to frame this case as one focused on systemic racism, recasting Watson as a crusader for racial justice and not, as the the government alleges, someone who "repeatedly attempted to entice both investors and lenders through a series of deliberate deceptions and fabrications," in the words of the Michael Driscoll, assistant director-in-charge of the FBI New York field office. Last month, Watson told the Daily Mail, "I'm determined to persevere – not just for my sake but for people of color who deserve the same opportunities as everyone else in this country." Watson's public sentiment campaign is on a website called Too Black for Business, which lays out his theory that Brooklyn-based federal prosecutors Jon Siegel, Dylan Stern, and Gillian Kassner have pursued the case against him and Ozy Media because of racial bias. 
Turning his fraud case into a battle for racial justice is Watson's choice, but it would not be the first time he has tried to litigate his problems in the court of public opinion; he previously called Smith's Times piece a "ridiculous hit job." 
Something that caught my attention at the bottom of the Too Black for Business website is a link for what is called the "Watson Legal Defense and Support Fund." The link leads to a page on a crowdfunding website called Fundrazr that launched on March 1, 2023, the same day Ozy Media officially shut down, and only a couple weeks after Watson's indictment. A similar link can be found on the Ozy website.
The fundraiser has accumulated $60,787 in donations since March 2023, the majority of which were donated in March, the week the fundraiser launched. The fundraiser is organized by Karen Johnson, a social work professor at the University of Alabama who claims to be a family friend of Watson. Of the $60,787 raised as of Nov. 2, 2023, only $6,350 is donated from named donors where the dollar amounts are visible. The remaining $50,437 has been donated by anonymous donors. A few donations for extremely large amounts caught my eye: one for $25,000 on March 14, three for $5,000 on March 1-3, one for $2,000 on March 6.
All of this raised some questions. I was curious about how the fundraiser came to life and the number of anonymous donors that make up the majority of the money raised in the fundraiser, as well as the multiple high-dollar anonymous donations. I was also curious to hear from Watson or his team on how the money is being used. For example, Twitter users have reported seeing ads for a petition to investigate the racial bias in this case; were these funds used to support those ads? 
Multiple emails sent to Johnson, the organizer of the fundraiser, as well as Ronald Sullivan, who is Watson's attorney in the fraud case (and a former member of Harvey Weinstein's defense team), went unanswered. But that same day I reached out to Watson's legal team, I heard from a spokesperson from a public relations agency who connected me with Kenneth Montgomery, who represents Ozy in the fraud case. 
Montgomery was unable to answer many of my questions about the fundraiser. When I asked how the funds would be used, he said he had no idea. "I would have imagined that, from my conversations, they're being used to pay legal fees," Montgomery said. "Because obviously the prosecution of the corporation has put the corporation in a position—and Mr. Watson in a position—where things are difficult, and you have to have representation in both a corporation and in your individual capacity." 
When I asked specifically about the $25,000 donation, Montgomery said "I don't know anything about who donated." I asked if the funds were held in a third-party account or if they were distributed directly to Watson's personal accounts, and Montgomery said he did not know. He also said he did not know who would know the answer to that question. 
After less than five minutes, Montgomery ended the call, saying he had a busy day of meetings and that he'd call me back when he was done. He did not call back. When I followed up with the public relations agency for answers to my questions, I received the following response: "The use of legal defense funds is quite common, especially for individuals who have been stripped of their ability to earn based on actions taken by the government. Examples range from Bill Clinton to Sarah Palin to police accused of wrongdoing to regular people who find themselves in legal jeopardy. The emergence of legal defense funds is traced to minority groups in the 19th century who raised money to defend their civil liberties."
Without any definitive answers from Watson or his team, all we're left with are questions and contradictions. Who would donate such large sums of money to someone currently being indicted for allegedly falsifying financial records and lying to investors to keep their business afloat? How is this money being used? Ozy has nearly shuttered several times over, only to be resurrected in some form by Watson. According to reporting from the New York Times and the Wall Street Journal, the company had still been pitching itself to investors and promising a comeback earlier this year. 
[Disclosure: I interviewed for a social media job at Ozy in 2014.]
Correction: A previous version of this post stated that Samir Rao impersonated a YouTube executive on a conference call with YouTube. Rao was on a call with Goldman Sachs.
Stay in touch
Sign up for our free newsletter