Tennis
Bianca Andreescu Beat Emma Raducanu In A Battle Of Stumbling 20-Somethings
3:40 PM EDT on March 23, 2023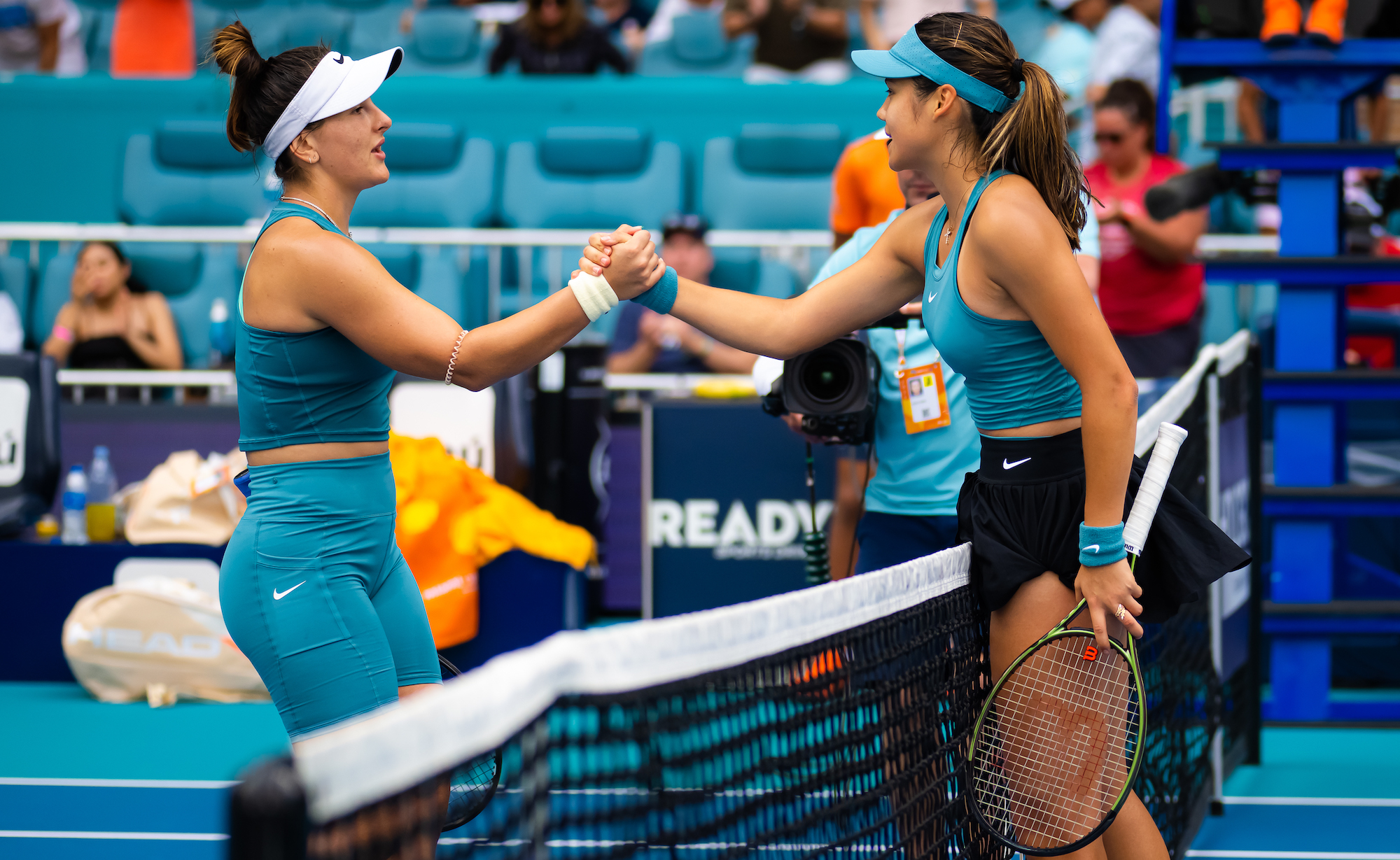 MIAMI GARDENS — The most important tennis court at the Miami Open is crammed into a corner of the stadium where the Dolphins play. The rest of the courts are scattered permanently over its parking lot, but this court is set in a corner of the football stadium, fringed with its own temporary stadium seating, and then removed after the tournament. Because a tennis court is much smaller than a football field, the result is like a broken bowl nestling inside a much bigger bowl. This creates some baffling sight-lines: You can walk into the football stadium, peer inside to see what it holds, and see the outer walls of the tennis stadium, with only a partial glimpse of the players running around. The whole thing looks a little jury-rigged, even if the hope was to offset it with luxury touches like courtside leather recliners.
On Wednesday, I found myself wondering if it wasn't the only jury-rigged thing about the tournament. Fans often like to wonder if tournament organizers, while constructing a theoretically randomized bracket, allow themselves one shamelessly orchestrated first-round matchup—as a treat. The first round sees lots of unseeded players slogging it out; why not ensure one of those matchups attracts some eyeballs by slotting the right two names together? Whether by fair or devious means, the tournament found an appealing stadium-court opener in Emma Raducanu and Bianca Andreescu, who are on paper the No. 72 and No. 31 players in the world. In practice, they're two of the most scrutinized players on tour. Both won U.S. Open titles as teenagers, and neither has managed to verify that ceiling in their seasons since, partially due to the frequent injuries that haunted both.
As the two former champs traded groundstrokes, the old hype floated back into my mind. Andreescu's 2019 season was comparable to what Carlos Alcaraz has just done: an abrupt hello from a seemingly era-defining new talent, who seized huge trophies from the get-go. And in 2021, Raducanu became the first player in the modern era to win the U.S. Open as a qualifier; she didn't drop a set, destroying seeds with a hyper-polished return game.
Eventually those ranking points fell off, and the weekly churn began. For Andreescu, her rise was interrupted immediately by the pandemic, a bad case of COVID-19, a mental health hiatus, physical niggles, and uneven form throughout. Raducanu, who played her first complete season on tour last year, built up an eclectic list of maladies and retired from several matches. "I have no toenails," she reported last year after her first stint on clay in several years. The patient fan was left wondering of both players: When will she get back to that tennis? Is this week's surge for real, or just another false alarm?
The blunt truth is sometimes a player never gets back to that tennis, if the standard is winning a major title. (Both players recently had their Indian Wells experience terminated by Iga Swiatek, who leapt to the top of the women's tour while they faltered, and looks certain to gobble up plenty more majors.) But this particular first-round match made a good case for patience. The level between these two was at times remarkable, peaking in the eighth game of the second set, which lasted over 20 minutes and had 10 deuces. Raducanu earned her seventh break point with a forehand ripper and then finally closed out after an Andreescu error. She then served out the set to push it to a decider.
The players came into the third set with less zip, but Andreescu proved steadier, winning 6-3, 3-6, 6-2 after two hours and 33 minutes. (They should feel blessed that it was a temperate afternoon in Miami.) This win should continue her steady rise back into the top 30. In terms of pure skill, Andreescu has long been a finished product. The 22-year-old has a forehand that, at its peak, struck the tour's optimal balance of touch and power. She has all-court ease. The shot-making variety that vacated her game for a while—to the dismay of her true believers—seems to be gradually returning, like blood rushing back into a limb that had fallen asleep. The moonballs and drop shots came back in this match. If Andreescu finds her mobility, too, no one could keep her out of the top 10.
Even though Raducanu is coming off a fourth-round appearance in Indian Wells last week, her best run since the 2021 U.S. Open, the path ahead is more uncertain. The 20-year-old's skillset isn't as overwhelming as Andreescu's, and her health may be even more questionable. She has the shots of a good counterpuncher, but not yet the stamina and durability to pull it off. The injuries obscure what kind of player she is or could be. Throughout Wednesday's match she shook out her right wrist, a worrying sight on any tennis court, and afterward said she'd be seeking medical advice. "I'm able to play in the short term," Raducanu said. "But the current solutions aren't very viable long-term." She should take her time. Only in a deranged framework like pro tennis can talents be deemed washed-up in their early 20s.
Stay in touch
Sign up for our free newsletter