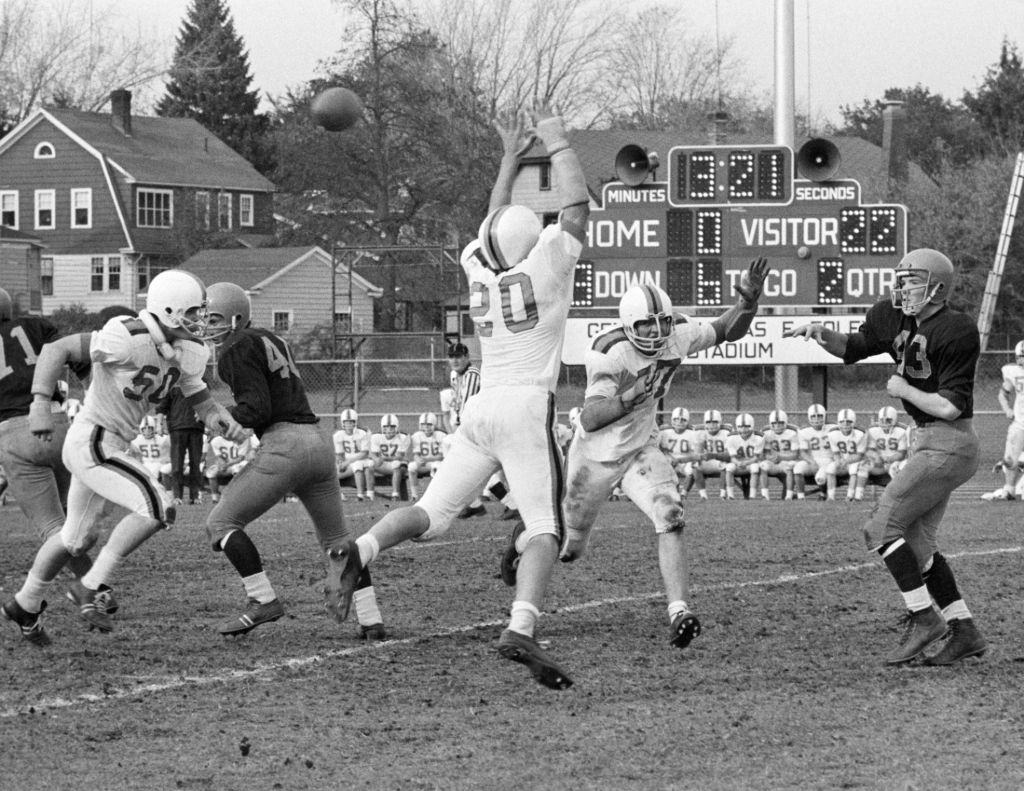 There are lots of remarkable numbers associated with last Friday's football game between the Falls Church (Va.) Jaguars and crosstown rival Justice High School. Mostly remarkably bad ones. Falls Church went into their final contest of 2023 with an 0-9 record, for example, having been outscored 366-6. 
Then the Jags won that contest by the score of 2-0. 
I'd never seen a 2-0 football game at any level before this and if asked would probably say I never wanted to see one. But when Justice lined up for a potential game-winning field goal with about a minute left, I was as riveted as sports can rivet me. 
It wasn't just the score or that biblically bad (366-6!) scoring differential that had me glued to the proceedings and yelling. See, I went to Falls Church and even played football there back in the late 1970s. The annual gridiron matchup against Justice, known as the Bell Game, has been closing regular seasons for both schools for more than 60 years. (Justice was originally known as J.E.B. Stuart High, but actress Julianne Moore led the successful move to get the name changed in 2018 because Stuart was a Confederate dunce.) And these games were always a big deal. As Keith Jackson woulda said before kickoff, these teams just plain don't like each other. 
Lots of the animosity in my day was class-based. Falls Church was made up of kids from the bluest blue-collar sections of Fairfax County; the Justice student body, meanwhile, came from the richest inside-the-Beltway neighborhoods—places like Lake Barcroft, a subdivision loaded with federal government bigwigs including Sen. Bob Dole and Attorney General Ramsey Clark and Supreme Court Justice Thurgood Marshall. The school's current name honors Marshall, who made national news in 1968 by buying a house a stone's throw from the school in the previously all-white subdivision. Plus, Justice kids were way cooler than we were back then, with alums like Moore and four guys from Scream, fellow Northern Virginian Dave Grohl's pre-Nirvana band. (One of the four, Franz Stahl, went on to join Grohl in the Foo Fighters.) We never had any alums from the '70s worth bragging about. The only guy from Falls Church I remember making news was a Pizza Hut deliveryman who grew up to jump the fence at the White House with a gun and get shot. 
This mix of sporting rivalry, jealousy, teen stupidity, and of course booze often equaled mayhem. 
"It was like some Latin American revolution," a Falls Church high teacher told the Jaguar Journal after surviving a 1977 parking lot brawl between the schools following a basketball game. "Everywhere, people were fighting and yelling and screaming ugly things." John Hollowell, the Falls Church athletic director at that time, admitted to the school paper that when he saw some FCHS folks taking punches from Justice loyalists, he "flipped off the old coat" and joined the donnybrook. A public school administrator's admission to fighting with kids would surely get him fired and likely subpoenaed today, but times were different and, well, everybody bizarrely tolerated that violence was part of a high school rivalry. 
Nobody from either school really got hurt during all the extra-curricular war games, until they did. The nadir came after when a gang of Falls Church dirtballs crashed a Justice party at a big developer's home in 1980, a year after I was gone, and stabbed two revelers, including a former star quarterback. 
"There's an element over there [Falls Church High] that's a little on the rough-and-tumble side," the wounded quarterback's father told the Washington Post. "I guess it had to happen, but this rivalry has gotten a little out of hand." 
One rule of thumb: When a double stabbing only rates as "a little out of hand," shit's gotten more than a little out of hand. 
I have few but all wonderfully fond memories of my time at Falls Church, and I still hang out with mostly the same people I hung out with in high school. But I don't think I think much more about my high school days than the average old guy, and I've paid little attention to Jaguars athletics through the years other than when the Bell game comes around. I remember going to the 1989 season-ender, for example, to see Justice running back and future University of Tennessee and Philadelphia Eagles star Charlie Garner, who was a Can't-Miss Kid in high school. He scored six touchdowns against my guys. 
But this football season, I glommed on to Falls Church early. I had seen over the summer on social media that the Jags' junior quarterback, a 6-foot-7 multisport kid who stood to be among the school's most-recruited athletes ever, announced he was transferring to ritzy prep Flint Hill and repeating 11th grade. I was irked to no end. Not only because redshirting is the fastest spreading form of cheating in high school sports, but also because I'd seen this movie. Falls Church has always been on the business end of prep poaching. Back in my day, future Kevin Durant high school coach and prep legend Stu Vetter was at this same Flint Hill and made his first poach by stealing the best Jags basketball player of our generation, a kid named Paul Keller. Then a couple years after I left, future Duke star and current Harvard coach Tommy Amaker was supposed to attend Falls Church but maneuvered his way into W.T. Woodson, a rich school with a far better basketball program than we ever had. Falls Church makes, the rest of Northern Virginia takes!
After this latest transfer scourge got my attention, I noticed early into this football season that Falls Church was coming out on the short end of one lopsided line score after another, and I realized this could be a profoundly bad year—like worst-in-school-history-and-maybe-all-history bad. Jags quarterback Nick DeWolfe scored a touchdown early in the second game (against another crosstown rival, George C. Marshall High), then missed the extra point. Falls Church was up 6-0, but not only did they never have a lead again leading up to the Justice game, they hadn't even scored another point. 
I've been obsessed with high school sports for literally half a century, but I'd never seen a football team go through a winless, scoreless, hopeless streak this bleak before. Sure, in my day the Jags had suffered some blowouts—the best beating I endured, a 37-0 drubbing in 1978 at the hands of eventual national champions from Annandale, is even on YouTube. (I never don't giggle at how the production values of our game film were similar to those of battle footage from Normandy.)
Yet for all the wrong reasons this year was noteworthy even for the perennially woeful Jaguars. Week after week "we" were getting both walloped and bageled. The state's slaughter rule, which compels referees in high school games to use a running clock once a lead reaches 35 points, couldn't prevent foes from running up the score. So for the first time since I was there, I spent my fall Friday nights with the Falls Church football team, though now I was on a laptop or smart TV streaming Jags games from a site that enthralls and exploits us prep obsessives. 
And there I was for the Justice game, watching on a big screen in my living room, some 19.7 miles from the host Falls Church campus. Without the backstory, and for other folks even with it, this was an unwatchable game. This year's Justice squad was hardly the '66 Packers. They came in 2-7, having scored just 39 points on the year. Both teams played to form: penalties and turnovers and drops and no scoring. 
Those errors helped morph a first-and-goal for Falls Church from the Justice two-yard line into a fourth-and-goal from the 30 in first quarter. Same as it ever was. But while Falls Church's offense played to form—no touchdowns or field goals—the defense that had given up scores of scores all year bent but didn't break against the Justice offense.
Then midway through the third quarter, a Justice snap soared over the head of the punter, who booted the loose ball out of the back of the end zone for a safety. The dual shutout was broken! The Jaguars were up 2-0, and had their first second-half lead of the entire season. The Falls Church players, clearly not practiced in scoring celebrations, did a gleeful safety dance on the sidelines. 
After yet another quarter and a half of lousy, scoreless football, Justice set up for a last-gasp 34-yard field goal attempt. The crowd in the home grandstand was screaming loud for their winless warriors to hold on. (The Falls Church athletic director later told me they sold 1,400 tickets at $5 apiece for the game, a fantastic turnout given the football fortunes this season.) Jags coach Franklin Weaver called timeout to freeze the kicker, and he got some positive intelligence during the break. 
"Assistant coaches were telling me he didn't make any kicks during warmups," he said to me. "So I was thinking, OK, good to hear!" 
But once the teams went back on the field, Weaver didn't want to rely only on analytics. "I prayed that he didn't make the kick," he said with a laugh.
Weaver's prayers were answered. Or at least his special teams scouting report held true. The Justice kick wobbled wide, and a 2-0 lead indeed proved insurmountable. The difference between being outscored 366-6 and 366-8 is that a season with more wins than extra points would now be remembered with sincere smiles.
It's times like these, as Justice alum Stahl's ex-band sang, you learn to love again. While the Falls Church players, now the 313th-ranked team in the state of Virginia, hugged one another and celebrated on the field as if they'd won a world war, I was yelling happy things at the TV set as if it all really mattered. I guess that means it did.
Stay in touch
Sign up for our free newsletter