NBA
A Timeline Of The Sexual Assault Allegations Against Dwight Howard
4:15 PM EDT on October 30, 2023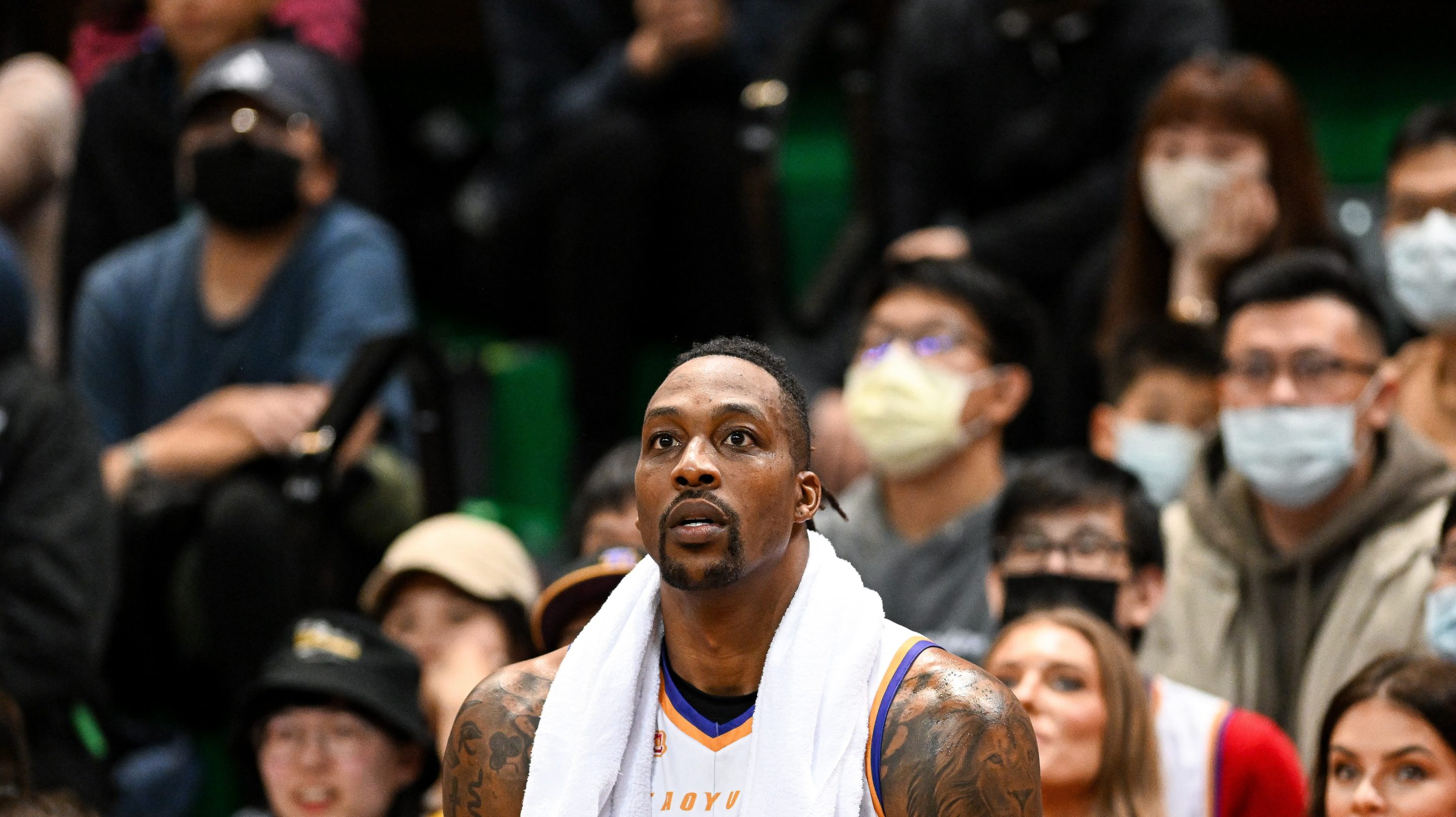 Last week, multiple outlets reported that eight-time NBA all-star Dwight Howard denied having sexually assaulted a man. The story was first reported by ESPN with the headline "Dwight Howard denies sexual assault allegations, wants lawsuit dismissed," and other national outlets, including The Athletic, Bleacher Report, and USA Today, soon followed.
But those stories all led with denial, not the initial lawsuit itself, which was filed in July. In the suit, Stephen Harper said that Howard sexually assaulted him at Howard's Atlanta home in 2021. The complaint was first reported by Radar Online the day after it was filed. Though Radar stayed on the story, as well as plenty of other legal battles that include Howard, the news of the lawsuit didn't make its way into the mainstream NBA press until recently, around the time Howard's legal team filed his response in court.
The lawsuit, filed in Gwinnett County court, listed multiple counts: assault, battery, intentional infliction of emotional distress, false imprisonment, one count of punitive damages due to "willful misconduct, malice and wantonness," and a count requesting attorney fees. But the lawsuit was not the first time that Harper went to an official body and said that Howard sexually assaulted him. The first public record of that was created more than a year ago, after Harper went to Gwinnett police.
What follows is based on those police reports as well as documents filed in Gwinnett County civil court. I am not the first reporter to get any of these documents; that almost exclusively applies to Radar. What I am doing is putting them in chronological order to show what has been said to various authorities since the beginning.
---
On July 15, 2022, Gwinnett police said they received a rape report. According to incident reports from Gwinnett police, first obtained by Radar, an officer called Harper, and Harper said he had been sexually assaulted by Howard. (Defector confirmed with Harper's attorneys that his name can be used publicly.)
According to a summary, written by an officer, Harper went to Howard's house on July 19, 2021, where they watched TV and kissed. (In a supplemental narrative, the officer wrote that Harper said he and Howard had been in a long-distance relationship for a few months.) At about 5:00 a.m., another person came over, and that person and Howard both wanted a threesome, but Harper said no, the report said. (In the supplemental report, the officer added that this was when porn was put on the TV and Howard and the third man began undressing each other.) Then Howard began rubbing Harper's leg and grabbed his penis. Harper told Howard to stop, and Howard responded by pulling off his underwear and performing oral sex on Harper while the third person penetrated Harper from behind, according to the incident report. Clarification (5:00 p.m. ET): In a second narrative written by police, it said that the other man penetrated Howard, not Harper, while Howard forced Harper to perform oral sex.)
"The victim stated he cried during the incident," the officer wrote, "and that it stopped when Howard ejaculated into his mouth." Harper told the officer that he grabbed his phone and went to the bathroom to call an Uber, but Howard told him to cancel it because the other person would drive him home. The visitor told him "to keep everything a secret," the officer wrote in a narrative supplement, "or someone [would] put a bullet in his head."
Harper told the officer, per the report, that he hadn't talked with Howard since. The narrative supplement ended by saying "further investigation is needed."
The officer wrote that they called Harper on July 20, talked to him briefly, and told him that he would call Harper again to have him come into the station for a formal interview. The officer called again that day to make an appointment, but Harper didn't answer. The officer wrote that they called again on July 28, but Harper did not answer and didn't reply to a voicemail. On Aug. 9, the officer said they sent a letter to Harper to let him know the case would be suspended if he didn't respond. The narrative ends by saying, "This case is closed by suspension."
---
Harper's lawsuit was filed a little less than a year later, on July 18, in Gwinnett County court, and went into more detail about what Harper said happened. Per the suit, the two men met over Instagram DMs, then moved to text messages, where they talked about meeting up over the summer of 2021, while Howard was in Atlanta. Like the police report, the lawsuit said that Harper went over on July 19, 2021, and he and Howard "engaged in consensual kissing" in Howard's bedroom. They watched a movie, but someone was texting with Howard while it played, per the complaint. Then Howard got up and said someone else had just arrived. Howard told Harper, per the lawsuit, it was someone he "has threesomes with every now and then."
Harper said he did not want a threesome but, when he suggested leaving, Howard told him that he didn't have to participate, so he stayed.
The second man joined them in the bedroom and turn on porn, then he and Howard began undressing while the second man performed oral sex on Howard, according to the complaint. Harper, the lawsuit said, tried to stay calm. Then, like in the police report, the lawsuit said that Howard began rubbing Harper's thigh. He stroked Harper's penis through his underwear, and Harper said no. When Harper said, "No, I'm good, stop," according to the suit, Howard said he was "going to do whatever" to him and he was "going to like it."
That's when Howard grabbed his thighs, pulled off Harper's underwear, held him down and performed not-consensual oral sex on him, per the lawsuit. When Harper did not appear aroused, Howard got angry and ordered him onto the bed, per the complaint. The other man penetrated Howard from behind while Howard shoved his penis into Harper's mouth, forcing Harper to perform oral sex, the lawsuit said.
Afterward, like in the police report, Harper said he grabbed his cell phone and went into the bathroom to get an Uber. Howard, the complaint said, acted like nothing had happened but also would not let him out of the bathroom unless Harper canceled the Uber, which he did. Howard then had the other man drive Harper home.
---
This is not the first time that a person has said publicly that Howard harassed them. In 2018, Masin Elije said that Howard harassed and threatened him after they broke up. Howard's NBA team at the time, the Washington Wizards, never commented. Radar reported that Elije sued Howard a year later, saying he was "allegedly harassed and followed by goons after he refused to sign a non-disclosure agreement." The lawsuit ended after it was dismissed by a judge due to a lack of evidence.
---
Howard filed his response to Harper's lawsuit last week. In the document, Howard acknowledges both Harper and another man came over but said any sexual contact was consensual. A statement provided by one of his attorneys, Justin Bailey, went further, saying, "A private consensual encounter was made public for profit and Mr. Howard looks forward to bringing the truth to light in a court of law.
"The allegations against Mr. Howard are contested. Mr. Howard intends to present the truth. The truth is Mr. Howard blocked Mr. Harper on social media and then was confronted with two options—pay to protect his reputation or have a fabricated story made public," the statement continued. "Despite being an easy target due to the subject matter and his status as a celebrity, Mr. Howard chose to trust in the justice system and will rely on all future court filings to speak for themselves."
In response, lawyers for Harper released a statement. Attorney Olga Izmaylova said, "I can say that we fully anticipated Mr. Howard to raise the issue of consent in his answer," and added that they maintained what Howard and the third man did was not consented to by Harper.
"It has come to my attention that Mr. Howard is now attempting to label my client's filing of this lawsuit as an act of extortion, which is absolutely false. Mr. Harper is exercising his legal rights, in accordance with Georgia law, and seeking redress for the unlawful acts he endured," Izmaylova added. "I can also tell you that Mr. Howard has not yet filed a Motion to Dismiss, which is the appropriate motion that must be filed in order for the court to consider the issue of dismissal. Given that no Motion to Dismiss has been filed, the issue of dismissal is not before the court at this time."
No future court dates have been set yet. As for how long the rest of the legal process will take, that will come down to machinations of the Gwinnett County court system.
Correction (5:00 p.m. ET): The article has been updated to reflect that the lawsuit said the third man penetrated Howard, not Harper, from behind.

Diana Moskovitz is Defector's investigations editor. You can reach her at diana@defector.com or, if you prefer protonmail, dfmoskovitz@protonmail.com. If security is a concern, download the Signal app and send her a text at 929-251-8187.
Stay in touch
Sign up for our free newsletter