NFL
A Prayer For Josh Johnson
10:07 AM EST on January 12, 2023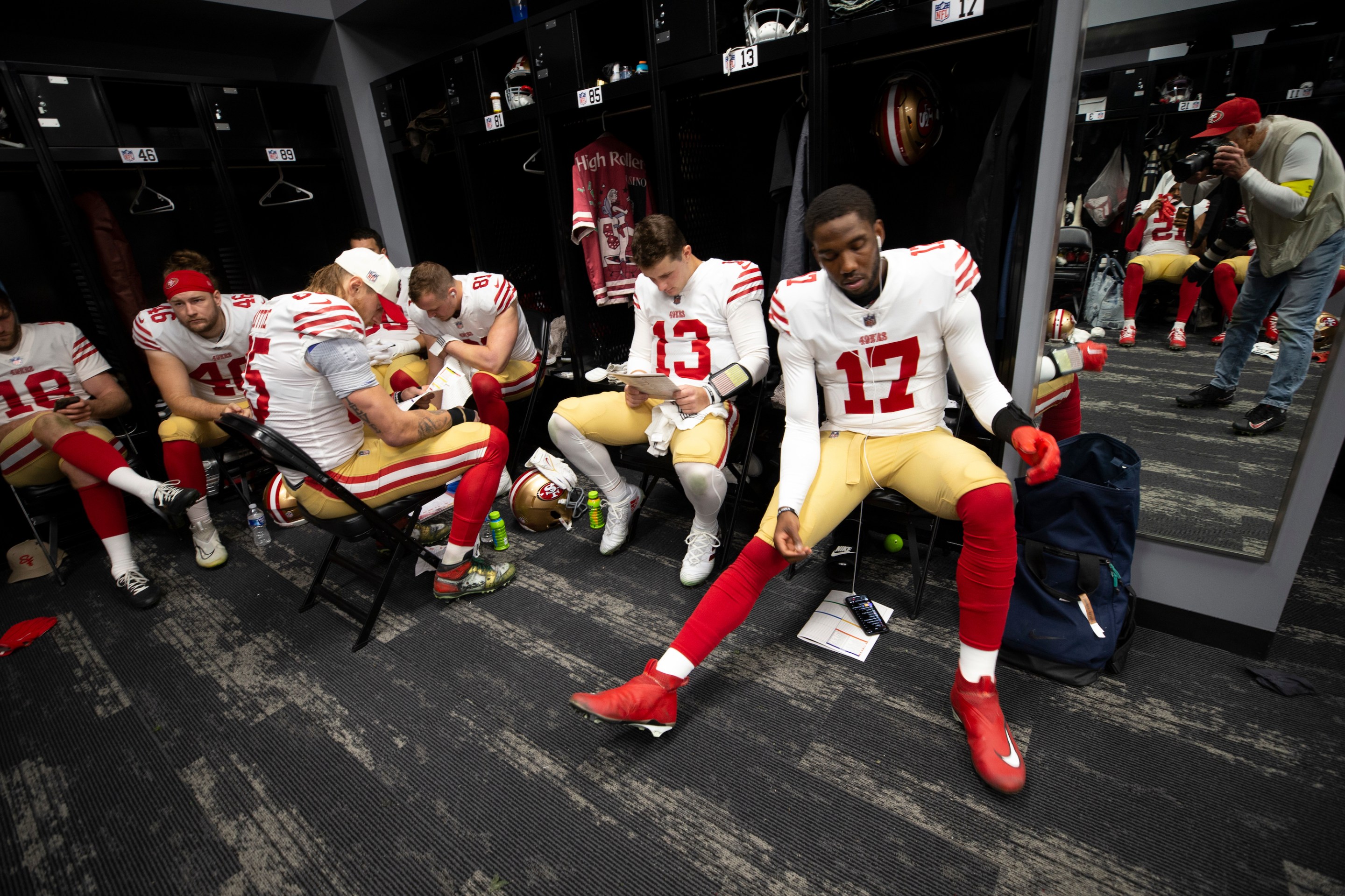 Every playoff season has a narrative for each team; it's our job to either find them and embellish them, or create and inflate them. Hey, it beats cold-calling widows and orphans with crypto pitches.
In San Francisco, the narrative everyone has agreed on is Brock Purdy, the cutest boy at the junior prom, but the narrative everyone has agreed upon is wrong. Purdy is the tale told too often, and it's time to move on to something better, and that better is Josh Johnson. I mean, anyone can make a deep playoff run with a third-string quarterback fresh from the mean streets of Ames, but it takes real creativity to find the same thing in a fourth-string quarterback who has been on nearly half the teams in the league, is 50 percent older than the third-string quarterback, and hasn't approached the glorious moment all quarterbacks believe will eventually be theirs. Brock Purdy will have his moment, either in the rainforests of Silicon Valley or on a new team in the future, but Josh Johnson's time is now. It has to be. He could be cut and re-signed by another team at any moment.
Now it should be noted that my interest in good things happening to the 49ers is exactly equal to that of every other team, which is zero. If someone wants my allegiance, it better come with a salary, 29 weeks' paid vacation and medical benefits for the family, including the veterinarian's annual boat costs known as Area Dog. But for Josh Johnson's benefit, I will work on spec.
So here's the 49ers narrative that works best in the playground of the mind. Purdy takes the Levi's Stadium bog Saturday afternoon and throws four first-half interceptions. Can't grip the ball, can't hit the receivers, can't handle the snaps, whatever. Makes no difference. All that needs to happen is that Kyle Shanahan, who makes quarterbacks in his garage at night, has to turn out of desperation to Johnson, the man who has been contracted to the 49ers six different times and only gotten a garbage-time series against the shards of the Tampa Bay Bucs. And Johnson somehow wins the game, and a new narrative is born.
This is not about anti-Purdy bias, though that will come the longer he starts at quarterback for this team, because 49er fans never like the quarterback who plays as much as they like the one who doesn't. Purdy is still brushing the styrofoam packing peanuts off his shoulders so the give-us-the-backup phenomenon has not yet hit him, but if he retains the job next year as some brain-bubbled yahoos suggest, he will hear it soon enough. Whatever. 
But back to Johnson. He rallies the gents to a come-from-the-dead win over Seattle and holds serve against whichever team the 49ers face in the second round, and totally steals the NFC Championship from Philadelphia. The quarterback takes his 14th team to the Super Bowl (amazingly, while never facing any of his former teams) against Kansas City. And at that point, he's on his own, because the best way to roll snake eyes is to yell "Come on, seven" at the table. Chiefs win, and the 49ers are left at the altar again.
Only this time, they head into the offseason with not just the usual recriminations and second-guessing about whether the genius Shanahan is secretly an idiot, but they also have the added benefit of enjoying that rarest of rare albino elk, the four-way quarterback controversy. Currently, they kind of have a tripartite debating point, as many folks prefer Purdy to the largely ethereal Trey Lance and most folks around here would take anyone going down to Joe Flacco over Jimmy Garoppolo even though Garoppolo has been an utter godsend to this team on multiple occasions. In San Francisco, you can order your burger and beer with extra ingratitude, as long as you've got the $65.
But add Johnson to this and imagine the joyous chaos. Niner fans, from the most smug to the only moderately smug, will be yanking their heads off like champagne corks. It has to be Lance because he's never gotten a real chance. No, it's Garoppolo based on time served. No, Purdy was just coming into his own as a local icon. Yeah, but Johnson got them to the big one. Imagine the atmospheric rivers of pseudo-analytic stupidity—especially when Shanahan trades up in the draft to steal Ohio State's C.J. Stroud just to make Mel Kiper's brain shoot his nostrils, an added entertainment benefit for us all, I think we can all agree.
It will be every 49er fan's most glorious fantasy made real, all in the name of "You can't have enough depth at the position" and its bastardized corollary "If you have five quarterbacks, you only have two." Plus, Josh Johnson, Football Itinerant, finally accumulates the evidence required to convince his grandchildren of the values of patience, diligence, holding fast to a dream, and keeping your phone charged at all times in case Coach Opportunity calls in the middle of the night with a hole in its practice squad and an offer. This should be Josh Johnson's moment, damn it, even if it isn't. Hey, you have your rooting interests and I have mine, so please don't share your thoughts in the comments section below. You won't be helping, yet again.
Stay in touch
Sign up for our free newsletter