Golf
39,000 Steps At A LIV Golf Party In Trumpland
12:57 PM EDT on October 22, 2023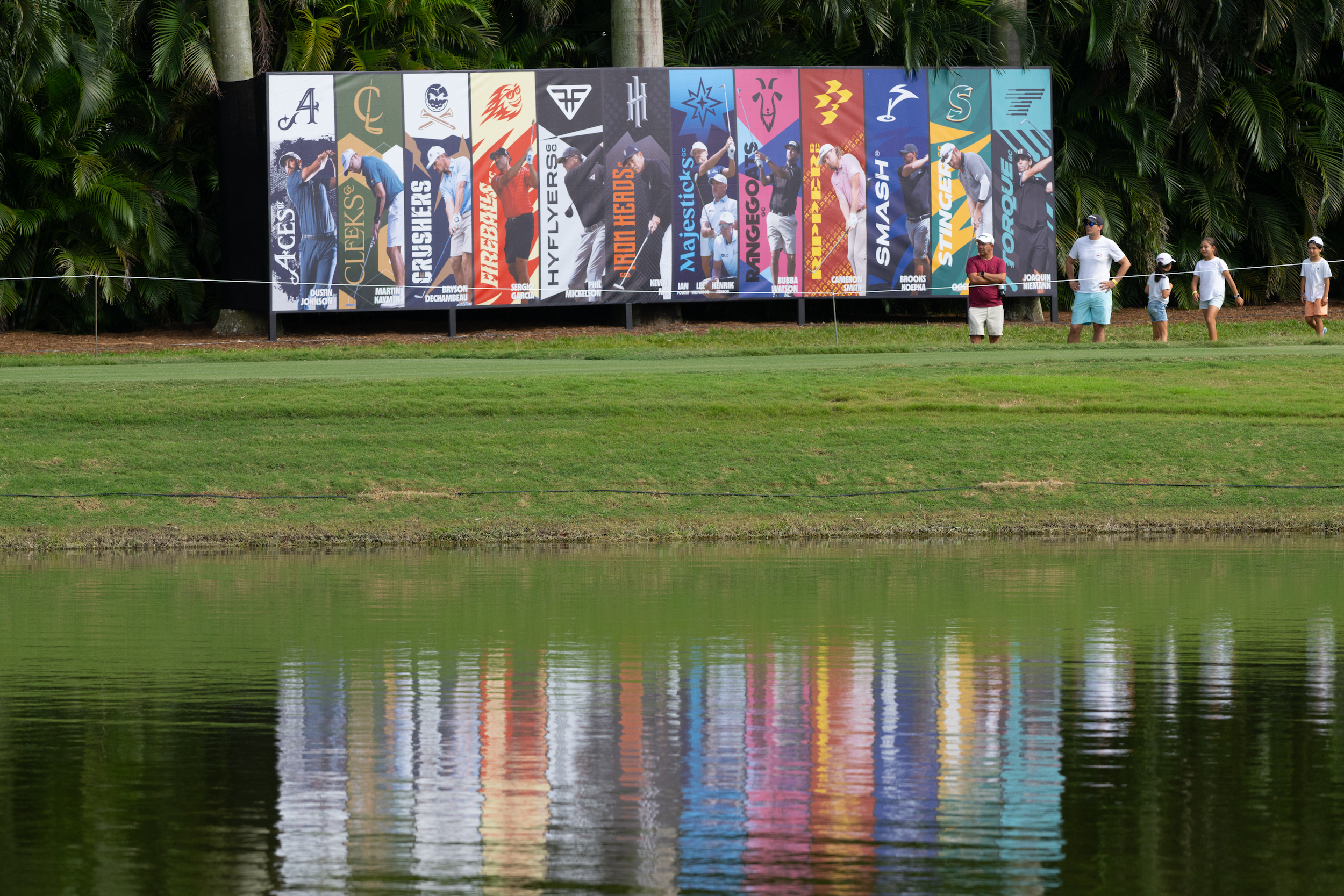 DORAL, Fla. — Airplanes scream overhead, low and loud, landing gear deployed, casting darting shadows over the greens and fairways of Donald Trump's Doral golf club. Trump National Doral Miami, as it is officially named, sits a few measly blocks northwest of Miami International Airport, surrounded on all sides by gigantic brutal office parks. Inbound air traffic crosses over Doral headed south and east, but it does so with such frequency and with such ear-splitting noise that eventually your brain will become convinced that, no matter where you are standing on the grounds of this club, there is a shrieking inbound jetliner with its nose pointed directly at your face. Way out on the Silver Fox course, out of sight of Trump Doral's opulent clubhouse and the festivities of a professional golf tournament, the blessed peace of nature is interrupted every minute or so by a huge howling airplane, zooming so close overhead that a well-thrown Aerobie would have to pose some kind of flight risk.
So the 2023 LIV Golf Team Championship, staged this weekend in Doral, would not have been a very serene time, even without LIV Golf's signature thumping soundtrack. Doral simply is not a place for quiet. Perhaps this is why so much of its area is covered in monstrous windowless office compounds and vast antihuman storage depots. There is a plumbing supply showroom of staggering proportions; there is a charter school, BridgePrep Academy, inside what I think is the ugliest, saddest building I have ever seen, an enormous windowless blue and grey cube crammed amid a grid of hulking warehouses. There is a military installation, U.S. Southern Command, across from a sun-broiled field of shaggy cattle, who share their dismal plot with the ghastly Dolphin VOR navigation beacon, a squat and angular tangle of glinting metal, like an Erector Set UFO, surrounded by chain-link.
I waved to the cows Friday morning, at the midpoint of the 3.1-mile walk from my hotel to the entrance of Trump National Doral. I chose the walk for a few reasons. For one thing, event parking was limited and not free, and I was already growing concerned about how much of Defector's precious revenue was being spent sending me to this stupid event. It's one thing to buy flights and hotels to send a blogger on the reporting trip of a lifetime, something else entirely to send them on a journey of self-punishment to an utterly charmless south Florida suburb, to mix among people they despise and follow an event about which they do not care at all. Spend a thousand bucks to send a co-worker to an event like this and they better die.
For another thing, truthfully, I wanted to give Doral a chance. Any place can seem like hell from the interior of a shitty rental car, fretting over unfamiliar traffic patterns while being yelled at by Siri. Breathe the air, nod and smile at passersby, touch the trees, wave at the cows. Follow one route in and another out. Take in the local flavor. The section of Doral surrounding Trump National, unfortunately, largely resists this effort. I can tell you that the Meattown Distributors Meat Market shares an office park with something called Dangerous Goods of America and something else called Raltron Electronics; I can tell you that the Wawa on NW 87th Avenue is too understaffed to prevent school kids from walking out with handfuls of free candy; I can tell you that flashy orange momordica grows along the chainlink fence enclosing the cows and the beacon. Taking long walks around Doral did not deepen my appreciation for Doral. It made me sad for cows.
But mainly, I did the walk because, as someone whose job entails sitting at a laptop all day, I need the steps.
---
10:46 a.m., 5,842 steps
The gate at Trump National Doral opens for the 2023 LIV Golf Team Championship at 10:30 a.m. The golf itself does not begin until 1:15, but the evident view of LIV's organizers holds that creating the proper atmosphere for team golf takes time. I arrive 16 minutes late for rope-drop, in part because my phone-given walking instructions called for me to cut across the property of U.S. Southern Command, an imposing military installation which absolutely does not double as a pedestrian shortcut. I did not realize the flaw in this route until I was standing in front of a gate marked with lots of red signs warning me against entering. I was forced to double back and lengthen my route, but this was fortunate, in the end: Had I arrived at the corner of NW 87th Avenue and Doral Boulevard five minutes earlier, I would've missed The LIV Golf Dog: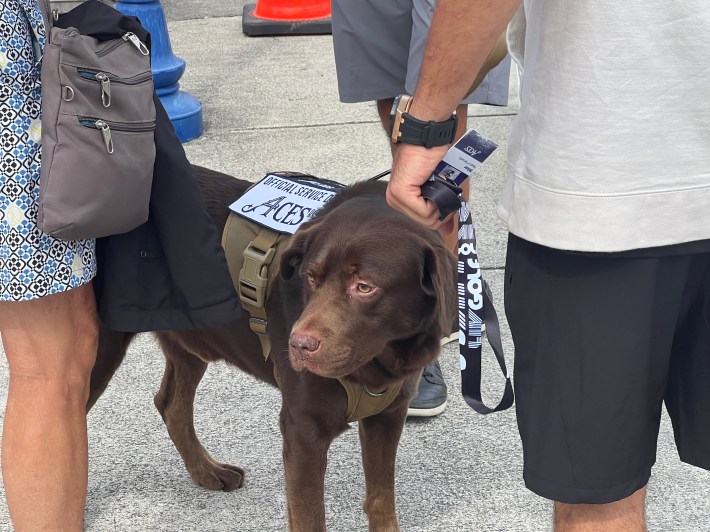 The vest on this pooch indicates that he is the "Official Service Dog of 4Aces GC." The 4Aces team was not participating in Friday's round, but evidently this dog must do his duty all the same. We part at the large sign across the street indicating the boundary of the golf club: I follow sidewalk markers to the main gate; I assume this dog headed straight for the employee entrance.
10:56 a.m., 6,825 steps
I am fitted with a yellow "Day 1" wristband, and I walk under a metal detector. The walkway hugs a low building and then passes a carved and very opulent set of stone stairs into what may be a wing of the enormous clubhouse. The whole thing is very ornate, and the word "rococo" flashes through my mind. A large set of plastic white letters spelling "LIV GOLF" stands along the path; later in the day this spot will be used for photos. For us early enterers, this area is in Miami Mode: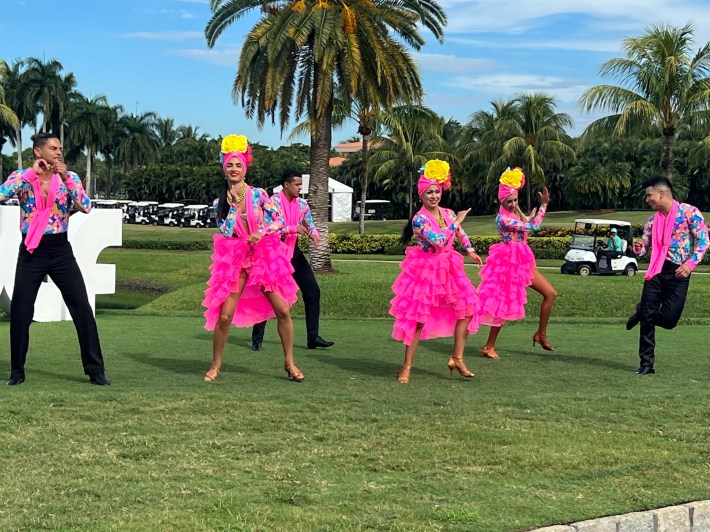 Beyond this scene the path bends toward the clubhouse's main entrance. To the left is an archway for the LIV Golf Fan Village. At Bedminster in 2022 this fan village was large, ringed with booths, and brutally hot, just a very miserable place to spend any amount of time. Here in Doral it is somewhat smaller, and there is more shade; the concessions are provided not by sad LIV Golf food venders but by colorful food trucks. It is, surprisingly, a not-unpleasant place to catch one's breath. LIV Golf organizers seem to have learned something. I order a smoothie from a smoothie truck, because my shirt is a sweaty mess already and the golf will not start for 139 more minutes.
There is a medicine ball–sized LIV-branded plastic golf ball hanging from a rope in front of a brightly colored cardboard backdrop. Enthusiastic young women in LIV Golf lanyards encourage children to climb onto this ball for photographs. I sit at a shaded picnic table and observe this scene, slurping my smoothie, until a preteen boy in a white hat that reads "TRUMP" in red letters climbs onto the ball. He is dressed like a golfer, that awful schlubby corporate-retreat costume: a horrendous patterned polo, tucked into boxy khaki shorts; white crew socks and brown and white golf shoes. He is simultaneously 13 years old and 55 years old. He carries a little stick with a paper Phil Mickelson face mounted on one end, and he puts Phil's face over his own when his parents snap his photos. Everyone squeals in delight. Time to move on! Need more steps!
11:15 a.m., 8,077 steps
Doubling back to access a shaded cart path and the breathing room of the open Blue Monster course, I pass a set of golf carts labeled as belonging to the "team" of Harold Varner III, which I assume must be a contingent of support personnel. Varner III is a member of RangeGoats GC. I know this because this stretch of cart path is lined with vertical fabric signs for each team, with a pair of smiling faces on each side. Everywhere there is signage reminding me that there are 12 LIV Golf teams, but that I have my choice of which to root for. It is my understanding that only eight teams are participating today, and that four of them will be eliminated at the end of the day. I am not super clear on how this works.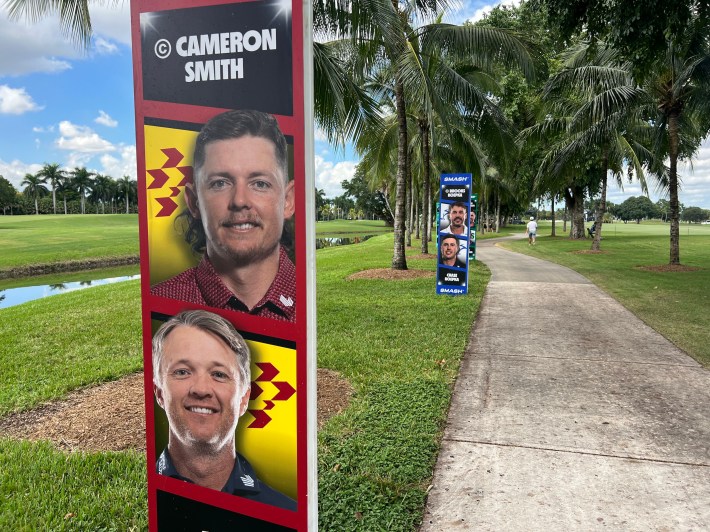 The morning to this point has been somewhat overcast, but at 11:01 the sun comes rocketing out from behind a cloud and suddenly the south Florida heat and humidity become Real. The smoothie was a good choice, but it occurs to me now that I might need 19 of them to avoid walking out of here a soggy mess. The cheerful young lady inside the smoothie truck will call the cops if I turn up more than one more time before the end of this round. I will have to be careful with my smoothie consumption.
11:25 a.m, 9,151 steps
A sequence of turns leads me onto the Silver Fox course, but I am not sure that I should be here. There are no LIV Golf signs anywhere; the event is so distant that I cannot hear the music at all. It's just me and some large, boisterous ducks. A heron dries its wings at the edge of a pond. The serenity is broken up rudely by a large yellow DHS airplane, screeching directly overhead. I duck; the ducks do not.
It's nice to walk around in nature. A golf course isn't quite nature—in fact in many respects it is the opposite of nature—but it's good to be out on one anyway, under the sun. The grounds of the four-course Trump National Doral aren't strikingly lovely, the way you might expect of a prominent club owned by a rich man who rather famously cannot get enough golf in his life. Nothing about the course suggests that it was built or bought or refurbished by someone with an especially romantic obsession with the game or its grounds. The course is very flat—this is Florida, after all—and though the Blue Monster course was originally designed in pre-Trump times to present a fearsome challenge to players of all skills, those challenges do not show up as any sort of dramatic beauty or visual spectacle. It's not a golf temple. It's a golf course, with ponds and palm trees.
But it must be said that it is also not shabby or especially tacky, in the way that you expect a Donald Trump product to be either shabby or especially tacky. The clubhouse is obviously garish and over-the-top in that particular wack Trumpian way, but the grounds are elegant and well-maintained. What I am saying is that it is a golf course. It's not the overcooked-garbage-steak-slathered-in-ketchup of golf courses. It's a good place to play golf.
I think Trump's genuine ... I cannot quite bring myself to attribute certain emotions to the man, so I will say enjoyment, his genuine and sincere enjoyment of the game of golf is detectable in the ungilded (relative) simplicity of the grounds of his golf clubs. The man really likes to play golf. It drifts into my mind out here that maybe everything else he has done in his adult life—all the grifting and abuse, all the pandering, all the deals and bankruptcies, the hoarding of power, the accruing of minions, the empty populism, even the fucking coup d'état attempt—was about making it maximally possible for him to play golf, anywhere he wanted, at any time, under any conditions, without any interference.
I don't say this to humanize the big evil doofus. I sincerely hope he hits a ball too close to a pond one day and an alligator gobbles him up. But alone in a corner of his Doral golf square, it occurs to me that when Donald Trump finally lets go of the snow globe one blessed evening his final utterance is going to be "Titleist" or some shit. The man loves golf! I said it!
12:59 p.m., 13,716 steps
I have eaten history's worst chicken and waffles. It was a mistake, right down the line, and I very nearly paid for it with a cracked tooth. The less said about this episode, the better.
The golf will begin in 16 minutes. We are warned that the players will now disperse into the grounds, divided up into pairs and foursomes, for the event's shotgun start. I am way out by the eighth hole of the Blue Monster course; I have lost my brochure and do not know if I am near any of the starting points. On distant cart paths I see a sudden increase in traffic. Things are happening at last.
1:07 p.m., 14,535 steps
I have stubbed the big toe on my right foot, by carelessly drifting to the edge of the cart path. I was staring up into a fiercely bright sky, trying to spot the several people who just jumped out of an airplane and will now skydive to the ground, trailing large American flags. My toe is throbbing. I cannot say for sure whether I am hoping that the skydivers will be hit mid-air by a jet plane.
The LIV soundtrack is playing "Thunderstruck" by AC/DC over the loudspeakers; the LIV Golf hype man just urged the event's spectators—who, again, are spread thinly over 800 acres of golf course—to "make some noise." How would he even know?
I am on a path between two fairways; I cannot tell if the smattering of distant humanoid shapes around the tee areas includes any famous golf professionals. I am feeling no small amount of pressure to make sure to, in fact, observe some golf being played, but just now the thought of hustling to embed myself in a crowd of LIV Golf fans sounds an awful lot worse than death.
2:44 p.m., 20,886 steps
I am embedded with a group made up of players from HyFlyers GC and Smash GC, who are engaged in a kind of alternating-shot match play. There are few fans following this foursome, made up as it is of bozos. Chase Koepka—the lesser Koepka—is the subject of buzz: Koepka, whose major-winning brother is the captain of Smash GC, will be relegated from the LIV Golf roster following the completion of this weekend tournament. His teammate today is Matthew Wolff, who unlike anyone else in the group seems to have one or two fans in the crowd. I meet an elderly couple who complain that Wolff's is the only signature they recognize on a branded hat they possibly purchased or possibly won, but which in any case features the signatures of some but maybe not all LIV Golf pros. That they are animatedly telling me about a LIV Golf hat that they own but that is not in their possession is troubling and disorienting.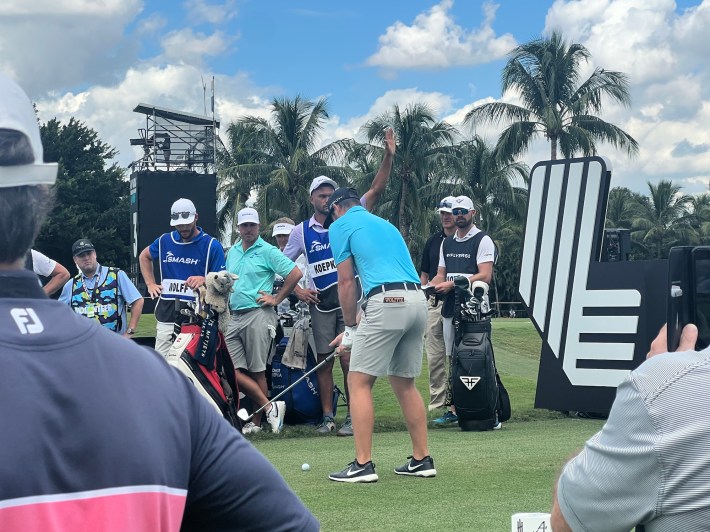 The format of this event is clunky. Certain players—Brooks Koepka and an alarmingly leathery Phil Mickelson, for example—are playing head-to-head, while other, lesser players are grouped in foursomes. The Koepka-Mickelson pairing has a relatively large column of fans following in its wake, but as this is a Friday during working hours even that is just a few dozen people. The elderly couple and I have in common that we are stuck to this dreaded foursome by happenstance; they are even less committed to it than I am. The husband, in particular, seems disgusted to be following a bunch of no-namers and flunkies, but he is rather bow-legged and together they move very slowly. An earlier attempt at escape, after our first encounter, failed: They took a long ambling walk around a water feature, only to find themselves right back in the same crowd. I think they're now stuck.
With LIV Golf's shotgun starts, it's never all that clear when or if a particular group might come your way. There are annoying gaps in the procession; you might wait for your guy and discover eventually that he's an hour away. I cross paths with a family draped in Spanish flags, presumably on the hunt for Sergio García. I consider telling them that they are headed the wrong direction, but that would require stopping and waiting. My pace has already slowed. I need those steps!
3:11 p.m., 23,249 steps
I have made the difficult decision to dump the foursome. For one thing, there's not a whole hell of a lot happening. The teams trade holes. The HyFlyers guys smoke the ball pretty good but without a lot of precision; Wolff is good but Koepka stinks; the golf is just ho-hum golf. I don't care about it.
More importantly, there is a sun-dried old man in a colorful shirt in the crowd who is driving me crazy. It is very important to him that everyone around him knows how good he is at tracking the ball in flight. He has a habit of going that's right on the money or that's no good as soon as the ball is struck. But I have noticed that he was startled by the thwop of an errant approach shot that very nearly landed on the crown of his head, and I did not miss it when he said, "Oh that's a mile right," of a shot that subsequently landed a fair bit to the left of the green. We made sudden eye contact after that one and I raised an eyebrow and he said, "Son of a bitch," in the surprised way you might on turning the key in a rusted old hunk of a car and hearing the engine fire up. He knows that I am onto him. The situation is entirely too awkward.
Plus I need those steps. Waiting around near the green to see which team will two-putt their way to a point is driving me crazy. I am going back to Walk Mode, fast and free. My left foot is failing; there is a persistent sharp pain in front of my left heel.
3:23 p.m., 24,453 steps
I catch and pass the Sergio García group. A confused elderly man in a red shirt is very nearly run over by a golf cart; the driver swerves out into the rough and then shouts the word "Fuck," but the man in the red shirt appears not to have noticed any of it. He is trying to decipher information on a scoreboard.
There are so many golf carts. It's hard to make sense of how they are distributed. I see a tall woman who was recently walking behind the Wolff foursome now seated in a golf cart that is parked along the fairway; she and the driver appear to be chatting and watching the García group. A bearded bald man and a young woman in a tennis skirt walk by me and then each take the wheel of a designated golf cart, and immediately make arduous seven-point U-turns. I hear the man tell the woman that he has worked for the PGA Tour and ESPN and FS1 and LIV. A few minutes later, as I round the elevated rough area surrounding the 12th green, the bald man screeches to a stop behind me and a different man leaps out of his cart and sprints up to the edge of the green holding a large film camera. The bald man ambles up with a tripod, but the cameraman cannot wait, and lies on his belly along the green, pointing his camera back up the fairway. Best I can tell, absolutely nothing of consequence is happening thataway, but then I am not a LIV Golf cameraperson.
Choppy grey clouds hold the sun at bay, and threaten in places to consolidate into an autumn rainstorm.
3:49 p.m., 27,602 steps
I don't know how it happened, but I am back with the Wolff foursome. I rounded a large lake and looked up and suddenly they were upon me, like a befouled Kleenex which you have thrown away but which a sudden gust of wind has rudely blown back, directly into your open mouth. Admittedly I had been on autopilot: For some portion of this lake walk, I was re-reading Dracula. Bram Stoker was a real genius. Jonathan Harker is so charming and funny. (Mem., do not read favorite old novels while on reporting assignment.)
A group of what appear to be college-aged young women have joined the group. I overhear one of them explaining golf to another. In golf you want to finish with fewer points; par is zero points; if the hole is supposed to be done in four shots and you do it in five you get one point, etc. Then she explains that in today's event points are tracked differently: In match play you do want points; the team that finishes this hole in the fewest shots wins the hole and gets one point, and so forth. Then she explains the stakes, and her friends gasp: The four-man team that wins the three-day tournament will split between them a prize of $14 million.
This draws the attention of the bow-legged old man, who along with his wife has not been able to escape this dreary foursome. He chimes in to remind these young women that in total there are $50 million worth of prizes being distributed this weekend.
It seems very preposterous. For all the apparent smoothing of the promotion's rougher edges during its second year of existence, this is still not much of a show. The golf itself is much more boring than watching the same course played by goofy high school kids would be. The shotgun starts, the teams, the alternating shots, the match play altogether have the effect of making it more confusing and slapdash and arbitrary than it otherwise is, and that's even without the thumping dance tracks. LIV Golf is still paying someone else to air its tournaments, for crying out loud. It feels absolutely impossible that this event could generate anything close to $50 million in profit.
It's like a stinging jolt of smelling salts to be reminded that the doughy bozo who just wasted his teammate's clean drive by slicing an approach shot into a green-side bunker is playing for a $3.5 million payday. The crumminess of the event and the relative shittiness of Chase Koepka's performance together have the effect of making that $3.5 million feel like it is within my own grabbing distance, like it is somehow physically close. What is so different about what he is doing right now and what I am doing?
It is time to pose the question to someone, and so I put it to the elderly couple: Will LIV Golf make it? Is it going to be around next year, the year after? The wife shrugs. The husband is more confident. He's quite sure it'll be around for at least one more season. He's heard the same things as everyone else who's tracked the golf schism: The big merger between the PGA Tour and LIV Golf's powerful benefactor, the Saudi Public Investment Fund (PIF), announced in June, may never happen. It has to clear a Justice Department antitrust investigation and multiple congressional inquiries, by no means a sure thing. The concessions that might make it possible—the Justice Department's Antitrust Division has already forced the proposed behemoth to remove a provision from its framework agreement that would prevent LIV Golf from further recruiting of PGA Tour professionals—might also be untenable. ESPN reported last week on the PGA Tour's recent admission, in a memo to players, that it still has not reached "a definitive agreement" with the PIF and the European Tour, and in the meantime is entertaining flirtations from other interested investors.
It is the opinion of the bowlegged husband that this deal cannot be completed in time for the PIF to pull the plug on LIV Golf, and that the longer LIV Golf continues to exist the likelier it is to outlast the burning hatred of PGA Tour commissioner Jay Monahan, who under the proposed merger would have the discretion to kill it.
"But eventually it'll have to stand on its own," the husband says, to a nod from his wife. "Especially if the Saudis find a way to get involved with the PGA Tour. Those guys are rich but they're business people, they're not stupid. They won't just pay like this forever if it's not really on TV, if it doesn't catch on with more fans. It has to catch on or they'll drop it."
4:27 p.m., 30,543 steps
My feet are shredded. A blister has risen and burst on the back of my right ankle. I have the sensation in my left heel that there is no tissue left between bone and insole. Also—and I realize this may be more than you want to know—my boxer shorts have been wet with sweat for several hours now, and there's been some chafing between my thighs. I am walking poorly. Sunscreen has melted down my face and into my left eye, which is stinging. I am dehydrated and thirsty; I scored two free water bottles from a concession stand hours ago because their checkout systems weren't working, but otherwise I have had a hard time staying on top of my water consumption. I am not holding up very well.
I have paused in the shade of a large tree along the 18th fairway. At this point I have almost no idea what is going on with the foursome, who are finishing up the 17th. My routine has been to walk ahead of them when they reach the green—putting is where they are sloppiest, and I can't bear it, I just can't—cross ahead to the next hole, and wander along the fairway to the approximate area where I expect their eventual tee-shots to land. I've gotten pretty good at it: Steele and Piot of HyFlyers GC tend to out-distance Koepka, but lately they've been playing it somewhat safe; Wolff is able to take some daring angles and really does seem to be the best of the group, despite a slightly unorthodox swing. I cannot bring myself to care about the scoring, at all; only later will I learn that Mickelson's HyFlyers GC eventually advanced from this round, despite Mickelson losing to Brooks Koepka in their head-to-head. Hilariously, the HyFlyers GC page of the LIV Golf website doesn't have any mention of the team advancing to the Team Championship semifinals. The last news update on the site is from August.
The 18th hole at Trump Doral National is long and after a dogleg swoops down toward the foot of the clubhouse itself. I am as close to the exit as I have been all day. It's right there! I could just go! It's agony to think that this foursome will not finish their day on this green; due to the shotgun start format, these fellows will continue onward, and will finish their day on the third green, pointed away from the clubhouse and the LIV Golf Fan Village and the main entrance gate. There's a solid 40 minutes of golf left to play. I'm dying.
4:51 p.m., 33,849 steps
I can't do it! I have followed these bozos, against all instincts of self-preservation, as far as the fairway of the second hole, a 446-yard par-4. The hole after this one points in a direction that is totally unacceptable to me. The lowering afternoon sun is murderous; there is no direction I can face in which it does not somehow find my eyeballs. A blue Southwest 737 howls overhead and all I can think about is how if I were Batman I would shoot a grappling hook onto that thing and have it tow me to the airport, where I would plant myself in the North Terminal for 50 hours, until it is my time to fly home.
I fall in line behind a crowd that appears to be off-roading toward the main entrance, but it turns out they are following the action on an adjacent hole and their route leads me to a rope barricade. Trapped! Trapped like a dog!
My winding route eventually takes me back to the edge of the 18th green, where the atmosphere is much more festive than in the distant echoey wildernesses of Trump National Doral. Saturday will be much busier; the Fan Village will be crammed; my comfortable shaded picnic table and leisurely fruit smoothie will be distant memories of a happier time.
The noise is now for the most part behind me. It will be a long and hateful 5,842 steps back to the comfort of the hotel, with that merciless sun blaring into my face the entire way. I am ambling painfully along the quiet paved path toward the main entrance when I am suddenly descended upon by a group of what appear to be LIV Golf cheerleaders. The women are wearing blue tank tops and white tennis skirts and are without exception platinum blonde; the two men are appallingly handsome and youthful, and I hate them. They intercept my path—I am moving at zombie speed—and one of the women holds up some sort of handheld electronic device and asks me, sir, whether I have yet picked a favorite LIV team. If I could run, I would run. It's all I can do to go uhhhhhhh and to smile sheepishly and to shake my head, without stopping.
The next cheerleader in line then jumps forward and thrusts a clear plastic cup in my face. "You'll get a cup!"
I am tickled but also slightly affronted by this. I have some dignity: If I cannot be tempted to pick a LIV team by youth and beauty and vitality, certainly I will not then tell on myself by doing so for a damn LIV-branded plastic cup. I show her the palms of my hands and say "Thanks, I'm good," and amble onward. The silence among them is one of confusion, possibly even revulsion. Who comes here—who would ever come here—without having bought the entire hog? To decline the attention of babes makes me a weirdo. To balk at a loyalty prompt makes me an enemy. To turn down free merch is simply unthinkable.
Stay in touch
Sign up for our free newsletter