NHL
Witness Connor McDavid
11:24 AM EDT on March 28, 2023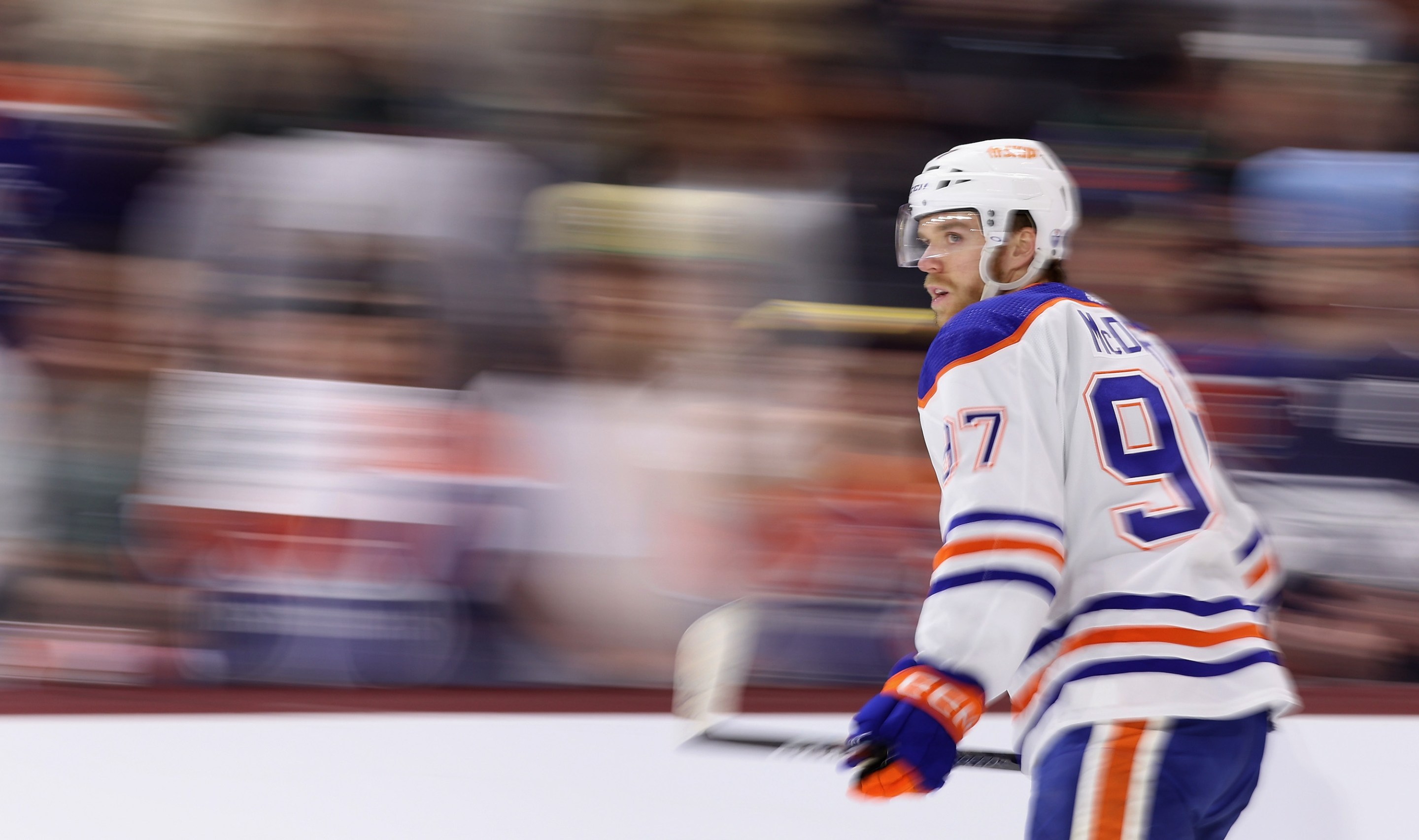 I come to you on bended knee, with the difficult task of heralding the sort of effortless greatness that defies effortless appreciation. Admiring Connor McDavid is something like admiring a blue sky: always there, always awesome, if you care to take notice, but you usually do not, because it was there and beautiful yesterday and will be there and beautiful tomorrow. The challenge is to drag yourself out of this complacent state of awe and toward something more acute. It will not make this task any easier when I come bearing an unspectacular-looking assist.
It's impressive in its way, a perfectly placed helper through traffic to the front of the net, but it will make no highlight reels. McDavid's assist on the first Edmonton goal in a 5-4 win over Arizona was notable only for the size of the bucket in which it's a drop. It was his 80th assist on the season, a big fat round number to go with his exactly 60 goals. These are laughable figures, so far to the right of the scoring bell curve that they look like typographical errors. No one has scored 140 points in a season in the NHL in 27 years, back when it was very nearly a different sport entirely. In fact just 10 skaters ever have put up 140-point seasons, nearly all of them during that window of time in league history when the rules and lagging goaltending strategy made scoring cheap. No one has scored 60 goals this quickly in 35 years. McDavid's production feels like time travel.
But here we run into the tyranny of numbers—impressive yet fundamentally inexpressive. What does it mean to say that McDavid, barring a meteor strike, is good for 40 goals every single season, or 100 points, and only appears to be getting better? Boldface on his stat page does not stir the soul. It does, however, resound to see the statistical company he keeps. Maybe you have only vague memories of what it was like to watch a Lemieux or a Jagr (the last two players to record 140 points) in their primes. Perhaps you daydream, but can't really conceive of what it was like to see a Bossy play, or an Yzerman or an Esposito or, yes, even a Gretzky. Now McDavid's stat sheet starts to feel more like a visit to the Hall of Fame than a recitation of figures, because there is perspective. And it doesn't lie: McDavid is as good as any of the best hockey players to ever skate the earth.
And still, it's a form of greatness that rejects easy description, because it is too encompassing. Why is Connor McDavid so good? is a silly-sounding question that isn't really answerable without pointing to his entire body of work. You can show someone an Ovechkin rocket from the circle or a Crosby backhand and say, This is a specific thing this person does better than anybody. McDavid doesn't really have a thing like that. He has almost all of the things. He is quick and strong and sees the game slow and clear; with the puck he is a juggler and a bull; without it he is a thief and a menace. He knows where to be before the game determines where it's going. He thinks faster. He is faster.
Any number of these skills were on display when McDavid scored his 60th last week, an overtime winner. Apply your adjective of choice to the sequence—dogged, dominant, undeniable—or to McDavid's game as a whole, and it probably applies. "Just a guess that he's not going to think I'm going to do it twice," he deadpanned.
McDavid admitted he was "pressing" for his 60th once he reached 59, a statement that implies, in a normal player, a goalless drought of some length—days or even weeks. McDavid had scored his 59th earlier in that game.
A fun thing about all this is that you'd never describe him as a goalscorer. It's not his game. His game is bound up in all the connective tissue that leads to goals—creating space, finding and exploiting weaknesses, drawing and neutralizing matchup lines—but more often goals by his teammates. It's taken a conscious effort for McDavid, who'd never previously topped 44 goals, to burn out the lamp. He's recorded a career-high shots on goal this year, which in less prodigious hands could be a recipe for the dreaded "volume shooter" rap. Not him. He's also got a career-high shooting percentage. It is the career year for a generational talent, unless he decides to top it next year. He's still just 26.
Goal or assist, they all count the same for the Oilers and their playoff hopes, which look pretty good at the moment. But if the plea is for a wider appreciation of McDavid's talents, the franchise deserves some blame. Despite a run of top picks, the McDavid-era Oilers remain flawed and top-heavy, have missed as many postseasons as they've made, and have yet to win even one game past the second round. This, right here, is the requisite "complain about Edmonton" paragraph in any story on McDavid's cultural and professional impact. It's trite. It's also not wrong. Wayne Gretzky left Alberta for Hollywood when he wanted to be a celebrity. There's no indication McDavid wants that. But he does want to win. Unfortunately for him, in no other major team sport is a given athlete on the playing surface for a lower percentage of game time.
What's left is the greatest player in the world showing out in a way and a place inimical to a casual appreciation of his gifts and workmanship. I still don't know, after all these years, how to explain to an agnostic why Connor McDavid is so good. But there's an easy enough solution. You can just watch.
Stay in touch
Sign up for our free newsletter