Why Your Team Sucks
Why Your Team Sucks 2023: Jacksonville Jaguars
2:53 PM EDT on August 29, 2023
Some people are fans of the Jacksonville Jaguars. But many, many more people are NOT fans of the Jacksonville Jaguars. This 2023 Defector NFL team preview is for those in the latter group. Read all the previews so far here.
Your team: Jacksonville Jaguars.
Your 2022 record: 9-8. AFC South champions. The 2021 Urban Meyer season was so fun that I never wanted it to end, what with all the dry-humping and kicked kickers and what not. Even now, long after Meyer's ouster, I can still wake up on any given morning to new and thoroughly embarrassing tales of his reign. From Ty Dunne:
That Monday night, the safety's phone rang. Caller ID indicated that position coach, Chris Ash, was calling. Wingard answered, and… a different voice greeted him. It was Meyer. "He says, 'Dewey, why the hell did you call me a rookie head coach? Tell me why. If it was anybody else right now, you'd already be cut…'"

"The way he'd describe you, you basically weren't allowed to fail," Wingard says. "So basically, this humongous fear of failure was in the locker room. If you mess up, Urban's going to say, 'You're a loser. You don't belong with me. You still love your wife. You're still a good person. But you're a loser. You're not my type of guy.' That type of stuff. He'd say that to guys."
Oh yeah. I will never get tired of Urban content. It's quality alpha shit, and the fact that it happened in Jacksonville made it all the more appropriate. Why even have an NFL team in this city if it's not gonna be a prolonged embarrassment? What, you think I want the Mark Brunell years back? Those were fucking miserable. I want you people to SUFFER.
Unfortunately for me and the haters, the Jags had to go and become respectable after Urban left. I wished they'd replaced him with Coach Prime and then endured another 13 garish losses. Alas, I'll have to wait another two years for that to happen.
But Jacksonville's miracle turnaround last season (exp. 9/17/23) wasn't instantaneous. They still started out 4-8 as they struggled to shake off the Meyer stink. They gave up four TD passes to Carson Wentz in the opener, even blowing a six-point fourth quarter lead in the process. They took a 14-0 lead in Philadelphia and then had their doors blown off, committing five turnovers and giving up 29 unanswered points in their new head coach's return to his former workplace. They lost to Houston—no Jags season is complete without an inexplicable loss to the Texans—despite Houston's offense gaining just 277 yards. And they lost to the pre-Saturday Colts on this last-second TD pass:
The Jaguars still loved their wives after this game. They were still good people. But they were losers. They would remain losers after pulling a Kevin Dyson and getting stoned on the one in a backbreaking loss to Daniel Jones and the Giants, and after blowing a 10-0 to Nathaniel Hackett and Russell Wilson, and after getting crushed by Kansas City, and then after getting crushed by Detroit two weeks after that. This is how I like my Jaguars: beaten down, humiliated, and marooned forever in our dumbest state's worst city.
This is where I'm obligated to note that they ended the season with five straight wins, including a comeback from six points down in the fourth to beat Tennessee in the final week of the season, locking up the division title in doing so. Then they came back from 27 down to beat L.A. in the Wild Card game the next week. But this was the AFC South that they won, and those were the Chargers that they rallied to eliminate. So I don't really count any of it.
You know what I do count, though? Letting Kansas City backup Chad Henne direct a 98-yard TD drive against them in the Divisional Round. Henne was in for that series because the Jags had knocked Patrick Mahomes out of the game in the first half. The Chiefs remained unfazed. Henne extended their lead, and then a one-legged Mahomes came back into the game to finish the job. You guys still aren't a real team, and never will be.
Your coach: Friendly neighborhood visor Doug Pederson, who never has to win another game in his career after winning a title in Philly and then rescuing the Jags a season ago. I am ready for Pederson to go into Vacation Mode during games, rocking flip flops and even taking the occasional dip in the stadium pool with all the strip mall trash. He can leave it to QB coach Mike McCoy to dial up the intensity for him. Like here!
I want you to picture that face every time you're undressing in front of a window.
Your quarterback: Trevor Lawrence, who lived up to the hype in the back half of last season but still finished with a lower QBR than Jacoby Brissett and Marcus Mariota. In many ways, Trevor Lawrence looks like a lot of Jags fans. If you mess up his hair a little. And punch him in the eye socket. And outfit him in used Salt Life apparel and a dyed-blonde goatee. And get him drunk on Captain Morgan. And feed him 1,000 Italian subs made with pita bread for some reason. BOOM. He fits right in.
Given his status as a No. 1 overall pick, and the usual career trajectory of QBs drafted that high, T-Law (I just made that up don't steal it) should only get better. But if he fucks up and regresses to the Jaguar by throwing 58 red-zone picks, or getting photographed sticking his dick in a wide mouth Miller Light bottle at a strip club … well now you guys just cut the magical Canadian gremlin who could have cleaned up that mess.
That's Nathan Rourke, who is gritty and adorable and no longer at your service. For shame.
What's new that sucks: [zombie voice] BRAIIIIINNNNNNS.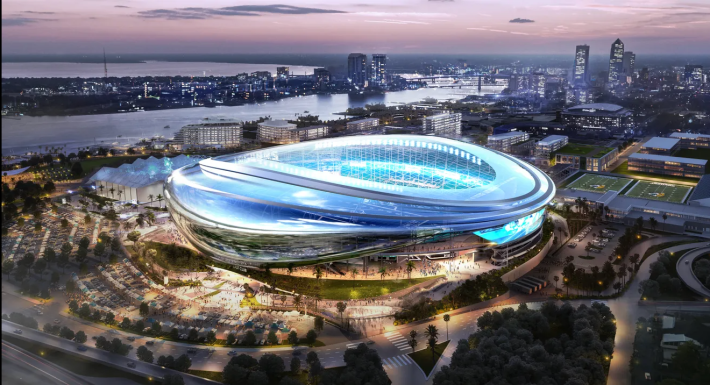 While virtually every other NFL team has either gotten a luxury stadium or is about to have one built, the Jaguars are still in the "show off renderings of a future stadium that will never get built" phase of things. This "renovation" to their current home stadium has an estimated cost of $1.4 billion that will balloon to $6 billion the moment it gets formally approved. From the Florida Times-Union:
The most obvious difference is the addition of a roof that would protect fans from scorching sun in early-season games as well as rainstorms throughout the year. Broeder compared the "roof membrane" to the finish on sunglasses in how it will disperse sunlight throughout the interior of the stadium.
Finally, North Florida will get what it's always wanted: Oakleys, but a stadium. And you're not gonna believe this, but the Jaguars think that this is going to be so much more than just a stadium. Why, it stands to revitalize the city's waterfront (always with waterfronts, these people), too! There'll be shitty retail! And shitty restaurants! And shitty townhomes that no resident will want! We're talking a MAJOR economic boost here!
The Jaguars released a 4-minute video Wednesday that shows swooping animated views of what the "reimagined stadium" would look like inside and outside the venue. "This venue is much more than just a stadium," the narrator says. "It's a reflection of our city and community, celebrating the essence of who we are while casting a vision of who we're becoming."
If you read that last line and noticed that the narrator never mentions what Jacksonville is (a shithole), its essence (sunburned anti-vaxxers), or what it's becoming (a pricier shithole), that's all by design. You don't con a city out of a cool billion by telling everyone the TRUTH. That would be dumb. But the new mayor is tacitly on board with the idea, so I already know that the Jags are gonna fuck all of you hard and good.
Speaking of being fucked, the defense. Jacksonville blew it a year ago when they had the chance to take DE Aidan Hutchinson No. 1 overall and grabbed DE Travon Walker instead. Hutchinson would go on to notch 9.5 sacks for the Lions and finish second in the Rookie of the Year voting behind Sauce Gardner. Walker would get 3.5 sacks and finish 90th in PFF's edge rusher grades, 69 nice spots below Hutchinson. This was the fifth-worst pass defense in the league a year ago, and now it'll have to hold up without edge rusher Arden Key and CB Shaq Griffin, both of whom left via free agency. Somehow I doubt Patrick Mahomes is quaking in his knee brace at the prospect of facing these tomato cans.
On the other side of the ball, Jacksonville's biggest move was to re-sign TE Evan Engram to a fat deal after Engram had a career year in 2022 with Lawrence throwing him the ball. Ask a Giants fan about Evan Engram sometime. Ask them if it's a good idea to expect him to stay good for any prolonged stretch of time. Ask him if he likes holding onto the ball, because he TOTALLY does, especially now that he has money!
This was about the only big move the team could make, given their free agency splurge a year prior. So they had to lean on the draft to spice up their offense, grabbing RT Anton Harrison in the first, TE Brenton Strange in the second, and RB Tank Bigsby in the third. Two of those guys play positions that are already well spoken for on the depth chart. The third, Harrison, is joining a unit still projected to be the fifth-worst by PFF. This team has a lot of talent at the skill positions—including former Falcons WR Calvin Ridley, who was at the forefront of the gambling suspension movement a year ago and who gets most of his production in garbage time—but very little grease for the wheels. A repeat of last season's moral victory tour is probably the best that Duval (pronounced deh-vale) can hope for.
But hey, at least you'll have a tactical hillbilly thunderdome to watch them in five years and 16 new local taxes from now. Florida-Georgia will be the only game that it ever sells out for.
Why the players think you suck: R-A-T-S RATS RATS RATS!
When asked what the number one thing they want changed at their facility, the answer was unanimous – get rid of the rats! Players reported that for 3-4 weeks this season, there was a rat infestation in the locker room and laundry hampers.
I love nothing more to put on a jock and spot Nibbles in the front pocket, chewing away on my love bone. But it gets worse:
Because there is no players' family room offered, players' wives have breastfed their babies on the floor of the stadium's public restrooms.
You always knew that Shad Khan ran a Mickey Mouse operation down here, and now he wants billions for a stadium that he'll probably end up a bio-dome for new roach species. I wouldn't play for this team if you offered me Engram's contract.
What has always sucked: Jacksonville is everything bad about Florida all crammed into a tiny, worthless city. The way that American voters are responding to Ron DeSantis is the way they'd respond to spending an hour in Jacksonville, a city that answers the question: What if you made an entire metropolitan area out of the most dangerous six-lane road in America, and made sure everyone driving on it was carrying an unlicensed handgun? The whole Jacksonville experience is driving your lifted pickup to some beach where the water looks like chocolate milk and then just sitting in the cab, listening to a radio station that is only commercials. It's nothing but double wides and hate crimes and failed pro wrestlers as far as the eye can see, and this rat-infested cruise ship of a franchise is precisely what everyone there deserves. They don't still love their wives. They're not good people. They … are losers.
Hamilton Nolan is the most normal person to ever come out of Jacksonville and every email he sends to the editors of this website reads like something an insane hermit would write on toilet paper.
Ratto says: The Jags' back-to-back games in London this year have caused many people to point to them as the likeliest team to be part of the league's expansion into Europe, even though Shad's mustache unveiled plans in June for a "stadium of the future" in Jacksonville. By rights, neither town should be burdened with this historical mess, but London would take the Jags if they could be assured that Florida had to take Tottenham Hotspur in return.
What might not suck: You've met this division, right? Lawrence could easily find himself in the same comfy spot that Tom Brady was in for decades, making the playoffs every season without having to eat a single gluten.
HEAR IT FROM JAGUARS FANS!
Sean:
As a London based fan of the NFL, what the hell has the UK done to deserve being forced to watch the Jags each year? It's like making a pen pal and then sending them anthrax in every letter.
Braulio:
The Jaguars' o-line is the equivalent of wearing a plastic theme park rain poncho into one of the tropical storms that will eventually wash Florida into the sea.
Jessica:
I think this goes in every WYTS, but always remember: The Jaguar statue outside of our stadium has removable fangs because of the sheer number of people who get their heads stuck in the Jaguar's mouth. 

That swimming pool in the stadium is gonna be ground zero for a monkeypox epidemic in North Florida. 
Mike:
Everyone keeps talking about how potent the Jags offense is going to be this offseason. Trevor Lawrence will be MVP, Ridley is unguardable, Engram is completing the infinity gauntlet, blah blah blah. I have been a Jags fan since they first came in to the league and have experienced maybe five years of relative happiness. We constantly find increasingly impressive ways finish below expectations. We were a Jenkins strip sack away from not even making the playoffs last year against the backups of the backups for the Titans. I don't want to believe it, but my gut just tells me these Jags suck.
Eric:
My Jags have had many, many lows in our history, but in my view nothing felt as bad as when we started 0-2 in 2021 and a sleek "hang in there!" apology graphic from Urban Meyer. The next day, the 0-2 Falcons posted a similar looking apology on their Twitter, and then the Jags Twitter accused the Falcons of copying their apology. "We sucked and apologized FIRST, and don't you forget it!" We really owned them, huh? God, I wish I could forget that entire year.
Andrew:
Look man, I could go into detail about how shit the pass defense on this team is, or how paper-thin the offensive line is. But the real reason why this team sucks, aside from just being in Florida, is that they have not had back-to-back winning seasons in over two decades. The concept of sustained success is anathema to these fucknuts, and we celebrate the odd winning year by fucking up and giving a long contract to our dipshit QB who had a breakout season (looking at you, Garrard and Bortles).

Urban Meyer can get fucked too. What an asshole.
Ed:
I react to positivity in this fanbase like Gollum outdoors when it's partly cloudy: it's something I had once that has been torn from me after years of abuse and neglect, and only causes me pain and loathing now. All the other Hobbitses in Jacksonville are getting drunk and having a good time with our late run of miracle wins last year. But our One Ring franchise QB, for all his never-say-die attitude and incredible arm talent, still can't hit anyone accurately over the middle, and turns the ball over more times per game than Gandalf has extra lives. Our defense is secretly mediocre and our line is going to be a bigger mess than the Steward of Gondor after a bucket of KFC. We only won the division because the rest of the AFC South was buried deeper than Moria's latrines.

Basically where I'm going with this is that when we go 5-12 next year I'm going to throw myself into a fucking volcano.
Brian:
I'm a Jaguars fan, and perhaps the dumbest kind of Jaguars fan. I have no affiliation with the city of Jacksonville or the state of Florida. I openly loathe Florida for all the obvious reasons. I've never set foot in Jacksonville ,and barring the Jags hosting an AFC Championship game (HAHAHA), I'm not considering it. 

No, I got suckered in as a child of the 90s who couldn't resist the the teal and gold color scheme and the Jaguar logo (having Fred Taylor certainly didn't hurt either, get that man to the HOF). I grew up in the Chicago suburbs and could've jumped ship to the Bears at any time, but in a chronic state of delusion, I've stuck by this team into my early 30s. No matter how many empty threats I've made to friends over the years about abandoning this dogshit franchise, I just can't quit them. Not after Matt Jones in the first round. Not after passing up countless actual QB prospects in favor of various Blaine Gabberts and Blake Bortleses. Not after enduring a parade of retreads over their head coaches that culminated with scum of the earth Urban fuckin' Meyer (may he rot in hell). Not after alienating and trading Jalen Ramsey: the first blue-chip, shit-talking, no question difference-maker this team had in years.

Seriously, this team's draft history reads like a random name generator for fucking losers. Do you know how deranged you have to be to convince yourself that Ace Sanders or Cecil Shorts have legit potential?

Enter Trevor Lawrence. 

You're telling me that after all those hopeless drafts, decades of sub-mediocrity, a mirage of success in the AFC Championship game against the Patriots... that I'm supposed to have hope now?

Couldn't be my Jags. No, there will be an ACL tear here, a gambling suspension or three there (hi Calvin), and the entire roster will have their talent sucked away one day like they're in Space Jam. This team can't be good, or even average. So bring on the 2023 season. Let's see what horrors it has in store. I'm ready. I can't be hurt anymore. I am invincible. I am a Jaguars fan. 
Earl:
I pray that Urban Meyer finds a way back into the NFL. The world seemed a little easier to navigate when he was by far the most hated man in the league. 
Aaron:
-Didn't even make a run for Peyton Manning when Manning had a condo in the same state and could fly back to the wife and kids if needed on his off day.

-Drafted a punter in the third round instead of Russell Wilson

-Drafted Blaine Gabbert instead of Colin Kaepernick

-Traded up for Justin Blackmon instead of trading up for Andrew Luck
Josh:
The best metaphor for this team is that they still share a sports complex with a Double-A minor league baseball team.
Ross:
Nothing can make up for the fact that we are Pete Prisco's rooting interest.

Myles Jack was not down.
Submissions for the NFL previews are now closed. Next up: Dallas Cowboys.
Stay in touch
Sign up for our free newsletter