Why Your Team Sucks
Why Your Team Sucks 2022: Kansas City Chiefs
3:08 PM EDT on September 7, 2022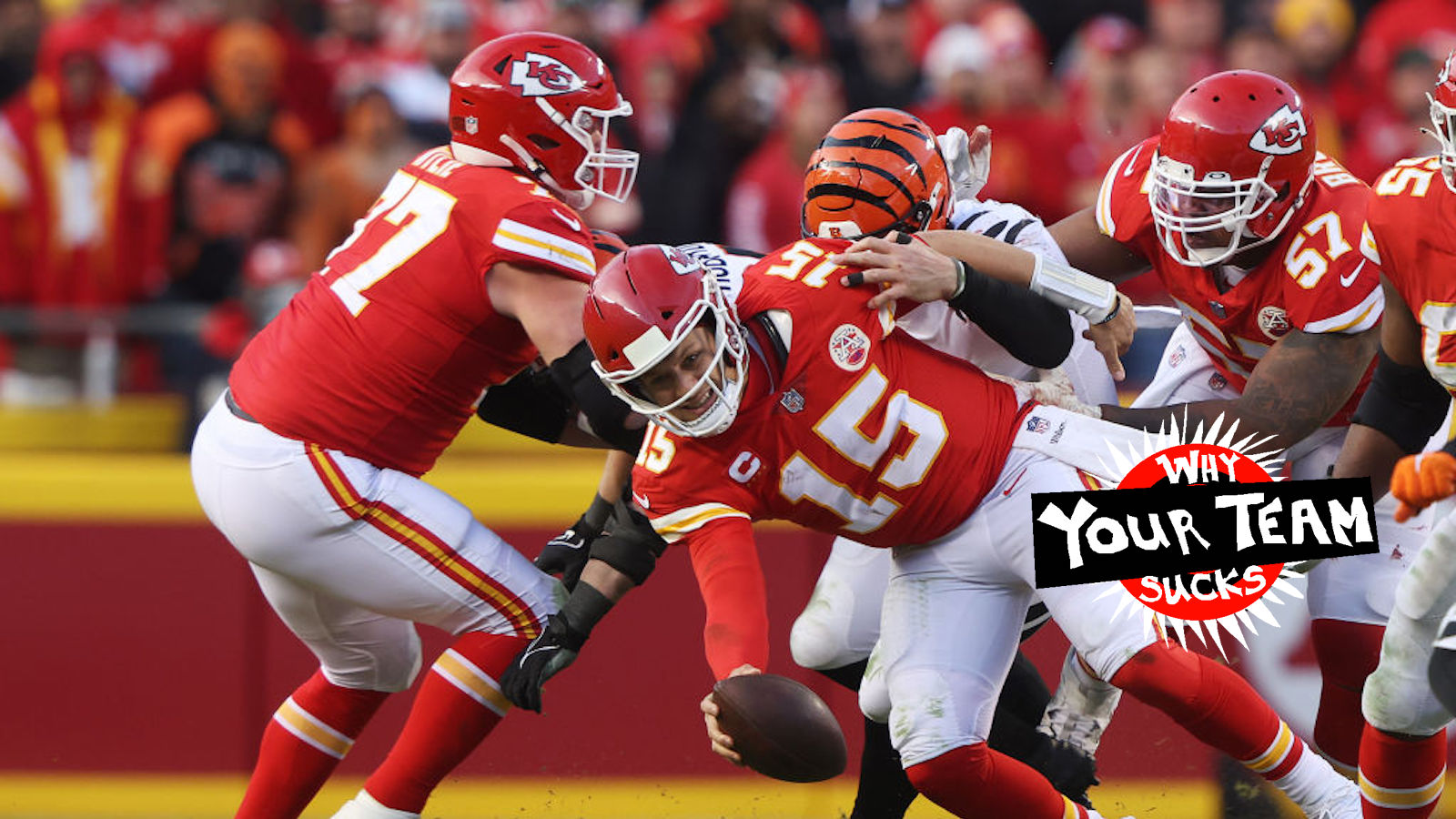 Some people are fans of the Kansas City Chiefs. But many, many more people are NOT fans of the Kansas City Chiefs. This 2022 Defector NFL team preview is for those in the latter group. Read all the previews so far here.
Your team: 21-3.
Your 2021 record: 3-21. Remember when you guys won a Super Bowl? That was fun while it lasted, wasn't it?
Lemme just take you back for a moment, so that you can fully appreciate how badly the Chiefs fucked up a season ago. They treated the regular season, as they often do, the way an NBA title contender does: they struggled out of the gate, kept their cool as people did the whole "WHAT'S WRONG WITH THEM?" thing, and then turned on the motor in the back half of the season, all in preparation for a title run that they essentially treated as preordained. Never mind that the Chiefs had the sixth-worst defense in football a year ago, or that the Ravens tallied 251 yards rushing against that defense, or that they blew a game to the Chargers so badly that the Chargers' white head coach felt free to call his own white QB a "gangsta" after the fact, or that the Bills and Titans both annihilated them in their respective regular-season matchups, or that they didn't have as many big plays on offense as you think because opposing defenses figured out a way to cut off their oxygen supply. These were the Chiefs. They'd get their shit together.
And for the first two playoff games, that assumption felt proper. Even though the Chiefs needed 13 miraculous seconds to escape Josh Allen and the Bills, it still felt like part of a finished script. These were the Golden State Warriors of football. Despite getting pummeled by Tampa Bay in the previous Super Bowl, they'd still get back there and win it. Many, many times. A week later …
Who blows a 21-3 lead at home to the Bengals in the AFC title game? You do. That's who you are, Kansas City. It's who you've always been. In fact, this was not the only time the Chiefs lost to Cincinnati last season. They also dropped a game to them in Week 17 when they committed illegal use of hands on fourth down. If you're a Chiefs fan and you didn't take that loss as an omen, it's because you're eight years old. In the rematch, the Chiefs built up that seemingly insurmountable lead, and then watched it get sanded down to nothing as Bengals' defensive coordinator Lou Anarumo—whose name and face belong on a pizza box—switched at halftime to a scheme so simple, it's almost painful to contemplate.
Cincinnati may as well have spray-painted WE DAR U TO RUN right there on the field, Snickers guy-style. But you know who DID dare to run that afternoon? Lil' Joey Burrow! RUN JOE RUN!
This defense made Joe Burrow look like Russell Wilson for 30 minutes. They also registered a grand total of one sack against Burrow when the Titans had sacked him nine times just the week prior. Meanwhile, Anarumo's defense held the Chiefs' offense to 83 net yards in that same half. And yet, the Chiefs still had a chance to follow the script and win the game in the final seconds. Instead, they let the Bengals and their rookie kicker ruin their shit.
It's not often you get to see the concept of destiny evaporate in real time. But by the time the Chiefs won the OT coin toss and their QB threw a pick, everyone watching felt like a moron for ever believing in these chumps to begin with. Let's have some fun and blame specific people for the debacle, like …
Your coach: Andy Reid, who seemed to validate his own career with a championship, and yet still makes the same fucking mistakes he always has two years later. Here was one of them:
Hey Andy … why'dja do that?
First Sean McDermott, now Andy Reid. Why do these coaches think that a second doesn't last a second? Do they think this is a fucking multiverse we're living in? Clocks don't give a fuck about you, gentlemen, and they never will.
Your quarterback: Patrick Mahomes, who threw more picks last year than he ever has and also had his worst yards-per-attempt. And when other teams aren't owning the shit out of poor Mahomes, his wife and his shithead brother are more than happy to pick up the slack. My man can throw four touchdowns in a game and the story afterward will be about his wife firing apple juice out of a Super Soaker from their luxury box. I can't believe I thought this man would challenge Brady's ring count. It suddenly seems possible, if not likely, that Kansas City will only get one Super Bowl out of the Mahomes era, which would be an even bigger flop than Aaron Rodgers only getting one in Green Bay. I'm disappointed by this prospect, but also it's what Mahomes deserves for being a clumsy try-hard when he's not being a cosmic bore of a man.
What's new that sucks: [Death Warrant bad guy voice] Welcome to hell! On the precipice of cap paralysis, the Chiefs traded light-speed wideout Tyreek Hill to the Dolphins and then valiantly attempted to replace him with a pupu platter of slobs in JuJu Smith-Schuster, Marquez Valdes-Scantling, and Mecole Hardman. It's easy to think that JuJu is good, except that he last had 1,000 yards in 2018. I wasn't even born yet in 2018. MVS has never caught more than 38 balls in his career despite having Rodgers throwing to him for that entire time. And Mecole Hardman was a fun guy to have around while Mahomes had real receivers to throw to. But if you make him a primary option? That is not gonna go well at all. The only potential savior here is rookie Skyy Moore, whom the Chiefs grabbed with one of the picks they got from Miami in the Hill deal. Perhaps he was named after the vodka, which is overpriced and shitty. Another bad omen.
The point here is that while Mahomes may be everyone's favorite gridiron wizard, wideouts are very, very important people to have, and I'm not certain this team has any right now. Every time the Chiefs fail to gain 30 yards a play this season, they're gonna freak the fuck out and piss their girdles.
Still unable to admit that Clyde Edwards-Helaire is a lousy player, the Chiefs kept him in the fold and added free agent Ronald Jones and rookie Isiah Pacheco (no relation to Ferdie) to supplement a running game that you already know Reid will never use properly. Right tackle is still a turn of the roulette wheel, and the Chiefs got into a huffy contract spat with left tackle Orlando Brown this offseason when Brown refused a lucrative contract extension offer, and will play under the franchise tag instead. Let's see if he's worth the money.
This offense is a lot more fragile now than it was just a season ago. If Travis Kelce gets hurt or regresses due to mileage, they are fucked.
On defense, the Chiefs are hoping that a mix of midlevel free agents (Justin Reid, Carlos Dunlap) and value rookies (Trent McDuffie and George Karlaftis) can make up for the loss of players like Melvin Ingram, Charvarius Ward, Mike Hughes, and Tyrann Mathieu. It's likely they can, but I still wouldn't trust this defense to protect a gingerbread house, much less a 21-3 lead.
What has always sucked: I implied up above that adult Chiefs fans have an earned streak of fatalism, but I already know that requires a fact-check. I've seen you people. You guys are like Packers fans, only you know how to cook. Your presumptuousness is more deafening than your farts. You think that, just because you have Mahomes, and just because Mahomes has a reasonable contract, that everything is gonna be all right in the end. So you crowd into Arrowhead, leaving hoofprints everywhere you go and smelling of B.O. and paprika, and then you do your little Tomahawk Chop and watch, in growing horror, as you get outflanked by fucking Zac Taylor with everything on the line. Your future seemed so bright once, didn't it? Football-wise, that is. Personally speaking, the lot of you have about as much potential as a dead professional wrestler. But at least the Chiefs once had a second ring and the promise of more. The only thing they have to promise you now? Anguish. Put that in your Traeger and smoke it.
Missouri is one of our worst states and doesn't get enough shit for it. Frank Clark is still a raging prick. I keep thinking Creed Humphrey is the Office guy.
Ratto says: Owner Clark Hunt is considering a possible move from Arrowhead Stadium to a site in actual Kansas because the state legislature is on the verge of approving gambling designed to lure the Chiefs over from Missouri. Moving to Kansas from anywhere not named Nebraska has not normally been considered an upgrade, but that might just be snotty urbanite biases at work. On the other hand, the Royals want to move downtown, and the Chiefs want to cash in while real estate bait Patrick Mahomes is still active. So the best stadium in the NFL may be exchanged for a new place with more suites and farm equipment shows over by the Grange hall.
What might not suck: If you don't think I grabbed Pacheco two rounds too early in fantasy because I fancied myself a clever lad, then you've never lost money in fantasy, baby.
HEAR IT FROM CHIEFS FANS!
David:
AFC Championship vs Bengals. I'm there. We're kicking ass in the first half, and then the unthinkable happens: they announce that the fucking "Applebee's on a Date Night" guy is doing a halftime show. I don't need to tell you what happens next.
Samuel:
I might have been more apoplectic about Hill's departure from Kansas City had it happened before he lost a footrace to a linebacker.
Jeremy:
1993 – Kimble Anders turns a TD pass in off his chest in the endzone into a pick (AFC Title Game)

1995 – Lin Elliot misses three FGs (Div. Playoffs)

1997 – TD taken away from Tony Gonzalez because instant replay challenges weren't a thing yet (Div. Playoffs)

2003 – Not one punt? This defense could not force a single punt? (Div. Playoffs)

2013 – Andrew Luck scores off a forced fumble that bounces right to him (WC Playoffs)

2016 – Eric Fisher holds James Harrison (Div. Playoffs)

2017 – Marcus Mariota throws a TD pass to himself (WC Playoffs)

2018 – Dee Fords is offsides (AFC Title Game)

2020 – Second Quarter from hell (SB)

2021 – Throwing to Tyreek Hill short of the endzone with no timeouts from the one-yard line (AFC Title)
Sarah:
The NFL Draft is the world's most unpredictable crapshoot, and yet our entire dipshit fanbase (myself included) has talked itself into us winning the next five Super Bowls because we wOn tHe dRaFt this year. We're so woefully impatient that we're pinning our hopes and dreams For This Upcoming Season on a handful of kids whose prefrontal cortexes haven't finished developing. It's all a salve to take the sting off of losing Tyreek Hill, which nobody wants to admit is a net loss on our offense. We are a fanbase of ostriches with our heads in the sand unwilling to hear arguments that perhaps it's not good that the fastest fucking WR in the league now plays for another team. At least his podcast sucks.
David:
Congratulations on not having to do any more mental gymnastics about whether or not he's a terrible person.
Ty:
I'm keenly aware of his off-field history, but it still felt like a family member died when we traded away Tyreek Hill.
Tyler:
Our kicker is an antivax, anti-choice shithead who has a clever(?) Twitter handle. This instantly makes him the best/most beloved player among certain groups of this fanbase. Fuck him with an old railroad tie.
Vikram:
Either we win another title in the next few years and the pain of that collapse against the Bengals fades away, or we don't and that swing pass haunts me for decades to come.
Samuel:
Let's watch Harrison Butker use his (meager) celebrity to do his part to quash women's rights by imploring the viewer to vote for an amendment to the Kansas constitution to outlaw abortion:
If only the Chiefs had been as proactive with their personnel management as they have been with expanding their myriad contributions to systemic marginalization.
Kyle:
The heel turn has finished. Patrick Mahomes is no longer the wunderkind with the voice of Kermit and space for ten MVP trophies. He's the guy who couldn't get a few yards when the Bengals dropped eight while down 21 with the annoying brother that dances on opposing logos for TikTok views and gets kicked out of trendy dive bars for showing up with a 12-person entourage at 10pm on a Friday night. The Chiefs are no longer the cute story of the league. They're the team with supremely racist fans who continue to show up in facepaint and do the Tomahawk Chop with tribal chants 30 years after the civilized world last did them and 40 years after they were invented. They have arguably the most successful team of the last five years and still insist on getting into fights around the stadium while blasted on whatever they brought in to tailgate eight hours earlier.

We finally got rid of Tyreek Hill, who immediately started a podcast that showed why he was never allowed near a microphone here. If only the team had stopped him from being near children that couldn't fight back.
Bryan:
Reid & co. couldn't figure out how to handle the Bengals dropping eight guys into coverage.
Tom:
Our defense will always suck because our head coach doesn't care about it.
Jean:
We're going to be stuck for the next 15 years with a great QB and a coach who'll regularly get outsmarted in the playoffs by the younger, hipper version of Sean McVay. We'll basically be the Brees' Saints without the city or the Rodgers' Packers without the history. It's not football hell, but it sure is a waste of talent, time and energy.
Aaron:
Matt Nagy is somehow back. Yay?
Cooper:
We hated fanbases like the Patriots' for years because they were too smug and expected to win every game. Now we wanna fire everyone over an early-season loss and we view not winning the Super Bowl as a failure.

Also these 90s-ass turtlenecks that the players still wear for press photos: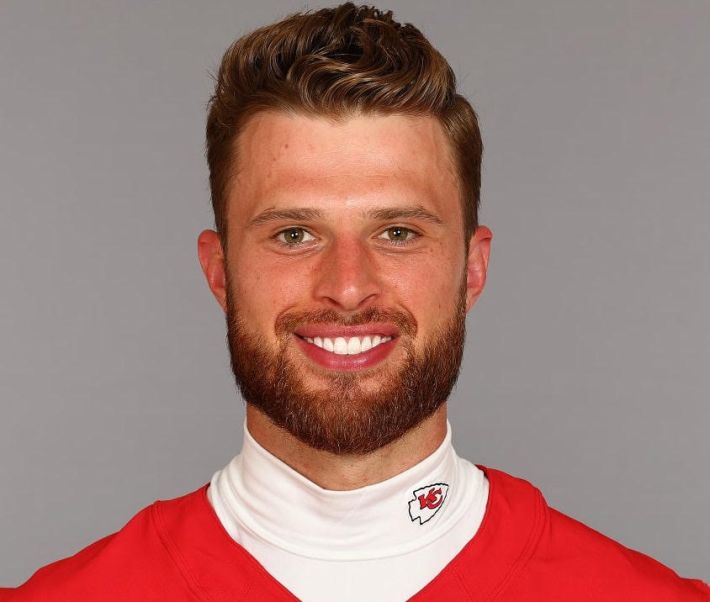 Brandon:
You likely remember how the Chiefs blew it to the Bengals to reach what would've been their third straight Super Bowl, but what you may not remember is that the team struggled to stay at .500 for the first two months of the regular season. If you lived in Kansas City during that time, you would've thought the sky was falling. So many people were absolutely certain that Mahomes had peaked and that the Chiefs were destined for mediocrity. Then the Chiefs won eight straight and everyone became bandwagon fans again. The moral of this story is that Chiefs fans are always four straight losses away from melting into a pile of tears, rage, and sticky barbecue sauce.

Mercifully, Tyreek Hill is gone, but the outpouring of love and support for him from the fanbase was beyond sickening. Anytime I remind someone of his assault conviction and child abuse allegations, they look at me as if I called their newborn baby butt ugly.

Fuck Josh Hawley with literally every object in the universe, simultaneously.
Joel:
Idiot Fail-Sibling Jackson Mahomes could burn down the local children's hospital and take a dump on the WWI museum lawn, and team leadership wouldn't even say sorry since 95% of the value of the franchise rests on not pissing off the anthropomorphic State Farm commercial.
Conor:
I went to the Chiefs' playoff game against Pittsburgh last season. Lee Greenwood sang, "I'm Proud to Be An American" before the game. The entire stadium was singing it. I didn't know if the thousands of Chiefs fans loved it more, or the Steelers fans sitting next to me who drove in from West Virginia.
Devin:
It's terrifying the amount of backwoods Missouri Ozark dwellers and snobby KU trust fund brats who defend Jackson's and Patrick's baby mama's antics despite them being the two worst people on the planet.
Tim:
It took all of exactly one season of success for our fans to all turn into GM-brained morons. Not a single one of them gets any pleasure anymore from watching the games. They are only ever disappointed that the offense only scored 35 points instead of 49, or that the running back who tore his groin open last week isn't hitting the hole with as much oomph this week.
Gavinsky:
Most of the rest of the league never had a history of bankrolling the John Birch Society, so we still have that.

I can't get over the feeling that Patrick Mahomes is a fluke and the rest of the league has solved him. Maybe it was the literal decades of getting kicked in the teeth by a team that never demonstrated postseason success that has me seeing monsters around every corner, but we were led to believe that Mahomes was going to be a likable Tom Brady and now I have real (and, I admit, really stupid) concerns that we have an extra-fancy Trent Dilfer or, to be fairer, an upmarket Joe Flacco.
Todd:
The Chiefs have a divided fan base of African Americans who live in K.C. and Trumpy as Hell whites who live in the suburbs and eastern Kansas. And all of them do the Tomahawk Chop. When you challenge any Chiefs fans online about the Chop, the constant excuse is, "But the team, unlike others, works with our local tribes." So? Every other team with a Native American name will probably change theirs DECADES before the Chiefs ever succumb to doing the right thing.
Oliver:
Fuck Clark Hunt. Fuck Andy Reid for presiding over two of the biggest playoff collapses in NFL history. Fuck Marty Shottenheimer for running Rick Gannon out of town. Double fuck Lin Elliot. And fuck me for forgiving it all because they have Patrick Mahomes.
Erica:
My husband didn't want me breaking into our wedding Chianti during the second half of the AFC Championship game for some reason, so the only alcohol available to me was fucking peach Schnapps. I mixed it with Sprite and mindlessly guzzled it each time Mahomes went on those scrambles that took more time and had less clear purpose than my cat's zooms to nowhere, then I tore up paper from the recycle bin to try to manage my stress.

By the time the game went into overtime, I was throwing around the bits of paper singing "Do You Hear the People Sing?" After Mahomes's interception, which was textbook full-circle from the beginning of the season, I got in the shower and was on the floor singing "Wrecking Ball" as the Bengals punched their ticket to the Super Bowl.I'm glad we lost. All of that would have been really embarrassing if we had won.
Submissions for the Defector NFL previews are closed. Next up: Cincinnati Bengals.
Stay in touch
Sign up for our free newsletter