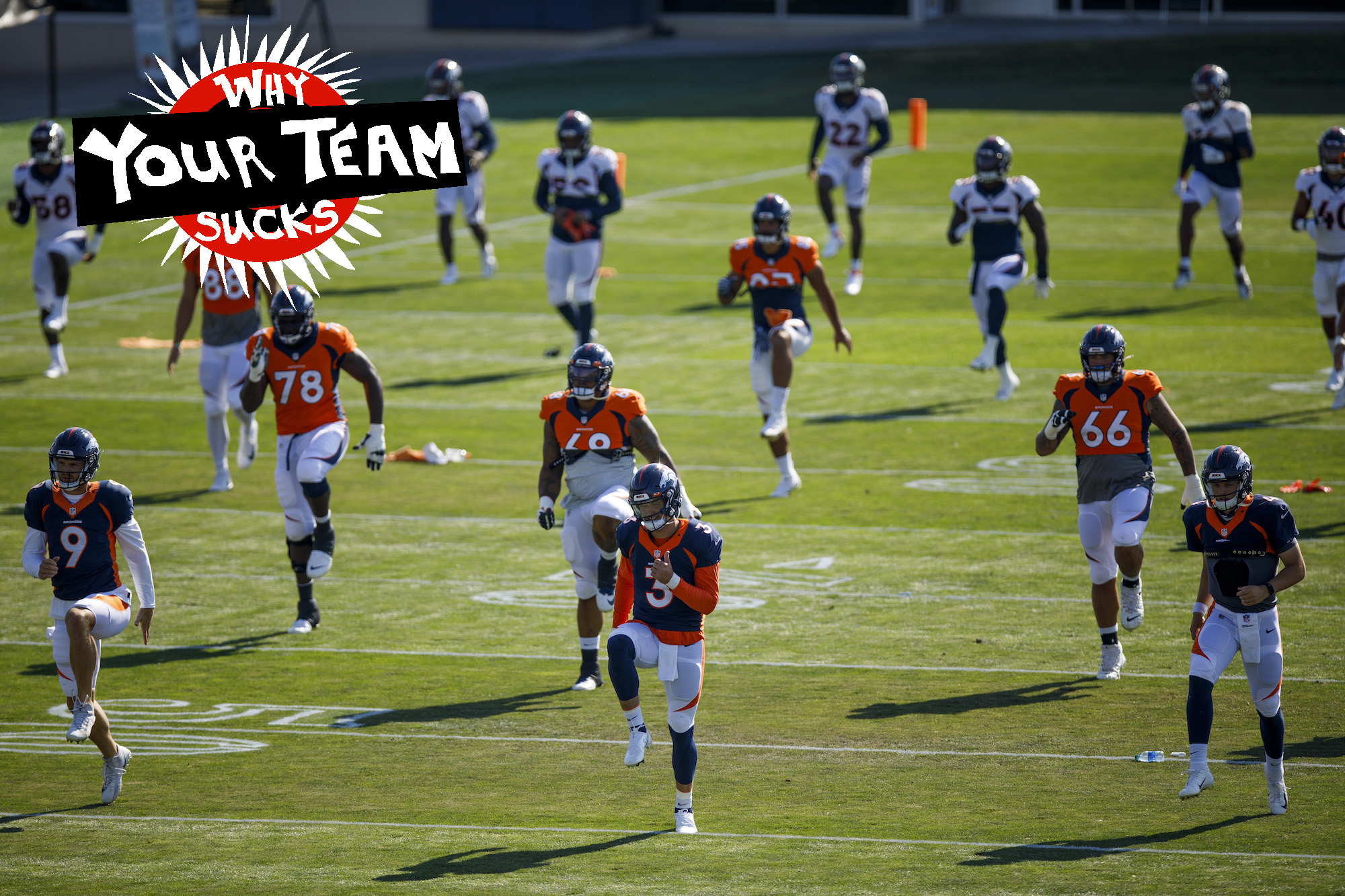 Some people are fans of the Denver Broncos. But many, many more people are NOT fans of the Denver Broncos. This 2020 Defector NFL team preview is for those in the latter group. Read all the previews so far here.
Your team: Denver Transportation Hygiene Theater Administration!
This magical sanitation gateway will definitely help prevent the spread of COVID-19. Imagine if John Elway hadn't installed it! WHAT IF VON MILLER HAD TESTED POSITIVE HOO BOY THAT WOULD HAVE BEEN A REAL PICKLE!
(colleague urgently whispers into my ear)
Oh.
Your 2019 record: A very tricky 7-9.
That punt was brought to you by special teams coach Tom McMahon, who also happened to be the Colts' special teams coach back when Chuckie Pagano infamously offered up poor Griff Whalen as a blood sacrifice to Bill Belichick. Is McMahon still in charge of special teams here? Reader, you know he is. These things come in threes, so for his next trick, expect McMahon to fake a long snap.
The Broncos' 2019 was split into two distinct seasons. I'd like to focus on them starting 3-8, because their losing brings me great joy. They were outscored 53-9 by the Chiefs in two games. They got The Drived by Mitchell Trubisky. They blew a 20-0 lead on the road to Kirk Cousins. Their horsey sauce GM whined out the starting tackle for his chronic holding addiction. Shortly after Emmanuel Sanders said the team was living in a "world of suck" and needed to call better plays, the Broncos traded Sanders to San Francisco, where he… won an NFC title. That'll learn him. Up a point against the Colts with under two minutes remaining, they ran the ball on 3rd and 5 and then from the Colts' 44.
It was so mortifying than even Joe Flacco couldn't keep quiet about it. Do you know how hard it is to get Joe Flacco vocally upset? You could piss in the driver's seat of Joe Flacco's CRV and he would be like, "Well that's certainly interesting!" For his singular and utterly justified show of defiance, Flacco was gifted a phantom neck injury, replaced with the immortal Brandon Allen (no relation to Kyle), and never allowed behind center again. To be fair to the Broncos, their offense under Flacco was one of the worst I've ever seen. Would you care for proof? My friend, I would be DELIGHTED to provide it:
The Broncos redeemed their piss-poor start by going 4-1 to close out the season, leaving fans tempted to buy in to the fabled CARRYING OF THE MOMENTUM, which even I'm drawn to with them for 2020. Never ever buy into this.
Your coach: Vic Fangio. Hey Vic, what do you think of the ol' racism?
"We're a league of meritocracy." As someone who has watched Nathan Peterman throw a pass, I am DEEPLY offended by this statement. Of course, Fangio was merely building up to the now infamous, Colbertian "I don't see racism" quote you see up above. But it gets even better. Kind of.
"The Minnesota cop (that killed George Floyd) failed the 99 percent of police that do a great job, and we are all paying a price for that."
So true. If this summer taught me anything, it's that cops don't have a good enough reputation. Now, Fangio made public amends for those comments. He apologized. He marched. And now he's probably back to being the same clueless idiot he was before all that.
Your quarterback: Football Colin Jost.
Drew Lock was the reason the Broncos ended the season 4-1 and gave off the impression that Elway, for once in his life, drafted a QB who was worth a shit. Ah, but I'm hearing that only one of those games was against a winning team? And that Lock threw for barely more than 200 yards a game? And that his receivers this year wouldn't crack the starting lineup at Clemson? Did I get all that right?
(Kylen from Cherry Cheek butts into the comment section to dispute all this)
CAN IT. YOUR QUARTERBACK HAS PROVEN NOTHING. Behind Lock is Jeff Driskel. In other words, behind Lock is nothing. You guys have been used to Nothing getting the start for four years now. Drew Lock sounds like the name of a guy Jim Irsay would hire to hide Andrew Luck's retirement from the general public.
What's new that sucks: Well, Von Miller got the rona, which was bad. The good news is that Miller recovered(?) and was ready to take the field, which was good because he had a lot to prove! To Mark Kiszla!
Here's my fearless prediction: If they don't win at least 10 times, Denver won't be the place where Miller plays football in 2021.
Kiszla has never faced any professional consequences for his consistently awful takes. So I guess he has good reason to be fearless, in a manner of speaking. Miller was the last credible remnant of the 2015 Super Bowl team still in place. Everything else around him has disintegrated. And now Miller's ankle has as well. He's already gone for the season, and it would be just a horrible shame if he couldn't finish to his career here after his recovery, going 8-8 in perpetuity in service of the Pro Football Hall of Fame's dumbest member.
Now, the new guys. Derek Wolfe and Chris Harris have both left, but the Broncos did some cursory shuffling and brought in twin AFC South dwellers in DE Jurrell Casey and CB AJ Bouye. They also drafted Jerry Jeudy out of Bama for Lock to throw to, AND they signed Melvin Gordon from the Chargers a year after Gordon had already proved he'd lost a step. Gordon will be in the dreaded RBBC with gritback Phillip Lindsay. Which one of them will score? Not the one YOU'RE starting, amigo. Meanwhile, children of the late Pat Bowlen are still fighting in court with Bowlen's trustees over who gets all of his shit. That trial got pushed back to 2021 because of COVID, but here's the fun part. One of those trustees is Broncos CEO Joe Ellis.
Ellis cited Scipione's "protective order" in declining to comment about his confidence level in winning the trial, but said the ongoing legal disputes were not impacting his day-to-day duties with the Broncos. "It's not a distraction," Ellis said.
Yeah man, nothing is easier to put out of mind than legal problems. Everyone I know with legal problems says to me, "Drew, this is nothing I can't put out my mind with a delicious handful of Bugles." I've had a will drawn up before. Choosing a trustee is no small matter. It's not a task you'd assign to the head of the drunk-drivingest front office in the NFL, and it's DEFINITELY not a task you'd assign to guy who's primary focus is on beating Justin Herbert in Week 11. You know what? I hope Bowlen's kids take Ellis to the fucking cleaners. 
What has always sucked: John Elway is the perfect GM for this team because he never bothers to hide his contempt for it. He mouths off like a sober Jerry Jones. The team is soft. Garett Bolles won't stop holding. Remember, this team won a Super Bowl not that long ago, and yet it can never live up to Elway's expectations for it. Broncos fans are the EXACT same way. Even Notre Dame fans are more reasonable by comparison. There is some mythical universe in which the Broncos win 15 Super Bowls in a row, with a 23-year-old Elway at the helm for every one of them. For both Elway and these fans, traveling to that dimension is still considered a reasonable expectation to have. Anything short of that and this team gets a RIVER of complaints.
That the Broncos lucked into their most recent title despite all that horseshit is a testament to their ability, and not Joe Ellis's, to shut out distractions. Are these fans grateful for it? No. They are the St. Louis gun couple of fanbases, standing out on their garish lawns and DYING for reasons to be unhappy. I think finishing a distant second in the AFC West this year should do the trick for you shitbags. I wish this organization could be napalmed. By Jake Plummer.
What might not suck: Lock is pretty good. Of course, now that I've said it…
Ratto says: "I like Vic Fangio because he is unapologetically Vic Fangio. There aren't a lot of people who name their sons Vic any more—it is the Thelma of boys' names—and he isn't trying to be down with the kids or a new-age thinker or a players' coach or any of that. He looks like a guy who lights his first cigarette by sticking his face into a lit barbecue pit and his subsequent cigarettes by using the previous one, and anyway, he buys only unfiltered Chesterfields because he's no candypants. His sweatshirts would make Bill Belichick look like Tim Gunn.
"Of course, I hate most football coaches (FANGIO, FOR EXAMPLE, NEEDED A GUIDED TOUR TO BE SHOWN RACISM, WHICH IS VERY BRAND-CONSCIOUS BUT A BAD LOOK WITH THE EMPLOYEES), so we are praising with faint damn here. As for the team he runs, well, gakkkkk. Von Miller is still a player of the jumping-Jesus-did-you-see-that variety, and I think Melvin Gordon will get all the carries he can eat, but the quarterback, Drewlockjeffdriskelbrettrypien, is largely a mystery (which is why you'll see all three of them this year while Vic pulls on a heater and changes them in the middle of actual plays), and the center depth chart features Lloyd Cushenberry III, Austin Schlottmann and Jacob Bobenmoyer, probably because one of the warring Bowlen daughters has the part of the team that involves uniform nameplates.
"That's the real thing about this otherwise featureless team as it navigates staying ahead of the of the gravel-and-filament-wire Las Vegas Grudens. It's a team without a boss because it's a team with a lot of people who want to be boss. Think of seven Mike Brown clones trying to run the Cincinnati Bengals at the same time, and then tap the crook of your arm for a still-viable vein. John Elway is the front man for this clown car of walking lawsuits, and ignoring his occasionally retrograde politics, he is still trying to bring this tanker into port from the sea of phlegm it's been in since 2015. It'll get better at some point, maybe, but the smart money is on Fangio switching brands to Oaxaca Regal Selects before Halloween."
Burneko says: "When I chopped my thumb a week ago, I was getting loopy and nauseous on the ride to the hospital so my wife started asking me to list things, as a way of distracting me. when we got to NFL teams, I listed 31 of the teams within about three minutes, and it took me another half an hour to remember that the Broncos exist."
HEAR IT FROM BRONCOS FANS!
Matthew:
The first play of the season last year was a reverse with our TE that lost 5 yards.
Chris:
We're owned by a trust made up of three idiots who do nothing but make sure that John Elway is safe in his job even though he's fucking awful at it.
Kyle:
We have tied the future of our franchise to a guy who played like, pretty good, for 4 games. Drew Lock is just Matt Flynn with less hype.
Dillon:
This team has an extraordinary amount of confidence in spite of the fact they went 7-9. I'm anticipating a similar season.
FJB:
Leave it to the Broncos to dive headfirst into sanitation pseudo-science. When the Broncos become the Marlins of the NFL, we'll deserve it.
Mike:
The altitude must have finally gotten to me, because oxygen deprivation is the only logical explanation for thinking, "Yes, Joe Flacco is the right choice for this team."
Jake:
My childhood hero is a Nazi and my beloved team is going to get defenestrated by Mahomes for 15 more years. So this is what hell smells like.
George:
These are the same idiot fans who thought Chad Kelly and Kyle Sloter would become HOF quarterbacks.
Mike:
Broncos fans demand that "Mile High" be included somewhere in the stadium name. When the most interesting thing about you is the elevation of the city you live in, it's time for a goddamn hobby. They're like a child whose dog died. Now they think that if they get a new dog and name it exactly the same thing everything will go back to how it was.
Joe:
In 2002, Broncos superfan Barrel Man came to visit my high school as some sort of "inspirational speaker". I can't remember why he was there, or what the point of his speech was, but at the end of his talk there was a Q&A session. Of course one of the first questions was "What do you wear under your barrel?". He was decked out in his Sunday's best (orange barrel, suspenders, cowboy hat and boots) and gave a coy grin. Before he could answer, I shouted from the back of the room like a 16 year old jackass would "I bet he's wearing a vagina". The Barrel Man was not amused; and I was suspended for 2 days. There is a Barrel Man statue inside Mile High Stadium.
Arthur:
Over the past few years it's become painfully clear that, after drafting Von Miller, the plan was to sign him forever and doom him to a single championship followed by a decade of twisting in the wind while attached to garbage offenses. Because John Elway's brain is 90% teeth and 10% CTE, Miller won't even get the late-career comeback Super Bowl that Ray Lewis got.

I bought a Knowshon Moreno jersey and I still wear it.
Dave:
The Rahim Moore game happened during a Boy Scout awards banquet. Five hundred people, including guests, were seated at tables, eating dinner, and we had delayed the start of the actual banquet program to keep showing the game on the big screens. There were audible curses when that play happened, including by multiple professional Scouters, parents, and dozens of kids. After the Broncos lost in overtime, we had to start the banquet program, which was scheduled to last longer than the overtime NFL playoff game it followed. Everyone in the room just wanted to leave and/or drink. None of the speakers or presenters or kids getting awards could muster anything resembling enthusiasm. It was easily the worst, most depressing Boy Scout event you've ever heard of, including the National Jamboree where they let Trump give a speech.

But it's okay, the athlete I worshipped as a child is now an incompetent, MAGA-brained GM who's ruining the very team he's synonymous with.
Danny:
Floyd Little has spinal cancer and had to open a Gofundme to afford treatment. The Bowlen family is worth billions and never offered to foot the bill, nor did John Elway who is also rich as fuck. Little was at one point the face of the Broncos, and these rich fucks can't be bothered to throw a pittance to help the dude out.

Our quarterback is a dork who does the Buzz Lightyear pose as a TD celebration.
Aaron:
I'm as excited as anyone about the team's potential with Lock under center with Sutton, Jeudy, Hamler, Fant, Lindsay, and Gordon as weapons. Lock's swagger is fun and refreshing. But Elway is also the GM version of the distracted boyfriend meme, so at this point I expect three more QBs under center by 2021.
Brett:
Our star defensive player started off the quarantine by streaming his horrible DJ sessions to Instagram Live. Every stream featured a cavalcade of his random hangers-on, loafing around his house, not socially distanced, jumping into frame and waving at the camera. He promptly contracted coronavirus.

Fuck Joe Flacco and fuck John Elway. We're not going to make the playoffs until Patrick Mahomes retires in the 2030s.
Mandy:
Fuck John Elway with this shitty wood art my sister got me for Christmas. Then shove it all the way down Rahim Moore's throat.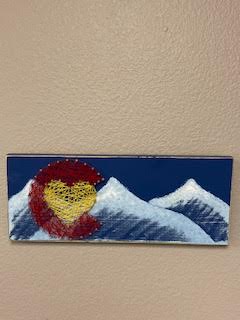 Heather:
Our fanbase is filled with adult babies who honestly believe that it's reasonable to expect the Broncos to win the Super Bowl every year. It doesn't matter how shitty our actual players are, they need to win it all, every season, end of story. And that entitled attitude sums up the entire city as well as its fanbase.

We are white and wealthy and privileged and goddamn if we don't continuously bitch about everything. This is a progressive city, but you wouldn't have known it by the way we dealt with the pandemics. Masks? Won't wear em. Social distancing? Only if that includes weekend BBQs and playdates with every family on the block. This city has treated a national emergency like an extended party staycation. People still flocked to the parks and the mountain trails en masse, maskless with 10 of their best friends, cause 'we're outdoorsy!' which is the new way we say, "I don't give a fuck about anyone else." And when trails were closed we managed to equate this deprivation with being in prison.

So this entitled, feckless fanbase will react with their best Pikachu faces once week 6 hits and we haven't won all of our games 99-0. We'll fire Vic Fangio and install another coach who will be saddled with an even more mediocre team.

But the one person who we won't bitch about, the one person who will remain blameless will be John Fucking Elway, the man responsible for drafting the shittiest succession of quarterbacks I've ever seen. He drafted Paxton Lynch in the first round, who couldn't throw a stick accurately enough for his dog to catch it.

What doesn't suck: Phillip Lindsay came to the school I teach at and was smaller than most of the sophomores on our football team. His bones must be made of titanium or he will die on the field soon. Either way, he's fun as fuck to watch.
Matthew:
Ed McCaffrey was my favorite player growing up (I come from a family of tall, skinny white people). I will always remember on 9/10/2001. The Broncos were playing the Giants on MNF. I couldn't stay up to watch the game because I was 10. I woke up the next morning and my dad said, "I have good news and bad news. Good news is that the Broncos won, the bad news is Ed McCaffrey broke his leg." I was devastated.

Then like 20 minutes later that morning the first plane hit the World Trade Center.
Charles:
It's January 2013 and the Ravens are in Mile High and I have just moved back to downtown Denver after my wife asked for a separation so that she can "find herself". Up until I was blindsided with this request, I thought that things were going great! We had finally both gotten good jobs, bought a beautiful home, took yearly international vacations, had some money, had friends, a beautiful dog, all that.

So, I move to a gleaming new apartment downtown where I am the only person over 30, let alone 40, and proceed to try and not die of grief. Moving back to the neighborhood of my birth was strange because it was now rapidly gentrifying. I was a Native Son yet also feeling like a Colonial invader.

Fast forward 6 weeks and I have no friends because all of our friends were also her. I lost my whole social circle out of this separation and I'm down in the fancy lobby drinking double IPAs and watching the playoff game against Baltimore with a bunch of 20 somethings. I get an email from my health care provider the second Trindon Holiday returns his second kick return for a touchdown and the email is about a charge for a drug I wasn't familiar with for my wife (who was still on my insurance) on the day that I moved out of our house.

I google up what the drug is and my heart just drops and breaks. It's for a birth control injection. I had had a vasectomy about 10 years prior. So, as I am getting drunker and the Broncos are totally fucking blowing this game, I am realizing that my wife has very different ideas of "finding herself" than I do.

My anger is world-cracking and my sadness is soul shattering. By the time that 70-yard bullshit Hail Mary to Jacoby Jones hit to send the game into overtime (Thanks Rahim Moore!) and then stupid fucking Manning threw a perfectly predictable and brutal interception at the beginning of overtime I was just a wreck of a man.

All the 20 somethings tiptoed out of the TV room as it was clear I was in a killing rage and I just sat there for a long, long time before I wandered back to my apartment where I just slammed the door, turned off all the lights and then played music as loud as I could until the neighbors called the cops. Good stuff.

Fuck Joe Flacco, Fuck Manning, Fuck Rahim Moore, and double fuck Elway with Trumps mushroom dick.
Submissions for the NFL previews are closed. Next up: Dallas Cowboys.
Stay in touch
Sign up for our free newsletter