Why Your Team Sucks
Why Your Team Sucks 2020: Cleveland Browns
12:00 PM EDT on September 12, 2020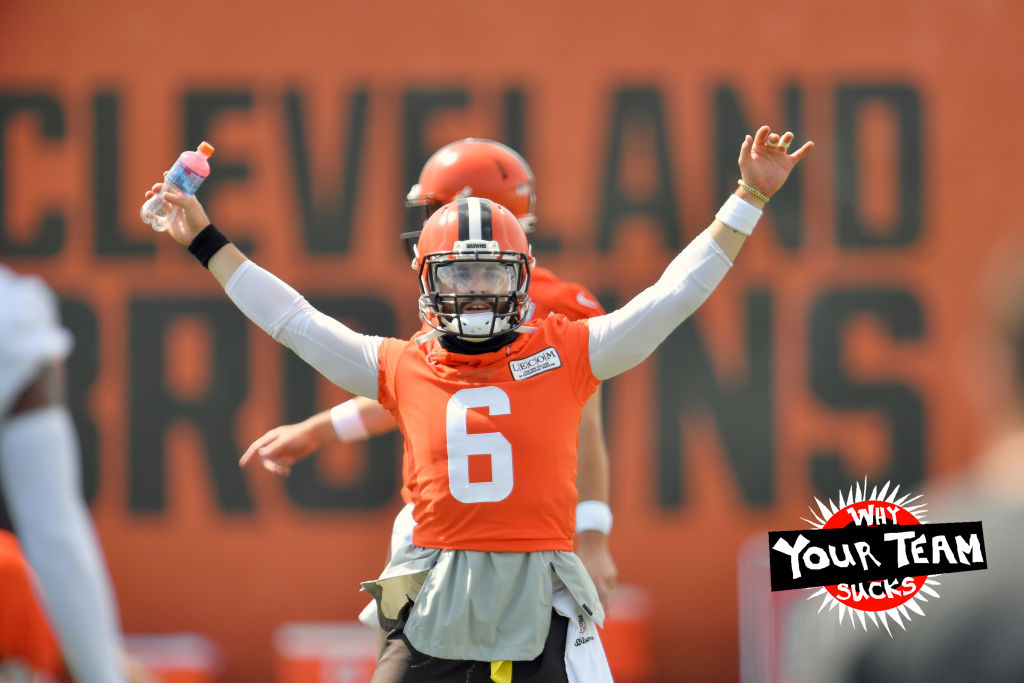 Some people are fans of the Cleveland Browns. But many, many more people are NOT fans of the Cleveland Browns. This 2020 Defector NFL team preview is for those in the latter group. Read all the previews so far here.
Your team: Cleveland Browns.
God that fuckup is so pure. So very Browns.
Your 2019 record: 6-10. Remember when Browns fans actually thought they had a chance going into last season? I do. They didn't just think they had a chance, they thought the Browns would be a DYNASTY. The second that team traded for Odell and actual NFL experts began picking them to win the division. What happened next? Well lemme tell your sorry asses what happened…
•One of their fans sucker-punched Myles Garrett.
•Taking the ball the other way, their safety got cut after he threatened to murder angry fans on Twitter. It's 2020 and people STILL don't know that other people can read their tweets.
•The defensive end's girlfriend was killed by a drunk driver.
•Then–head coach Freddie Kitchens ordered a false start on 4th-and-11 because the punt team had run out onto the field by accident. Then the offense took the field and gave up a sack.
•They ended the season fourth in penalties, which was actually below my personal expectations for them.
•They turned it over on three consecutive snaps against the Pats. Jarvis Landry had to retract his own victory guarantee prior to that game. In Landry's defense, the Browns only lost by a modest two touchdowns.
•Odell had the lowest per-game yardage of his career. Also, he got strangled.
•A fucking draw play on 4th and 9.
•Odell accused the team's former interim head coach of deliberately injuring him.
•This:
•Their starting tackle got ejected for kicking an opponent in the head.
•They lost at Pittsburgh for the 16th straight year.
•The guy who traded for Odell? Fired.
What a complete pile of shit. I never want to hear you Dawg Pound losers talk this team up ever again. Whatever made you think you had the right to be COCKY? Did Todd Haley nut into your bloodstream or something? I understand that wandering across the football version of the Sahara for the entirety of this century is enough to make any fan hallucinate, but your coach was a fucking HVAC repairman. Your run defense was an extraordinary disgrace. Your owner was (and is) a Robert Loggia villain.
What were you people expecting? No seriously: WHAT THE FUCK WERE YOU EXPECTING?! Is there a learning allergy in Ohio? (Yes.) Do you gunt collectors retain ANY information presented to you? I could con all of you people into believing the tooth fairy still exists, I swear to Christ.
Anyway, the Browns ate curb for the 900th year in a row and Kitchens got shown the door after just one season at the helm. Remember: Kitchens was hired after serving as interim offensive coordinator the year prior. That's like putting your punter in as the emergency QB and then handing him Aaron Rodgers's contract the next morning.
Your coach: Not Eric Bieniemy. I know you thought this team might hire Eric Bieniemy, but no. Instead you get former Vikings OC and Mark-Schlereth-after-gastric-bypass-surgery, Kevin Stefanski.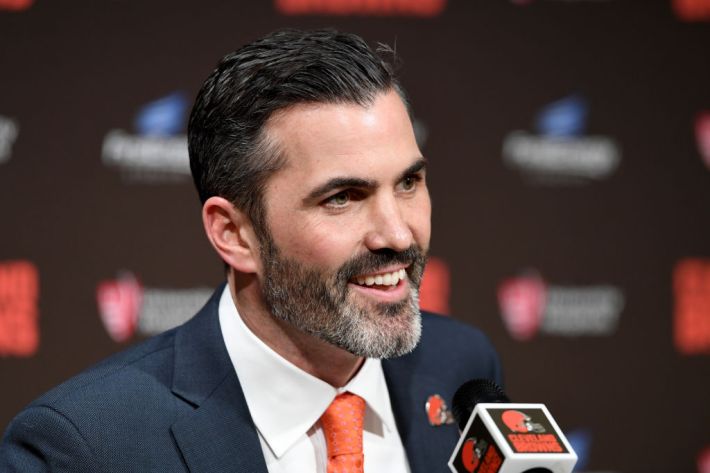 Stefanski, if you recall, was the overwhelming first choice of Browns management when they were searching for a head coach over a year ago, but team owner and actual criminal Jimmy Haslam overruled them after consulting his precious Magic Eight Ball keychain. The amusing capper to this is that the Browns only hired Stefanski this time around after Matt Rhule refused to even take an interview with them. When you're in Cleveland, your second choice is always gonna be the best you can do. This is what being a Democrat feels like.
Every year I struggle to figure out if the Browns' all-time list of head coaches is more depressing than their all-time list of starting quarterbacks. Always a tossup. To that end…
Your quarterback: More expensive Gardner Minshew.
I feel confident enough now to say that Baker Mayfield is a shitty player. You could see his regression last season from the International Space Station. Picks? Up. TDs? Down. Rating? Down. Yards per game? Down. Yards per attempt? Down. DANGEROUSNESS? Also down. I drafted this man in the third round last year. I am dumb as a Browns fan. Not a good feeling. Meanwhile, Arizona drafted Kyler Murray and he's already the next Russell Wilson. You got played. You get played over and over and over and over again. Playing in Cleveland is so miserable that Baker Mayfield is four more losses away from fully entering his Jay Cutler phase.
Your backup is Case Keenum, because playing for Washington simply wasn't enough to break that man. I wish there were no season.
What's new that sucks: Austin Hooper is your new tight end. Is Austin Hooper the kind of tight end who only puts up impressive numbers when he has a good quarterback throwing to him? FUCK AND YES HE IS. Excited for Baker to target Hooper 70 times and have 35 of those passes end up caught by a Steeler To Be Named Later. Hooper's arrival caused incumbent tight end David Njoku to request a trade, and here's the funny part (with the Browns, there's always a funny part):
About a month ago, David Njoku made it known he wanted out of Cleveland. Apparently that came as news to Cleveland.
Yeah, who the fuck would have guessed. You're telling me a dude who just lost his starting job would like the chance to start somewhere else? WHOA THAT'S AN EVENT HORIZON IN NFL PLAYER DEMANDS. Let's hear GM Andrew Berry's response to that request:
Browns general manager Andrew Berry admitted Tuesday he was somewhat surprised when Njoku's agent, Drew Rosenhaus, demanded a trade on behalf of his client in early July. "I will be honest, yes, a little bit... I guess you learn not to be surprised about anything." 
I don't think you learned that at all. Otherwise you would have seen this shit coming, ANDREW. The Brown refused the request and Njoku reported to camp. It takes real guts to play hardball with a second-string player you just rendered instantly disposable, but if any team has those guts, it's Cleveland. If I were Njoku, I'd fake having the rona.
Jack Conklin is the new left tackle. The new uniforms are the old uniforms.
There is a tradition of failure here that must be honored and these threads do the job well.
Myles Garrett got paid, and think about how much more he'll earn on top of that in civil lawsuit settlements by staying here! He won't even have to endorse the local gruel taco stand!
Odell likes to be shit on. Makes you wonder why he ever wanted to get away from the Giants' front office so badly.
What has always sucked: Last season's 6-10 was refreshing because it offered the Browns an opportunity to somehow play BELOW expectations. No one will ever have such expectations for them again. LOL JUST KIDDING LOOK AT THESE MORONS:
I'm an American, so I know when people binge on hope because they have absolutely NOTHING. And you, Cleveland Browns, have nothing. You have no winning history. You have nothing resembling competent, admirable ownership. You have no exciting rookie prospects. You have no quarterback. You DO have the "nuke the gays" guy as your new special teams coach, which means have no good kickoff coverage. You are the David Njoku of football teams, and that's almost too nice.
And you fans! You also have nothing. The Browns, as stated, have nothing. But you have somehow managed to have even less. You have no jobs. You probably have no homes. You certainly have no working cognitive function. You have no justification to be hopeful or happy about much of anything. You can't even joke about your absolute destitution because the Hastily Made Cleveland Tourism Video was posted 11 years ago. Your self-deprecation has worn thin, and you are quickly entering pre–2004 Boston levels of TELL ME MY MISERY IS PRETTY neediness. You could have quit the Browns this year, you know. There would have been no better time. And yet, you can't because this waste of a team is all you have. You should take up heroin. Heroin, unlike the Browns, will never let you down.
What might not suck: Nick Chubb. Also Baker is good in those insurance ads.
Ratto says: "No team in sports has had more words vomited upon them in the last three years than these guys, and that's just since they hung out all their dirty laundry for HBO two years ago. They were the worst team ever, then they were the hot team, then Baker Mayfield was great, then he was a team cancer, then Myles Garrett was a swell guy and then he was a helmet-swinging psychopath who got suspended for much of last season and then he got a huge new contract. Who can trust them to do anything? More precisely, who do you trust to explain the Browns? They are, frankly, a leading testimonial for why NFL analysts and the producers who prod them largely have no idea what to make of this steaming heap of a sport. They make everyone who touches them look stupid on an almost weekly basis, which if nothing else should teach humility to blowhards.
"But they did fix the uniforms to get rid of the city name on the front and the team name on the pants because everybody knows where they come from and what they're called. It's just that nobody is happy about what's inside them."
HEAR IT FROM BROWNS FANS!
Joshua:
Imagine how tired we are.
Russ:
They still use the same color palette my kid uses to decorate the inside of her diapers.
Josh:
Cleveland will never be able to heal itself so long as Browns fans draw breath.
Nick:
I've been here so many times before. With hope. With an assurance that this time it'll be different. Only to be kicked in the nuts repeatedly.
Andrew:
It's not that I'm rooting for the season to be canceled, it's just that it really wouldn't change my viewing experience of this team one way or the other.
Matt:
I was the third child in my family, the first boy. My dad, upon discovering he would have a boy, went out and bought a Cleveland Browns football to put in my crib. He did his best to instill a love for this team in me, and it's been a resounding disappointment for us both.

Myles Garrett could have beheaded Mason Rudolph and a not insignificant portion of fans would have supported it. I would like to tell you that I am above that. But I have watched that helmet swing far too many times and definitely wished it knocked him out each time. Every time I see Mason Rudolph's dumb outraged face after he realizes that someone had the audacity to be violent to him, I want to watch it again. I'm not any better. Football makes us all worse people, and if we end up taking a year off from it, we'll probably all be better. So of course we won't.
Henry:
I moved to Albany, NY four years ago. One day I wore my Browns hoodie to the grocery story. A man was there with his young son. As I walked by he put his arm around his son and pointed at me. He said, "Son, that's what a real fan looks like." Last year I let my ex keep the hoodie.
Vince:
The Browns' owners were investigated by the FBI. They play in a stadium named for a company that might have bribed the Ohio Speaker of the House and made with the same flammable panels that caused the London apartment fire. FirstEnergy probably got more return on their investment with Larry Householder than they did with the Browns.
Casey:
I've been working from home for 6 months with my wife and one-year old twins. Most days are a smoldering hellscape of fighting for my job and marriage, drinking a "creativity beer" at 10am, and warding off desk chair-shaped sores on my ass.

AND YET, the worst part of 2020 was finding out the NFL will attempt to play the season. If this year wasn't awful enough, I have to watch Baker underthrow his receivers 30 times a game. I'm emailing Elon now to see if a Neuralink implant can erase Browns fandom from my brain.
Ian:
When I went back home to Cleveland the person sitting next to me was unfortunate enough to be wearing a mask in Steelers colors. At the arrivals pickup at Hopkins airport, a guy in a pickup truck wearing a Browns jersey in July yelled while driving by "Fuck Pittsburgh!". He proceeded to ram into the car in front of him at about 20 miles per hour. Screaming "Aw fuck!" he immediately hit reverse, hitting a police car that had pulled up behind him. The man in the Steelers colored mask didn't even look up from his phone because of ear buds.

I feel like this is a good representation of our main rivalry.
Devon:
As we've heard countless times since this newest regime was installed, the Browns finally have the elusive and critical "alignment" in their leadership that everyone thinks is important. I don't know though, are you telling me that a billion dollar operation needs its three top executives on the same page with its ownership? This is PHD-level stuff man, and I'm just a humble internet user, so I remain unconvinced. If you say so.

Do not read the comments on any site regarding the Browns players' statement of solidarity with Black Lives Matter. I beg you. I have less in common with the majority of my fellow Browns fans than I do with Somali pirates.
CJ:
As I write this I am wearing a Peyton Hillis jersey. I dug it out of my closet in the hopes it would somehow provide me with some really deep and meaningful insight into why I still root for this team. Instead, I'm just remembering that story about how Hillis had contemplated retirement so he could join the CIA. Hillis claims that story was all false and made-up. But when you're talking about Browns, it makes more sense for something like that to be true.

On a daily basis I wonder aloud at how the people in this country who are so wholly obsessed with our damp President seemingly inhabit a world that is so completely out of touch with reality. And yet, I share a remarkable amount in common with these people! I own a Browns shirt that has our stupid little elf mascot making the Johnny Manziel "money" sign. Not even the 1-31 record could convince me that Hue Jackson wasn't the coach to lead us to the promised land. I paid otherwise valuable currency to attend that one win! Did I think that Freddie Kitchens, who in 10+ years in the NFL had accumulated zero head coaching experience and only half a season of experience as an OC, was an undiscovered offensive GENIUS who had just secretly been biding his time? Yes. I absolutely and unashamedly believed that. Today, Baker Mayfield could shoot somebody in the middle of Fifth Avenue and my response would be: "Yeah, but did you see that sweet instagram video he posted of him and OBJ working out? I'm cautiously optimistic that we'll go at least 12-4 and make the Super Bowl." Browns fans and Trump supporters share some strange strain of brain mold.

It is statistically improbable for a team to be so consistently terrible. Dumpster fire doesn't even describe it. The Browns are more akin to the "The Door to Hell" in the Turkmenistan desert: a natural gas pit that has been burning nonstop for 40 years after the Soviets accidentally set it on fire. I only wish I could blame the Soviets for what has become a seasonal mental health crisis. I am convinced that the Browns will win a pandemic plagued Super Bowl and then go back to being awful forever. A sad empty victory while isolated alone at home. That seems more in-check with the trajectory of the universe than the Browns ever being a consistently good football team.
Zach:
In the spring of 1999 I was called to the teacher's desk in my fifth grade classroom, and to my surprise, found out I, along with a kid from the only other catholic grade school in our town, had been chosen to attend an exclusive preview of the Browns training facility, meet some players and then see them practice. All of this was facilitated by our D.A.R.E. officer. This was the first season, the rebirth of the Cleveland Browns, and hopes were high. I made a list in my head of all the players I wanted to meet, all of the autographs that I would get, Tim Couch being number one on the list, with Chris Spielman (my father being an OSU alum) being second.

So the day comes, we get a tour thru the training facility, get our pictures taken in the locker room with the punter and kicker, Chris Gardocki and Phil Dawson, and then we were driven to the high school field where they were practicing. And that was it. Classic Browns, they had been too busy or forgot about this promotion, or some other lame excuse, and we never got to meet any of the other players. Hell, I never even got a copy of the photo they took.Skip to a few weeks later, and Officer Don stops by the classroom with a package for me. It was a signed apology note from Chris Palmer and a Browns felt pennant, graced with the autographs of Tim Couch and Chris Spielman, along with some stickers and whatever else you give an 11-year-old to placate them. And so that letter sat on a shelf in my bedroom, along with my collection of sports memorabilia, until, years later, the barnyard cat my sister attempted to domesticate decided to piss all over it. I should have framed it then, because what better symbol of Cleveland Browns fandom can you imagine than a piss-soaked apology note from the first, in a long line of failed head coaches for this sorry excuse of a franchise?I can't wait until Baker Mayfield blames his complete failure as a quarterback on the deep state.Fuck this team, fuck our fans and fuck forever Art Modell.
Shawn:
For the love of God, please cancel the season. If there is one good thing to come from Corona, could it PLEASE be I don't need to pump myself up for another season of weekly suicidal tendencies. I don't want to care that Baker looks good coming into this season. I don't want to care about all the talent we have on the offense. I don't want to care about Myles Garrett's insane workout videos. I don't want to care about ANOTHER new head coach. I just want to...not care. I've seen this episode before, I know how it ends, and it sucks. The 0-16 parade is by far the most fun I've ever had as a Browns fan and I don't see that ever changing.

PS Myles is a true American hero for his helmet swing last year. I don't care what anyone else says, it was and will probably be forever, the best play a single Browns player has made since 1999.
Dan:
That I continue to find breadcrumbs of hope (new uniforms!) to cling to each summer just to continue supporting a hauntingly bad team in a borderline immoral sport that won't exist in 20 years says way more about how much I suck than how much the Browns do. And they suck very much.
Chloe:
Dear god, I have never seen such depravity as I have at the Muni Lot on a Browns game day. I used to read the police reports the day after home games, and despite the Cleveland Police's rank-and-file being drawn from the same cursed suburban stock as the fan base, even they can't stop it. Beyond the typical drinking and fighting, these Neanderthals commit rape, felonious assault, and someone once even pissed on a 6-year-old kid who wore a Steelers jersey.

This team, and its fan base, are emblematic of everything wrong with northeast Ohio. This is a fan base that thought that Brian Hoyer was Tom Brady simply because he went to a local Catholic high school that's been nicknamed St. Igracist. These idiots think that Bernie Kosar is Joe Montana, despite Kosar having never won anything and being the poster child for CTE.Sadly, there are so many of these rubes that local media bends to their will. I will never forget having a live 2007 Cavs playoff game rudely interrupted by Browns draft coverage. No matter what they tell you now, these idiots never cared about the Cavs until LeBron was one step away from his chasedown block.The team has been mismanaged for decades by either a literal evil banker, that evil banker's absentee son, or a Great Value Jerry Jones who made his money robbing truckers. The team might show a cunthair of progress now, but make no mistake, it will regress to sub-500 the moment that Baker Mayfield's arm gets caught in the machinery of the factory of sadness.This team is forever cursed because its fans are a bunch of degenerate, racist white trash who truly do not deserve anything good in their lives. I stopped watching the NFL altogether because of the mismanagement of this team and this fanbase, and I'm happier and better for it.
Seth:
Even for a zombie franchise with two winning seasons in the 21 years since its human form was murdered by Art Modell, the 2019 campaign was especially soul-destroying. After years of the most egregious tanking this side of the Sixers, the Browns promoted to head coach the dumbest, most unqualified man ever to lead an NFL team. His rotund figure, hillbilly demeanor, and lack of discernible talent immediately made Freddie Kitchens the "One of Us" King of Cleveland.

Watching the 2019 Browns was like a weekly visit to a terminally ill relative. Initial optimism was followed by denial, followed by desperate hope for a miracle, followed by the deflating realization that even the players themselves knew the team was dying. By week 8, they were losing to something called a Brandon Allen, and the rest of the season was Hospice care. The highlights of the year were a preseason kick return touchdown by a homeless guy who got a camp invite via tryout, the franchise cornerstone trying to maim a Steeler, and a starting safety threatening to kill the fans.

This organization will never get better. It is led by a felonious carpetbagger whose every instinct is wrong. He raised ticket prices after last year's faceplant, which is all but a prelude to his plan to extort the taxpayers of this fair city, where more than half of children are living in poverty, for a new stadium when the current lease expires in 2029. Jimmy Haslem should thank god every day that Dan Snyder and James Dolan exist, thus sparing him the title of worst owner in sports. Nick Chubb is awesome though.
Joshua:
Kevin Stefanski is so apt for this moment in Browns history. As soon as he was introduced as the hire, every Pam, Joy, and Theresa north of Dayton spent two weeks talking about how hot he was. Which I dunno, sure, but I refuse to think isn't a direct result of a year and half of exposure to the absolute Goomba that is Freddie Kitchens.
Submissions for the NFL previews are closed. Next up: New York Jets.
Stay in touch
Sign up for our free newsletter