Why Your Team Sucks
Why Your Team Sucks 2020: Arizona Cardinals
3:59 PM EDT on September 11, 2020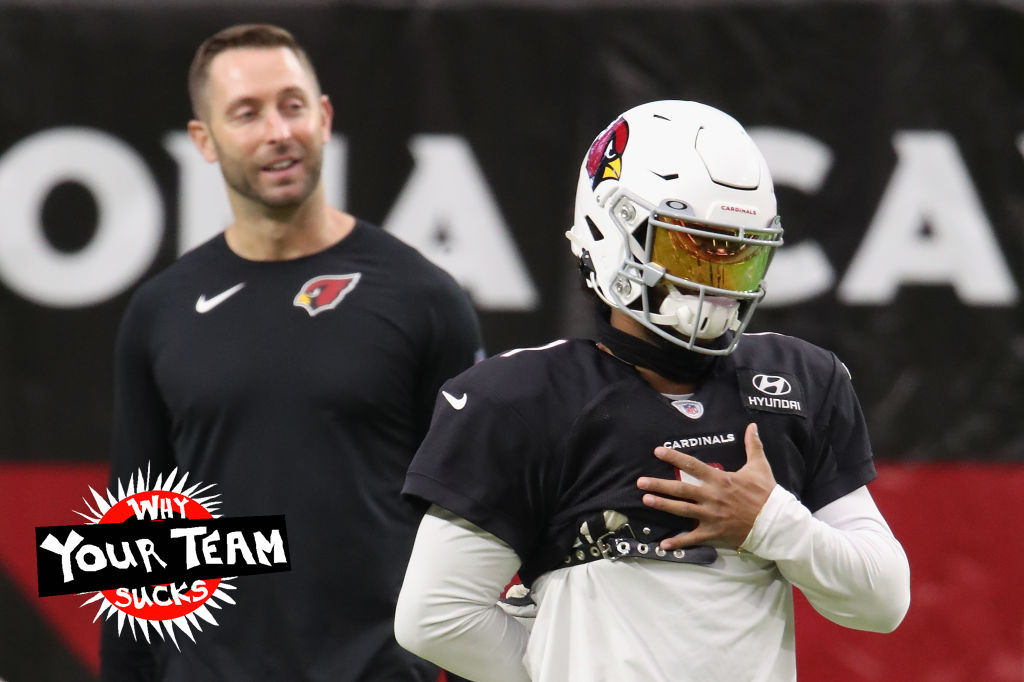 Some people are fans of the Arizona Cardinals. But many, many more people are NOT fans of the Arizona Cardinals. This 2020 Defector NFL team preview is for those in the latter group. Read all the previews so far here.
Your team: This fucking state.
Your 2019 record: 5-10-1, with arguably the biggest victory of the campaign being a Week 1 tie against the Lions. 
Your coach: Kliff Kingsbury, who, no matter what he accomplishes going forward, will always be remembered as the coach who had the nicest draft house.
[Ringer voice] THIS MAN WON THE PANDEMIC. This is a nice house. I sure as hell wouldn't kick it off of my property, and I'm glad there's a football coach on this Earth who wants to live like a baller and doesn't live inside a welded-together stack of pickup trucks. But let's take a closer look at this puppy.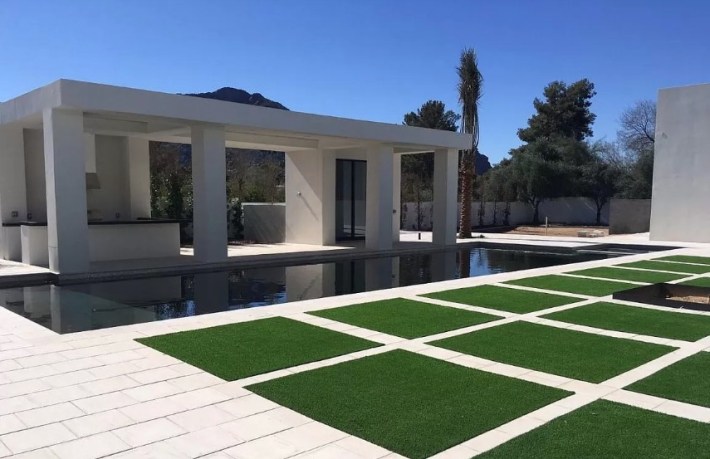 Is that a yard or a terrace? YOU CAN'T HAVE IT BOTH WAYS, KID. And that pool isn't even an infinity pool! Kliff, you low-rent SHIT.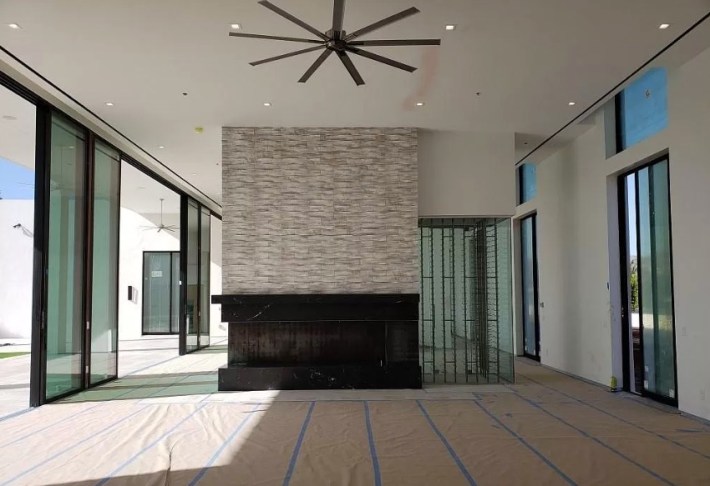 I've pointed this out before, but every rich American dreams of living inside the lobby of a Marriott. This is the kind of joint where you host Second Thanksgiving because your ex-wife had dibs on the real holiday.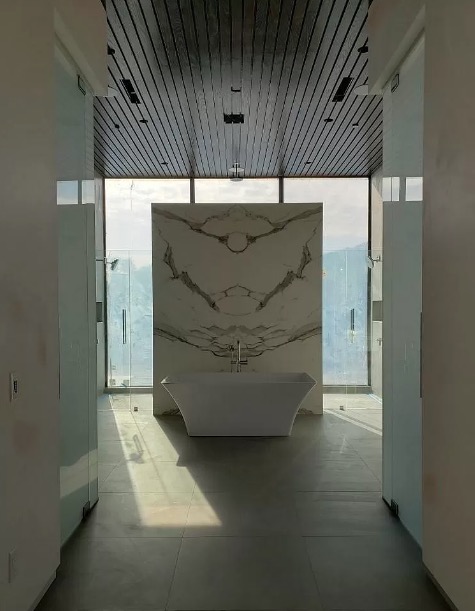 Every dream home includes an ornate bath that costs $15,000 and is built for fucking. They never get used. Fucking in the big shower is the move.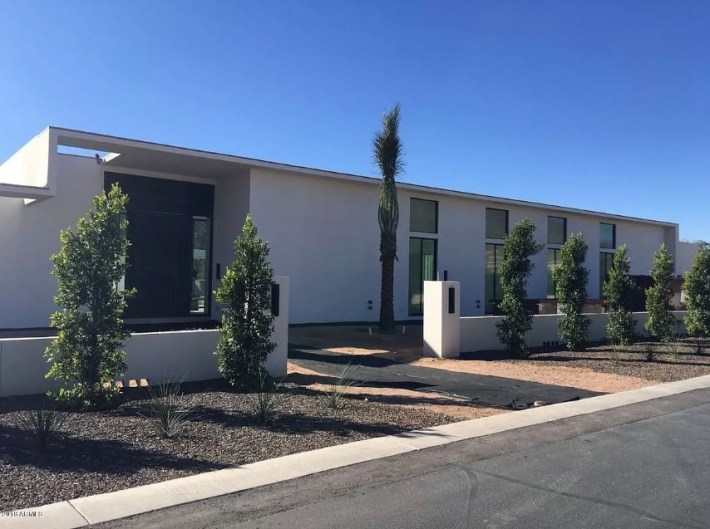 The front of this place looks like shit! What is this, an urgent care clinic?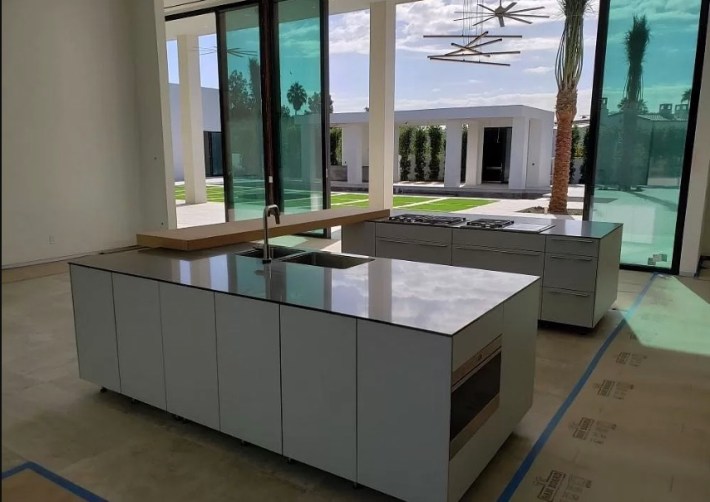 Did a child design this kitchen? This looks like a fort. Anyway, you can pretend this house is on South Beach all you like, but the reality is that it's just another frigid mansion in a state that God abhors.
Your quarterback: False start aficionado Kyler Murray. I love it when the quarterback gets tagged for a false start. It's the two-dollar bill of false starts, and Murray commits them a lot! WE'RE ALL RICH IN APPALLING CURIOSITIES!
Like everyone else, I spent all of last year being like this guy chose the right sport to play. I didn't expect that take to be SO MUCH MORE CORRECT nine months later, but is it ever. Thankfully, Roger Goodell is gonna even things up a bit by forcing Murray and his team to play their home games in a state that has mask-burning parties from 5-7 p.m. every weeknight. Excited to see how this all plays out!
Your backup remains Brett Hundley. I won the Super Bowl with Hundley in Madden during quarantine. It meant nothing.
What's new that sucks: After trading for Kenyan Drake in the middle of last season, the Cardinals went one step further in March when they traded what's left of David Johnson to a deeply confused Bill O'Brien in exchange for DeAndre Hopkins, who never drops a pass. They didn't even have to give up a first to do it. This is the kind of deal that your fantasy commissioner would have voided, but Goodell let it pass through unscathed. God, I can't wait to do the Texans preview. Alas, I'm still stuck on this team. I feel like I'm visiting relatives I don't want to visit. Very Arizona feeling. 
The Cardinals drafted Clemson dynamo Isaiah Simmons in April and have resolved to make him an inside linebacker, one of five different positions that Simmons played in college. I guarantee you right now that they picked the wrong position for him. By October, Kingsbury will be like, "I was standing next to my fire pit, staring into its licking flames, remembering that we live in a universe that has no real beginning nor end and exists solely in a state of perpetual change. And that's when I realized that Isaiah is a strong safety now."
What has always sucked: Larry Fitzgerald is still here. Color guys have been heaping lifetime achievement awards on Fitz for over a DECADE now. I'm sick to death of it. The man goes for 0.2 yards per reception every year, and yet I gotta act like he's already retired and wearing a Canton jacket. I already went through this during Brett Favre's final 68 seasons. I don't wanna do it again. 
This is gonna be an extremely fun team this year and in years beyond, but you and I both know that all their fans would rather be at a Trump rally instead. That's how Arizona is. The governor here is Doug Ducey, who is somehow NOT related to Steve Doocy and who occupies the third tier of Aggro GOP Dickheads, just a level below the likes of Matt Gaetz, Greg Abbott, and that Georgia lady. He hates weed. He shows up at barefaced graduation parties, Lake of the Ozarks–style. He might be a hologram. He encouraged residents to go shopping in May. And when you tell an Arizonan that they can go to Forever 21, they get in their H2s and go FULL FUCKING SPEED to grab that 16 percent discount. 
This man won office by nearly 14 percentage points in 2018. He's not an anomaly out on the desert. He IS Arizona. I hate sharing a country with this state. I hate its people. I hate its climate. I hate its aesthetic, which is best described as Sammy Hagar Ran Out Of Money. I hate that Kyler Murray has to play here. I hate that the Cardinals think it's cool to have a grass tray field when you're not supposed to grow grass in the desert at all. I want the Cardinals to play on nothing but raw SAND. I want them to tear every fucking artery trying to cut across baked dunes. I want them to all suffer extreme hallucinations while playing in 300-degree heat. And I want all of their fans to drown in their novelty sized margarita glasses. The whole state is a piece of trash and deserves nothing good.
And fuck John McCain's corpse with his own aircraft carrier. He really WAS a loser! THERE I SAID IT.
What might not suck: Michael Bidwill got the rona. Alas, he survived.
Ratto says: "It's just this team's luck that the first time they have been interesting in more than a decade, their location screws them. Arizona was such a coronavirus hot spot that even Major League Baseball wouldn't put teams there. So if there is an in-season outbreak, Kyler Murray, et. al., are particularly susceptible.
"Hard Knocks will never consider them for serial unfashionableness, which means that if Kliff Kingsbury wants to take off his shirt and bear abs à la Sean McVay, he'll have to do it on the sideline. Since 1920, when the Cardinals began as the first NFL team, their decade-by-decade playoff appearances have gone 0-0-2-0-0-2-1-1-2-2. So they're clearly getting better, even if it is only in geological time.

"Everything else the same as it ever was until further notice."
HEAR IT FROM CARDINALS FANS!
Will Leitch:
I feel obliged to note that I have been contributing to this annual Cardinals piece of yours for nearly as long as third of the Defector staff has been on this planet. I'm starting to feel as if most of the choices we have made with our lives have been a mistake.

I once wrote a (now horrifically formatted) piece for our old stomping grounds in which I looked at every quarterback the Cardinals had started from 1988 (the year they moved to Arizona) until 2008 (the year I wrote the piece). There were some immortal names on there: Tony Sacca, Stoney Case, Shaun King (not that one), John Navarre, and Tom Tupa, who was a punter. The Cardinals have had considerable success at the position since then—they went to the Super Bowl with Kurt Warner four months after I wrote it—but they've never had their own star: that franchise-changing quarterback. It was all old guys: Warner, Carson Palmer, even Kevin Kolb. They've never had the guy you build everything around.

Now they do. Kyler Murray is, all by himself, a reason to get excited about this stupid team for the next 10 years. That excitement is based off a solid rookie season, but it's really based off both Patrick Mahomes and Lamar Jackson exploding in their second seasons and all of us convincing ourselves it's Murray's turn now. And it might be. But it's a lot more likely that, at some point, he's going to take off downfield and get his 5-foot-10, 200-pound body splintered into dust. The best hope this franchise has in its entire dismal existence is a small person who is one play away from it all disappearing. And the saddest thing is: That's the most hope I've ever had. Worst case scenario: Maybe he can still punt.
Sebastian:
Our coach lives in the Parasite house.
Jesse:
I have watched, and rooted for:

TM Rosenbach

Steve Buerlein

Gary Hogeboom

Boomer Esiasion

Steve Fourcade

Kent something

Jake Plummer

Jeff Blake
Ryan:
Makes total fucking sense that Meathead GM Keim decides 2020 is the year he's finally going to draft like a capable talent evaluator. He also got "Dimestore Gosling" Kingsbury the best WR in the league, but absolutely none of it matters because they won't be able to complete the season anyway. Fuck Covid-19. Fuck Keim. Fuck Bidwell.
David:
We went 5-9-1 last year and you'd think we were a Wild Card team with how our mouth-breathing fans are acting about this upcoming season like we have a chance. Give me a fucking break.

Everyone's so excited we drafted a physical freak defensive player they envision as a hybrid player in our defense. Problem is we already had that player on our roster. His name is Haason Reddick and he's fucking terrible.

We just made one of our most overrated players, Buddha Baker, the highest-paid safety in the league even though the asshole has yet to record a single interception. It's not like you want your safety picking off passes or anything. But the guy plays with a lot of heart, and the brain-damaged local sports host with his exaggerated New Yawk accent loves to yell "Booder Bakuh!" to his idiot fanbase's delight, so now we get four more years of that. Kill me.

The coup of the offseason was the Deandre Hopkins trade, which just proves that Steve Keim is only the second-worst general manager in the league after Bill O'Brien. Can't wait to see Deandre Hopkins streaking down the sideline past the defense only for Kyler Murray to have his pass attempt tipped at the line of scrimmage.

Kliff Kingsbury lives in the house from Parasite. He better hope there's a starting right tackle, or a defensive coordinator who can defend a 4th-quarter lead squatting in his basement otherwise we are FUCKED this season.

Going to a Cardinals game is like going to a Trump rally, only everyone is wearing a red jersey instead of a red hat, and the audience has somehow even less knowledge of football. Arizona sucks – the only things we lead the country in are assault rifles per household, teenage moms with Bible verses tattooed on themselves, and melanoma. A Tapout T-shirt is considered formalwear here, and every middle-aged asshole in Phoenix dresses like Jeff Lowe from Tiger King. The worst Karens in the U.S. all live in Scottsdale.

Larry Fitzgerald has never met an old, rich, white guy he didn't immediately become best friends with. He is definitely a Trump supporter.
Jonah:
The Cardinals are consistently a tale of false hope. I absolutely hate everybody who is hyping up the Cardinals right now because they will, without fail, fall well below expectations. But I hate myself the most for believing every fucking word they say and thinking that Kyler is a legit MVP candidate instead of the most likely player to get crushed to death by his own O-line. JR Sweezy already attempted to last year. They even kept Sweezy around to finish the job.

I also love how trading for Hopkins is going to turn this team around, as if we aren't the franchise who is currently wasting a different hall of fame wide receiver's career. The pain never ends.
Matt:
As a general rule, Arizona sports teams are laughably forgettable, and the Cardinals are no exception. I've watched Cardinals fans get excited about KEVIN FRIGGIN KOLB because we are a sorry bunch of losers living in a desert literally and metaphorically, dying for even a drop of hope. Once every five years, the football gods give us that drop of hope - Kurt Warner! Our defense + Carson Palmer + Fitzgerald! Kyler! - which is the cruelest thing possible. Whenever exciting things happen, we know deep down that it won't be enough, but that doesn't stop us from fully buying into the hype so we can be extra heartbroken once things inevitably go south.

This year, I'm fully drinking the Kliff + Kyler Kool-Aid (don't think about all the Ks, it definitely doesn't say anything about AZ fans) - I can't wait for this team to spectacularly flame out in week 3 when Kyler gets snapped in half.

I can definitively say that I and other Cards fans deserve this and so much worse. Any good thing that finds its way into Arizona got lost and is faced with two choices: quickly finds its way back out, or die here (@Larry Fitzgerald). The fact that we still claim Arizona as our home is all the indictment needed to condemn us to a lifetime of fandom for this sorry excuse for a football team.
Chris:
Arizona had more off-field arrests in 2019 than wins in 2018, with a two-year streak of high-level execs getting popped for DUI. This may or may not coincide with their 3-year streak of being a directionless franchise, which was preceded by a two-year playoff streak, which was preceded by a 4-year streak of being a directionless franchise, which was preceded by a two-year playoff streak, which was preceded by a bunch of miserable bullshit I won't recount here since I didn't become a fan of the team until 2006.

The Super Bowl season is but a distant memory, like some high school dance where I thought I was going to get laid but instead ended up spilling punch on my clothes. The further we get from the once-a-decade blip of success that was the 2015 season, the more I wish that season had never happened. It began the downfall of the Bruce "I'm as much of a redass as any coach in the league but I act cool in the press conferences so everyone gives me a pass" Arians Era and exposed how talent-deficient this shitass franchise is.

For Steve Keim may have been a competent offensive lineman, but he's not worth a tinker's damn at building an offensive line for the team he's somehow still in charge of. If he was as good at drafting in the first round as he was at having a big fucking biscuit head, this team would be a perennial playoff contender. Instead, he's 3-7 on first-rounders still with the team, and I'm sure Haason Reddick to be released any minute now.

The 2019 season actually gave me a little hope for the future, because I'm a dumbfuck. And since multiple things are actually trending upward for this clabbered milk ass franchise, I fully expect the 2020 season to be canceled.

Fuck Will Leitch for starting D**dsp*n and beginning a chain of events that led to an outcome which annually forces me to face the fact that I actually hate the teams I root for and wish I'd never gotten into sports on an emotional level. At least in this regard, he has to suffer the same bullshit fate as the rest of us.
Submissions for the NFL previews are closed. Next up: Jacksonville Jaguars.
Stay in touch
Sign up for our free newsletter