NBA
Where Was Zion Williamson, And Where Will He Be?
3:15 PM EDT on April 13, 2023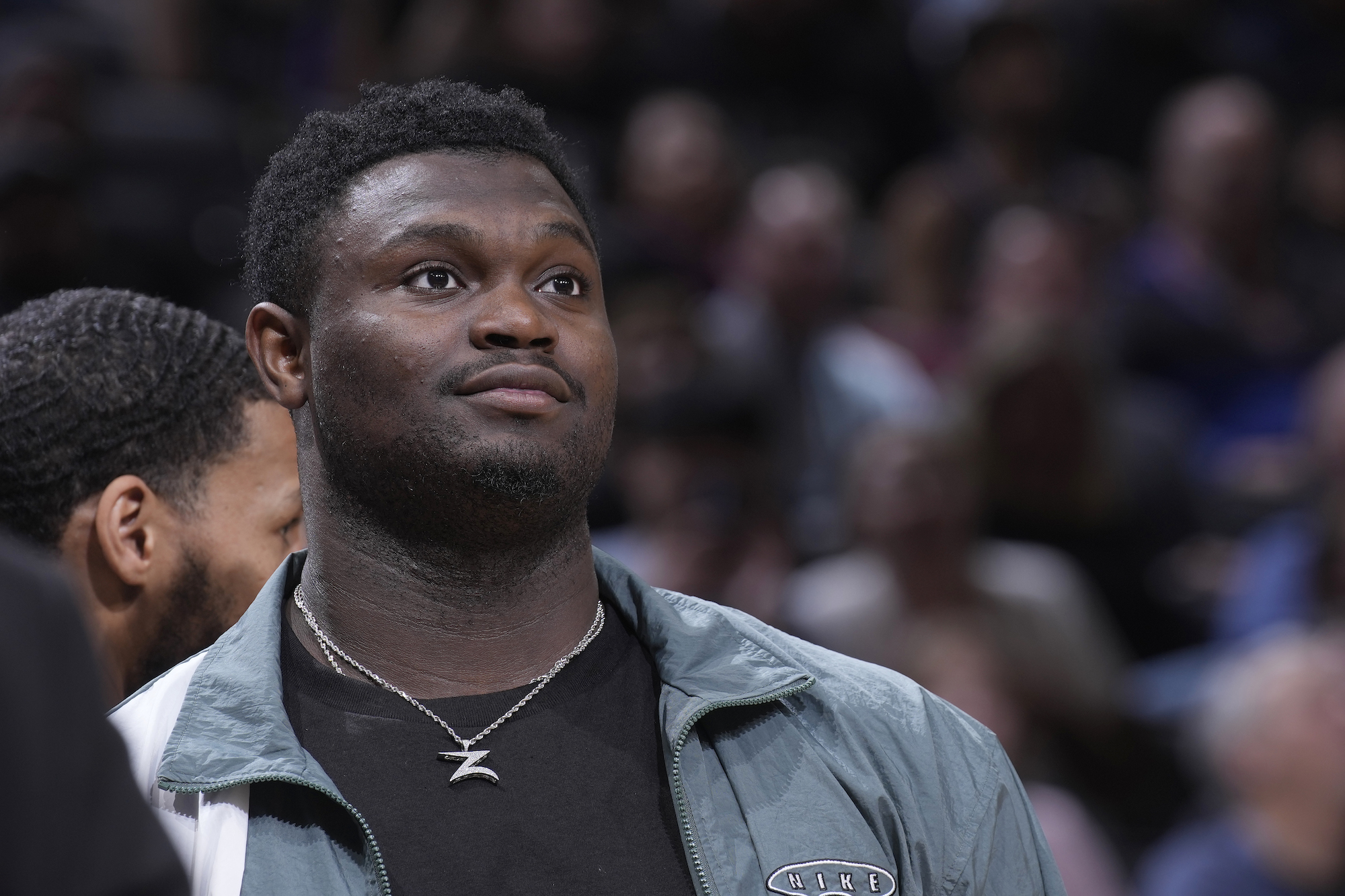 For the first time in weeks, Zion Williamson appeared in the Pelicans' public pregame warmup on Wednesday evening. He worked up a light sweat and threw down a windmill dunk. He did not, however, appear in the play-in tournament game that followed, and his Pelicans ended their season with a 123-118 loss to the Thunder. Technically, Williamson was on the injury report, ruled out with a hamstring injury. But as he explained in a meandering presser on Tuesday, it wasn't the hamstring at issue so much as his mental preparation. "If I was to go out there, I would be in my head a lot. I would hesitate on certain moves. And that could affect the game," he said.
"Physically, I'm fine, now it's just a matter of ... when I feel like Zion. I know the atmosphere I'd be in, based on playoff experience, so now it's just a matter of when I feel like Zion," he said. A reporter asked if there were specific benchmarks he needed to hit. His reply, paired with a dry smile: "I don't feel like there are any specific benchmarks for being Zion—it's just a matter of when I feel like myself."
It was not the type of conversation to leave a Pelicans fan with hope. "If it's in god's plan for me to be who I feel like I should be, then it's in his plan. If not, I'll live with it," Williamson said later on, striking a tone more ominous than you'd like to hear out of a 22-year-old hyper-athlete, even one who has appeared in just 114 games over four seasons.
David Griffin, the Pelicans executive vice president of basketball operations, did identify some of those benchmarks while he explained that Williamson would miss the play-in tournament. Griffin said on April 7 that Williamson's return hinged on two things coming into alignment: "the objective metrics" and "how he feels." He offered examples of those metrics: strength and flexibility in the weight room, speed, his response to exercises. The implication was that Williamson is grading out fine on all those measures. "When these things converge, he can advance to the next step. They haven't converged for him to do that." He has not advanced to the next step, and his next opportunity to prove that he has, on the public stage, is in October.
At his peak Williamson is an All-NBA talent. He's about to start a five-year, $194 million extension, and the Pelicans will get nowhere if they're paying that much for him and seeing this little of him on the floor. After Wednesday's loss, Pelicans guard C.J. McCollum, who scrapped through several months with a thumb injury, and then another few weeks with a torn labrum, was asked to reflect on a season in which he scarcely got to play alongside co-stars Williamson and Brandon Ingram. "If you would've told me we'd play 10 games together this season and win 42 games, I would've said, that's crazy. But for us to be successful in the future and long-term, we gotta be able to play together. We need our best players on the court. We need to be able to play extensive minutes together, especially meaningful games and big games," he said. "For us to contend for a championship and make a real playoff run, that's what it's gonna take."
Larry Nance Jr., who also missed the play-in game (ankle), didn't want anyone to believe that the Pelicans were looking at Williamson skeptically:
Preparation for elite competition obviously has both physical and mental components; peeling them apart cleanly may be impossible, but the agenda in trying, as far as I can tell, is to assign blame. You know, the core tenet of sports-watching. With that mental-physical distinction in hand, an observer might be able to rule on how much of Zion's present struggle to play basketball is out of his control, and how much it is a simple failure of willpower or grit or lunchpail mentality. There are, of course, a lot of strong assumptions about personal responsibility baked in here; is a player more blameworthy for breaking a metatarsal bone or for being depressed?
By now, the good beat reporters appear to believe that the blame belongs to both the team and its superstar, in varying proportions, depending on who you ask. That much seems hard to deny. Is Zion unable to play because his body isn't built for an 82-game season? If that's true, should he use the tools available to an infinitely resourced pro athlete to meaningfully change his body composition? Should the Pelicans be offering him better guidance there? Has he been rejecting the guidance? Do his nightmarish recovery timelines have as much to do with the severity of his injuries as with the difficulty of staying in decent condition while sidelined? Does he particularly like playing basketball for a living? Has Zion Williamson entered the Naomi Osaka Zone? Do we call it the Naomi Osaka Zone when we like the athlete and the Ben Simmons Zone when we don't?
Perhaps some of these questions will be clarified this offseason. I will confess that I am extremely interested to know what the precise breakdown is here, with respect to organizational dysfunction, bad luck, and personal disengagement. As an overzealous fan of Zion's, I would prefer to see those questions clarified in a triumphant MVP presser someday, and not in a Ramona Shelburne-written, post-trade airing of grievances. But the pit in my stomach tells me which of those outcomes is more likely.
Stay in touch
Sign up for our free newsletter