NBA
When Domantas Sabonis Leads The Kings Into The Playoffs, I Hope Dale Brown Is Watching
12:42 PM EDT on April 14, 2023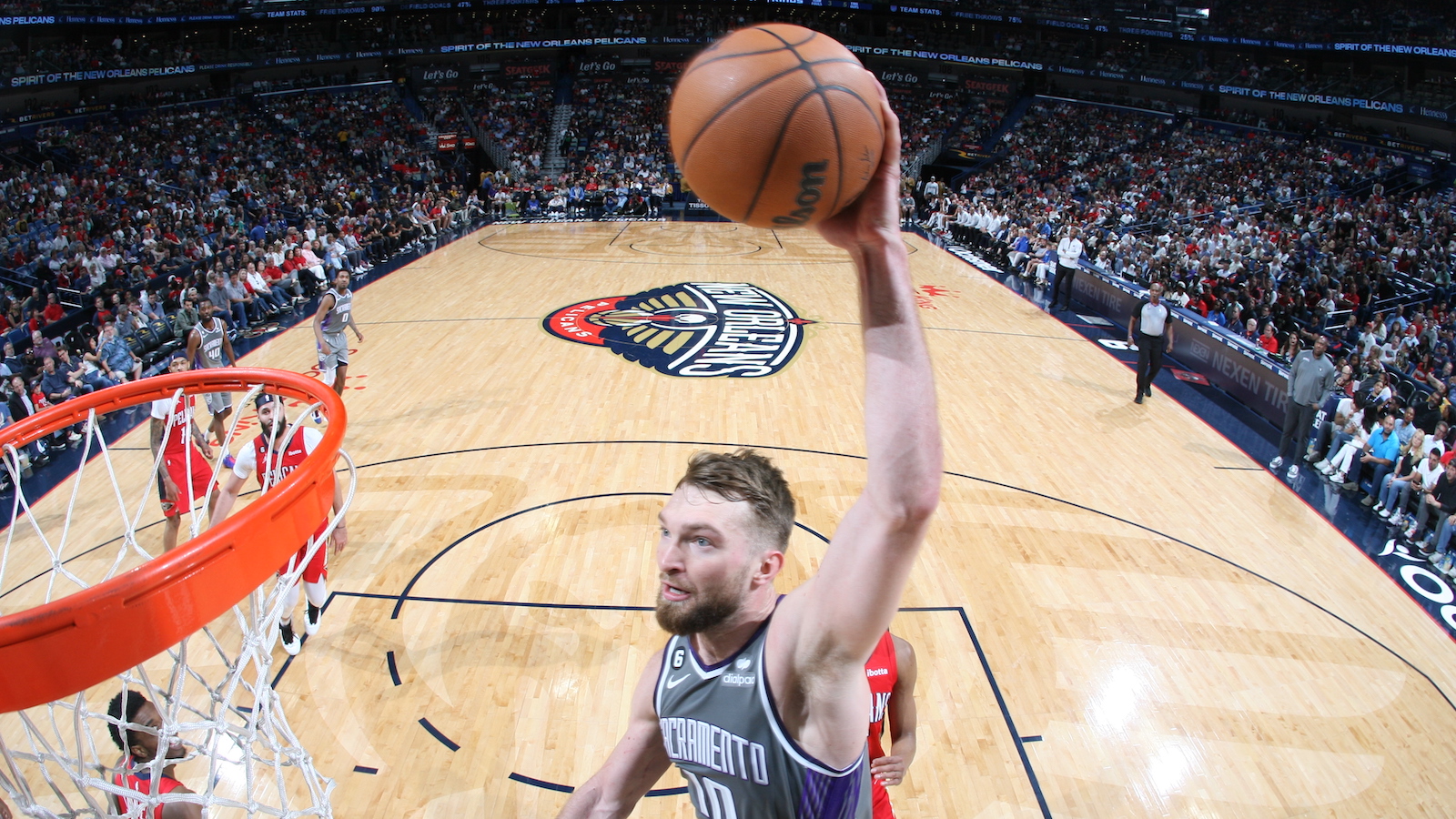 I planned to write about Domantas Sabonis, the 26-year-old star of the startlingly competitive Sacramento Kings. (Fourty-eight wins? These guys? Heavens to Bill Robinzine!) But then I found that, to do so, I would have to account for Sabonis's father, Arvydas Sabonis, who is one of the four or five greatest basketball players I ever saw. But then I found out that, to do so, I would have to write about Dale Brown, the former head coach at Louisiana State University, and when you start writing about Dale Brown, you are better than even money not to stop for decades.
He is Robert Penn Warren's Willie Stark come again to Baton Rouge, this time to a gym at the state university instead of to the state capitol. Half-evangelist and half-scoundrel, the way so many cradle Catholics are, especially the ones who go into politics, he was an early (and lonely) critic of the way the NCAA did business, and he's lived long enough to see everything he always said about that pack of bastards vindicated. (The late Al McGuire, a man of similar sentiments and a good friend of Brown's, once speculated that the NCAA would reopen Devil's Island just to have some place to put him.) For further details, you should consult Sports Illustrated from back in the days when it ran stories like this one. A sampler:
Every morning, when his pair of alarm clocks rang (just in case), Iwo Jima started all over again. He sat upright in bed, pulled the pencil and pad from his pajama shirt pocket and reviewed the list he had brainstormed until 4 a.m. He crisscrossed the state, knocking on doors, dodging dogs, making speeches, dispensing LSU basketball rattles to babies, LSU basketball coin purses and pot holders to women, LSU purple-and-gold nets to every kid with a backboard and rim. He mailed brochures, poems and parables with titles like "I Had a Dream" and "What Do Critics Really Know?" to janitors and hotel desk clerks, coaches and sportswriters.

No form of motivation escaped him. He quoted Socrates and Plato to his sometimes bewildered players. He had a mind-control expert come before them to bend iron. He threw shoes and kicked luggage and once grabbed a 6'8" LSU player by the shirt and shoved him, screaming, "Ya wanna hit me, don't ya?" That happened last year at Kentucky. He had his friend Dick Gregory, the comedian, and Olympian Willie Davenport give his players pep talks. He had a robot lead them onto the floor.

Sports Illustrated
Brown once visited Medjugorje, the small town in Bosnia and Herzegovina where the Blessed Virgin allegedly has been making daily appearances since 1981. Upon his return, Brown was asked by a writer I knew what he thought about the alleged apparitions. "I'm not sure," Brown replied, according to the writer. "That the world is ready for Dale Brown to say he saw the sun spin." In this, he was entirely correct. 
In the summer of 1986, Brown and the Tigers needed a center. John "Hot Plate" Williams (not to be confused with John "Hot Rod" Williams) had turned pro. Stanley Roberts and Shaquille O'Neal were a few years away. Brown had remembered Arvydas Sabonis from a tour of the United States that the Soviet national team had made back in 1982, in which the 7-foot-3 Sabonis had kicked all kinds of ass in all kinds of places. He tore up Bob Knight's Hoosiers in Indiana and he embarrassed Ralph Sampson, at the time the college player of the year, at Virginia.
There is no minimizing how good the young Arvydas Sabonis was. He was 7-foot-3 and he passed like Larry Bird, ran like David Robinson, handled like LeBron James, and was stronger than Karl Malone. And did I mention that he was 7-foot-3? At 18, he was a man among boys. American college coaches got one look at him on that U.S. tour and suddenly changed their opinions on trade with the Soviet bloc.
That was one of the only times any of us saw the full range of Sabonis's talent. He was struck by a staggering series of injuries to his feet and ankles. These were not helped by the rudimentary sports medicine he was subjected to, and the insistence of his coaches that Sabonis play through the pain. He tore the same Achilles tendon twice. Gradually, the damage worked its way up through his knees and to his hip. He helped the Soviet Union win the gold medal at the 1988 Olympics despite the first of his many ankle injuries.
In 1986, Brown decided to spring Sabonis, a Lithuanian native with no great love for the USSR, to come and play in Baton Rouge. And, being Dale Brown, he went right to the top. He wrote to Mikhail Gorbachev, who would turn out to be the last premier of the crumbling Soviet Union. In his essential story about this episode, Luke Winn of Sports Illustrated quoted extensively from the letter that Brown had sent to Gorbachev. When the One Great Scorer handed out the brass ones, Dale Brown got in line twice.
The world is moving at a faster pace each day and often times man doesn't even have a chance to sit down and talk to one another because of our fast pace. With this in mind, I'm coming to Moscow with the hopes that I will have the opportunity to personally visit with you regarding something I strongly feel represents an excellent opportunity to improve relations between our two great countries.

Dale Brown's letter to Mikhail Gorbachev
What Brown proposed to Gorbachev was a kind of exchange. As Winn describes it, Brown tried to horn in on the blossoming cultural exchange program that Gorbachev and President Ronald Reagan were trying to work out. Brown said he would establish an exchange system between American and Soviet basketball camps, and he would bring his LSU team over for an exhibition tour of the USSR. In return, Sabonis would be freed up to come to LSU and play for Brown.
Brown never gave up. He enlisted the help of American industrialist Armand Hammer, whose connections in the USSR were vast and led all the way to the top. He scored a meeting with the Soviet ambassador to the United States and got an intrigued response from the State Department. And, in 1987, when Sabonis was struck by the first of the series of ankle injuries that ultimately would reduce his extraordinary talent to a shadow of itself, Brown voiced his belief that the KGB had sabotaged Sabonis's Achilles tendon in order to keep him in the USSR.
(Brown wasn't entirely out in left field on this. In 1985, Sabonis was drafted by the Atlanta Hawks and, because of the iron control exercised over Soviet athlete, he didn't even know it.)
The sheer ballsiness of Brown's scheme, and of his darkling James Bond suspicions, nearly knocked me out of my chair. I already had a liking for Brown, one of college basketball's last true eccentrics. But here he was, shooting the moon, trying to euchre a center out of a world leader who also was trying to negotiate over nuclear weapons while his empire was going to pieces. Out of a kind of wonderment, I wrote a piece to this effect for a basketball newspaper to which I regularly contributed.
A few weeks later, I was in the basement of my family's apartment. We were preparing to move and I was filling boxes the way you do. Upstairs, the phone rang. My wife picked it up and, apparently, chatted with the caller for some time. After 20 minutes or so, she surprised me by calling down the stairs, "Charlie? There's a Coach Brown on the phone."
To this day, I don't know what they talked about for all that time. 
Nevertheless, I came upstairs and took the call. Brown told me he wasn't calling out of anger, but out of concern that my column would damage the burgeoning hopes of glasnost and perestroika in the relationship between the U.S. and USSR. I told him that, as far as I knew, Gorbachev was not a subscriber to Basketball Times. We both laughed and I hung up, my wonderment intensified at the mystery that is Dale Brown. Sabonis stayed in Europe, played through repeated ankle injuries that undoubtedly robbed him of much of his abilities, and kicked the hell out of the United States Olympic team in 1988. The last I saw of him, he was leaving the interview room with a case of beer over one shoulder while his Soviet minders vainly tried to herd him back into the locker room. Sabonis just laughed at them and kept walking. It was my first inkling that the Evil Empire might be unravelling. 
On March 11, 1990, Lithuania declared its independence. In 1995, Arvydas Sabonis signed with the Portland Trailblazers of the NBA. And on May 3, 1996, Domantas Sabonis was born. And here we are.
---
Domantas Sabonis has topped out at 6-foot-11, but he's carrying 240 pounds and has become a fearsome inside presence on the suddenly playoff-worthy Kings. He's a perfect inside-outside partner for the blossoming point guard De'Aaron Fox. If you had told me before the season that the Sacramento Kings would have this kind of entertainment value, I would have asked you where you buy your mushrooms.
Domantas's path to the 2023 playoffs was complicated, but far less so than was his father's path to the Portland Trail Blazers. He started playing professionally at 16 with Unicaja, declining any payment so as to maintain his possible NCAA eligibility. In 2014, he came to America and played at Gonzaga, which is sort of the Rick's Cafe Americain when it comes to itinerant basketball players. He played two fine seasons there, peaking in his second, when he helped the Zags to the Sweet 16, where they lost to Syracuse, 63-60. Sabonis's stock rose precipitously as he averaged 19 points and 14 rebounds in tournament play. He declared for the 2016 NBA draft. Then, the bouncing began.
He was drafted by Orlando and immediately traded to Oklahoma City. After one season in which his playing time dwindled as the year went on, he was traded to Indiana where, by 2022, Sabonis was an all-star. He was sent to Sacramento as part of Indiana's endless rebuilding process.
All season, the Kings have run a remarkably efficient offense, most of which comes through Sabonis, who has become a master of the dribble hand-off, as well as one of the NBA's most conscientious—and powerful—screeners. For the first time since he's been in the league, he's surrounded by excellent shooters, and Sacramento spaces the floor as well as any team in the league. On Feb. 24, the Kings reached a kind of offensive apotheosis, beating the Clippers in double overtime by the hilariously baroque score of 176-175. Sabonis went for 20 and 10, but watching that score roll in across the scroll made me chuckle, and made me remember how good his father was, and how Dale Brown once called my house on his behalf, and spent 20 minutes talking to my wife about god knows what prior to chiding me for nearly blowing up detente in the pages of Basketball Times.
Dale Brown, by the way, is 87 years old. Arvydas Sabonis is 58. I really wish the KGB hadn't screwed with his ankle. They were made for each other.
Charles P. Pierce is a writer at Esquire and the author of four books, most recently 'Idiot America,' and has been a working journalist since 1976. He lives near Boston with his wife but no longer his three children.
Stay in touch
Sign up for our free newsletter