MLB
What Was John Schneider Thinking?
11:15 AM EDT on October 5, 2023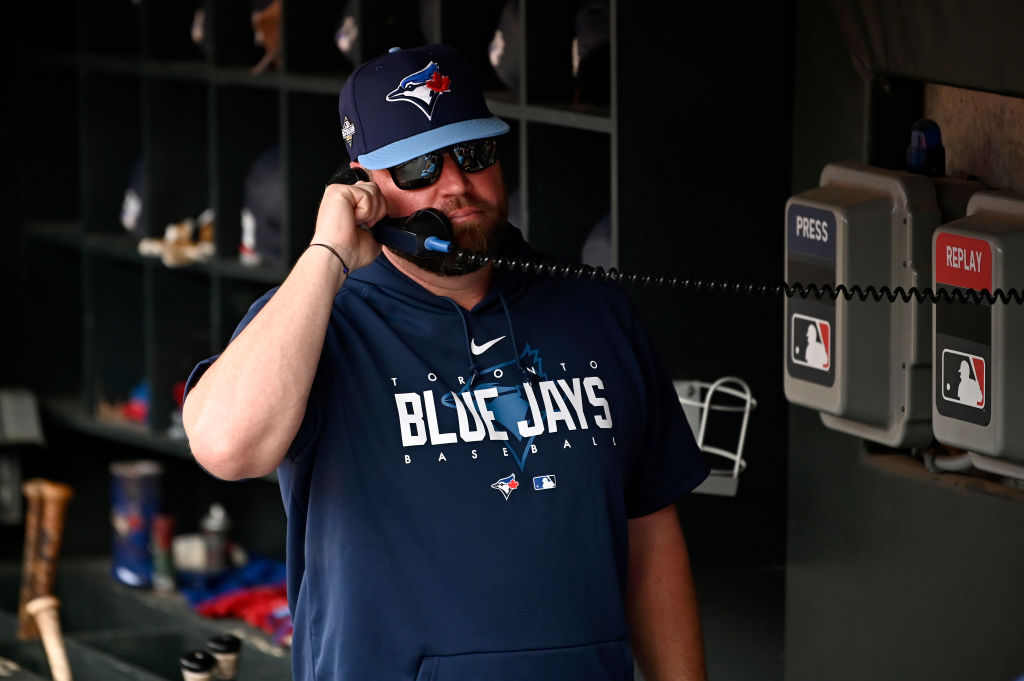 Some people tune into the MLB postseason in order to watch their favorite teams and players perform in the kind of high-stakes environment that just can't be replicated during a 162-game regular season. Others watch for the chance to exclaim, "What the fuck is this guy doing?" whenever one of the managers makes a questionable-to-odd bullpen decision. Blue Jays manager John Schneider made the latter group's Wednesday with one that caused his players to scratch their own heads.
Here was the scene: Toronto was down 1-0 in their three-game wild card series against the Minnesota Twins, and turned to Jose Berrios to start Game 2 and help avoid elimination. Berrios was well-rested (he had last pitched on Sept. 27) and looked exceedingly sharp as the game got underway. He struck out five batters and gave up three hits through the first three innings, and then began the fourth inning with a lead-off walk to Royce Lewis. At that point he had thrown just 47 pitches (32 of them for strikes), and appeared to be locked in a pitchers' duel with Twins starter Sonny Gray. And then, all of a sudden, he was pulled for fellow starting pitcher Yusei Kikuchi, who immediately gave up two runs. The Blue Jays lost the game 2-0 and went home for good.
So, what the fuck was that guy doing? Just about every playoff game brings a high-leverage pitching change that can be scrutinized and argued over for ages, but it's hard to remember one that felt so confounding in the moment as this. If the Blake Snell decision in 2020 that helped doom Tampa is the platinum standard, this is surely gold. Berrios was healthy, rested, and slicing through the Twins lineup. What possible strategic reason would there have been for pulling him after just 47 pitches?
Schneider wasn't in the mood to elaborate after the game. He was asked if pulling Berrios in the fourth inning was part of a plan that was hatched before the game, to which he replied, "We had a few different plans in place. Jose was aware of it. He had electric stuff, you know. Tough to take him out, and you know I think with the way that [the Twins] are constructed you want to utilize your whole roster, and it didn't work out."
Schneider's players couldn't provide much explanation for the move, but weren't shy about expressing their displeasure at Berrios leaving the game so early. "Obviously everybody was surprised," said Vlad Guerrero Jr. "Everybody was surprised by the decision, but there are things you can't control."
"I hated it, frankly," said Whit Merrifield. "It's not what cost us the game, but it's the kind of baseball decisions that are taking away from managers and baseball, at this stage of the game."
Merrifield's comments at least offer some insight into who was ultimately behind the decision to pull Berrios. That bit about "taking away from the managers and baseball" suggests that Schneider was given pregame marching orders from someone in the Blue Jays' analytics department, and he decided, as Kevin Cash did in 2020, to follow them.
Managers having their daily decision-making powers taken out of their hands by front-office stat nerds is one of the more noticeable knock-on effects of the proliferation of analytics and many teams' decision to invest in analytics departments. Depending on your perspective, these stat nerds are either boogeymen forcing wizened managers to navigate games like mindless automatons, or saviors keeping that guy with a .298 OBP from batting lead-off every day just because he's kind of fast.
The pro- and anti-analytics corners of baseball fandom will have plenty to argue about over the next few days thanks to Wednesday night's game, but as usual they will be missing the point. The thing about analytics is that it's just information, and what matters is not necessarily what the information tells you, but what you decide to do with it. Schneider was most likely given some information before the game that said Berrios would fade quickly, or that he would have a tough time going through the Twins' lineup a second time. But he also received information during the game, in the form of Berrios busting up the opposition with the precision and velocity of his pitches. Schneider had to decide, in the moment, which set of information to give more weight to. He went with the book rather than his eyes and gut, which is an infallible tool except when it isn't.
What this leaves us with, in terms of explaining why the Jays had their season partially undone by an odd and unexpected pitching change, the most time-honored truth of the game, which is a guy making a decision. It was the wrong decision, but it was Schneider's to make.  
Stay in touch
Sign up for our free newsletter