Capital
What The Shit Is Happening With OpenAI And Sam Altman? An Explainer
4:14 PM EST on November 20, 2023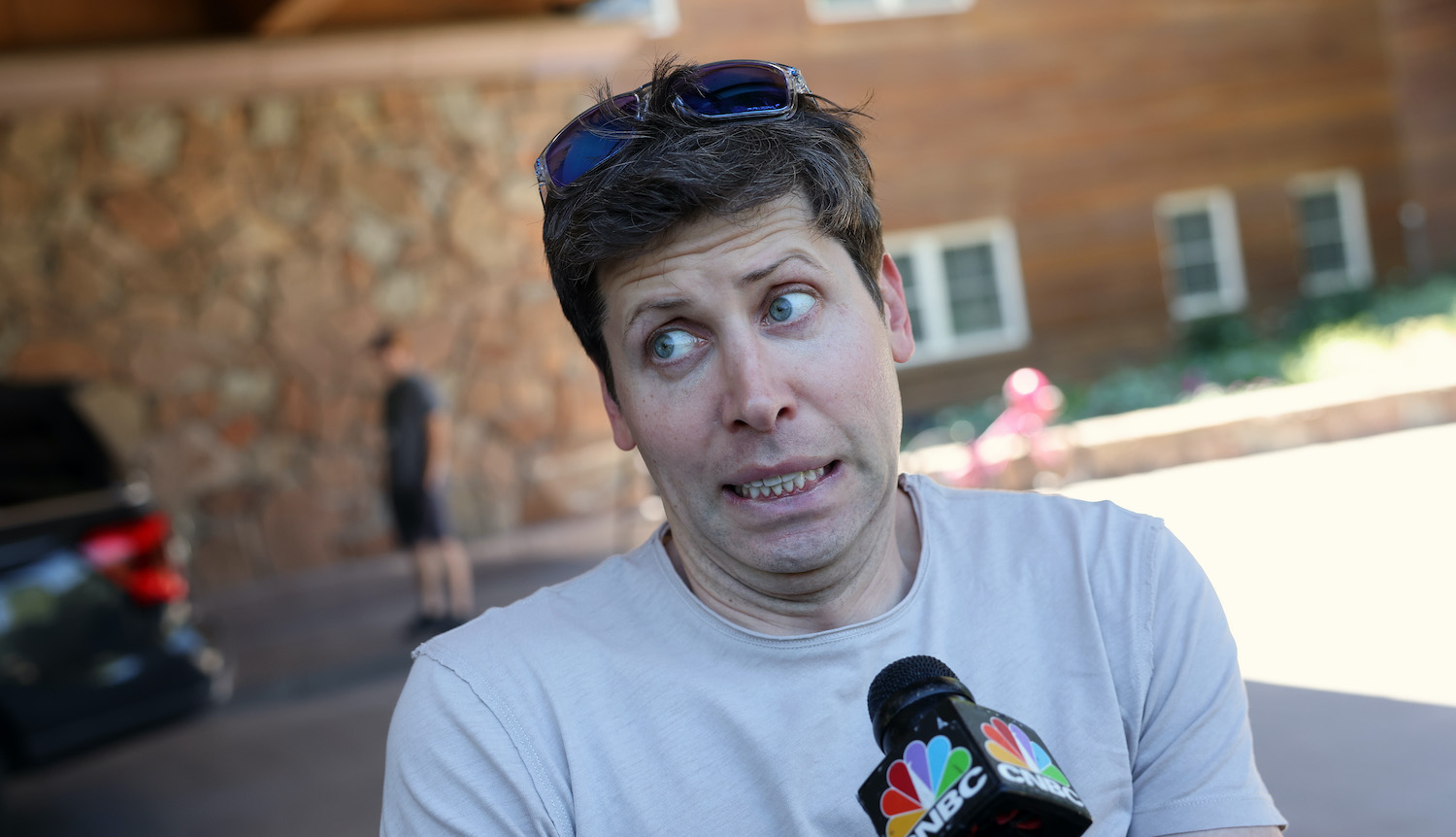 In what is becoming an annual November tradition in the Bay Area, an unpleasant-looking tech dork named Sam has been suddenly removed as CEO of a company with an 11-figure valuation. One month after Sam Altman was leading his swagged-out Google search competitor OpenAI in talks to sell shares that would value the company at $86 billion, tripling its valuation in the course of six months and cementing it as the third-most valuable startup in the world, his handpicked board has executed a stunning coup and ousted him, then kinda-sorta invited him back, then changed their minds and ousted him again.
The tick-tock of what happened in San Francisco this weekend is as fascinating as the hole at the center of this story is inscrutable. So, in an effort to clarify the murk and answer all your questions about what is going on here, who works where now, what the future of AI holds, and why Y Combinator should be disbanded by federal mandate, I conducted an interview with an AI ethicist and researcher, who was kind enough to answer all my questions.
What is OpenAI and who is Sam Altman?
Back in 2015, when the free-money tap still flowed and machine learning technology had finally started to get good, everyone serious started investing in AI, which stands for artificial intelligence. One such company was OpenAI, announced in December 2015 by 14-words-shortener Elon Musk and Y Combinator president Sam Altman, with $1 billion in support from people like Peter Thiel and Reid Hoffman. For Altman, the launch of OpenAI was the latest and largest move in a career spent in the right-place-right-time industry, following the founding of a Foursquare clone that didn't work called Loopt and his work at Y Combinator, where he hit the thumbs-up as other people invested in Airbnb, Stripe, and Dropbox. Altman is a remarkably charisma-less guy, with all the zeal for anti-woke quasi-libertarianism, obtuse cultural grievances, and paranoiac apocalypse fetishism shared by every other tech titan. He dropped out of Stanford essentially as a branding exercise, which fits in with a career spent as a marketer who doesn't really do anything on the computer.
As the name hints, OpenAI was set up in a somewhat unorthodox way, initially as a non-profit (though as that roster of some of the world's most cartoonishly evil people also hints, that mission was compromised from the get-go). OpenAI explicitly said it would give away its technology for free, and its leaders discussed their mission in humanitarian terms ("Our mission is to ensure that artificial general intelligence benefits all of humanity"). OpenAI transitioned into a capped for-profit company in 2020, years before the launch of ChatGPT, when Altman realized that he would need a shit-ton more money to throw into the furnace powering the nascent AI tech and that anyone willing to invest said money might not necessarily want to view it as a donation (even if OpenAI's operating agreement uses that word). A 501(c)3 nonprofit overseen by a board now controls both an LLC and a holding company, an odd bifurcation that guarantees the nonprofit arm meaningful control over the for-profit arm while also putting it in possible tension with investors.
Does OpenAI make money or what?
After losing $540 million in 2022, OpenAI finally started making money in 2023, thanks to a robust market for ChatGPT. They also sold a minority stake in the company to Microsoft for $13 billion, and raised $300 million from VCs at a $27-29 billion valuation in April, six months before negotiating a tender offer deal with Thrive Capital that would value the company at $86 billion. So, yes, they make money, but they are still not profitable, which is why Altman was chasing the bag.
Why fire the CEO then? What happened on Friday?
Late Friday afternoon, the OpenAI board announced the unceremonious firing of Altman. The relevant part of their statement read: "Mr. Altman's departure follows a deliberative review process by the board, which concluded that he was not consistently candid in his communications with the board, hindering its ability to exercise its responsibilities. The board no longer has confidence in his ability to continue leading OpenAI." That's a somewhat opaque statement, only partially clarified by a memo the board later sent to employees defending the firing as "the only path to advance and defend the mission of OpenAI."
Altman and his camp had no warning of the firing. He was pulled into a meeting around noon on Friday and told that four of the company's six board members had voted to fire him. Quora founder Adam D'Angelo, RAND Corporation scientist Tasha McCauley (who is also married to Joseph Gordon-Levitt), and Georgetown's Helen Toner, along with OpenAI's chief scientist Ilya Sutskever were behind the vote. The move also blindsided board chairman Greg Brockman, part of the founding team, and he resigned shortly after the coup.
If you invested $13 billion in this guy, you wouldn't be happy about that, would you?
Investors, including Microsoft, were shocked by the move, as were many of the senior employees who announced they'd also be leaving the company alongside Altman and Brockman. Pressure from enraged investors and a shocked and alienated labor force led the board to flip-flop just over 24 hours later, inviting Altman back in for discussions on a return. Chief strategy officer Jason Kwon sent an all-staff memo on Saturday, saying he was "optimistic" that an agreement would be reached. Meanwhile, OpenAI employees voiced their support for Altman, compounding the pressure and making the board's choice even more difficult.
The board may have miscalculated when considering Altman's popularity. He's cemented himself as one of the tech founders of the moment, loudly praising OpenAI on any soapbox stuck in front of him, threading the needle of branding his company's creation as just powerful enough not to kill you, and, most critically of all, getting investors to give him money. That's the the only real job of someone in his position, and as he's good at it and as people like to receive capital in exchange for their labor, it makes sense why he's popular among his workers. After all, tech may be slumping but not OpenAI. There are some clear incentives to take your founder's evangelism seriously.
An OpenAI without Sam Altman would be significantly different, but would still retain its basic shape; an OpenAI without both Sam Altman and 66 to 90 percent of its employees is not really a company at all. An open letter signed by the vast majority of employees may have led the board to wonder: Did we fuck this up?
Why did the board fire Sam Altman?
While nobody from the board has elucidated their decision in non-euphemistic language, it's clear that the schism between OpenAI's allegedly altruistic motives and Altman's desire to press the capitalism button led to the break. Per reports from the Information and the Verge, Altman's demands included a restructuring of the company away from its unorthodox nonprofit/for-profit split and toward that of a traditional tech company. Crucially, this meant that the board would have to commit (metaphorical!) seppuku in the process. They reportedly came close to agreeing to off themselves in the name of preserving OpenAI as a going concern, but they changed their minds at the last minute.
The result of so many dispatches about Boba Guys deliveries to the OpenAI office while we waited for a new tech pope to be crowned late Sunday night? No change. Altman would be fired as ever. Harry Potter fanfic star, CEO skeptic, and holder of concerning views on human sexuality Emmett Shear would take over as interim CEO. Altman and Brockman would join Microsoft, whose CEO Satya Nadella wrote that he still had confidence in his company's relationship with OpenAI, which you can read as, If we hire Altman and a supermajority of OpenAI employees for free, that's worth a $13 billion sunk investment.
So that's it, the saga has ended, and OpenAI will go fo—
Not so fast! The board probably accounted for some degree of investor pressure, but the threat of a mass defection (capital-D Defection, if you will) is a much more serious matter. Owning the IP and having some core team in place is cool, though given the intense competition in the AI space, OpenAI would at the very least squander its early advantage by losing hundreds of employees to a significantly better-equipped company like Microsoft.
Maybe the weirdest development is that Sutskever, the most important computer-user at the company and the coup's apparent author, was one of the signatories to the open letter calling for Altman's return. He publicly apologized and said he'd be working to undo his own (still at that point successful) coup on Monday.

Altman, meanwhile, is actively posting through it as he continues to try to get his position back. Sutskever's flip means he and Brockman need only one more person to agree to step aside, and he'll get his counter-coup after being fired twice over the weekend. Microsoft and Altman reportedly are trying to negotiate the board's "graceful exit," with Microsoft's announcement that they'd hired Altman serving mostly as a market stabilizer.
So what's going to happen?
It seems like the Altman camp is ascendant, but all that's guaranteed is that something wild will happen immediately after this blog post publishes, if not while it's being edited.
There's something very dark going on here. Despite the board's weird effective altruism ties, OpenAI's nonprofit structure mostly being used as marketing material to paper over a dark visage of capitalist greed (again, Elon Musk, Y Combinator, and Peter Thiel), and the contradictions of an artificial intelligence company trying to do humanitarianism, the board was still uniquely positioned to exercise meaningful power over an $86 billion company in the name of some anti-profit mission, and they were smoked by their investors. Whatever survives of OpenAI will either be a husk, desiccated by a mass defection to Microsoft, or an openly capitalist AI company with power newly consolidated in the hands of a guy who wants to rip off all guardrails.
Stay in touch
Sign up for our free newsletter