Soccer
VAR Fucked Up The One Thing It Is Supposed To Never Fuck Up
12:06 PM EDT on October 2, 2023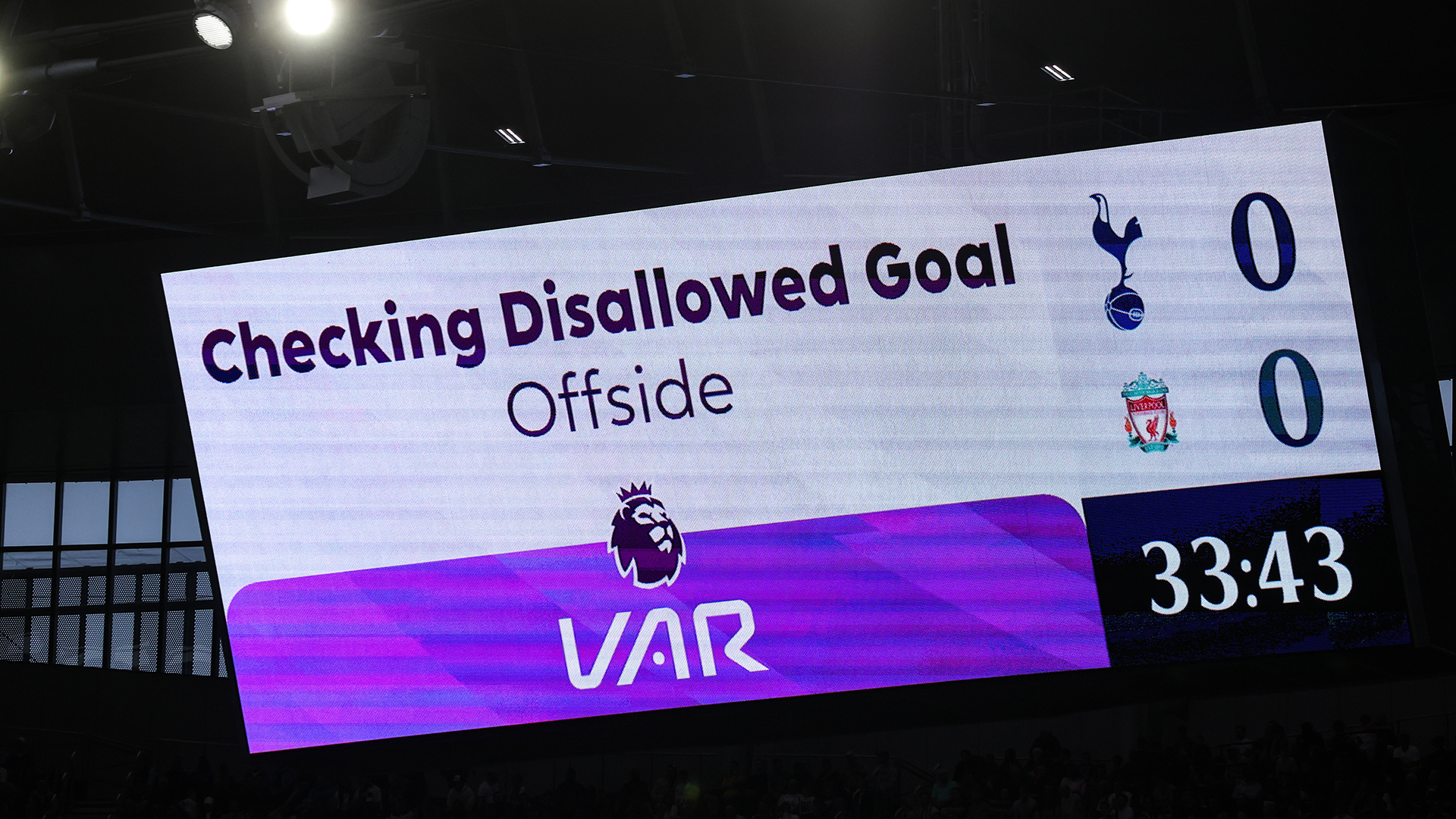 The introduction of the Video Assistant Referee has come with many ups and (mostly) downs, but there's one thing that those in charge and those in support have passionately leaned into as its saving grace. The idea that VAR is always—and to hear those people tell it, they do mean always—correct when it comes to "objective" decisions has served as a catch-all defense against those who call for the system to be reworked, or even removed. The referees on the field and in charge of VAR can both be wrong about a subjective decision, like a red card for example, but offside calls is where video replay's exactitude is supposed to definitively demonstrate its infallibility.
In theory, this makes sense. All VAR should do in an offside decision is step in, draw some lines, and reveal conclusive evidence of whether a player was or was not onside. Simple, it seemed, until Saturday's marquee match-up between Liverpool and Tottenham, when even this one safe refuge for VAR enthusiasts crapped the bed like it has never crapped the bed before.
In the 34th minute of Saturday's match in North London, Mohamed Salah hit a perfectly weighted through ball to a sprinting Luis Díaz that caught Tottenham sleeping. The Colombian took a couple of touches away from goal but still managed to fire a perfect strike to the far corner, giving Liverpool a 1-0 lead just eight minutes after Pool Boys midfielder Curtis Jones had gotten sent off (more on that in a bit).
Díaz was so open behind the Tottenham backline that it wasn't particularly surprising, in real time, to see the side judge raise his offside flag immediately after the goal. What was surprising is what happened next. The replays on the broadcast indicated that Díaz was in fact kept onside by Cristian Romero at the time of Salah's pass, and a quick VAR check seemed to bode well for Liverpool. Since it was such an obvious onside call, the review team didn't need much time to overturn the call on the field. That's what it looked like, anyway, which was why it was so strange when referee Simon Hooper kept the goal disallowed and restarted play.
There were several issues with how this check was handled, ranging from frustrating to downright incompetent. Normally, with close offside decisions, the VAR team will draw the offside lines, and the broadcast will show those so that everyone is clear on why or why not the call stood. That never happened for Díaz's phantom goal, which left everyone a bit confused as to why it was disallowed. This group of confused people also included, uh, the VAR team itself, and here is where this becomes more than a simple mistake and more of an indictment on the entire system.
According to reporting after the game from ESPN's Dale Johnson, the issue with the Díaz check was one of human error and communication. After Hooper was told that the VAR team was reviewing the call, the referee in charge of the system, Darren England, said to Hooper "check complete." By the rules of VAR, that terminology is used when a call on the field is confirmed, so Hooper seemed to accept that Díaz was offside and moved on with the game. As the rules stipulate, once the ball has returned to the field of play after a decision, there can be no going back to fix a call, so the referees could not rectify the situation. Hooper's face shortly after the goal would seem to suggest that he knew right away that someone had messed up.
This is a new problem for VAR, of the kind that I can't remember seeing before, but it is of a piece with the issues the system has wrought on the sport since its introduction. With the safety blanket of technology that is supposed to correct any mistakes by the on-field referees, those same on-field referees have by and large ceded control to VAR for all decisions subject to review. Side judges are told to not raise the offside flag on close calls until the play ends, safe in the knowledge that VAR will fix any errors after the fact. This is also why players tend to not celebrate immediately upon scoring a goal with any sort of doubt, at least until VAR finishes its languid walk towards a conclusion.
More importantly, though, VAR has by and large created a world where context is removed in favor of the supposed right call. Taking Díaz's non-goal as an example: having a referee team so far removed from the action on the field means that England was put in a position where confusion could arise as to whether the original goal was ruled in or out on the field. It's a simple mistake—maybe England didn't see the side judge raise his offside flag, or maybe he just followed the protocol but made a mistake in his wording to Hooper—but it's one that didn't exist before VAR. This is more of an issue when calls are subjective; Jones's red card could have gone either way, as his foot bounced off the ball and into Yves Bissouma's shin, a bang-bang play that looked much worse with context-stripping freeze-frames and slow motion. After all, if you pause a replay on a player's studs going straight into the shin of an opponent, it's easy to see that in itself as justifying a red, even if there was clearly no malicious intent from a player just going for the ball.
For objective calls, like Díaz's offside, the excuses fall short. The Professional Game Match Officials Limited (PGMOL, the governing body for English referees) has chalked this up to "significant human error," which is, to an extent, accurate. The referee team miscommunicated with one another, and allowed a clearly wrong decision to stand. (For its part, Liverpool does not accept that explanation, saying in a statement that it would explore all available options in response to the mistake; there's not much that can happen now that the game is over, but a statement like that at least keeps the focus on the PGMOL's lacking response to a match-altering error.) In a situation that is ostensibly VAR's biggest strength, the system failed, because the system isn't as perfect as it needs to be in order to justify its existence.
Really, the perfection VAR aims for is an illusion; the number of variables involved preclude the possibility of any true objectivity. The question then is the same one that has always followed VAR: Is it worth it anyway? Liverpool fans will say no in the heated aftermath of Saturday's match, a match that ended 2-1 Tottenham thanks to an unlucky own goal in the dying moments. It's easy to dismiss Liverpool's complaints because it happened to their club; sour grapes have a powerful stench. On a broader scale, though, the answer is still no, at least not in the way that VAR is implemented now. If the system's goal is to correct clear and obvious errors, then it could be forgiven for getting one wrong every now and then, even one as clear-cut as an offside. But that's not really VAR's point or its current implementation.
Instead, VAR has become a crutch with a splintered base. The system designed to support the referees on the field has in fact made those referees worse at handling games on their own. It's made the experience of watching a match disjointed, with long breaks to check decisions and delayed gratification from goals in need of checks. And there's no reasonable expectation of human error involved in VAR. Without it, perhaps the side judge is more conservative with his flag. Remember the old adage that "advantage goes to the attacker" in close offside calls? That's all but gone with VAR, existing now only in the fluctuating thickness of VAR's overlayed offside lines. Even if the line judge does his raise his flag incorrectly and rules out Díaz's goal, well, that's soccer, and it was soccer for many, many years before VAR.
The introduction of VAR has eliminated the instinct to give the benefit of the doubt in any direction. Players must be inch-perfect in their movements, for fear that the offside lines will punish them, or that an accidental handball becomes a penalty simply because the nature of video review has turned that into a crime of strict liability. Referees must be subservient to the replay, passing off the blame for wrong decisions to an unseen, unheard system of cameras and computers. And the video referees must be thorough in their checks, bringing games to a halt in order to tell, frame by frame, whether something that occurred at full speed was actually different from what everyone watching could have reasonably deduced.
And even with all that, it can still be wrong! What's the point, then? If VAR is meant to improve the experience of taking in a soccer match, it has undoubtedly failed. If it is meant to cement the integrity of results, well, ask Liverpool how that's working. If it is meant for those in charge to feel like they are in control of the many actions and reactions that make up a match, it's doing its job, at the expense of everything and everyone else. Maybe a mistake as prominent and embarrassing as the one on Saturday will lead to a serious reassessment of VAR, the problems that it doesn't fix, and the new ones it has brought about. But I don't expect any big change. It seems like the only thing not up for review is the presence of video review in the first place.
Stay in touch
Sign up for our free newsletter