WNBA
Turning Pro In Women's Basketball Is Not A Zero-Sum Game
4:47 PM EDT on April 11, 2023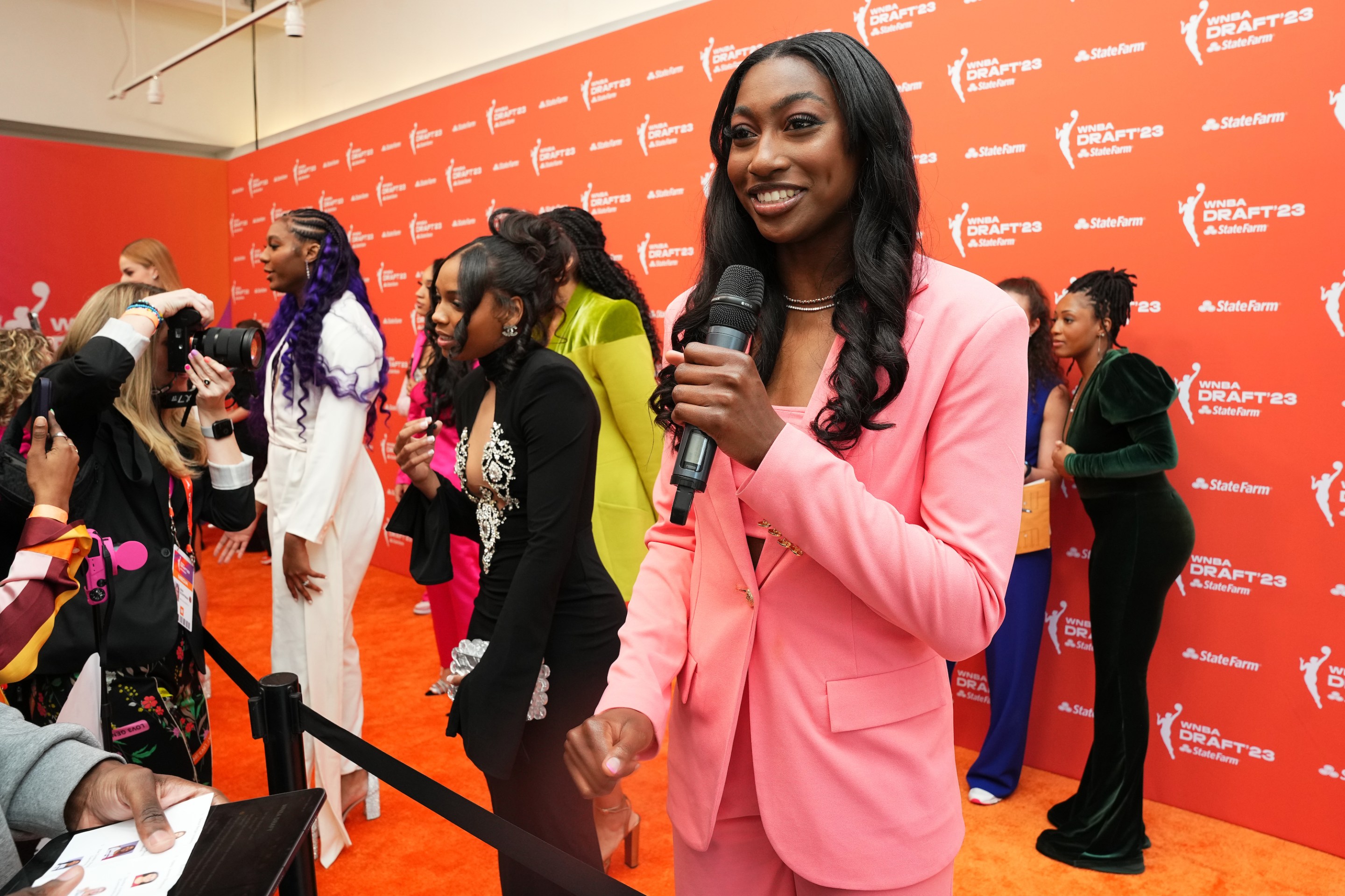 A retired basketball player once reminded me how fast glory used to fade in the days before the WNBA. The player's college years ended on the best possible note: Her team cruised through the regular season and won a national championship on a buzzer-beater. She visited the White House to celebrate, had her photo taken with Bill and Hillary Clinton, and a couple hours later was on a flight from D.C. to Europe to begin her pro career. The team put her up in a crummy apartment across the street from a French jail. Just like that, the party was over.
It's the oldest story in women's basketball, and it's new again. Postgrad anticlimax—the feeling that the buzz around the NCAA tournament fizzles away each year—has been the talk of the sport for a week. A New York Times story on the "WNBA's talent conundrum" notes that women's players often see their "opportunities peak at the Final Four." A USA Today column warns the WNBA not to fumble the "transcendent moment" before it. At the press conference before last night's WNBA draft, commissioner Cathy Engelbert was asked about the players who chose to return to school and use a fifth year of eligibility rather than go pro.
That question and those columns arose from a conversation I've found enlightening at times and muddled at others. Women's basketball players have been candid in discussing the college vs. pro decision as they see it. College can mean more security and comfort; players are quick to point out that their college teams take charter flights, while WNBA teams fly commercial. (The league announced yesterday it will provide a small number of charter flights for back-to-backs and playoff games, but that's still only a fraction.) And NIL deals can lower the opportunity cost of staying in school. You have doubtless heard that Angel Reese and Caitlin Clark bring in big bucks—pick whichever sketchy algorithm-generated "NIL valuation" you like.
The muddled part: I think different problems and different classes of players are getting lumped together, and I'm not so sure it spells doom or "conundrum" for the WNBA. The Times story ends with a now-viral quote from UCLA head coach Cori Close discussing her senior guard Charisma Osborne, who initially declared for the draft, but later chose to take a fifth year:
Close often consults her peers in the W.N.B.A. about the state of the league, and one coach was frank about what life could be like for the star U.C.L.A. guard Charisma Osborne, who declared for the draft this season, if she makes a roster.

"Does Charisma want to make more money and stay in college and get massages, fly charter, have everything paid for, have a nutritionist and have her own trainers that are paid for?" Close said, quoting the coach. "Or does she want to have none of those things and fly Southwest with us?"
It's a shocking quote, but the story might overstate Osborne's WNBA prospects; she was likely a second-rounder this year. Earlier in the story appears Iowa center Monika Czinano, who took her fifth year in the 2022-23 season and calls returning to school "the easiest decision I've ever had to make." The Sparks drafted Czinano this year in the third round; players drafted this late pretty much never make teams.
These players don't tell me the WNBA is an undesirable poverty league. They tell me something that's true in men's basketball also: Pro opportunities are scarce. Most college players experience their fondest (or only) playing days in college. Of course they would want to prolong them. Engelbert's press conference on Monday night was frustrating in all the usual ways her press conferences are frustrating—reticent about league expansion, enthusiastic about a revamped WNBA app that will also have to be revamped again next year and the year after that—but her response here was probably the right one. "Look, I was a Division I both college basketball player and lacrosse player," she said. "If I could've played for one more year—by the way, if I could go back and play today at the age of 58, I would go back and play today."
What would be more ominous for the WNBA was if a senior with a remaining year of eligibility and a certain chance of making a WNBA roster as a rookie chose the extra year. South Carolina's Aliyah Boston fits those criteria, and she seemed thrilled to be taken first overall last night, even if it was by the dreaded Indiana Fever. "I just knew I had to do what was best for me," she said in response to a question about whether she'd considered returning to school. "I've always wanted to do this. I've always wanted to be a professional basketball player and I just felt like this moment was right."
A now-deleted tweet from the media company Boardroom this afternoon compared Boston's $118,000 "NIL valuation" to her $72,000 rookie base salary and referred to this as taking "a pay cut to leave college." I am glad for the advent of NIL rights, but also ... I do want to stick up for getting a salary. Salaries are good! WNBA salaries are low and should be higher, but salaries as a concept are good. They give basketball players money for playing basketball, not for stuff ancillary to playing basketball. Aliyah Boston's salary will be paid to her regardless of what she looks like or what she tweets or which brands she wears or what appearances she makes. This is her collectively bargained right. She can live in basketball hermitry, just going to practice and going to games and going home, and she will get a paycheck. Rather than a pay cut, I'd argue it's a raise; for the same service of playing in basketball games, she was previously paid zero dollars. Odds are she will not live the hermit's life, and endorsement opportunities will still be available to her. Maybe Columbia, South Carolina's top personal injury lawyer won't want Boston doing commercials, but I suspect Under Armour won't be kicking her to the curb.
The WNBA should pay its players more and treat them better—I have written some version of this a million times and can't believe I'm actually defending the WNBA in a blog!—but it's worth viewing NIL opportunities and a WNBA career as complements, not necessarily substitutes. It's a pretty good deal for the league: "They come in with a huge following," said Engelbert. And college is fun, but being a professional has its perks.
Stay in touch
Sign up for our free newsletter