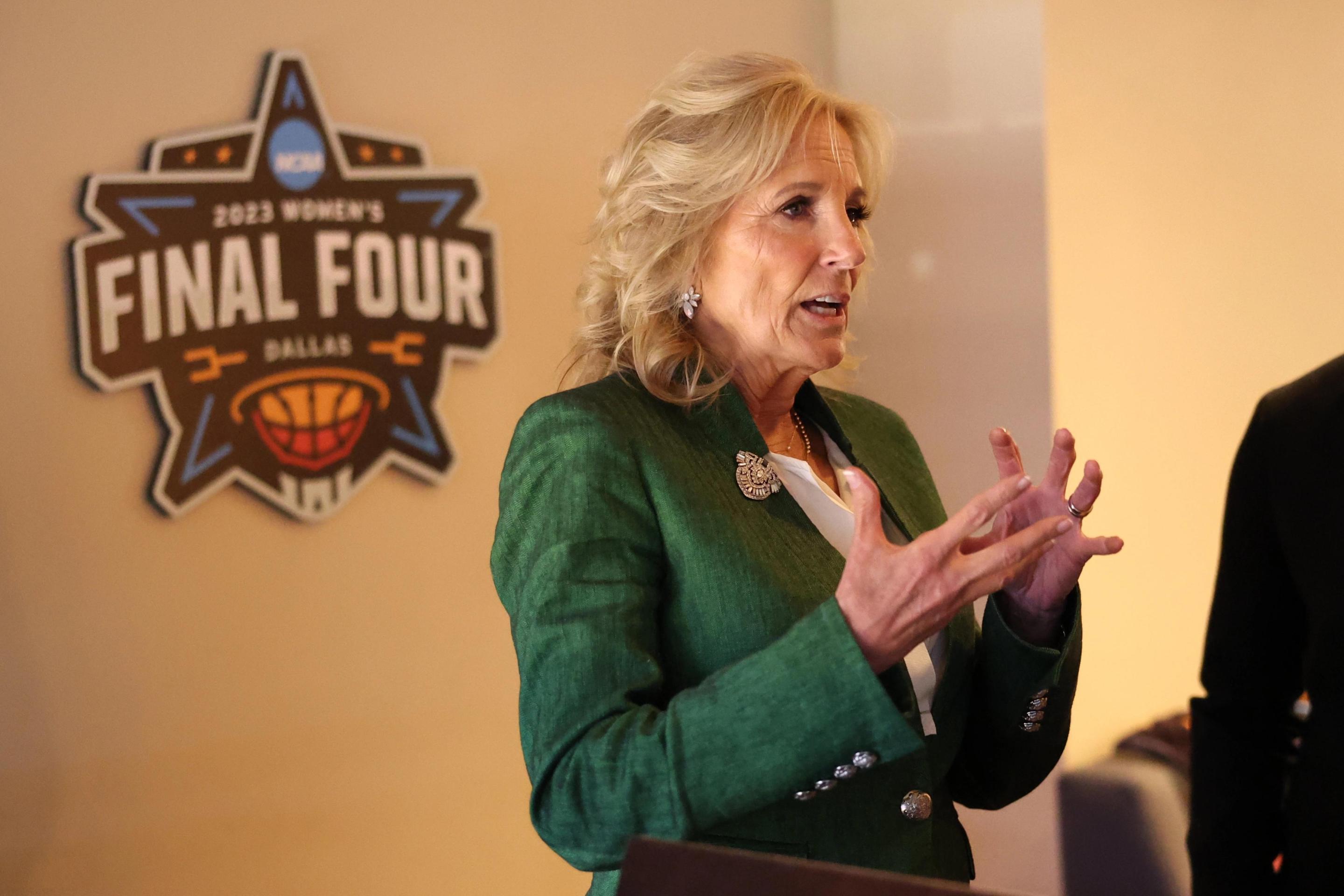 The White House looms large in the minds of college basketball players. For Trump- and COVID-related reasons, the 2019 Baylor women are the only March Madness champs to have visited the White House in the last seven years, but the presidential bracket motivates the game's young, red-assed competitors enough. Last year, Louisville's Hailey Van Lith told the world the Cardinals "don't need Barack Obama's bracket" after he picked them to lose in the Elite Eight. This year, after the second round, Ohio State's Cotie McMahon looked right at a camera to tell Obama that "your bracket broke two times." Neither of Joe Biden's championship picks went very far this March, so plenty of athletes could play on, fueled by the hater-in-chief's doubt.
Rarely is the first lady party to college basketball beefs. But Jill Biden, sensing somehow that the conversation around Angel Reese and Caitlin Clark could get even stupider, made sure of it with a speech she gave in Denver the day after this year's LSU-Iowa final. Biden watched the championship game in Dallas and began her Denver speech by telling the audience how much she had enjoyed it. "Congratulations to both teams. I know we'll have the champions come to the White House—we always do." That would have been a good place to end the thought, but Jill, perhaps inspired by how much fun Joe seems to have while speaking off the cuff, decided to take an ill-advised trip into the riff zone. "So we'll have LSU come. But you know what, I'm going to tell Joe, 'I think Iowa should come too.' Because they played such a good game. Right? Winners and losers, that's sportsmanship. That's good sportsmanship."
"Good sportsmanship" was probably the worst thing to invoke in that moment, when an ugly, racist, and sexist debate about "good sportsmanship" raged. Late in the championship game, Reese made the John Cena hand gesture to Clark, a callback to Clark doing the same thing to Van Lith in the Elite Eight round. This caused much ado among people who had never watched either player before Sunday evening. Several leapt to Clark's defense and called Reese "classless." They then explained the exact time, duration, score differential, relative humidity, dew point, county, and planetary alignment in which trash-talking is and isn't OK. (They could have saved themselves a lot of time by just saying what they meant: It's OK if the player is white.)
Maybe the first lady imagined herself at the center of a Carter-Begin-Sadat–style triple handshake. Whatever she meant, no one liked it. Clark told ESPN that she didn't think Reese should be criticized at all and laughed off the botched diplomacy. "I don't think runner-ups usually go to the White House. I think LSU should enjoy that moment for them," she said.
Reese called the idea "a joke" in a tweet. On a podcast on Tuesday, she said LSU had turned down a pregame locker room visit from Jill Biden because Joe Biden had picked LSU to lose in the second round. "[Iowa] can have that spotlight. We'll go the Obamas'," Reese said. Today, she clarified to ESPN that she and her team will accept their White House invitation. Per a White House pool report, Joe Biden called Reese this afternoon to congratulate her on the championship win.
The thinking behind Biden's silly riff became clearer in a statement from her spokesperson. "The First Lady loved watching the NCAA women's basketball championship game alongside young student athletes and admires how far women have advanced in sports since the passing of Title IX," it said. In understanding the championship game to be a cute Title IX success story more than it was an actual basketball game, she managed to insult everyone. What a thrilling moment for women.
Stay in touch
Sign up for our free newsletter