NBA
Time Again To Dance On The Rockets' Grave
11:29 AM EDT on September 14, 2020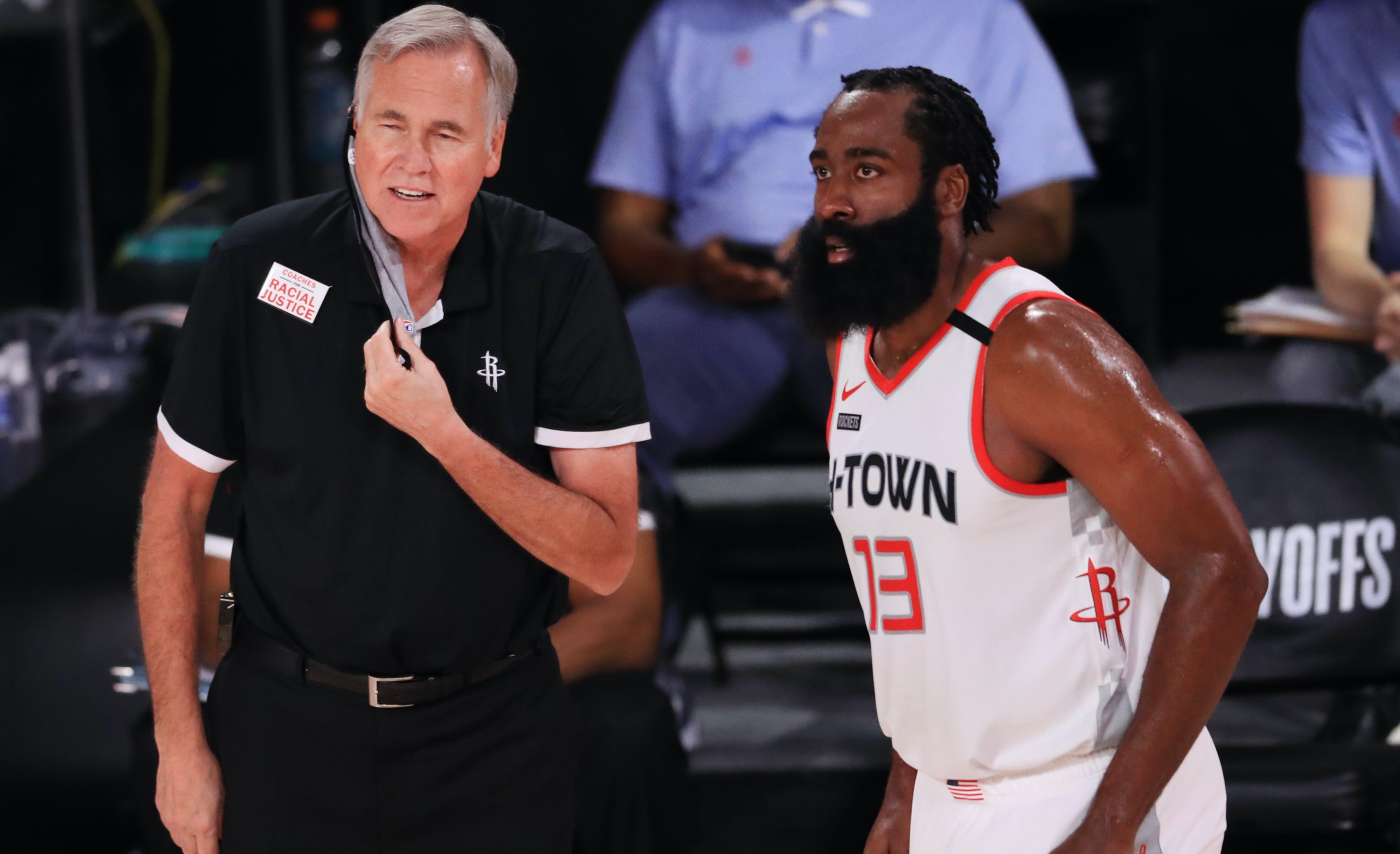 The best way to know how much people hate the Houston Rockets is to look at their final game. When they go down, they do their own face-planting. It's as if they say collectively to a scornful nation, "You will not eliminate us, for we shall eliminate ourselves."
They are a medley of their only hit.
Saturday night, their 23-point beating at the hands of the Los Angeles Lakers was highlighted by Russell Westbrook getting into a needless jawjack with Rajon Rondo's hyper-chatty brother after a postseason to forget and a contract to remember. In 2019, it was the rancorous end of the Chris Paul experiment. In 2018, it was 0-for-27 in a nine-point loss to a Durant-free Golden State. In 2017, it was a 39-point loss to San Antonio in which James Harden looked even less engaged than his typically impassive face would hint. In 2016, they looked better in losing to the Warriors but since the town was half-underwater due to a rainstorm-turned-flood, nobody seemed to mind their loss except for those folks who couldn't get out of the arena. They've lost playing well and playing poorly, but they've always lost to a nation that takes more glee in their shortcomings than those of any other team. They get kicked not only when they're down, but because they're down.
In other words, their exit Saturday night and the subsequent flurry of tear-this-monstrosity-down analyses were all part of the full Rocket experience, and most of it is due specifically to their single-minded choice to make their team a representation of both Harden's brilliant but persistently unsightly game and Daryl Morey's overindulgent but stubborn brain. When they lose in the postseason, the resultant noise is a combination of malevolent glee, a sigh of relief, and demands that they stop being who and what they've spent so many years being. Unlike every other nationally despised team over the years, the Rockets aren't hated because they win too much, or because they failed to meet lofty expectations, or because their fan base is filled with annoying halfwits, but because they are regarded as visually and conceptually repellent.
Hell, in four years they thoroughly damaged Mike D'Antoni's largely glowing reputation as a coach, all because he was given Harden, with his arrhythmic style and game-paralyzing preferences, as his best player. D'Antoni's announcement Sunday that he is leaving Houston beat the team's announcement by about eight minutes, and he now seeks out a gig that will hopefully serve as antibiotic eyewash for what he did and had done to him in Houston. For these are the Rockets, the team that concocts grandiose dreams and creates nothing but future scapegoats in the dreaming.
There may be more departures in the days to come, but the bigger picture is where the true lunacy lives. The Rockets as public enemy are a remarkable achievement because we normally need winners, unmet expectations, or tedious fans to trigger unpleasant reactions, but what the Rockets delivered is something different: unalloyed and entirely unearned smugness. Maybe the Dallas Cowboys used to come close in the aftermath of their glory years (which ended in 1996 and carried over for years because they kept telling us how good they were even though they are a very Rocket-y 4-10 in the playoffs since then) but that form of national disdain has been reduced to laughing at the latest oozings from Jerry Jones's well-muscled blowhole.
And when Morey changed course as he often did, assuring us that this new idea was the new wave of basketball thinking (sponsored by Sloan Analytics, Inventing New Numbers Daily For Your Life And Leisure), the sizzle far outlasted the taste of the steak. Houston's average winning percentage in Morey's 14 years is .606; their playoff winning percentage is .486; in Games 6 and 7, it is .250.
This time it all feels different because owner Tilman Fertitta has taken a COVID-related financial beating, because Morey is still being blamed for the China row, because the all-go-small-until-we-fall tactic had a shorter shelf life than the one Don Nelson employed in Oakland three decades ago, because Westbrook was materially less valuable than Paul was, and in this series less valuable than Rajon Rondo was, and has a contract so onerous that only the Knicks would consider taking it on.
But it felt as though the course had been run last year, and the year before that. People have been predicting … no, DEMANDING … the dissolution of the Rockets for years now, to the point where it feels more tiresome than venomous. This new version of Armageddon may leave only Fertitta and Harden standing, but however it does or does not go down, what they are known for most now is their repetitive end. This has never been the best team, and there's nothing wrong with trying to tilt unfavorable odds, but so many pundits have tried so many times to reinvent Houston on their own that they find themselves in the same sludgy cul de sac as the Rockets. Saturday's game wasn't Houston's worst flameout as much as it was the latest in a long line of them. In short, their greatest failure is their sameness. No matter how many times they try reinvention, they remain TSOR.
The Same Old Rockets. Ever new, yet ever the same. Godspeed, Mike. You did your time, and man, was it hard.
Stay in touch
Sign up for our free newsletter