Politics
The Summer Of Game Over
4:30 PM EDT on September 9, 2020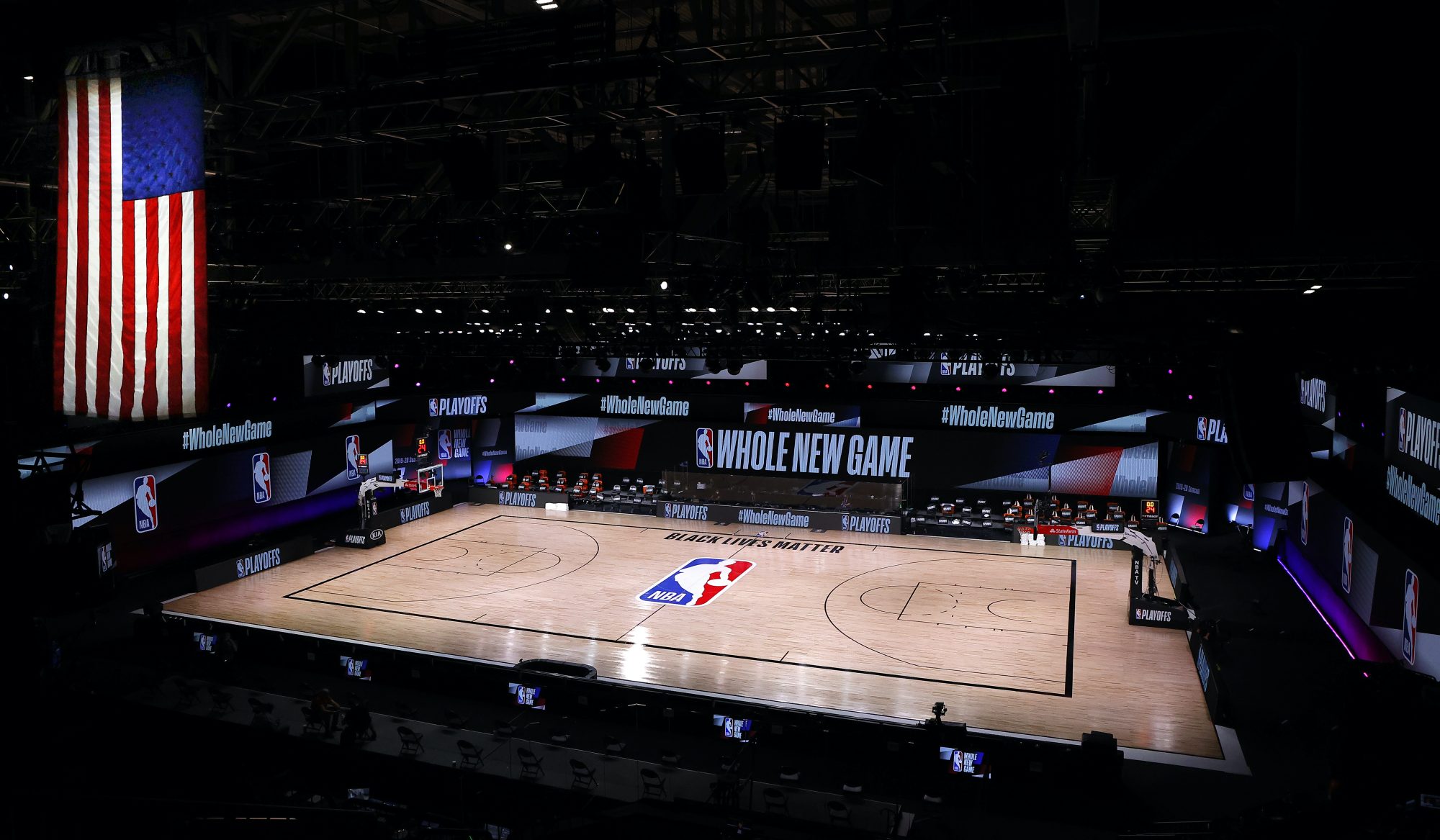 The last six months have proven it: Sports has outgrown its games, which have been demoted to mere TV network inventories. The stick-to-sports movement which helped scuttle Deadspin and resulted in the grimy little dodge you are invested in now is dead in even its most strident believers' eyes, because even when the games largely stopped, the news never did. In fact, the last six months not only showed how the sausage is made, it showed us how much pork it takes to keep the farm going, and how the abattoirs operate.
And, it must be added, how easily the farm can be foreclosed if the farmhands say they're done, or too sick to work.
Now, games are objectively good, and there were barely enough of them to keep the complainatariat from pulling its collective face from its moorings. Once the NBA and NHL inflated their bubbles and MLB burst theirs, you got just enough highlights to keep Scott Van Pelt from eating macaroni and cheese straight from the box.
But for the most part, sports went off-campus. The NBA players walked off the job because the conditions that make life intolerable for them became more intolerable than ever, and the WNBA players are actively trying to get rid of Atlanta co-owner Kelly Loeffler and help eject her from her U.S. Senate seat. The bubble everyone thought was a technological marvel of the age also made players edgy and miserable. Michael Jordan's 10-part autobiography-by-another-name revealed him mostly to be an unsettling and unsettled fellow between worshipful highlights of quarter-century-old games. The New York Mets complained about baseball-hating commissioner Rob Manfred, lied through an apology that threw soon-to-be-former-owner Jeff Wilpon beneath the thresher—and that was before the Wilpons finally gave up trying to keep the team out of co-owner Steve Cohen's hands and sold the team to … Steve Cohen, instead of the Jennifer Lopez–Alex Rodriguez consortium, or the knuckleheads who own the New Jersey Devils and Philadelphia 76ers, both of whom still found time to fire their coaches during the pandemic.
In addition, baseball's new rules designed to just get the games over with failed to get them over with, and a record number of postponements because of the virus and police brutality ensured that the season, originally designed for 100 games, then 89, then 74, then 60, won't even make it that long. Plus the three bubble sites they couldn't do in March because the virus made those states uninhabitable for baseball might be brought back in October in two of the same states that are still uninhabitable for baseball. Oh, and people pretended to like South Korean baseball for a while.
College football debased itself in predictable ways, canceling and uncanceling games and letting parents set agendas, as the athletes who are the reason for the games in the first place were revealed to be barely more than indentured servants whose sole purpose was to keep presidents and athletic directors from making those third boat payments. Oklahoma State coach Mike Gundy, who was excoriated for saying in April the players had to get back to work for the good of the company, turned out to be the one guy who had told the unpleasant truth when most of the FBS schools trudged their players back to virus-riddled work in August.
Danny Snyder tried to create the Washington Football Team in an attempt to quell angry minority partners and a long-offended nation, but after the Washington Post rolled out two damaging reports on the toxic culture women have had to endure for most of his tenure, he looks more like a pervert than a despot, and that's extraordinarily weird because he played the despot so convincingly. Tom Brady took a hike, lured Rob Gronkowski out of retirement and is resettling in a place where old folks tend to flock anyway. Roger Goodell decided to be pro-Kaepernick after years of fronting the owners' play to kick him out of the sport, because while jobs don't last forever, legacy-shopping does (again, see The Last Dance). And Jerry Jones kept thinking the whole thing about the stupid anthem because he's Jerry Jones. The Detroit Lions are now owned by the daughter of the widow of the owner, which like many team transfers is dynasticism gone bad, and Matt Patricia is still trying to stay ahead of the vagrant chic fashion revolution, but the Lions were also the first team to bag practice over the Jacob Blake shooting, so there's that.
Lionel Messi finally broke with Barcelona and then went back while swearing eternal middle fingers to the Barca board, an interesting way to get back to work. And the real Real Salt Lake owner, Dell Loy Hansen, hurt, upset and uppity over his workers laying down their boots to oppose racism, took his balls and put them up for sale, just in time to be exposed as more than just a casual racist. Soccer got back to work quickest but also introduced us to fake crowd noise and cardboard fans, two crimes that must be dealt with in time, and dealt with severely. Cornhole made a comeback, but sadly, so did Holey Moley.
Indeed, everywhere there was of plenty of news, views, and screws, from the state houses where governors played amateur virologists and told players to just rub some dirt on the virus and walk it off to the stadiums and gymnasia where we were reminded graphically by spineless and ethics-deficient suits, entwined with acts of principle and kindness by millionaires that shamed many of the billionaires who made them millionaires.
The all-consuming business of sport is now revealed to be galactically larger, needier and creepier than the sport of sport, and now that the games have gotten out of the way, we see it for what it is in all its eye-searing weirdness. And we found that it takes very little adjustment to talk and write and moan and bitch and marvel at it all the ways that can make you smile while hurling into the rosebushes. We never ran out of stuff to hate and like and laugh at, because sadness and panic begets cynicism and cannibalism, and just as weirdly the desperate hope that it will get better because it can't possibly get worse. Talking about all these things and dozens more turned out to be not only easy and important but aggressively vital because nature abhors a vacuum, and the beast that must be fed doesn't take days off.
In short, we missed a lot of stuff while the car was in the shop, but there is always something new on the horizon, or more accurately heading right toward the windshield with one of those red "Keep Distance" flags hanging off the end of the re-bar. Frankly, when you think about it and consider all the things we saw and heard this summer, the games would have just gotten in the way.
Stay in touch
Sign up for our free newsletter