NHL
The Stars Failed To Show Up
12:21 PM EDT on May 30, 2023
If the Dallas Stars arrive at their building tonight ready to play Game 6, I hope the cleaning crew lets them down easy. Because in a must-win conference final contest on Monday night, after a couple of invigorating wins with their backs against the wall, the team from Texas just disappeared. From the moment the puck dropped, the Golden Knights looked like they were running shooting drills in practice, so irrelevant were the guys in the green jerseys. They put goal after goal through Jake Oettinger with nothing even resembling a response from the home team, until they punched their ticket to a climactic series against the Panthers with a 6-0 final. Maybe the Stars just forgot what day it was.
The eye test and the harder numbers achieved perfect synchronicity in this one. Rarely is an expected goals chart even a small fraction as exciting as the live action, but I can't help but feel stunned by this simple representation of the game's first 20 minutes. It looks like a graph of PS2 sales vs. N-Gage sales. Remember: Dallas had to win this game!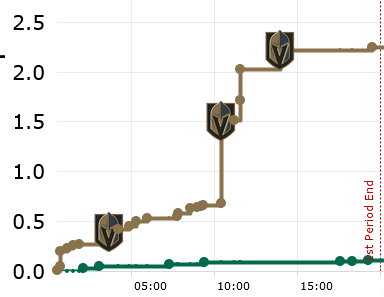 But even if you think the phrase "expected goals" means life milestones like "get married and buy a house," it was plain to everyone from God on down that the Stars were manhandled. On this opening goal from William Carrier, look at how many Dallas men were forced to play with their backs turned, facing their own net, while the Knights relentlessly pursued the puck.
And on Vegas's third goal, 14 minutes in, enjoy how quickly and easily they moved from one end to the other, as the Stars defense offered up only the flimsiest resistance. Please, I'm begging you to remember: DALLAS HAD TO WIN THIS GAME.
Jonathan Marchessault stabbed the Stars' prone corpse with another goal midway through the second, and the losers didn't even make a token effort at a comeback. In the nine-and-a-half minutes between that blow and the next intermission, Dallas didn't put a single shot on goal. Apparently, they were too tired.
"It was a case of Vegas went to another level and maybe one too many nights of us going to the well in an elimination game," head coach Pete DeBoer said, by way of explanation. "That was our fourth [elimination game]. I don't think Vegas has played one yet. Every time you go to an elimination game, it takes a toll—physically, mentally. It's hard to refill that tank over and over again. I just didn't think there was a lot left tonight."
"It was probably my easiest game of the playoffs so far," Vegas creaseman Adin Hill said afterward.
I started this game kind of hoping the Stars would maintain their new lease on life, if not in this series, then at least with one more run next year. Over the past couple seasons, they looked like a franchise stuck between two windows. Half of their roster was emerging young talents like Oettinger, Jason Robertson, and Roope Hintz, while the other half was former all-stars closer to the end than the beginning, like Jamie Benn, Tyler Seguin, Joe Pavelski, and Ryan Suter. Coming off a missed postseason in 2021 and a first-round exit as a seven-seed in 2022, Dallas's veterans seemed to be dragging the team down faster than the kids could lift it up. But this was a year where everything clicked. Robertson and Hintz hit new career highs with 46 goals and 75 points, respectively, while rookie forward Wyatt Johnston emerged to contribute 24 goals, plus a few especially critical ones in the playoffs. Meanwhile, players like Benn and Pavelski fought off the passing of time. Jamie's 33 goals were his most since 2017–18, while Joe, grinding for that elusive Cup, scored nine in the playoffs after 28 on the year.
The Stars, though they're feeling a bit of cap heat, should get one more season out of mostly this same roster before Pavelski possibly calls it quits and GM Jim Nill will definitely have to initiate a more serious makeover. Watching them play this spring, where their squad looked top-to-bottom strong and could win even if some of them had bad nights, it wasn't too hard to get sentimental about their chances of leading a chaotic, parity-mad Western Conference. But even though almost every hockey team's run ends in a tough loss, the sheer atrociousness of this performance feels, at least now, gloomy enough to block out even the sunniest view of the Stars' future. If everyone doesn't suddenly age at all once, Dallas should be a contender and a fun team to watch in 2024. But nobody deserves to see whomever these guys were on Monday night ever again.
Stay in touch
Sign up for our free newsletter