NHL
The Rangers Finally Put Batteries In Alexis Lafrenière
9:59 AM EST on November 13, 2023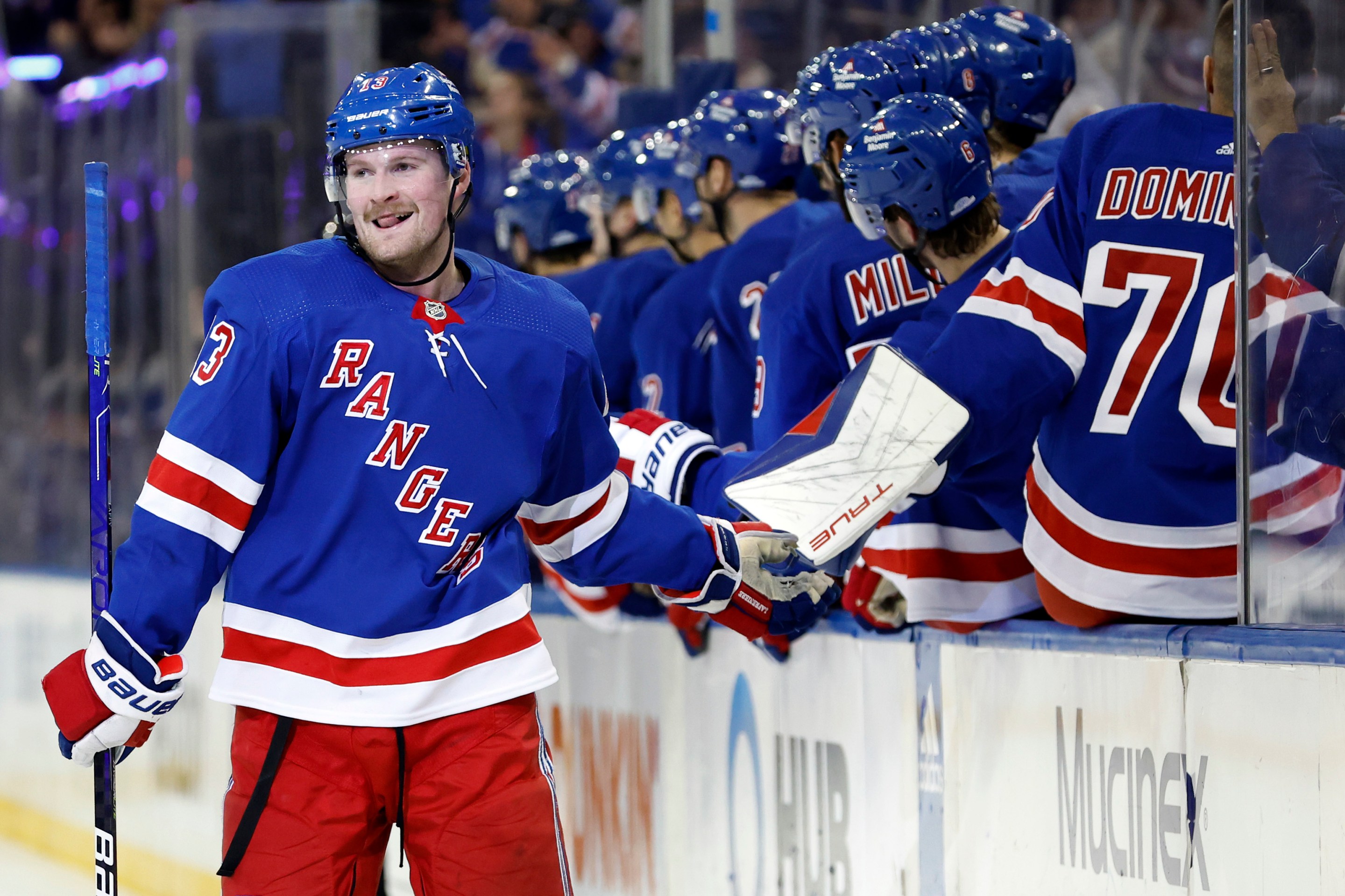 Hockey, like life, comes at you fast. The speed of the sport at the highest level can stagger first-time pros, no matter how they carved up juniors. Everyone's bigger, stronger, quicker, and where a prospect once dominated, they can all of a sudden feel like they're playing catch-up on the ice. It takes an adjustment period. For physiological geniuses like Connor Bedard, maybe that adjustment period lasts about 65 minutes. For normal players, maybe it's a couple of years. Sometimes it comes gradually. Sometimes something clicks and it happens all at once. Sometimes it doesn't come at all: NHL history is replete with busts.
Alexis Lafrenière was not supposed to be one of those players for whom it took very long. The clear consensus number one pick when he went to the Rangers in 2020, the winger spent his first three seasons making frustratingly slow progress, showing occasional bursts of talent but mostly serving as a useful depth forward—not a bust, but not anywhere near what he was supposed to be. Improvement has been incremental: 21 points as a rookie, 31 as a soph, 39 last season. It appeared he might, like frequent linemate and fellow hype target Kappo Kakko, never quite make The Leap.
Well, he's on pace for 40 goals. Better Laf than never.
The 22-year-old scored twice and had the lone shootout tally in the Rangers' 4-3 win over Columbus, just one game after his first-ever three-point night vs. Minnesota on Thursday. The points are coming now for Lafrenière, and at a consistency he's never shown before. The game may have finally slowed down for him.
Lafrenière's first goal on Sunday was, like his second and like so many this season, a matter of right-place-right time and quality finishing. (His shooting percentage this year is 29.1 percent, which is entirely unsustainable but still an indication he's doing something to contribute productively.) An Artemi Panarin takeaway led to a nice cross-ice feed from Vincent Trocheck, which Laf buried. His second was a nifty bit of reflexes to handle a crisp Chris Kreider feed in front of net; it tied the game with 11 seconds left.
That's seven goals and 11 points through 14 games for Lafrenière, and he's done it without much power-play time. So what's changed this year for him? For one, new coach Peter Laviolette has installed an aggressive 1-3-1 defense, which is leading to turnovers and more opportunities off the rush for the offense. For two, Lafrenière has, after flirting with it before, made the full-time move to right wing; it seems to suit him nicely.
But really, it's about playing with Panarin. The story of the Rangers' first-place start is really the story of Panarin's Hart-worthy play. Freshly shorn of his trademark curls, the 32-year-old Breadman is a house of fire, putting up eight goals and 16 assists as he's tied a franchise record for points streak to start a season. His game Sunday—51 offensive zone passes and 2:17 of possession in the attacking end, both league-highs this season—was, if an especially good example, still not very much of an outlier. He's been eating, and he's been feeding his linemates. The Panarin-Chytil-Lafrenière line has been the Rangers' best and one of the league's best, closely followed by Panarin-Trocheck-Lafrenière.
"He's just a really unbelievable player," Lafrenière said of Panarin. "For me, it's just trying to make plays for him, and obviously when he has the puck, trying to get open, because usually he finds you. I'm just trying to stay ready."
Lafrenière has actively declined to speak about his own success, perhaps afraid that to acknowledge it would be to tempt fate. "I know, just from everyone, just hearing and everything, all the pressure that's been on him, being a first-overall, just hearing that constantly," Mika Zibanejad said. Because pressure is its own sort of drogue; maybe the game had previously felt too fast for Lafrenière because he was slowed by his own overthinking. A few months on a line with a world-beating Panarin can do wonders.
But there are no linemates in a shootout. All there is is your game, and your nerve. Laviolette demonstrated his assurance in Laf when he chose him to shoot third. And Lafrenière showed exactly how he's feeling when he went backhand, top-shelf.
Yeah, you don't take that shot that unless you're radiating confidence. And a confident Lafrenière might be an entirely new player.
Stay in touch
Sign up for our free newsletter