MLB
The Rangers Are The Big-Spending Heroes Of The 2023 Season
11:02 AM EDT on November 2, 2023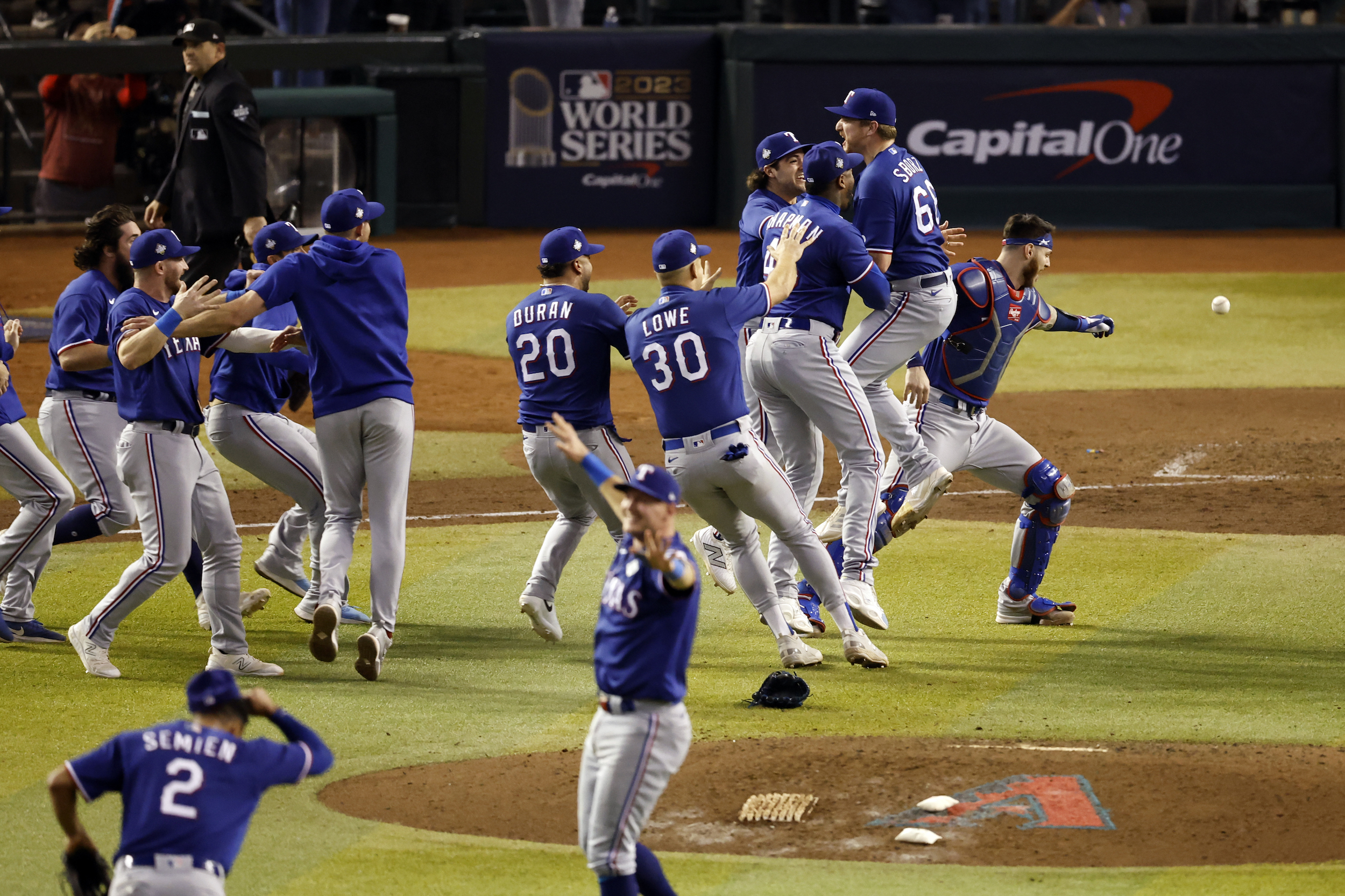 Here's a cool thing: In 2021, the Texas Rangers spent about $96 million on total team payroll, per Spotrac, only about $25 million of which went into their 26-man roster. That latter number is pathetic, and was good for 27th-most in baseball that year. It was less than a seventh what the Mets and Dodgers spent on their teams; it was less than one sixth of what the AL West-winning Astros spent. The Rangers spent more than twice as much on dead salary that season ($59 million) as they did on active players. For this pitiful underinvestment, the Rangers got what they paid for: The team lost 102 games, they were outscored by 190 runs, they finished 35 games back of the Astros, and they were eliminated from the playoffs with more than a month of baseball left to play. They were puke, a disgraceful blight on the sport.
That winter the Rangers added more than $50 million to their total payroll and quadrupled their active payroll. They revamped the top of their lineup, they committed half a billion dollars to a shiny new infield, they upgraded their outfield, and of course they signed pride of the Colorado Rockies Jon Gray. This didn't work out at all. The Rangers went an astonishing 13–32 in one-run games, their pitching sucked shit, they allowed not one or two but three immaculate innings, manager Chris Woodward was fired mid-season, and the team lost 94 games and finished 38 games out of their division, ahead in the standings of only the sickening Oakland Athletics.
Here is where it would not have been considered weird or abnormal at all for an ownership group to walk back as much of that spending as possible, fatten up the farm system with pimply prospects, and make noises about angling for a sustainable model for success. GM-brained baseball observers would've loved it, especially as the Rangers share a division with the juggernaut Astros, an up-and-coming Mariners team, and a free-spending Angels squad that had not yet utterly squandered its rostering of two of the top baseball talents possibly ever.
Instead, the Rangers spent the following winter doing more spending. This season they added a whopping $100 million to their 2023 team payroll, and jumped up to eighth in the majors in active payroll. They lavished riches on the aging and oft-injured but brilliant Jacob deGrom, the signature move of a free-agency-driven overhaul of their pitching staff. The Rangers leapt at the chance to snag ace Max Scherzer from a foundering Mets squad at the trade deadline and dealt away one of the jewels of their farm system.
Their opponents noticed: Mariners catcher Cal Raleigh, after his team was eliminated from playoff contention by the Rangers, spotted a greater commitment from the Rangers organization. "Sometimes you have to go out and you have to buy, and that's just the name of the game," said a discouraged Raleigh, steam audibly whistling out of his ears. "We'll see what happens this off-season, hopefully we can add some players and become a better team ... You look over in [the Rangers'] locker room right there and they've added more than anybody else, and you saw where it got them this year."
Not all of this worked, and not everything that worked was the product of Big Spending. DeGrom's elbow kerploded after just six starts. Josh Jung played like a seasoned pro at third base and started in the All-Star Game as a rookie after rising out of the Rangers farm system. Rookie Evan Carter landed on the big-league roster at the very end of the regular season, and immediately became an indispensable hero of the Rangers' outfield. Adolis García, who was on his way to a World Series MVP award before injuring his oblique in Game 3, was traded to the Rangers back in 2019 for cash considerations, and didn't become an everyday player until that horrendous 2021 season. For that matter, not all Big Spending projects work: All three of the teams that outspent the Rangers this season in total payroll failed to even make it to the postseason. Sometimes teams buy up a sexy roster and bomb. That, as they say, is why they play the games.
But cynical tear-downs and arduous multiyear rebuilding processes also aren't guaranteed to work. Stocking your roster with players who are cheap is much more likely to lead to lots of losing, and whether you are doing that losing on purpose or because you cannot stop stepping on rakes, losing is losing. The Rangers might've gone Yankees Mode and spent the 2023 regular season circling the drain. It went the other way: The Rangers spent aggressively to gain the services of good players, survived some tough injury luck, rose out of a competitive divisional race, and won the franchise's first World Series. Over a period of three years they more than doubled their total payroll commitments and nearly sextupled their spending on active salaries, and went from the league's basement to the sport's mountaintop. Pay good people what they are worth and good things tend to happen.
Correction: A previous version of this blog said that the Rangers had eliminated the Mariners from the wild card round.
Stay in touch
Sign up for our free newsletter