NBA
The Pistons Have A Unique Disruptor In Ausar Thompson
10:01 AM EST on November 7, 2023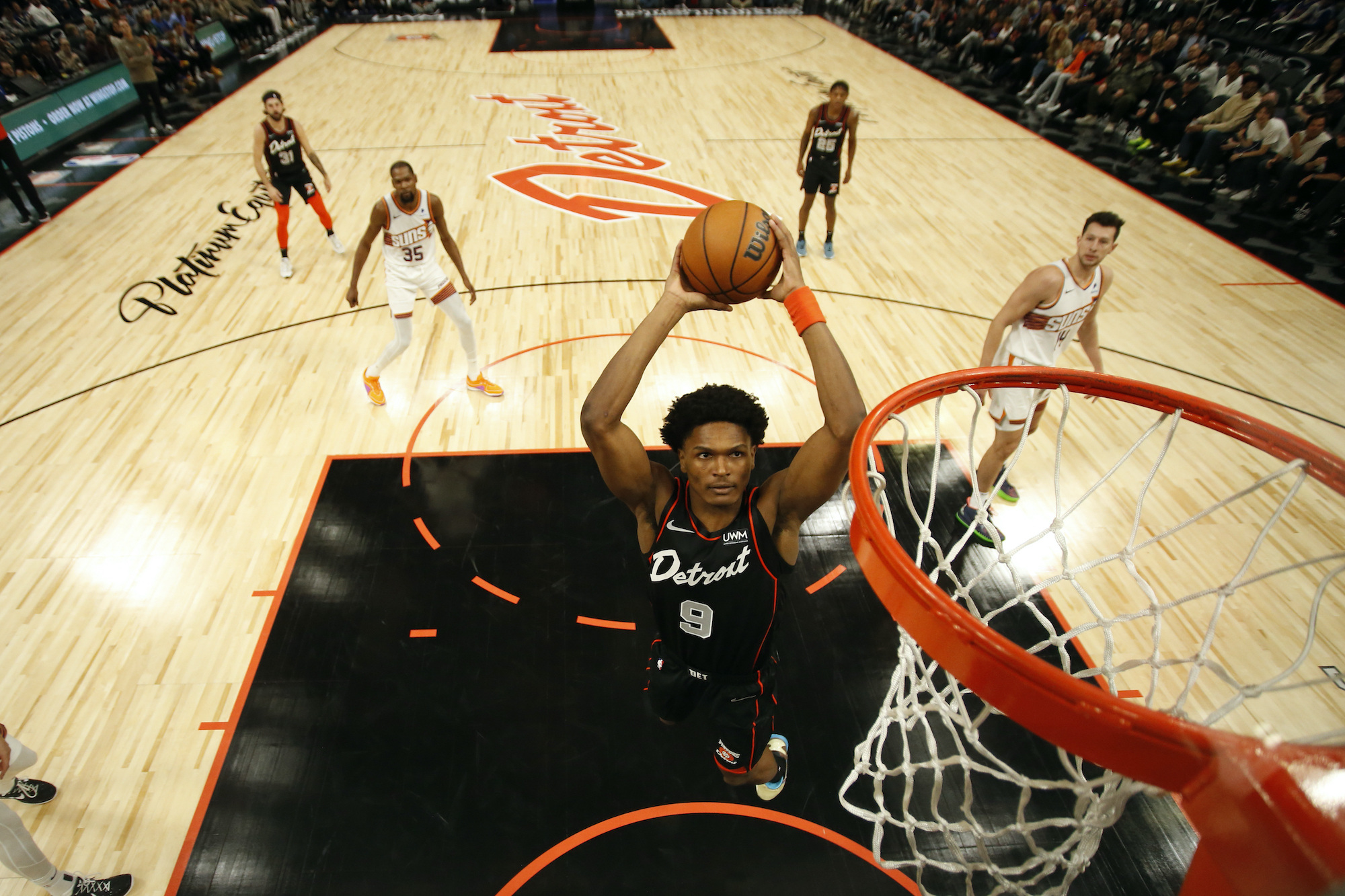 Unfortunately, I can't look away from the Detroit Pistons. They are obviously bad, but in a more remarkable way than they were for the Dwane Casey regime, a period in which they averaged 20 wins per season over the last four years. Teams that accumulate young lottery picks and sit in piss-tier territory with are typically more exciting in theory than in practice—everyone is jazzed about getting the chance to watch Scoot Henderson hit the court for the Portland Trail Blazers until they see how steep the learning curve is—but this year's version of the Pistons has a little something. Former first overall pick Cade Cunningham is healthy, 2023 first-rounder Marcus Sasser has 10 nine threes in his past three games, and second-year center Jalen Duren is like Deandre Ayton if Deandre Ayton were good.
Then there's Ausar Thompson, flying around and trying everything, even if it doesn't always work. This year's fifth overall pick never really played against anything higher than high school competition before this season, which would seem to set up a rough adjustment to the NBA. Thompson, like his twin brother Amen, went high in the draft because of his athleticism and feel, though neither twin was really ever considered in the top three because their shooting forms were so hilariously busted. If you have a huge obvious weakness in the NBA, defenses will force you to play around it.
With Bojan Bogdanovic injured, Alec Burks old, and Jaden Ivey coming along slowly, Thompson grabbed a starting spot with a killer Summer League and preseason, and it doesn't seem like he'll give it up. Thompson's first eight games have produced some oblique stat lines. In his debut game against the Heat, he finished with five blocks (sick!), seven rebounds (nice!), and three assists (sure!) to go with four points on 1-for-7 shooting (what). Thompson's second game saw him rack up 13 rebounds and six assists, but also score six points on 2-for-9 shooting. He's 4-for-23 from three this year.
This is the natural progression of a talented but unfinished player being given the space to figure things out. Thompson pretty much only shoots jumpers when he's wide open, and he takes a slim majority of his shots without even dribbling (53.3 percent of his field goal attempts). Head coach Monty Williams trusts him so much despite his shortcomings because he's already the team's best wing defender and offensive rebounder, and because he knows exactly how to be aggressive without overstepping his limits (he is shooting 40.2 percent from the field, after all). Williams, after all, did say earlier this year that Thompson's (and Sasser's) toughness and two-way playmaking made him want to "arrange a marriage with my daughters."
Thompson's best blocks have an onomatopoeic quality to them, as if the offensive player is getting pulverized by a trap they didn't know they were walking into. Shai Gilgeous-Alexander thinks he has an open floater, then WHAM, Thompson is volleyball-spiking back at him. Zach LaVine shakes Thompson on a screen, then ZOOM, there he is to mash LaVine's jumper. Grayson Allen shoulders Killian Hayes away but then, BOOM, Thompson is three feet above him, erasing the shot. He gets a lot done on the weakside, like any good shot-blocker, but he also recovers remarkably when he gets shoved away from his man.
Essentially, Thompson already knows where to stand. His best game of his young career was his all-action masterpiece against the Suns on Sunday. Throughout his 38 minutes, he racked up 14 points (on improved 42 percent shooting), four steals, four blocks, nine rebounds, and four assists. Coming within shouting distance of the first five-by-five of the decade in your seventh career game is extremely impressive.
Thompson followed up that performance with another strong showing against the Warriors on Monday night. He scored 16 points, grabbed seven rebounds, and stole the ball four times while shooting a downright professional 60 percent from the floor.
The Pistons are not aggressively trying to win, but they have to sort through their roster of lottery picks to figure out who deserves bigger opportunities. Williams is still trying to figure out roles for guys like Jaden Ivey and Killian Hayes, and James Wiseman, and inevitably a few people won't cut it. Not Thompson though, not when he's such a violent, disruptive defender this early in his career. I just hope we get a 1-for-12 five-by-five this year before he learns how to shoot.
Stay in touch
Sign up for our free newsletter