WNBA
The Mercury Turn To A Girl Dad To Solve Their Problems
12:34 PM EDT on October 24, 2023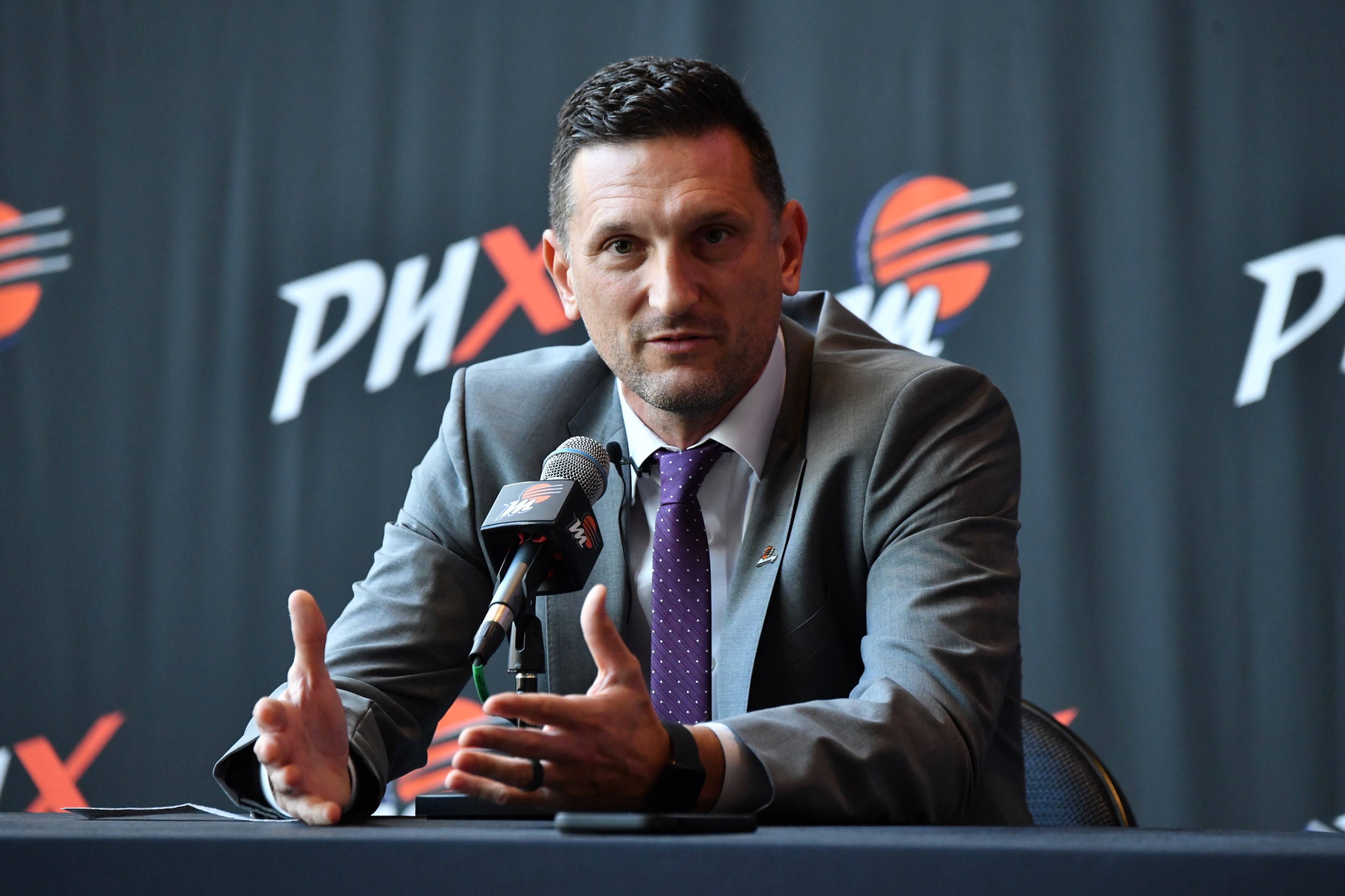 The last time we checked in on the Phoenix Mercury, they were fighting on the bench, responding to their coach with a clown emoji, shit-talking someone who took a buyout to get away from them, and also losing the majority of their games because their best player was in a Russian prison. You'll notice those things all happened in 2022. With one exception, the team wasn't really worth checking in on this year. Brittney Griner was freed from the Russian prison but then had to rejoin the Phoenix Mercury, who continued to lose the majority of their games. They finished the season 9-31, on an 11-game losing streak.
Griner's return improved the vibes a little, but not enough. Head coach Vanessa Nygaard, the clown emoji recipient, was fired after a 2-10 start to the 2023 season. A disgruntled Skylar Diggins-Smith, the clown emoji sender, never rejoined the team after going on maternity leave. She later said she'd essentially been barred from using the facilities, suggesting maternity leave was not the only thing keeping her away from the team. The Mercury are old and bad and also they have no draft picks. The task of sorting out this mess now falls upon the poor man's Tim Robinson they hired to be their new head coach last week.
Or is he a rich man's Tim Robinson? New-ish Mercury and Suns owner Mat Ishbia made Nate Tibbetts the highest-paid head coach in WNBA history, per ESPN's Adrian Wojnarowski. There was no public contract figure, but the most recent high-water mark had been set by Becky Hammon, whose salary Aces owner Mark Davis once revealed to be a million dollars.
Tibbetts, previously an assistant with the Magic and the Blazers and a head coach in the NBA G League, was introduced in a social media post by the Mercury as "Elite basketball coach. Legendary player. Girl Dad." That legend seems confined to his playing days at the University of South Dakota, where he is second all-time in assists and steals. Tibbetts's father (Boy Dad) coached high school girls basketball in South Dakota, where he won 11 state championships, a history for some reason included among Tibbetts's career achievements.
Making some guy no one had ever heard of the league's highest-paid coach on the same day the league's previously highest-paid coach (an actually legendary player from South Dakota) was set to win her second straight WNBA championship was no optics victory, and the Mercury didn't come out of Tibbetts's introductory press conference looking much better. "I understand. I'm sensitive to the situation. I know I'm one of only three male head coaches in the WNBA. And so I take responsibility for that. I know that people are questioning it, and agree or disagree, I'm going to do the best job that I can," Tibbetts said. Part of that job will be learning about the WNBA, as he later added, "I know I'm going to need to rely on our team to learn how this league works. That's why I'm here."
Here was Nancy Armour reacting to the Tibbetts hire in USA Today:
But he doesn't know the women's game, and it's an insult to everyone to suggest that doesn't matter.

Basketball is basketball, but there are different rules between the WNBA and the NBA. Tibbetts also has no familiarity with the personnel, on his team or any other. As a coach, he's got no experience with the different challenges the women's game will present. Challenges like pregnancies. Child care. Injuries that are more likely to occur in women athletes than men. 

USA Today
Some of these concerns seem overstated to me. The second-highest paid head coach in the WNBA suggests even women in head coaching roles do not handle "challenges like pregnancies" well. As funny as it is to imagine Tibbetts's career derailed by a replay review incident only possible in the WNBA, the rule differences don't merit much concern.
I wouldn't like this argument—that the men's and women's game present totally different challenges—if it were deployed against a woman with no NBA experience being considered for an NBA job. But what's also true is that my scenario is an imagined one, and what Armour is responding to is the reality of the WNBA. In this league, there is a long, sometimes ugly history of giving an NBA guy a shot. I'm offering Tibbetts some grace here; at the levels of power where it matters, the benefit of the doubt has only ever been extended that way.
Diana Taurasi attended the press conference and was enthusiastic about the hire, even promising Tibbetts that she'll start playing defense next season. (If he can get her to do that, ignore this blog and put Nate Tibbetts in the Hall of Fame.) She made the point that her team had once hired a head coach with no women's basketball experience, and it turned out to be Paul Westhead, who led the Mercury to their 2007 championship, the first of Taurasi's WNBA career. Another name came to mind: After his NBA playing days, Bill Laimbeer became a WNBA lifer with three championships and eventually a coaching tree of his own.
It's that last bit that left me unsatisfied by Taurasi's argument. At the time of the Westhead or Laimbeer hires, it could more credibly be argued that the WNBA hadn't been around long enough to its produce its own pipeline of professional coaches. Laimbeer succeeded in large part because he treated WNBA players like adults, which separated him from the coaches whose women's basketball experience was limited to coaching college. But a quarter-century after the league's founding, it has produced a pipeline of coaches. The number of women on the sidelines has increased in recent years; where Tibbetts cited "three male head coaches" in the league, that number was as high as eight in the 2020 season. Six of the nine women currently in head coaching roles are former WNBA players.
After Nygaard was fired this past June, her assistant Nikki Blue took over as an interim head coach. Blue, a black woman, played in the WNBA for five seasons, and Mercury general manager Nick U'Ren wouldn't say whether she had been considered. "You could ask me a hundred questions about Nikki, and a hundred times, I'm not going to tell you anything negative," he said. "This ultimately was about what Nate brought, not what Nikki or any other candidate didn't have." U'Ren, whom Ishbia hired from the Warriors front office this summer, answered a question about the hiring process by saying that "diversity and opportunity are critical, and I would say our process, our candidate pool and our finalist pool all reflected that." And still, the million-dollar contract went to the white guy.
Here is where the pros may start to resemble college. Title IX gave women athletes all kinds of opportunities, but its passage did the opposite for women head coaches. The more legitimate and well-resourced women's collegiate programs became, the more attractive their jobs became to men; the men running athletic departments were more inclined to hire other men anyway. "We think the WNBA has a lot of room to grow and so we want to show, 'Hey, we're putting our money where our mouth is. We're investing in the women and helping them to become even better, because I love the game," Ishbia said on Arizona sports radio recently, discussing his plans to build the Mercury a new $100 million practice facility. More owners are starting to treat their teams like real pro franchises and the WNBA is better for it in so many ways. It would be a shame if the women who built the league, and who have seen it through less glamorous days, didn't reap the benefits.
Stay in touch
Sign up for our free newsletter