College Basketball
The Maryland Terrapins Are So Crazy They Just Might Work
11:56 AM EST on March 9, 2023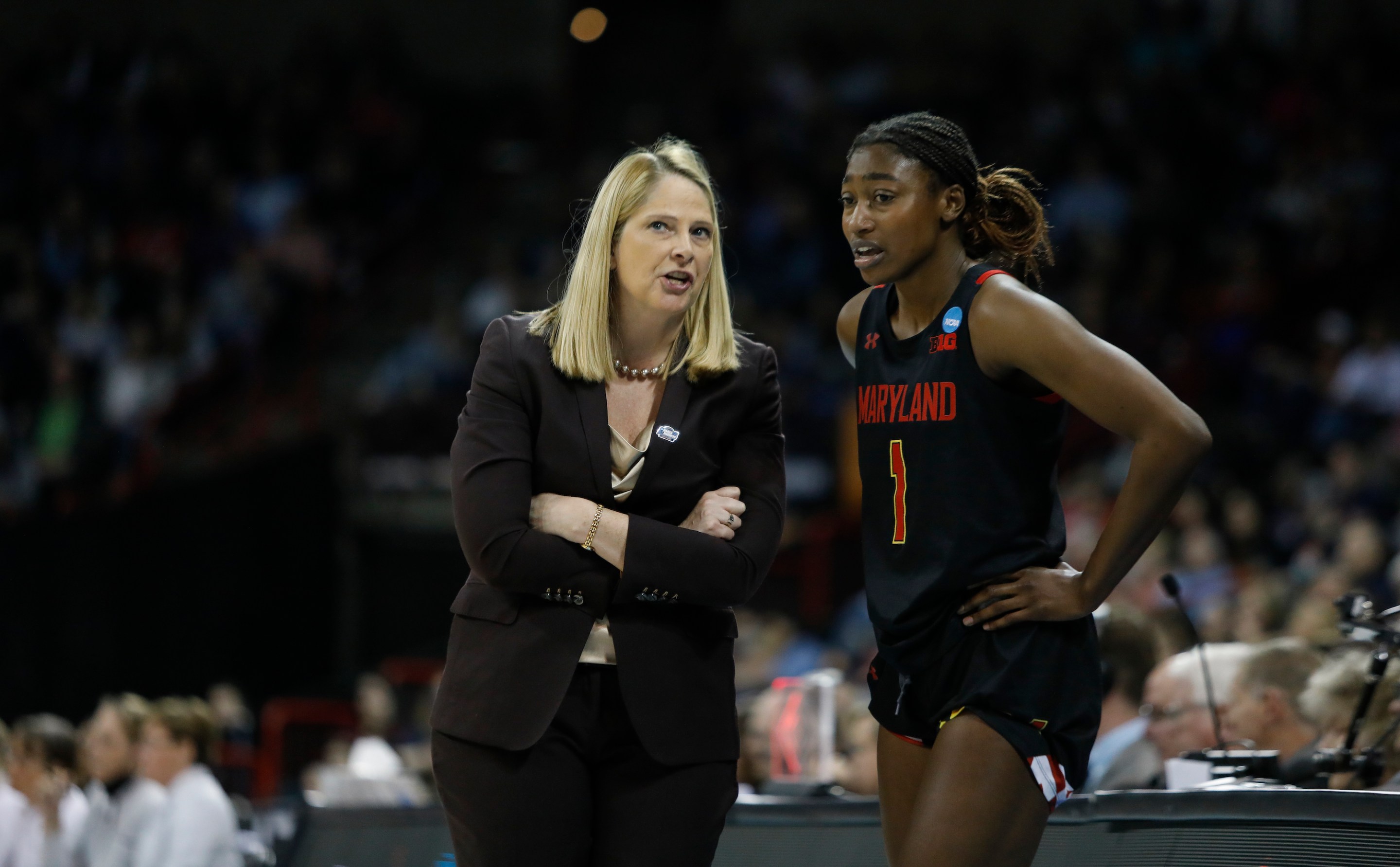 If a team loses starters to the transfer portal at a baffling rate but weathers the losses without issue every single year, is the head coach bad? Or is she the greatest coach of all time? The Brenda Frese Paradox has vexed even the brightest minds in physics and philosophy for the better part of a decade. Watching Maryland put up a valiant fight in last weekend's Big Ten Tournament, I simply had to hand it to her: This may be Brenda's best and funniest coaching job yet.
Will it work in March? Who knows! So far Maryland has worked for the same reason a handmade birthday card works. These Terrapins are weird and cobbled together, but more endearing for their imperfections. On the roster this year are nine new players; exactly zero centers; and one returning starter, the 6-foot-3 senior guard Diamond Miller. "We often talk about playing positionless basketball," Frese said in her opening remarks at Big Ten media day this October. "You're going to see it this year from us."
In saying that, she may have disguised condition as intention. "Positionless," here, is a more stylish way to say, at certain positions, we don't have any players. The offseason transfers of Angel Reese, Mimi Collins, and Ashley Owusu left Maryland scrambling for size, a feature of past Terps contenders. Frese hoped forward transfer Allie Kubek could replace some of Reese's production on defense, but Kubek tore her ACL before the season began. Then came an early season-ending knee injury to forward Emma Chardon. No bigs, no problem. The Terrapins soldiered bravely on, into the five-guard lineup future.
In a Diamond Miller five-guard lineup, there are five guards, but there are no truly small players. The guards zip past bigger defenders in space, the way small lineups should. Without bigs to slow them down, they play with a pace in the 95th percentile, per Her Hoops Stats, up from a pace in the 79th percentile last year. But they're a more physical group than "five-guard lineup" would suggest. They try hard on the boards, and sometimes that is all they can do; their rebounding numbers have tanked in Reese's absence. I still don't fully understand their deal, but they're an easy group to like.
Miller became the focal point of the Maryland offense kind of by default this year—there was no one else left. But her versatility makes her an ideal player to build around. Her handle and her paint footwork seem like two traits that should not belong to the same person. With her speed, she effects defensive breakdowns on practically every possession. Iowa would go on beat Maryland in the tournament semifinal (and eventually win the whole Big Ten tournament), but the Hawkeyes had no clue what to do with Miller. Even after missing a chunk of the third quarter with an injury, she got to the free-throw line 16 times, more than every Iowa player combined. The 89-84 loss made me, longtime Maryland skeptic, a smitten believer. "This could have been the [Big Ten] championship game, could have been an Elite Eight game," Frese told media afterward.
That's about as far as Frese has been in a while. The 2015 Terrapins are still the last Big Ten team to have made a women's Final Four, and Frese's teams in years since have mostly underperformed. Maybe that's another reason they're so easy to like this season: For once, they're exceeding expectations. Maryland began the year slated for a swoon—nine new players! No bigs! One returning starter!—and, after some early season struggles, responded admirably in a tough conference and against one of the hardest non-conference schedules in the country. In December, the Terps recorded their first win over UConn in program history, a victory Frese and some players have called the season's turning point. "We beat a really good team, greatly coached, and I think we did that with all of our pieces, not just one individual person," said guard (obviously) Abby Meyers. "And I think that's when I realized that we have not only the offensive capabilities, but the defensive capabilities to really get the job done against a good team."
Conference play poses a challenge it didn't used to for Maryland, which has won six regular season conference championships since joining the Big Ten nine years ago. In the latest AP poll, the Terps are ranked sixth in the country but third in the Big Ten, behind No. 2 Iowa and No. 3 Indiana. (Elsewhere in the Top 25 loom No. 12 Ohio State and No. 18 Michigan.) After a regular season beatdown of Iowa last month, Frese compared this year to Maryland's 2006 championship season, when the ACC sent three teams to the Final Four. The feeling is shared across the conference. "We need somebody from the Big Ten to get to the Final Four," Iowa head coach Lisa Bluder said after the semifinal game. "It has to happen because we have such good teams in this conference and such good coaches in this conference. I feel like this year could be that year."
Frese and Maryland deserve some credit for the way they've redefined women's basketball in the Big Ten, introducing the other teams to "points" and "offense" and "style." Now they're reaping the consequences: It's only getting more crowded at the top.
Stay in touch
Sign up for our free newsletter