College Basketball
The First Day Of Men's College Basketball Is A Festival Of Goofy Games And Useless Information
10:40 AM EST on November 7, 2023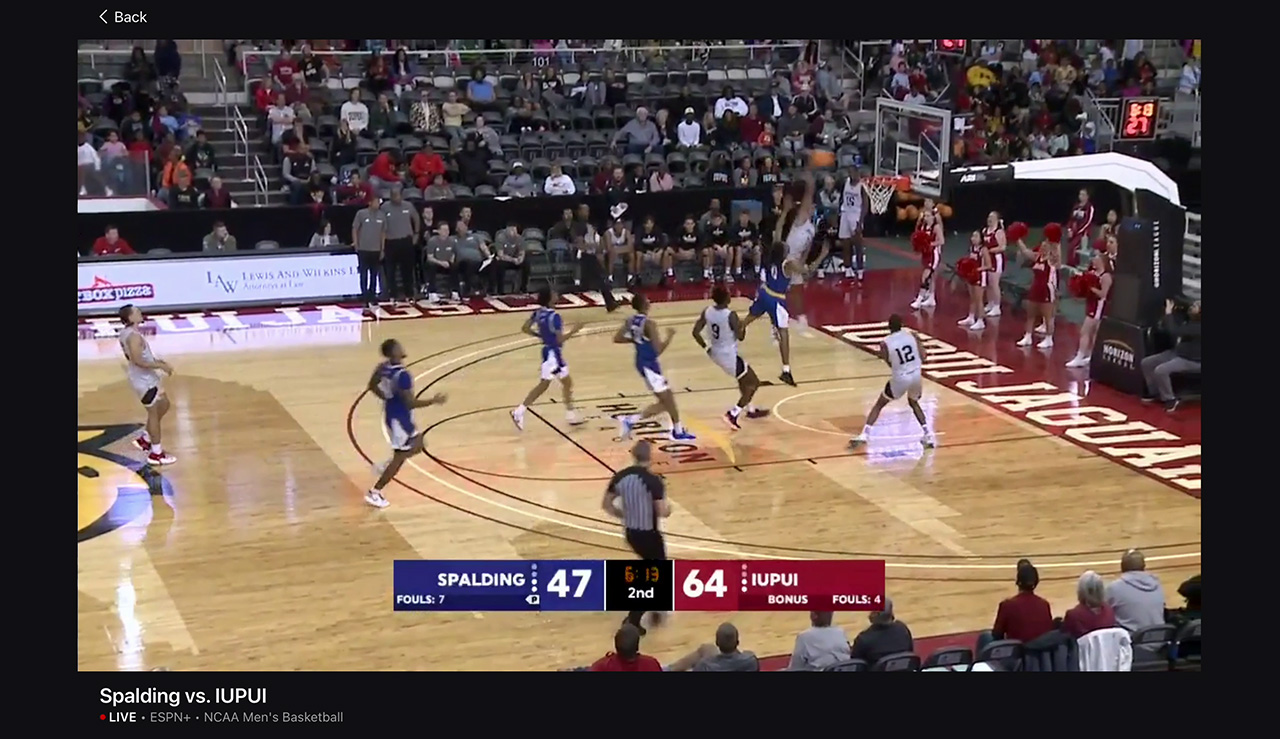 I sat down on my couch at 11:00 a.m. I was ready. I was excited. College basketball season was upon us. The Division I men's and women's basketball seasons opened Monday, and I was going Rothstein Mode.
I love college basketball. I think hoops is enjoyable at all levels, and I really enjoy the variety that the college game presents. There are 362 teams that play men's basketball in Division I of the NCAA. The players are still learning how to play basketball. There are hundreds of coaches, some of whom must not know what they're doing. This leads to a ton of fun basketball. Some of it is bad, sure, but a lot of it is interesting.
So that's why I decided to watch the IUPUI Jaguars host the Spalding University Golden Eagles yesterday morning. It was the first game of the year! Maybe I'd get a burst of energy and write about all the games this season! The matinee game was the team's annual NCAA Readers Become Leaders Day, where 3,000 kids were bused in. "Students at the game will receive a gift pack that includes a drawstring bag, pom-poms, and a bookmark," WISH-TV Indianapolis reported. It was incredibly cute to see all the kids cheering. And why wouldn't they? The game was at an arena that, despite being named after an insurance company, has Garfield in its logo.
The game was on ESPN+, which means I had to deal with the usual college basketball streaming experience: Pixelated video, occasional replay malfunctions and a pleasant(?) hum in the background for much of the first half. Obviously, it stinks that the audio on games is often unlistenable. But it's also … kind of incredible? It feels like I'm getting into a little secret club where I can only kind of follow college basketball through the Dark Web. My stream had some audio sync issues early, but the IUPUI broadcast was fine. I credit their sports info department, as well as Garfield.
IUPUI went 5-27 last year, which was an improvement on the Jaguars' three-win campaign the year before. They were bottom-five in Division I last season. This year they finally return some players, and should be a little better. They're still expected to be near the bottom of the Horizon League, though. I wondered how they'd do against Spalding. I mean, wouldn't Spalding be great? Think how many basketballs they have!
Ah. It turns out Spalding University is named after Catherine Spalding, who founded the Kentucky-based Sisters of Charity of Nazareth in 1812. Spalding (the school) traces its history back to Nazareth Academy, opened by Spalding (the nun) in 1814. Another interesting thing about college basketball is how many teams have an affiliation with Roman Catholicism. Man, look at all I learned from watching a college basketball game! Surely this information will be useful in the future. Here's more: Spalding was previously nicknamed the Pelicans, but rebranded to the much-less-cool Golden Eagles moniker in 2006.
Pelicans, Eagles, whatever. The Jaguars won easily. But it was enjoyable enough. Both teams clanked a bunch of threes, got a lot of offensive rebounds, and turned it over with impunity. There were missed dunks. The free throws were on point. It was an ideal first game of the season. IUPUI won, 70-63. It was not really that close, and both teams were kind of going through the motions in the end despite it being a single-digit game. But IUPUI's more experienced squad did look better than it did last year: Jlynn Counter, a juco transfer who was a third-team all-conference selection for the Jags last year, led all scorers with 20 points.
After the game, the arena played Whitney Houston's "I Wanna Dance With Somebody" and the players slapped hands with all the children and other fans in attendance. Then, since it was the first game of the season, announcer Greg Rakestraw said he was happy the players had numbers on their jerseys so he knew who he was talking to (Abdou Samb) for a post-game interview. The game had a bit of a laid back atmosphere.
It wasn't the only one. There were 184 college basketball games scheduled for Monday, and 71 were intentional mismatches. There are a number of levels of college basketball in the U.S. The NCAA has three divisions. There are a number of small college leagues, the most notable of which is the NAIA. There are three divisions of community colleges and two of Christian colleges. Division I schools increasingly schedule mismatch games against a team from a lower division. Playing a gimme game against a Division I team can hurt your computer rating, but a game against a lower-division squad is not counted at all. Last year, Portland State scored the first 38 points against Portland Bible, a small Christian school that has a cute little "Recruit Me!" form on its webpage. Ken Pomeroy provided these figures at the time: In 2003-04, there were 297 Non-Division I games, or 6.4 percent. Last season there were 497, or 8.6 percent. Pomeroy tells Defector there are 507 games featuring 351 different non-D1 schools scheduled for the 2023-24 season. Champion Christian, who lost 104-76 to UT Martin on Monday, plays eight Division I schools this season. They're a regular among lopsided games; in 2013 they lost 116-12 to Southern, giving up the first 44 points of the game. Look how much they've improved offensively in a decade! Defense needs some work, still.
Not every coach schedules such opening-game cupcakes. Tom Izzo of the Michigan State Spartans Presented By Some Mortgage Company often puts his team through a hell non-conference schedule. The only non-Division I team the Spartans have played this millennium is Chaminade, a Division II team that hosts the annual Maui Invitational tournament. You had to bribe Izzo with a trip to Hawaii to make him do that.
And so fourth-ranked Michigan State's opening game was not against a team like Kalamazoo College. The Spartans hosted James Madison, the team picked by coaches to win the Sun Belt conference this year. Michigan State shot 1-for-20 from three-point range and missed 14 free throws. The Dukes upset the Spartans 79-76 in OT. ESPN says it's the first time a top-five AP poll team has lost its season opener to an unranked school since Kentucky lost to Western Kentucky to open the 2001-02 season. "I don't have a good answer why three juniors and seniors played like they played," Izzo said postgame. "But I also don't care, because I'll play some freshmen then."
But there were a lot of good blowouts Monday. Penn beat the John Jay College of Criminal Justice Bloodhounds by 45. Norfolk State's transfer-heavy lineup dominated the Penn State Wilkes Barre Mountain Lions, who were coming off a loss to Camp Community College in that school's first home game ever. Stephen F. Austin beat the North American University Stallions, a team that just joined the NAIA last year. Yale beat Vassar 102-53.
Am I done telling you about random schools yet? I am not! The South Dakota Coyotes beat the NAIA's Mount Marty Lancers 85-53. "The Lancers showed they could hang on early in the game with a Jake Jensen three to take a one point lead, followed by a jumper from Micah Johnson," KTIV-TV Sioux City reported. Quinnipiac routed the Coast Guard Academy, 116-48. Some of the scores were even more lopsided: No. 23 Saint Mary's defeated Cal State-Stanislaus 107-28. "I feel like all our guys were pretty dialed in and ready to go," guard Aidan Mahaney said. Yeah, I think so.
A couple of lower-division teams won, too! One game was even a blowout! Mobile, an NAIA school, led by as many as 27 in an 83-74 win over South Alabama. "That was hands-down the worst any of our teams have played since I've been here and that's on us," South Alabama coach Richie Riley said. Clark Atlanta beat Mercer 71-64. Sadly for Clark, this counts as an exhibition game for the Division II school.
I think my favorite matchup on Monday came in Alabama, where the Troy Trojans hosted the University of Fort Lauderdale. The Trojans beat the Eagles, 92-47. "A school named University of Fort Lauderdale is playing basketball against Troy on ESPN+," tweeted a Ft. Lauderdale lawyer. "I've lived in Broward County a long time. How is it possible I've never seen or heard of this school?"
Well! UFTL was founded in 1995 by pastors Henry and Carol Fernandez. Henry is the school's chancellor/CEO. The school website says he has an honorary doctorate from Saint Thomas College; I'm not sure which one. Ft. Lauderdale appears to have announced its sports program with a tweet in May 2020; their website says the men's basketball team began with three games in 2020-21. The Eagles are not a laughingstock! They went 15-17 in their first full year and 22-13 last season. They took third at the National Christian College Athletic Association Division I championship last year. This is very low-level college basketball, but they're competing. Yeah, they lost by 35 to Division II champ Nova Southeastern last season. So did nearly everybody.
The school had 192 students in 2021, per a listing on the website. There are 13 players on the roster currently. If enrollment is steady, that's about seven percent of the school on the men's basketball team. Honestly that seems like a pretty healthy college atmosphere, even if the campus is in what appears to be a former supermarket. And these guys got to play college basketball, and you probably didn't! (Lemme know if you did. Anywhere counts. My dad played for Penn State Delco and I still brag about it.) And, c'mon. This was fun. These guys got to play on a pixelated streaming service. Check out this hype video for the game.
They lost by 45, but who cares! They knew they were going to lose. They got on ESPN+. They got to post a hype video set to "I Wish." This is what the first day of college basketball is all about: watching teams get blown out and learning various facts about Sister Catherine Spalding.
Correction: The article has been amended to reflect that the South Dakota Coyotes, not the South Dakota State Jackrabbits, beat Mount Marty on Monday. The Jackrabbits lost to Akron.
Stay in touch
Sign up for our free newsletter