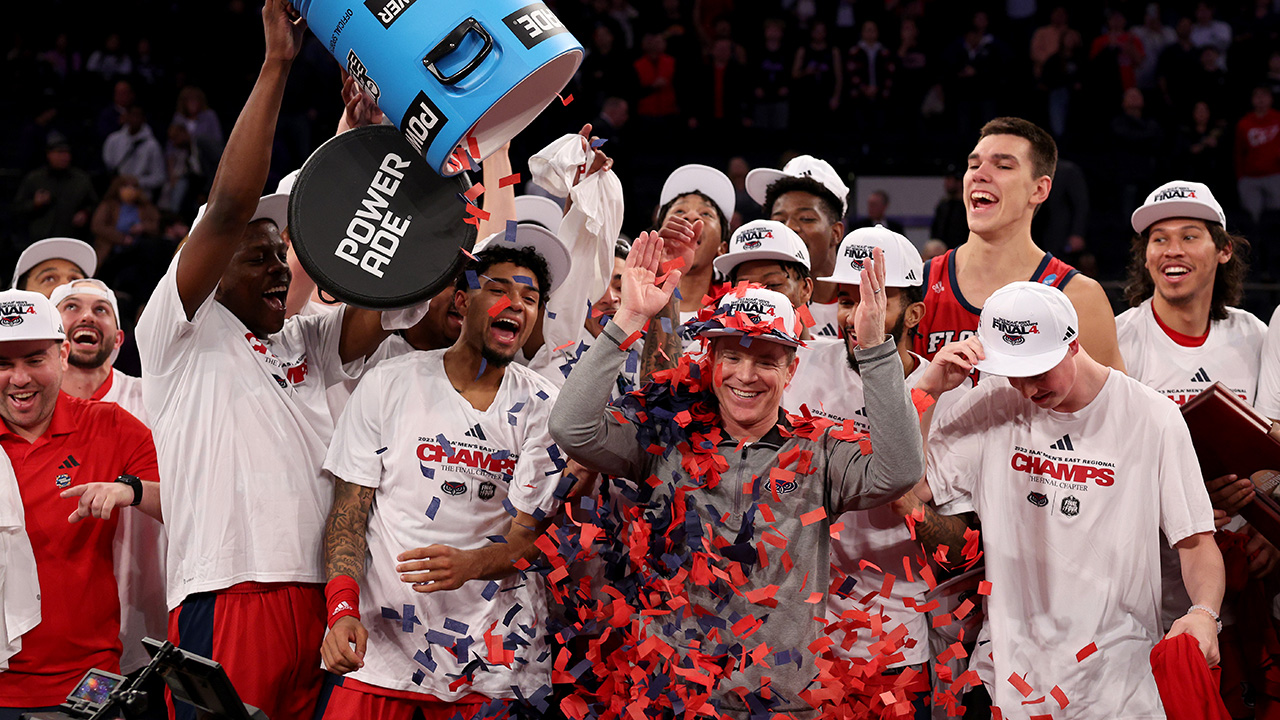 NEW YORK — Florida Atlantic coach Dusty May had an unusual reason for knowing his team was going to be pretty good this year: A closed-door scrimmage win over a Division II team.
"I don't know if we're allowed to say this—NCAA, I'll take the Level 3 violation," May said. "We close-scrimmaged Nova Southeastern, who just won a National Championship today. They're the best-pressing, hardest playing team we've ever seen. And when we beat them in a scrimmage, we said we've got a chance to be pretty darned good."
Nova Southeastern went 36-0 this year. The Sharks did indeed use their press to beat West Liberty, 111-101, in the Division II title game earlier in the day. A few hours later, Florida Atlantic won a big game of their own—beating Kansas State, 79-76, to advance to the Final Four.
May also cited an early-season win at Florida, its first ever over the Gators. Then, after a rout of Detroit Mercy that same week, May really started to believe that his team was not just good, but could actually be great. Mercy's Mike Davis, who coached Indiana to the national championship game in 2000, came into the FAU locker room. "He told our guys, 'we haven't seen a team like you in years,'" May said. "'This group could be special, you guys could go to the Final Four,' and our guys are looking at me like, 'Who is this guy?'"
May and Davis might've been the only two. FAU was voted fifth in the C-USA preseason poll. Matt Norlander of CBS Sports, who I trust on this sort of thing, didn't have them in his mid-majors preview. The Owls were No. 134 in one ranking. Another preview had them going to a postseason tournament below the NIT. The numbers guys had them a bit higher: Kenpom had FAU at 89th, T-Rank 86th. David Griggs at Hoops HD did write this, though: "This is a program that may be on the brink of taking a big step forward." A really big step, as it turned out.
But maybe people were right to be skeptical. The school did not have much of a basketball tradition. Felicia Shaheen, who attended FAU about a decade ago, did believe the school could be successful in sports. After all, she could literally walk to the beach after class—it wouldn't be hard to attract recruits. But the speed with which it's happened has surprised her all the same.
"When I was at FAU we were just known as a commuter school," she said. "Any sort of sports spirit was just starting to pick up. It's not that I couldn't picture FAU in the Final Four ever but I thought it would take many years to build the program, recruit, et cetera, and it's pretty wild how fast it happened for them! Alumni are rooting them on and jealous we're not undergrads again to experience this moment."
Since the 2013-14, the Owls have played Conference USA, which is no longer the powerful league it was in the late-90s and early 2000s. It lost some quality programs—Houston, Memphis, SMU, and Central Florida—to the American after the 2013 season. But it was pretty solid this year; Kenpom rates it the 10th best conference.
Conference USA was always a strange, semi-janky grab-bag even when it was better stocked with top programs, and it remains very weird. Take, for instance, its absurd conference tournament setup. Since 2018 the conference has held its tournament at the Dallas Cowboys practice facility, and for the early rounds of its tourney, the conference plays two games at the same time, with the courts separated by a curtain. I had this experience before in my own basketball career—when I was 12 years old, playing games at Austin Meehan Middle School. Photos from the games make the games look like they are being played in the void from NCAA Basketball for Super Nintendo.
FAU only started a men's basketball program in 1988. They had only made one NCAA tournament before this year, in 2002, when they lost 86-78 to Alabama; the program has never produced a NBA player. The school itself is a big public research university with almost 25,000 undergrads. Students have school spirit, but there isn't the sort of longtime student enthusiasm for men's basketball that helps other schools create a great atmosphere at their home gyms year after year. The school was only founded in 1961.
In 2011 FAU played Arkansas-Little Rock in a nationally-televised game. "My sorority did a whole tailgate social around the game being shown on ESPN2—that's how exciting any recognition was back then," Shaheen said. "When we were on ESPN2 they had to organize us all into the very bottom few rows of the stands because there was so few of us!"
It was indeed a huge deal just to be on ESPN2. "Owls Basketball On ESPN2… Wear Blue…Be Loud!!" read the school's sports website. FAU even made a little highlight reel of its first time on national TV. But it wasn't a total triumph, at least for one fan. "I called out of work just to go because it was a big deal to be on TV!" Shaheen said. "My sign made an appearance multiple times and I totally got caught. That's how exciting it was—everyone knew, including my boss, that FAU was going to be on TV. I'm sure he knew when I called out."
Before college basketball fans got to know the team over the first few rounds of the tournament, students noticed the team was good this year. That school spirit had arrived. No longer was a game on ESPN2 the big deal of the season: The team itself was. Games were regularly full at The Burrow, the nickname for FAU's home gym.
"I think anytime you do good work it feels great to be appreciated," May said. "I think our guys do feel appreciated. And I've said all season, it's not just the wins and losses. It's the way our guys play the game, the way they interact with each other."
The students and alumni at FAU have noticed. They are excited. Now everyone that cares about college basketball will get to see them in the Final Four.
Stay in touch
Sign up for our free newsletter