NFL
The Dolphins Couldn't Do It In Time
7:19 PM EST on January 15, 2023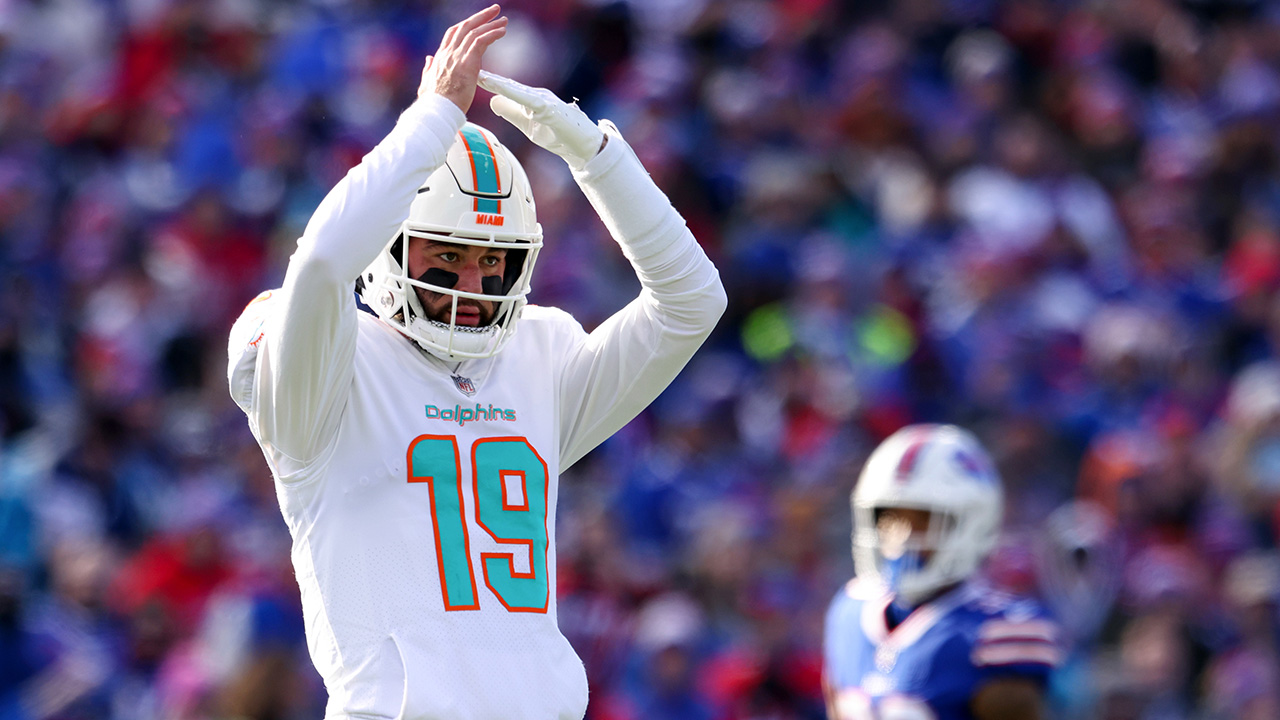 Sometimes, the numbers tell the story of the game, and sometimes the penalties tell the story of the game. Third-string quarterback Skylar Thompson went 18-for-45 for 220 yards on Sunday. The Dolphins defense gave up the most points they had since Week 5. Josh Allen had, by his standards, a paltry three TD passes along with a pair of interceptions. Yet Miami still had a really good chance to win the game. And they might've—if they just had gotten the plays in on time.
Miami burned three timeouts in the second half to avoid delay of game penalties, then actually got a delay of game penalty on fourth-and-1 from around midfield with their entire season on the line. After Thompson threw incomplete on fourth-and-6, a Bills first down ended the game. Buffalo escaped the closer-than-expected matchup, winning 34-31.
Dolphins coach Mike McDaniel had some really solid explanations postgame for all of this:
There were a couple different scenarios—it's something that obviously will be a point of emphasis in the offseason. But there's compounding variables. There was some crowd noise that had to do with mishearing some digits of the wristband; there was some issues within the huddle of communication and getting to the line of scrimmage. And there's the excuse that you don't use, but that is a real compounding variable, there was a multiple amount of different people in the huddle. When you're in a nice routine and you have maybe a group of offensive linemen that are being communicated to by the same person, when you have flux like that, it happens. It shouldn't happen as much as it did. 
Got that? The crowd noise caused the mishearing of digits, there were issues within the huddle, and then—the one you never really want to hear—oh, yeah, there was a backup-to-the-backup QB in the huddle, and he didn't really know what he was doing. Yeesh! McDaniel said there was a specific reason for the delay of game penalty, though: The Dolphins thought they got the first down.
And then the last one in particular had to do with—whether it was officials or coaching—there was some communication that we had gotten the first down, so then we were deploying a group of players for the first-and-10 call and it was articulated that, no—it was fourth down. So that miscommunication, that's all the stuff that you do in this business is you never stop finding the things that you can improve on. It was a piece of the reason why we were unable to come out with the victory. But it definitely wasn't the only reason.
McDaniel later articulated in the press conference that he believed it was his staff who told him that it was a first down, but he wasn't sure.
Admittedly, in the beginning this did not seem like it would be much of a game. Buffalo scored two first-quarter touchdowns, and the offense looked like it was about to make it a three-touchdown lead on the first drive of the second. But a Dawson Knox touchdown was overturned on replay, and the Bills kicked a field goal. Then things unraveled a bit; Allen threw an interception, and Miami kicked three field goals, then tied it with a TD and two-point conversion. Miami took its first lead after another Allen turnover; Eric Rowe forced a fumble on a sack, and Zach Sieler took it five yards into the end zone for a 24-20 lead. And yet the Bills looked like they were going to put it away, again, after Allen threw TD passes to Cole Beasley and Gabe Davis. But Miami cut it to a field goal on a Jeff Wilson run. The Dolphins then got the ball back twice.
This is when the worst of it started. Miami called a timeout on third-and-10 from its own 33 to avoid a delay of game. They punted a play later. On their next possession, the Dolphins again called a timeout on a third-and-10. That was their last timeout, which led to the disastrous delay of game penalty on fourth down. One incompletion later, Miami's season was over.
Despite bringing up that excuse, the one he said "you don't use," McDaniel said he didn't look at the game and think he would've won with Tua Tagovailoa in at quarterback:
Every team that I've ever been on that's successful, one of the mantras—and I think people in general—is that if you just look at what you could have done better. I think that was the situation at hand. That was the hand that was dealt. And that was a part of the story that we were willing to completely, we thought we were good enough to win this game in the hand that was dealt.
The cards were dealt, and the Dolphins got aces and eights—then had to be reminded by the dealer that it was their turn.
Stay in touch
Sign up for our free newsletter