MLB
The Diamondbacks Took The Rangers Back In Time For A Beating
10:23 AM EDT on October 29, 2023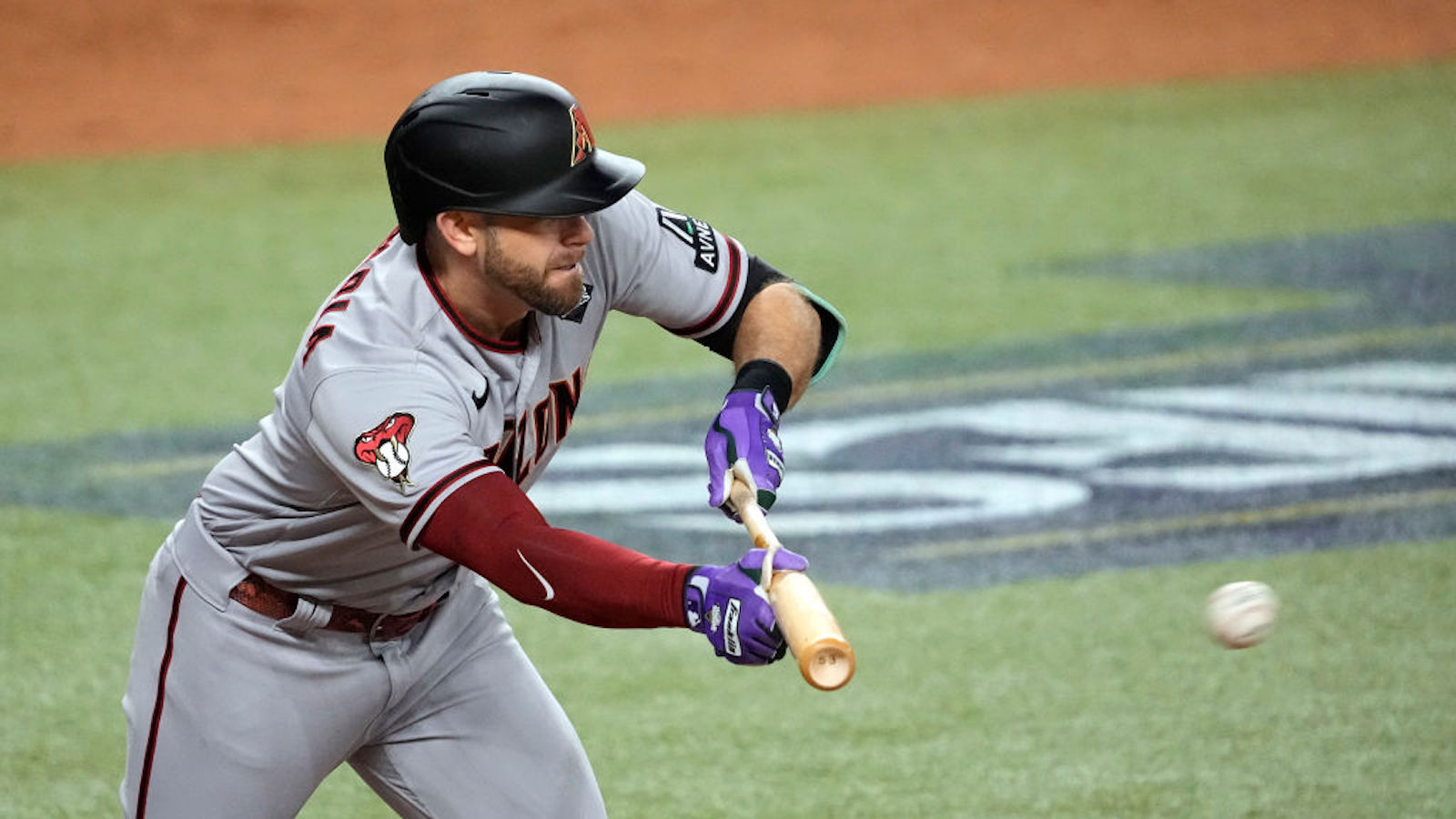 To all those who have dared utter the words, "Why not lay down a sac bunt here?" and been cruelly rebuked for doing so, today is your day. Your reason to celebrate is not found in the simple fact that the Arizona Diamondbacks defeated the Texas Rangers 9-1 in Game 2 of the World Series on Saturday night, but in how that victory was constructed. Arizona tied the series 1-1 by playing a style that was designed not to win in the 21st century, but the 20th.
The Diamondbacks laid down three sacrifice bunts last night, a feat of dinosauric baseball that's as likely to be seen these days as, well, a living dinosaur. Across every regular season game played this season, there was only one instance of a team laying down three sacrifices in one game; that team was of course the Diamondbacks, who sac-bunted three times against the Nationals during an 8-7 victory in May.
The Diamondbacks' first bunt of the night was the most surprising, the least successful, and the most meaningful. In the top of the third inning, Diamondbacks third baseman Evan Longoria came up with a man on first and no outs. Longoria's 38 years old and has been swinging a matchstick all postseason, but he's still Evan Longoria, which his means his job is to swing the bat hard and try to put a ball over the fence. He hadn't laid down a bunt since 2014, but that didn't stop him from squaring up and pinging the ball back to Rangers starter Jordan Montgomery. Longoria told reporters after the game that he was trying to bunt for a hit, but his failure still got the runner over. That accomplishment added up to nothing in the moment; Montgomery retired the next two hitters, and the inning ended with the score still tied 0-0.
But when Longoria came to the plate again in the seventh inning, there was a runner on second and no outs. Rangers third baseman Josh Jung, perhaps driven by a single thought—Ugh, is this guy gonna bunt again?—hugged the line and crept up to the grass. Longoria cracked a grounder down the third-base line that, had Jung been positioned normally, would have made for an easy putout. But because he was playing so close to the plate, the ball snuck under his glove and went bouncing into left field, allowing Alek Thomas to score from second.
"In hindsight, probably shouldn't be up there," Jung admitted after the game. "But that's baseball. It happens."
The next batter up, Geraldo Perdomo, bunted Longoria over to second, and he was eventually brought around to score by a Corbin Carroll single. Lourdes Gurriel Jr. bunted Tommy Pham over from first in the next inning, and Pham eventually scored after two walks and a hit. When it was all over the Diamondbacks had scored nine runs on 12 singles, three doubles, a solo home run, and three sacrifice bunts.
Arizona's offensive output was perfectly matched, in both style and effectiveness, by their starter on the mound. Merrill Kelly, who spent the first chunk of his career pitching in Korea before signing a major-league deal as a 30-year-old in 2019, gave the Diamondbacks a Madduxian seven innings. He allowed just one run on three hits while striking out nine, and needed jut 89 pitches to do it all. Kelly looked an anachronism all night, silencing the Rangers not with 98 mph fastballs and looping sweepers, but with dozens of pitches that brushed the edges of the plate, like hands lovingly placed on a cheek. Kelly brushed the corners with his low-90s fastball, and supported it with perfectly placed cutters and changeups. Journey into a starter's dreams, and you might find a zone map that looks like this one: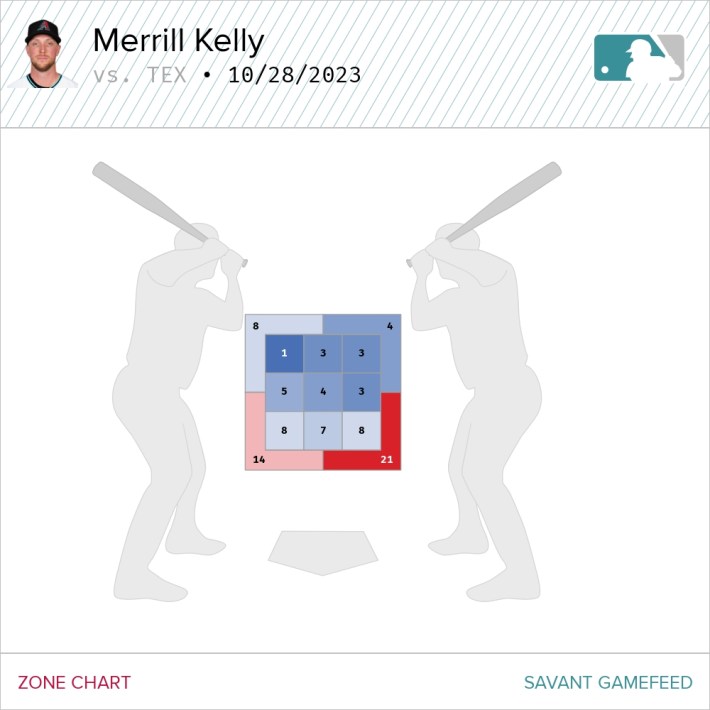 The Diamondbacks have now small-balled their way into a best-of-five series in which they hold the home-field advantage. These guys might not play the kind of baseball that can win you 100 games in the regular season, but that's not the task that lays before them. Now is the time for the rats to nibble, and if the Rangers want to survive, they better start squashing.
Stay in touch
Sign up for our free newsletter