NHL
The Canucks Did Bruce Boudreau Dirty
9:55 AM EST on January 22, 2023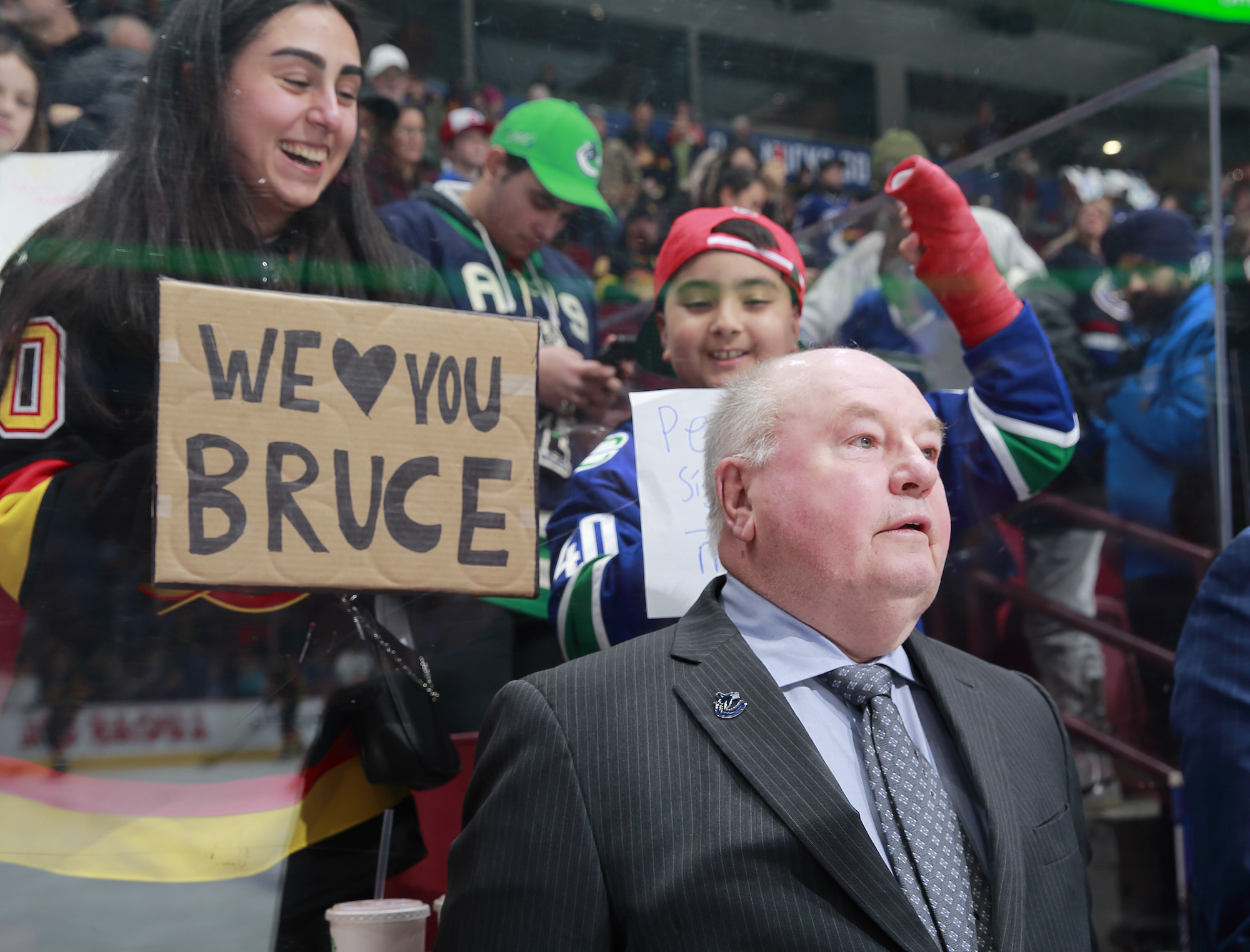 The worst-kept secret in hockey is that the Canucks are going to fire Bruce Boudreau, after an up-and-down 13-month tenure behind the bench, and that they're going to do it today or tomorrow. It has probably been inevitable from the moment Vancouver hired Boudreau before they hired someone to run hockey operations. But Jim Rutherford and Patrik Allvin want Their Guy. They want, somewhat inexplicably, Rick Tocchet. They don't want Boudreau. That is the way of the business, unpleasant as it may be, and the Canucks have certainly been bad enough this season to warrant a coaching change. But a funny thing happened along the way. The front office and ownership have dragged this situation out so long and so publicly, hanging Boudreau out to dry even as they try and fail to pin the organization's many other issues on him, that it's turned into a farce, and turned fans and media against them. Boudreau, more or less universally beloved, has become a slow-motion martyr, and his treatment has come to represent everything that's sour and stale about the most dysfunctional franchise in the NHL.
[Update, 12:40 p.m. ET: It's official.]
The Canucks are 18-25-3, a step back from last season when Boudreau arrived midseason and immediately won over the fans and the locker room but couldn't quite dig the team out of the hole it had created in the first half. He was probably a dead coach walking from the day Vancouver hired Rutherford, who wasn't aware at the time of his hiring that Boudreau had an option for a second season, and clearly wasn't thrilled by it. After refusing to offer him an extension over the summer, and after the team's slow start, this was all just a matter of time. Things accelerated this week, with Rutherford revealing that he'd interviewed other coaching candidates "going back a couple months ago," and Elliotte Friedman reporting that it will indeed be Tocchet.
All of which made Friday and Saturday's back-to-backs against Colorado and Edmonton, before the team enters a winnable stretch against Chicago, Seattle, and Columbus, an unofficial send-off for Boudreau. Everyone knew this was it for him. The only drama was whether he'd get both games, or just one.
He got both, and the Canucks lost both, though not for lack of trying. Before the game he asked his players to "play hard for me one last time," and as the seconds wound down on what might be the last stop for this hockey lifer, the Vancouver fans said their goodbyes:
Again, this has all gone down without any formal word from the organization, which has seemed content to let rumor and speculation reign, and to let the coach dangle. That's just the culture under owner and chairman Francesco Aquilini, and it's a culture that has produced zero non-COVID-year playoff appearances since 2015.
Boudreau may not have been getting the job done this year, but he's hardly alone there. Very little has gone right for this franchise in the last decade, from drafting to development to free agency and trades, and Boudreau—who's done no worse and arguably better than any bench boss since Alain Vigneault—gets to be the sacrificial lamb. Again, that's just how things work sometimes, but rarely are organizations so ... unpleasant about it. And maybe even then it wouldn't be so absurd if all this weren't taking place in order to get Rick freaking Tocchet, of all people, who in six seasons coaching two different teams has never made a real postseason or finished better than fourth in a division. It's as if the Canucks have a bone-deep commitment to mediocrity.
Boudreau, after coaching his officially unofficial final game Saturday night, tried to address the players in the dressing room, but "I didn't make it too far, I'll tell you that." More tears were shed than words of wisdom shared, but when Boudreau and his staff retired to his office for some goodbye drinks, Canucks players lined up, single file, to come in, say farewell, and shake their coach's hand one last time.
And then it was time to address the media. In an extraordinary scene, Boudreau—who has not been fired and has not been told he's being fired—spoke plainly and emotionally about what everyone knows but his bosses haven't been decent enough to say to his face.
"I just wanted to savor looking at the stands because who knows if I'm ever going to get this chance again," Boudreau said. "And just keep that in my mind, and the memory, and let it burn there forever."
Boudreau deserved better. The fans deserve better. Unfortunately for them, the people running the Canucks do not deserve better, and they regularly prove it.
Stay in touch
Sign up for our free newsletter