College Basketball
Good Things Happen When A Coach Gets Out Of The Way
9:39 AM EDT on April 2, 2023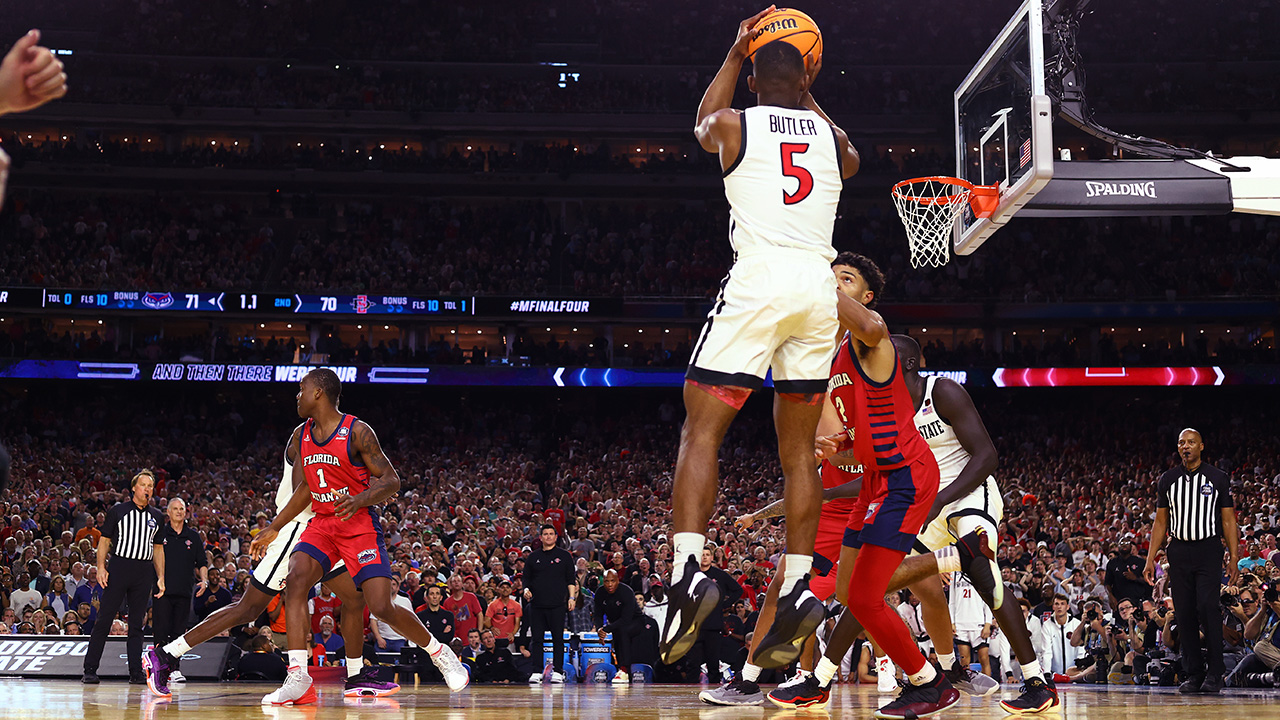 HOUSTON — The shot that sent San Diego State to NCAA Championship Game looked good from the moment it left hands. None of Lamont Butler's San Diego State teammates would admit otherwise, at least.
"I knew it was in," Micah Parrish said. Jaedon LeDee thought "it looked good—great rotation and everything." 
"It looked amazing," Darrion Trammell said. "I knew it was going in. I feel like every time he shoots that shot, it's pretty. I've seen him rep that shot out a million times—he deserves this. He put in the work to take that shot. That was legendary."
Keshad Johnson had a great look from under the rim. "I've seen Lamont make that shot plenty of times," he said. "When it went up, everything was going in slow motion. Then, bottom of the net."
Matt Bradley wasn't even concerned that seconds were ticking off. "When he got caught up in that corner, we knew time was on our side for him to get to his spot and pull up," he said. "He's so fast and strong that he got space. Dude thought he was going to drive and he just shot right over him. We had full faith in that shot. It looked really good."
It was. Butler's buzzer-beater gave San Diego State a 72-71 win over Florida Atlantic in their Final Four game on Saturday, to put the Aztecs in Monday's national title game. Butler, for what it's worth, echoed his teammates on the biggest shot of his life so far. "It felt good once it left my hand," he said.
Butler got the chance to make that shot because of how SDSU coach Brian Dutcher handled the final plays. He didn't call a timeout as Butler took the ball up court with seconds to go. He didn't have his team foul after a jumper by LeDee cut it to a point with 37 seconds left. And, with SDSU about to inbound the ball down three on that penultimate possession, Dutcher did not insist his team shoot a three.
Here I'll admit that we at Defector Media can get a little obsessed with that last bit. Last year during the tournament Lauren Theisen examined how often the people calling NCAA Tournament games think teams need a three late in a game, which is never. Lauren might have moved on, but I cannot. I wrote about a game on the first night of the NCAA tournament when Mississippi State, down just a point, missed a three in the closing seconds. The Defector Store even sells a Need A Three Here t-shirt. (Guess who runs the Defector Store.)
I suppose I look like a dummy tonight, but I think the three was the better play, here on the Aztecs' next-to-last possession. Hoops analytics guy Seth Partnow says that's what the numbers show. Sometimes the two-point shot that the team that Doesn't Need A Three gets is an awful look. Sometimes the opposing team answers with a three at the other end. Sometimes the team gets a two, but the other team hits both free throws afterward, leaving the trailing team in the same position it was before, except with less time left in the game and a greater Need For A Three. This is what happened to Kansas State when FAU beat them last week. But on Saturday night, what mattered was this sample size of one: San Diego State went for two twice, and now they'll play for a national title.
After the game, Dutcher said the three was their first option. "We had enough time, if we didn't have a three, to give it to Jaedon to get downhill," Dutcher. "He had just gone downhill the play before; he's a tough guard in isolation basketball. [But] I would have taken the three."
Dutcher joked on the broadcast that he didn't take his last timeout on the final possession because he'd "run out of plays." But he told me he'd already made the decision not to call a timeout after SDSU cut it to one with 37 seconds left. "I think with a seven-second differential [between the shot clock and game clock], I thought we'd have enough time to get up the floor," he said. "Usually you get one dribble per second if you're going up the floor. So I figured we had enough time to get six or seven dribbles to head up the floor. I don't know how many [Butler] took, but it was probably close to that." Since I asked the question, I figured I'd count for coach. After receiving the pass from Nathan Mensah, Lamont Butler took six dribbles to get all the way to the baseline. Dribbles seven and eight put him into position for a shot. Dribble nine helped him shrug FAU's Nick Boyd. Then he pulled up.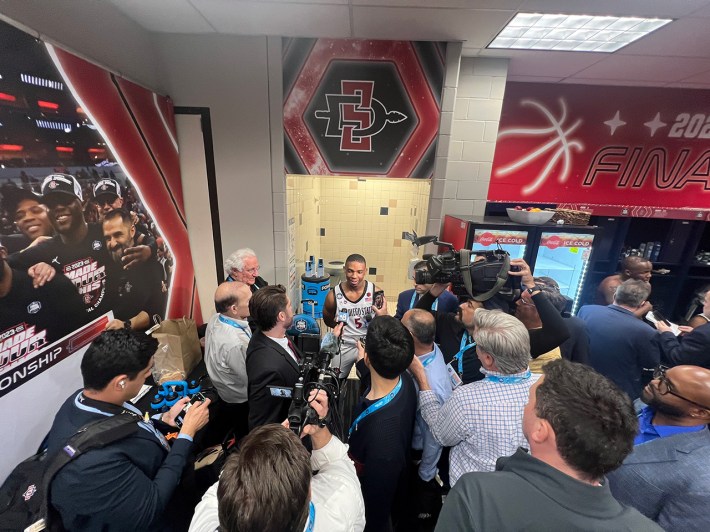 There's a reason that Dutcher wanted the ball in Butler's hands, and why everyone on SDSU thought his shot was going in: Butler had run basically the same play just five weeks ago, when the Aztecs had the ball down a point with 5.6 seconds left. He drove downcourt and pulled up for a three at the buzzer to give SDSU a 73-71 conference win over New Mexico. His postgame quote was even pretty similar.
So Dutcher, even if he was "out of plays," did tell his team to get it to Butler. His team listened. Butler did not, entirely. "I told him in Albuquerque to get to the rim, too, and he shot a pull-up three and made it," Dutcher said on Saturday. "I'll quit telling him what to do and just say: 'Lamont, you get the ball.' And I'll live with whatever happens."
"I always say March is for players, not coaches," Dutcher said. "Lamont made a play, and made an old coach look good."
Stay in touch
Sign up for our free newsletter