NFL
Sam Howell Gets Hit Different
2:41 PM EDT on October 6, 2023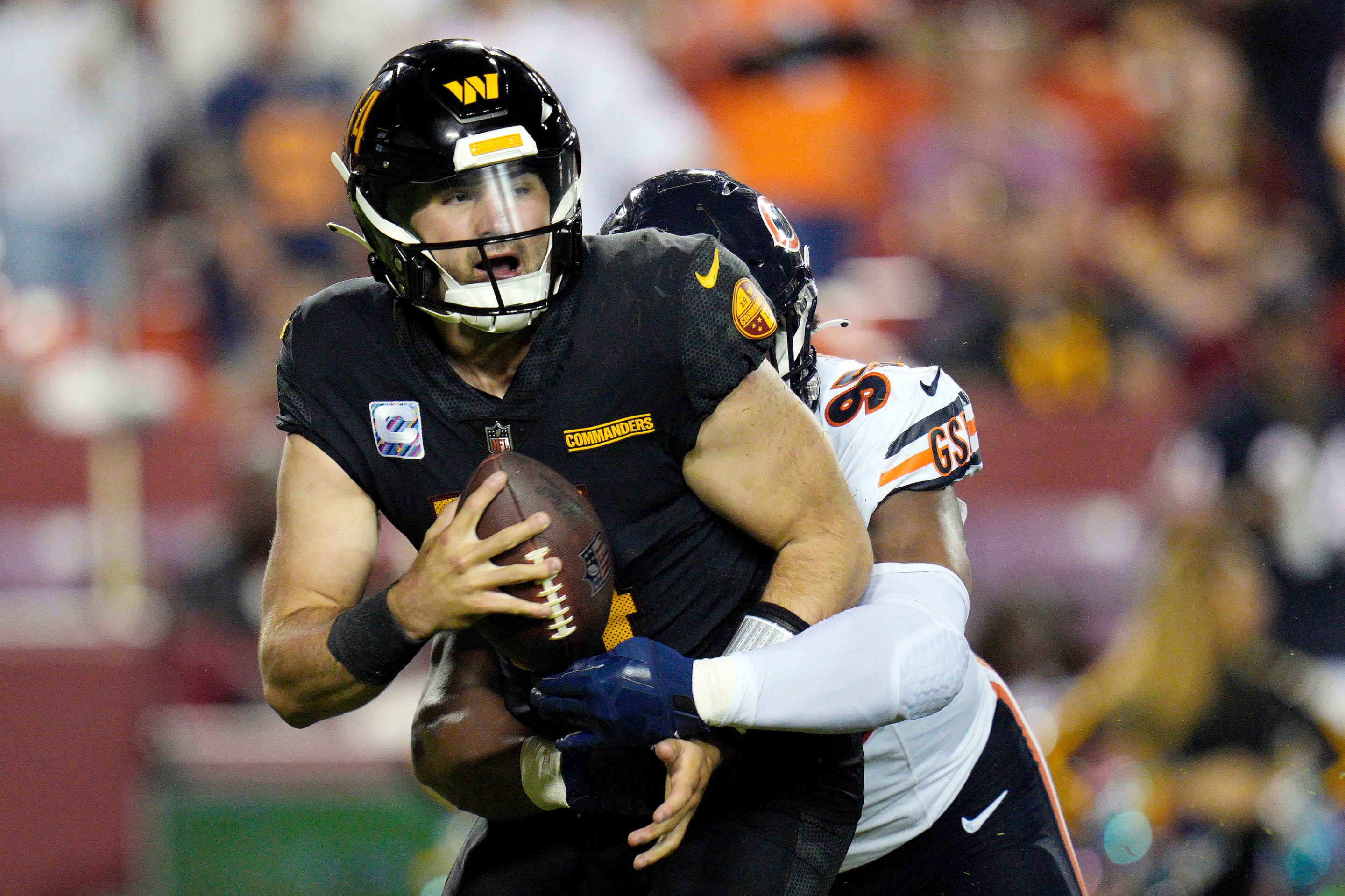 When a league adds games to its schedule, it's only a matter of time before the record books get scrambled. Benchmarks that once implied superstardom—the 5,000-yard passer, the 1,000-yard season—are less impressive than they used to be in the days of 16 games. T.J. Watt tied Michael Strahan's single-season sack record in the NFL's first 17-game season, but the single-season sacked record has so far escaped the pressure. Two quarterbacks debuted on the top-25 single-season sacks list last year: Justin Fields and Russell Wilson each took 55, but neither came close to unseating David Carr, who was sacked 76 times in his rookie season with the Texans in 2002.
Carr's still-standing record makes sense. No quarterback since has played with an expansion roster, and even if there are more pass-rushing snaps, NFL offenses are increasingly designed to help quarterbacks get rid of the ball fast. It seemed the arc of history would protect Carr the way his offensive line in Houston never could. But last night, when Washington's Sam Howell was sacked five times by a Bears defense that had averaged just half a sack per game entering Thursday night, I started to wonder whether Sam Howell might take down the king of being taken down.
It turns out I had vastly underrated his season. Perhaps the term "generational" is thrown around too much these days, but the 23-year-old Howell is an honest-to-god generational talent at getting blown up behind the line. If he makes history, it won't at all be a cheap artifact of the 17th game. Through five games, he's been sacked 29 times, eating hits at a rate that would not just break Carr's record, but completely destroy it: He's on pace to be sacked about 99 times this season. Not to ruin the moment for Bears fans, who should of course celebrate the end of a 14-game losing streak, but Chicago's five sacks actually lowered Howell's 2023 pace.
Prevailing wisdom in football is that "sacks are a QB stat." Sack rates tend to follow quarterbacks as they move from college to the pros or change NFL environments. An immobile Carson Wentz was sacked 26 times in eight games he started for the Commanders last season, and on about eight percent of his dropbacks. Howell has been sacked on 12 percent of his dropbacks this year. He also ran high sack rates in college, taking the most sacks of any Power Five quarterback in his final year at UNC.
Washington's offensive line isn't very good, but Howell also holds onto the ball for too long, especially for someone so bad at dealing with the pressure he invites. Consider both of Thursday night's starters. Pro Football Focus data says Howell and Justin Fields have been pressured the same number of times through five games, and Fields turns 21 percent of his pressures into sacks, for 19 total on the year. That is pretty bad! For unfair comparison, sack-avoidance wizard Patrick Mahomes turns fewer than four percent of his pressures into sacks. Even Joe Burrow, reliably one of the most-sacked quarterbacks since he entered the league and playing through an injury this year, has turned 17 percent of his pressures into sacks. Sam Howell's pressure-to-sack percentage is an incredible 32.
On Thursday night, his indecision sometimes yielded charming moments where he escaped Chicago's crummy tackling. On these occasions I was thinking, "I'll tell you what, kid's a gamer," or something very dad-ish like that. Those occasions were easily outnumbered by the times I was thinking the very mom-like, "Noooooo. Ahhhhh!!!!! You're going to die!" I would not want to be Sam Howell's actual mother.
David Carr's feat brings to mind the old saw about 20-loss pitchers, that you have to be pretty good to keep getting the ball every five days for a whole season. To reach the single-season sacked record, a quarterback must be hardy to enough to survive sacks one through 75. Charles Leno, the Commanders' starting left tackle, told the Washington Post's Nicki Jhabvala he's worried about the number of hits Howell has been taking, and especially about the fact that he was still taking them late into a game the Bears had dominated. "But that's what the coaches want and they want to show fight. We want to show fight and want to put some points on the board and show that we're not quitting for anybody," he said. "But there does need to be a little bit of smarts involved in that. We need him for the whole season, not just for a game that's out of hand already, in my opinion."
This five-game stretch has been the easy part of the Commanders' schedule too, against three of the NFL's worst defenses by DVOA. The question of Howell's pliability is the only thing standing between him and history. His season is, figuratively, flying off the edge unblocked.
Stay in touch
Sign up for our free newsletter