Soccer
Reunited With Kidnapped Father, Luis Díaz Took On Brazil And Won
11:08 AM EST on November 17, 2023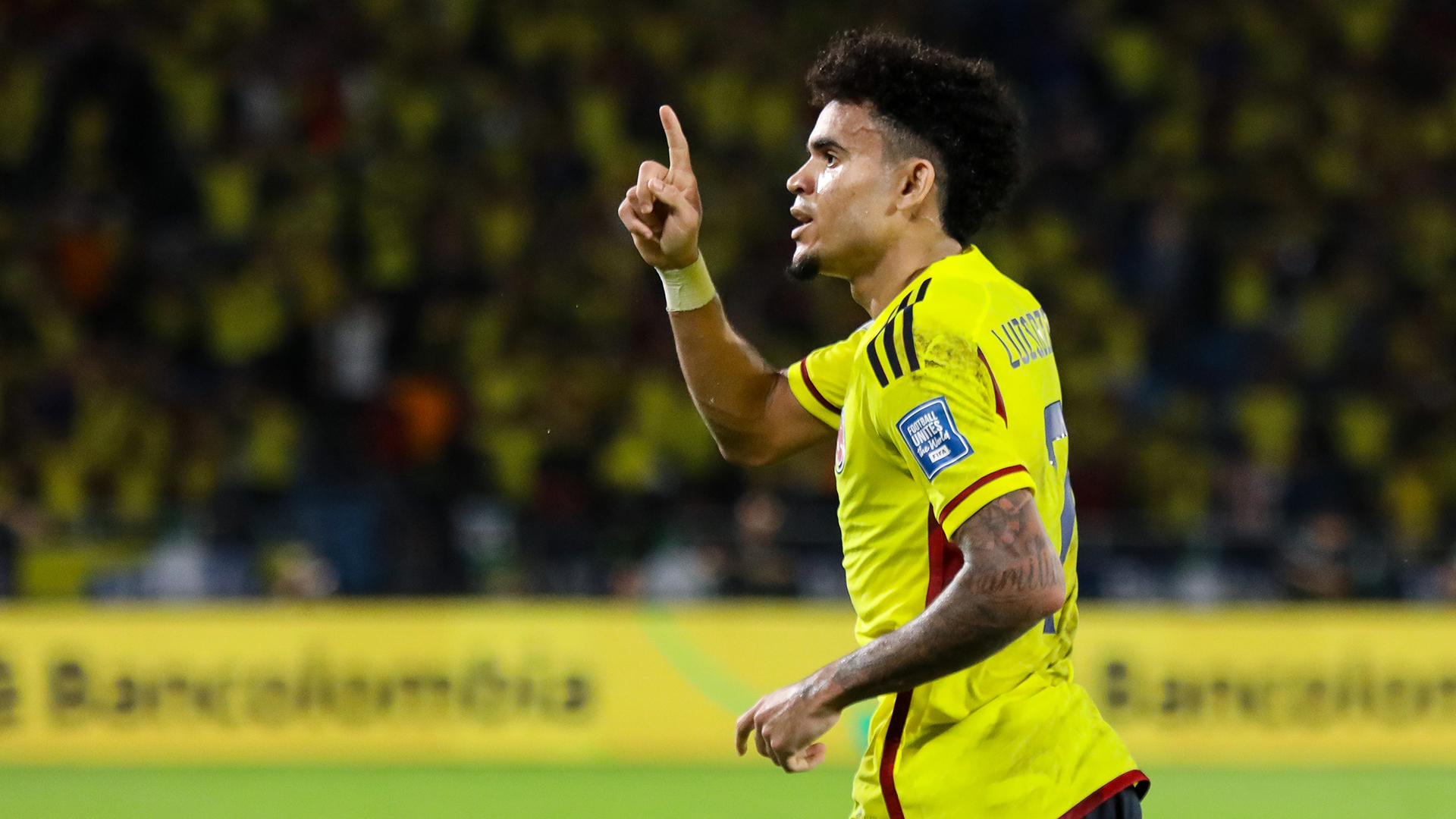 Ten days after Luis Díaz saved his club team from defeat, the Colombian winger led his national team to a historic victory over Brazil in CONMEBOL World Cup qualifiers. Yet even that undersells Thursday night's match in Barranquilla, which was Díaz's first for Colombia since being reunited with his kidnapped father, Luis Manuel Díaz. The elder Díaz was held by the National Liberation Army (ELN) for 12 days, but was released on Nov. 9. Father and son had an emotional reunion on Tuesday, after the Liverpool attacker flew back to Colombia for the current international break.
With all that emotional context, Díaz suited up to start for Colombia against Brazil in front of a packed Metropolitano Stadium, while Díaz Sr. donned a Colombian jersey in the stands to watch his son play for the first time since his release. Brazil played the rude visitors at first, dominating the early stages of the match on both sides of Arsenal forward Gabriel Martinelli's fourth-minute opener:
Brazil probably felt like it needed that goal, and a win on Thursday. Though it is still early days in the grueling gauntlet that is CONMEBOL's round-robin qualifying tournament, Brazil has looked off since play began in September. After two opening wins against Bolivia and Peru, the South American giants drew with Venezuela (that's right!) at home on Oct. 12, before losing 2-0 to Uruguay in Montevideo five days later. (The latter loss looks a lot better after Thursday night, when Argentina also lost to Uruguay by the same scoreline, and in Buenos Aires to boot.) Though there is no real risk of Brazil missing out on the 2026 World Cup, CONMEBOL's structure and style of play makes it so that failures can compound on failures quite quickly, and the Seleção probably did not want to head into its marquee match with Argentina on Tuesday off a loss.
However, after Brazil took control of the match early, the hosting Colombians worked their way back into the game, mostly due to Díaz, who had chance after chance go narrowly wide, or go into his club teammate Alisson's gloved hands. Still, the 26-year-old kept charging at the right side of Brazil's defense, repeatedly troubling Emerson and Marquinhos on and off the ball, as Colombia piled up a sizable shots advantage in search of an equalizer (for the match, the hosts outshot Brazil 23-12, and 10-3 with shots on target).
That equalizer would finally come in the 75th minute, as Braga wingback Cristián Borja sent in a speculative cross that, who else, Díaz latched onto just outside the six-yard box, sending a header to the corner past a flat-footed Alisson. Cue pandemonium:
Díaz burst into tears as his teammates mobbed him in celebration. Cameras cut to Díaz Sr., who stood in the crowd in a state of bliss. Even drawing Brazil would mean so much to Colombia, who are trying to get back to the World Cup after missing the 2022 edition. But before everyone's pulses had time to level out, Colombia was back at it. Just four minutes after Díaz's opener, James Rodríguez—who is still so good as long as he's not asked to move around too much—sent in a floated cross from the top of the box. Once again, Díaz, was there to elevate and knock a header past Alisson to give Colombia a 79th minute 2-1 lead.
Sports are often ascribed more importance than they merit. But sometimes, the importance is real. Look at how Díaz celebrates here, or how his father looks like he's going to ascend out of pure joy, and it's hard to argue that Thursday night was not one of those instances. That the goals came for Colombia was reason enough to celebrate—after hanging on to the one-goal lead for the rest of the match, Colombia beat Brazil for the first time in 15 World Cup qualifiers, and for the first time period since 2015. But that both goals came from Díaz's head, which for a month had to have been clouded by nearly constant feelings of uncertainty and fear, made the eventual catharsis simply perfect.
Stay in touch
Sign up for our free newsletter