Podcasts
Pinning Your Ears Back For Taylor Swift, With Giri Nathan And Samer Kalaf
2:42 PM EDT on September 28, 2023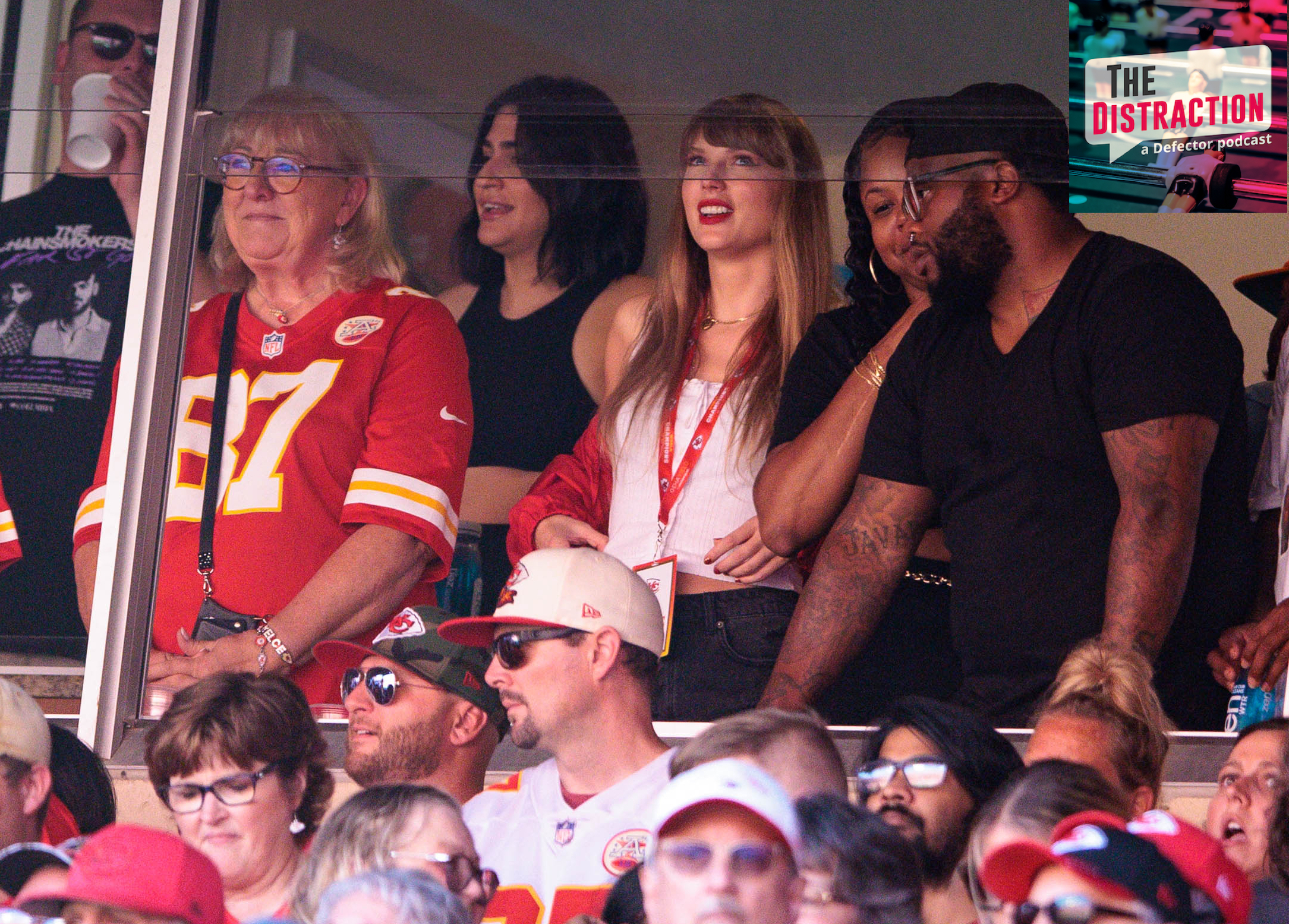 To the extent that it is or could ever be an exciting time for podcasts, this is an exciting time for Defector podcasts. Any ambiguity there is entirely a result of the words "exciting" and "podcast" seeming to belong in different sentences, because there is inarguably a lot of stuff going on right now where our podcasts are concerned. Drew and I are doing our live show in Brooklyn on Oct. 4, new episodes of Normal Gossip arrive starting Oct. 18, and the first episode of the second season of Namedropping drops on Oct. 3. If we had any other podcasts, something would be happening with them, too. The harvest season is upon us, the pods are heavy on the vines and nearly ready for market. It was time, then, for us to have on Namedropping co-hosts and Defector comrades Giri Nathan and Samer Kalaf.
Did we talk about podcast stuff? My friend, would a farmer standing in a field full of ripe pumpkins not take a moment, just on principle, to talk about all those pumpkins? So, yes, there was some pumpkin chat in that regard. It helps that Namedropping is an excellent podcast and excellent to talk about; the ways in which our names can and do impact our lives can be funny and serious, often at the same time, and so too is the podcast that Giri and Samer and the rest of the Defector podcast squad have built about that subject.
But, in keeping with our digression-intensive brand, that pod talk does not appear where you might expect. Enough goofy stuff is happening in the NFL right now that it seemed wise to open with that, which means that, by the time we got there, we had already discussed in some detail and in tones of earnest awe and optimism the extremely promising confluence between Taylor Swift's fan community and the NFL discourse. We indulged in a bit of NFL discourse ourselves after that, considering Sunday's historically bleak matchup between the Denver Broncos and Chicago Bears and those teams' respective situations, and letting Samer cook re: The Mac Jones Experience as it has unfolded over the first three weeks of the season. This went in some directions you might not expect—those armless mannequins that get the shit beat out of them in self-defense classes were invoked, as was the uncanny experience of tackling Tom Brady at his TB12-optimized peak. It also went in some directions that you probably do expect, given that it would be very un-us for Drew and me not to engage in a forensic examination of Mac Jones's alleged sack-tapping of Sauce Gardner and very un-them for Giri and Samer not to break down the finer points of avant-garde scoopsmith prose.
Once we got off the football stuff and onto the name-related material and into the Funbag, things got a little more free-associative. I got to talk some about a particularly shameful late-night habit as it related to a conversation about the legendary late coin magician who shares my name; Giri got to speak on the stranger corners of Australian speech patterns as they related to the struggles of the U.S. Open stenographers that he interviewed earlier this month; all of us weighed in on Sen. Robert Menendez's stunning ongoing work in revolutionizing New Jersey-style political corruption for a new generation. When the Funbag brought us questions about best practices in a classic "dog just licked my sandwich" scenario, we were ready. And thank goodness for that because just look at those fields, hedgerow-to-hedgerow with fast-ripening podfruit. There's more where this came from.
We are going to be doing a live Distraction on Oct. 4 at Littlefield in Brooklyn; if you would like to get tickets for that, you can do so here. And if you would like to subscribe to The Distraction, you can do that through Apple Podcasts, Spotify, or wherever else you might get your podcasts. Feel free to discuss this week's episode in the comments below. Thank you as always for your support.
Stay in touch
Sign up for our free newsletter