Life's Rich Pageant
Philly's Sign Guy Might Be The Least Thirsty Superfan
10:42 AM EST on February 10, 2023
I will admit it: I thought he was a plant. This was back in 2013, and the Philadelphia 76ers were in the first year of their sprawling tanking operation. But the Sixers couldn't even do that right: They started 3-0 with wins over the Heat, Wizards, and Bulls. When they closed out their 107-104 win over Chicago, the local broadcast cut to a man in the stands holding up a professionally-printed sign. "That's no bull," the sign read. "Sixers 3-0."
That was suspect enough in itself—the start was pretty obviously bull—but the truly suspicious bit was that I kept seeing this guy pop up. His signs would feature corny, tortured, or clever puns about Philadelphia sports teams; the guy would always be holding them in prime seats at Philly sporting events. He showed up on TV and in newspaper photos. At one point I tweeted about him being a plant. Someone corrected me: Rachel Johnston, a Philadelphia-area model and Amazing Race Season 17 contestant, saw my tweet and let me know that her mom knew the man. His name was Amin Khalifa, and he was not a plant. He was just a Philadelphia sports superfan with season tickets and a propensity for puns. Johnston got me in touch with him.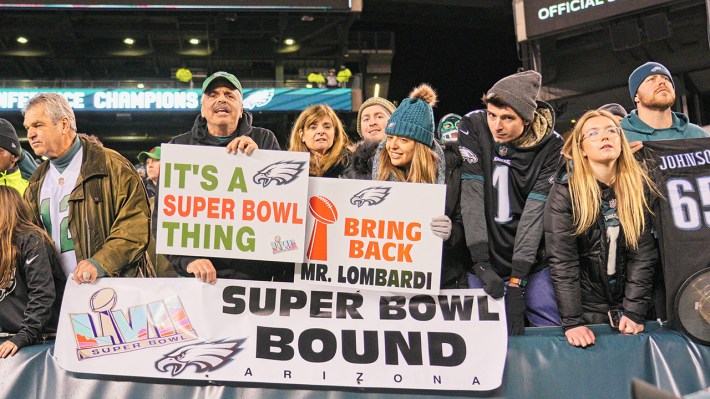 Philadelphia has long punched above its weight when it comes to sports superfans—people who sell their personality in some way affiliated to a Philly sports team, even if all they're looking for in return is some attention. How good this is or isn't will depend upon your tolerance for people who really, really want to get onto local TV news broadcasts, but the city has a lot of them. Dean Shoenewald donned a costume and ran around at Eagles games as Birdbrain in the 700 Level. ("While Schoenewald was embraced by fans, he was still never formally recognized by the Eagles organization," Jon Hart wrote in a cover story profile in the alt-weekly Philadelphia City Paper in 1991. "However, Schoenewald was able to make a few bucks doing appearances, mostly speaking out against drugs to kids.") Steve Odabashian, an absurdly smart man, won fame by dressing up as Eagles coach Andy Reid, back when Reid was the Eagles coach. (The cover story profile I wrote about him in Philadelphia Weekly is, mercifully, no longer online. It was OK. Hart's was better.) This is only scratching the surface.
Philly sports superfans go way back. Here is the subhed on a 2014 Daily News story about Yo-Yo, a Big 5 basketball fan in the 1960s and 1970s: "A beloved homeless man who was called Yo-Yo was as much a fixture at Big 5 games as packed houses and pulsating games." (Temple's Al Shirer: "He was just always there. There are a lot of characters in the world, and he was ours.") Jigar Desai, who ran full speed into a subway station pillar while hyping up a crowd before the 2018 NFC Championship game, is Eagles Pillar Guy. He says he still crashes into pillars for good luck. (Employees at a Comcast division were promised a special guest at an Eagles pep rally last year; it was Desai. "My wife works at Comcast and I guess it was 'bring your Pillar Guy to work' day," he told me.)
Many of these superfans seem to exist to delight other Philly sports fans; a man named in the story as "Dylan (redacted)" recently received a 1,000-word profile. (We're already almost 600 words into this story, and I have only just introduced Khalifa. I am aware of that, but this is important.) Monty G, the old hype man for Tuff Crew, rides around on a scooter cheering on the local teams. (COVID hit him hard—and he needs a new scooter, if you'd like to donate. I did.)
Some are fixtures in the stands at games. At a recent Philadelphia Wings game I attended—it's the city's National Lacrosse League team, although you probably already know that—a man whose jersey identified him as Bacon Bill was apparently in charge of leading the fans on a chant of "Get in the box, bitch!" whenever the opposing team committed a penalty. I later learned Bill, who has bacon tattoos on his arms, was merely continuing a tradition started by Lou the Wingman in 1987. ("The only way you won't see me at a Wings game is if I'm dead," Lou told Inside Lacrosse in 2021.) A Flyers superfan, Shauny Hill, was shown dancing on the big screen so often at games that he eventually became an in-arena host; he was the guy who went backstage to introduce the world to Gritty. Hill has since been memory-holed after being fired for comments he made during a Wings game. It's a tough racket.
Perhaps the most famous Eagles superfan is Shaun Young, a man who began wearing a giant set of shoulderpads under a jersey starting at the 1995 season opener. (There weren't many superfans or regular fans at that game—it was blacked out on local TV because it was not sold out.) Shoulderpads Shaun was a member of the "Dirty 30," a crew that went to the NFL Draft, with the support of sports radio station 610 WIP, to urge the Eagles to select Ricky Williams over Donovan McNabb, who was booed when the Eagles picked him. ("I already apologized to Donovan and his family a few months after the 1999 draft," Young told another Philly character, Joseph Santoliquito, in 2011.) I have seen this man, whose claim to fame once again is wearing football shoulderpads in a non-football capacity, make public appearances that were not nearly as tongue in cheek as Eagles Pillar Guy's. (Young started a program called "Drugs Are Nasty" aimed at schoolkids.) Young is so notable he has advertising patches on his jersey. In the summer of 2021 Young announced his retirement, but he showed up in a Getty photo at the NFC title game last month. Hey, why not?
The TV cameras tend to pick out Shaun Young in his facepaint and shoulder pads, no more is more omnipresent than Amin Khalifa. Sign Guy is my favorite Eagles superfan. He is in countless photos at Philly sporting events. He shows up on TV all the time. Maybe my favorite moment in Philadelphia sports history is Jimmy Rollins' walkoff double against the Dodgers in 2009. I have watched it countless times. And right after teammates mob Jimmy Rollins, the camera cuts to Khalifa, holding up a sign with a big smile on his face. It's like he was waiting for the camera to find him.
---
Khalifa, who is 59, met me at his office at one of the South Jersey car washes he owns. The space was packed with Philly sports memorabilia—jerseys, trinkets, framed photos and newspapers and tickets. There's a framed 1997 profile of his car wash business, too, and what has to be a lifetime supply of ticket lanyards. We talked over pizza, and he told me about his favorite place: "My number one—and I'm not going to say I don't have a 1a, 1b, 1c…" I liked him right away. He is a gregarious Philadelphia businessman of an identifiable kind, although I am sure he won't fall asleep courtside. Khalifa fits into the Philadelphia vibe so perfectly that fortune's wheel must have brought him here.
The actual backstory is more complicated. In 1975, when he was 12, his family fled the war in Lebanon. He spent his freshman year of high school in Greece. His sophomore year was spent in Liberia. His junior year, his family was back in Lebanon. Then they moved to South Jersey for his senior year of high school. The average backslapping business type might treat this as fodder for banter—he must be the only person to attend high school on four different continents. Khalifa doesn't talk about it that way. "Unfortunately, we did it because of war," he said. "It wasn't like, 'Hey, how about we try this.'"
That senior year was an incredible time for Philadelphia sports. In 1980, the Eagles, Sixers, Phillies, and Flyers all played for their league's championship. Though only the Phillies won, Khalifa had become hooked. "Can you imagine a young kid being exposed to Philadelphia sports at the highest level possible?" he said. "And because of that, I thought that it was going to be like that every year. Well, I mean, obviously, I've been disappointed since then."
Khalifa's father, Samir, had founded a chain of car washes in South Jersey. Eighteen months after graduating, Amin joined the family business. He has been in charge since his father died in 1995. With money, business connections to make, and a huge interest in Philly sports, Khalifa started getting season tickets. The business now encompasses seven car washes, a liquor store and ancillary businesses. One of those, at his car wash in Mount Ephraim, N.J., is a sign shop.
"I had some negative experiences with local sign shops here—they took too long to make a sign for my carwash," Khalifa said. "When I saw a guy sitting behind the computer making a sign, I'm thinking: 'If he can sit behind the computer, why can't I?'"
The most famous sign guy in Eagles history is probably John Rodio, who hung signs in the 300 Level at Veterans Stadium. His signs often featured caustic, clever commentary on the Eagles season. Khalifa's are a little tamer, but it might also just be that Philly sports teams are better than they were in the 1990s. His signs are like light tabloid newspaper headlines—they comment on the game while trying to be clever. He started during the 2004 Eagles season. Khalifa wanted to celebrate the Eagles acquiring Terrell Owens and Jevon "The Freak" Kearse in the offseason. He brought three signs: FREAK 'N' TO. People liked his signs, he got on TV, and he just kept on doing it.
What I like about Khalifa's fandom is that he's sort of just there. Obviously he likes getting his signs on TV, and presumably being recognizable helps his businesses. But he really isn't selling anything with his signs other than himself and his love of Philadelphia sports. He is a constant presence on broadcasts, but doesn't come off as an attention hog or someone looking to, say, spin up a motivational speaking sideline about how drugs are bad. Given the inherent thirstiness of superfandom, it's pretty impressive.
---
I was wondering about the logistics of featuring fan signs on air. I rung up Greg Farnese, a camera operator for local sports broadcasts. If you're wondering what the Philadelphia area is like: Farnese is also a jazz vocalist—his 2017 EP Set in Motion features a nice cover of Radiohead's "High and Dry"—and his father was longtime local kids show host Dickory Dock. Farnese is the cameraman who captured the praying Phillies fan before Bryson Stott's walkoff home run last season.
"Our first priority, of course, is always what's going on on the field between the foul lines," Farnese said. "But we're doing the broadcast for the people who are home in their living room, and we're trying to kind of capture what's going on here at the ballpark. So when there's a moment that calls for some tension, or some anticipation—what the Philly sports fan is feeling in that situation—what better place to go than out in the crowd?"
That camerawork really does build a camaraderie for fans at home with those in the ballpark. I mean, he found a little boy praying just before a walkoff home run. The win was great, but Farnese helped find the image that made it a moment that will, and should, live on. I feel so stupid for thinking teams would use plants when they could just hire talented cameramen. Plus, Khalifa actually pays to be there. Farnese says he's a great subject.
"We see signs every single game, but you can't read them or, or they're not appropriate to put on the air," he says. "But with Amin, they're always so tastefully done. Whether, whether it's a pun, or a comment on things that are happening in Philly sports, he's really in tune with with what's going on."
Khalifa is attending the Super Bowl, his 20th consecutive. At Super Bowl 52, when the Eagles won it all, he had to sneak in his sign. He was successful, and he held up "YO ADRIAN, WE FINALLY DID IT" for everyone to see. He hopes to be doing the same this Sunday. If you're a security guard who happens to read this: Please, let this man in with his signs. You can hold me responsible if he does anything untoward, although I have decades of precedent suggesting that he won't. It won't be a true Philly sporting event unless I see Amin Khalifa holding a sign.
Stay in touch
Sign up for our free newsletter