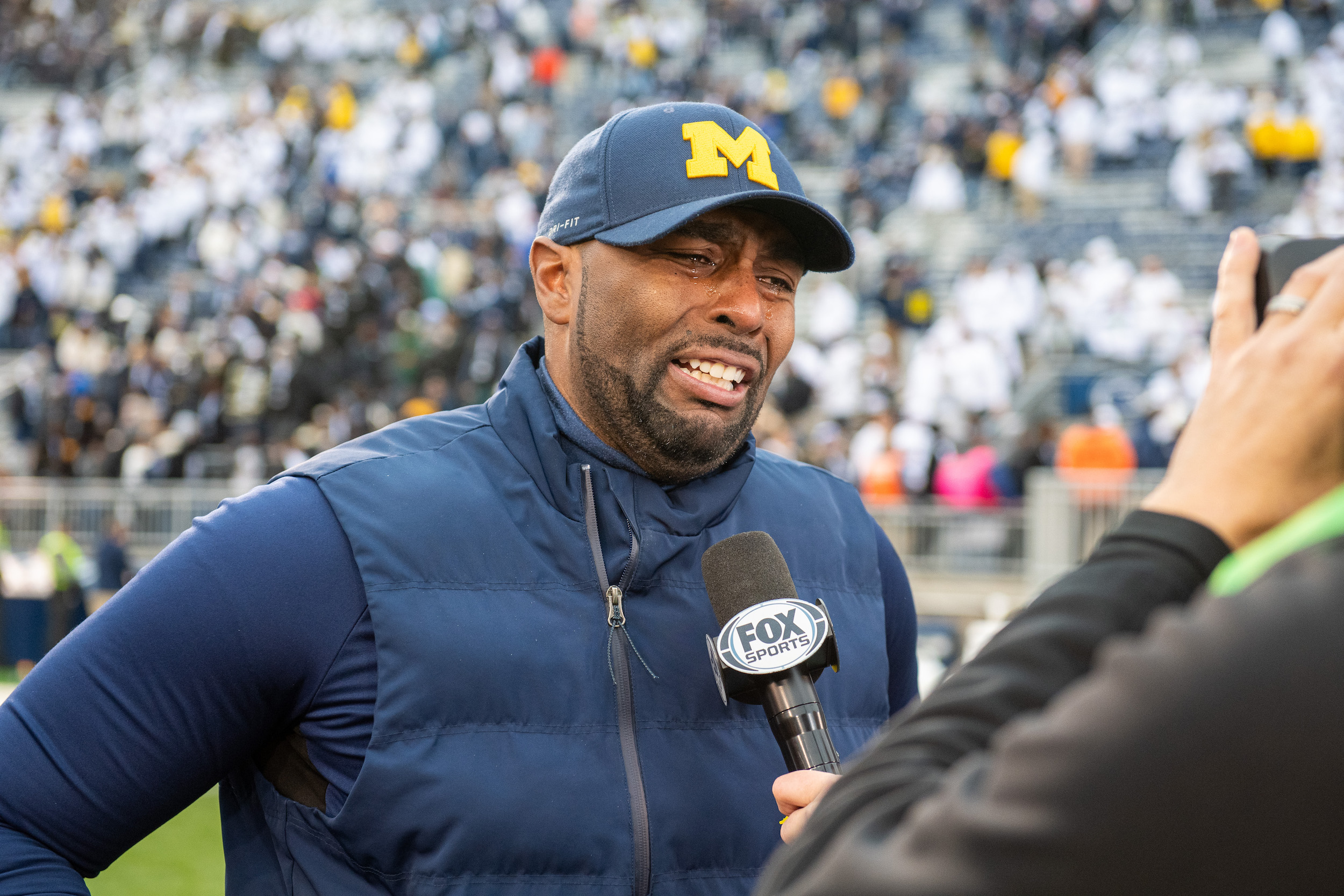 Generally speaking, a person should never root for the Penn State Nittany Lions football team. If only to antagonize their overlarge base of central Pennsylvania maniacs, for whom Penn State fandom has long warped into a frothy regional tribalism—if only on the barest chance that you might cause one of them to suffer a rage-induced aneurysm—it's advisable to root for their opponents.
Saturday was a special case. Penn State, ranked 10th in the nation, hosted third-ranked Michigan, with a chance to crush the championship hopes of Crooked Jim Harbaugh and his undefeated Wolverines. On Friday afternoon Harbaugh received a three-game suspension to cover the rest of the regular season, as the NCAA and Big Ten continue to investigate the Connor Stalions affair. Harbaugh and Michigan filed a breach of contract complaint Friday night and an emergency restraining order to prevent the Big Ten from enforcing its suspension, arguing that keeping a coach from the sidelines of a football game would do profound and irreversible harm to the coach, his team, and his employer. The maneuver failed: The Washtenaw County judge who drew this assignment declined to rule on the restraining order prior to Saturday's noon kickoff, forcing Harbaugh to watch the game from a hotel, while assistant coach Sherrone Moore took over as interim head coach.
Penn State had a wonderful opportunity Saturday to send Michigan to hell, to make Harbaugh sob and pull his hair out and puke all over a hotel sofa, and to spoil once and for all Stalions's dishonorable-schoolboy skullduggery. And they blew it! Penn State's offense, it turns out, is bullcrap: The Nittany Lions totaled 74 measly yards on 23 passing attempts; they converted just four of 14 third-downs; on their first five possessions of the second half they went fumble-punt-punt-punt-downs, and then scored a meaningless late touchdown to make the final score 24–15. They allowed Michigan to rush for 227 yards and win despite not recording a single official pass attempt across the entire second half of the game, becoming the first Big Ten team since 2013 to not attempt a pass in a half.
It is because of Penn State's failure that we now must deal with the worst us-against-the-world crap, from Michigan players and coaches and administrators. Michigan athletic director Warde Manuel set the tone before kickoff by describing Harbaugh's mid-investigation suspension by the made-up business association of football schools that is the Big Ten as an alarming and ominous violation of due process, and vowing that the Wolverines would continue in the face of this "unethical, insulting" action to "fight to win for Michigan and all who love us."
"They're gonna be hating on us and we just want to prove them wrong," gloated Michigan offensive lineman Trevor Keegan after the win. "We wanted to do this for Coach Harbaugh and come in here and get a gritty win ... As players and staff, having a one-track mind and staying together. The storm's coming? We are the storm. That's our mentality."
"I want to thank Coach Harbaugh. I fucking love you, man. I love the shit out of you," said a literally sobbing Moore, who seems to have been under the impression that Harbaugh was not simply barred from entering the stadium but had died rescuing a bunch of orphans from a bus fire. "This is for you!"
"Just thinking about our players and how hard they've worked, through all this craziness and all the situations that's going on. For us to come to this environment and win was huge," said Moore, still blubbering at the postgame podium. "I just think about Jim, man. Love that man with all my heart. Just such a great person, great human, great coach. Just wanted to do it for him."
Thanks for nothing, Penn State. You did this!
Stay in touch
Sign up for our free newsletter