MLB
Padres Blackouts Are Over, For A Price
12:53 PM EDT on May 31, 2023
The long-anticipated crumbling of the Sinclair regional sports network empire has finally affected some actual baseball fans, and not entirely for the worse. After Diamond Sports Group—the subsidiary of the rotten media conglomerate that has operated the former Fox Sports (now Bally Sports) channels since a gigantic purchase in 2019—filed for Chapter 11 back in March, those who rely on their broadcasts have wondered how much life the current setup has left. For the first couple months of the MLB season, even as Diamond has managed to pay less than they owe to certain teams, fans watching games on Bally channels would have noticed nothing different. That changes now. With a missed payment to the Padres, Diamond has ceded San Diego's local TV rights back to MLB. Effective immediately, the league will be producing Padres broadcasts.
That development sounds massive, and it is in some ways, but for cable customers in the San Diego market it mostly amounts to a new channel number to memorize. The Padres' in-game on-air talent is employed by the team, meaning their jobs won't be affected, and while there will likely be changes to pre- and post-game show production, the freelance nature of most behind-the-camera workers means there shouldn't be serious continuity problems. The league and team just have to get the word out about the new situation—specifically, the different channels they'll be using on various cable companies to show these games:

For those in San Diego who don't have cable, or prefer to stream games, things get a little more interesting. After making Padres games free on MLB.TV through the end of the week, the league will put them back behind the paywall with a key difference: no local blackouts. While previously, Padres fans would only have a use for the league's flagship service if they lived out of market, now they can watch their team's games without cable no matter where they live. MLB, in their statements trumpeting the change, noted that this in theory increases the number of San Diego homes in which Padres games are available from around 1 million to about 3 million, now that they're no longer cable-exclusive.
Everyone hates local blackouts, and particularly in places in overlapping markets, like Iowa, they're a huge problem for anyone who just wants to watch baseball in the most straightforward way possible. Fans in Chicago paying for MLB.TV don't get White Sox or Cubs games. Fans anywhere in Texas or Louisiana don't get the Rangers or Astros, regardless of whether their local cable provider even carries them. Rob Manfred noted earlier this year that only 15 percent of people in the Cardinals' TV territory can currently watch Cardinals games. It's a short-sighted system designed by people high on the humongous cable rights fees teams got used to commanding. But when the RSN bubble bursts and the checks stop clearing, the big shots have no reason to keep that system in place.
So San Diego could become a proving ground for something MLB might want in the long-term future: a direct-to-consumer product that actually covers all 30 teams, including the home team. Outside of nationally televised games, that's what fans in the Padres territory can buy right now. But there's a catch: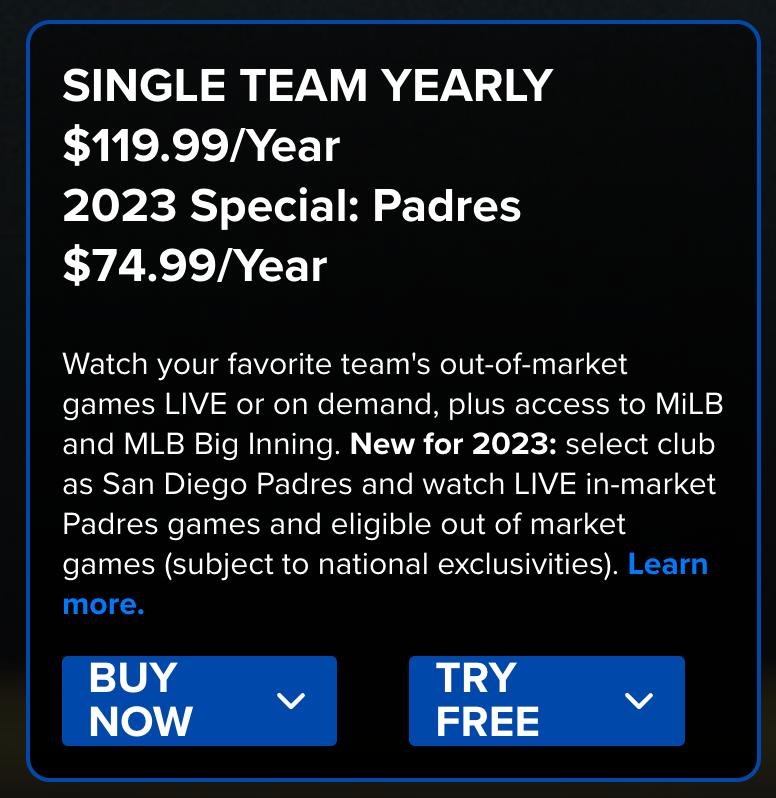 The catch is that it costs 75 freaking dollars just to watch to remaining 100 or so Padres games that would have been on Bally Sports San Diego over the rest of the regular season. (It's $140 for all 30 teams.) Compared to every other streaming service, where $10 or $15 monthly gets you a deep well of movies and TV you can access anytime, paying around double that for something that airs for just a few hours on many but not all nights feels like a luxury service. Hardcore fans may pony up for it, but casuals certainly won't.
Particularly if (or when) Diamond continues to founder and MLB takes over the broadcast rights for other teams—the Rangers, Guardians, Reds, and Diamondbacks appear next up—MLB finds itself in a fascinating and pivotal position. In an increasingly post-cable world, the league is no longer going to be attached at the hip to RSN riches, and there are plenty of options for the future of baseball broadcasting. But they all collapse down to one critical fork in the road: accessible vs. expensive. MLB has the choice to cast as wide a net as possible, bringing in lapsed cord-cutters and converting or keeping those who would pay a nominal fee to occasionally enjoy the local team. What they're doing now, however, for those not already shelling out for cable, is making baseball available only to those who already love it and have the cash to back it up. The second half of this Padres season could have been a bold experiment in local baseball as public good; instead, it's the same old product.
Stay in touch
Sign up for our free newsletter