MLB
Oneil Cruz, Pirates Suffer Devastating Injury
12:57 PM EDT on April 10, 2023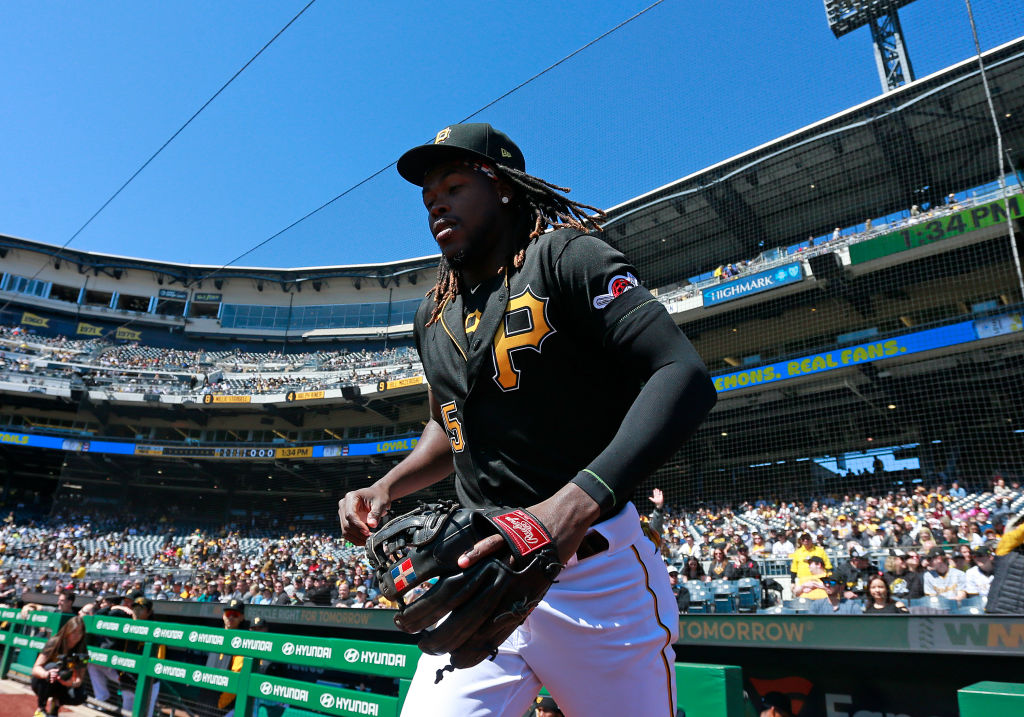 The arrival of Oneil Cruz is the best thing to happen to the Pittsburgh Pirates since Bob Nutting almost choked on that shrimp cocktail at the yacht club. This team's owner is so terrified of parting with his TV money that he has currently committed just $10.25 million in payroll to next season. The Pirates and the open market cross paths so rarely the Nutting thinks a "free agent" is when James Bond escapes his cell in Goldfinger. But sometimes you luck into good players without trying. Oneil Cruz, traded by the Dodgers in 2017 when he was still a teenager, is one such player. The 6-foot-7, 220-pound shortstop was called up for good by the team in June 2022, surely not for reasons of service time manipulation, and made an instant impression in an otherwise pitiful season.
His stats alone are decent—especially the 17 dingers in 87 games—but Cruz's appeal lies in the way he plays on the extremes. He's a physical marvel, with a jetpack on the basepaths and a howitzer in his arm, but he's an awkward fit at shortstop and isn't expected to stay there for the entirety of his career. At the plate, he struck out as often as anyone in baseball last year, 126 times in 331 at-bats, but when he did make contact it's a wonder the ball didn't crumble into pieces. I'm grateful that he plays in the Statcast era, because that's the best way to contextualize just how different Cruz was from any other Pirate.
And now he's gone for several months. In the sixth inning of a Pittsburgh win over the White Sox on Sunday afternoon, Cruz got on with a walk, which extended his on-base streak to 19 games, then stole second and eventually made a dash for home after a short chopper by Ke'Bryan Hayes. At the plate, Cruz made a late, indecisive attempt at a slide and hit Sox catcher Seby Zavala. Immediately, it was clear something went wrong. Cruz's ankle bent painfully at the contact, and he stayed on the ground even as his teammates came out of the dugout.
Cruz has already had surgery on his fractured ankle, and the word is he'll be out 10–12 weeks, which feels a little optimistic for a shortstop but maybe not for a DH. Also looking on the bright side was Pirates manager Derek Shelton. "Obviously losing Oneil is a blow because he's a big part of what we do on both sides of the ball," he said. "The flip side of that, because of the depth we've created over the last couple years we're probably in a better spot to handle it than we have been previously."
That may technically be true, in the sense that the Pirates project to lose slightly fewer than the 100 games they've lost in back-to-back years. You can even point to their 6-3 record as an encouraging start. But Pittsburgh is still stuck trying to make something out of a collage of mediocre pitching and hitters who, with the exception of Bryan Reynolds, are all either nostalgic or raw.
The 23-year-old Rodolfo Castro, who moved from second to short after the injury, has a .176 average this year and a .697 career OPS. Ji Hwan Bae, also 23, replaced Castro by entering just his 18th career game. Carlos Santana and Andrew McCutchen are looking to squeeze a little more production out of their careers but won't be around for the long haul. And exciting catching prospect Endy Rodríguez is still stuck in AAA. No matter what Shelton thinks, the highlight-reel potential Cruz brings to the lineup can't be replaced on demand when your payroll is this light. Cruz hopefully gets a speedy recovery, and then, eventually, he hopefully gets a nice big contract as part of a better team.
Update (1:49 p.m. ET): Now the team says four months until Cruz is back.
Stay in touch
Sign up for our free newsletter