NHL
That's Oil, Folks
9:58 AM EDT on May 15, 2023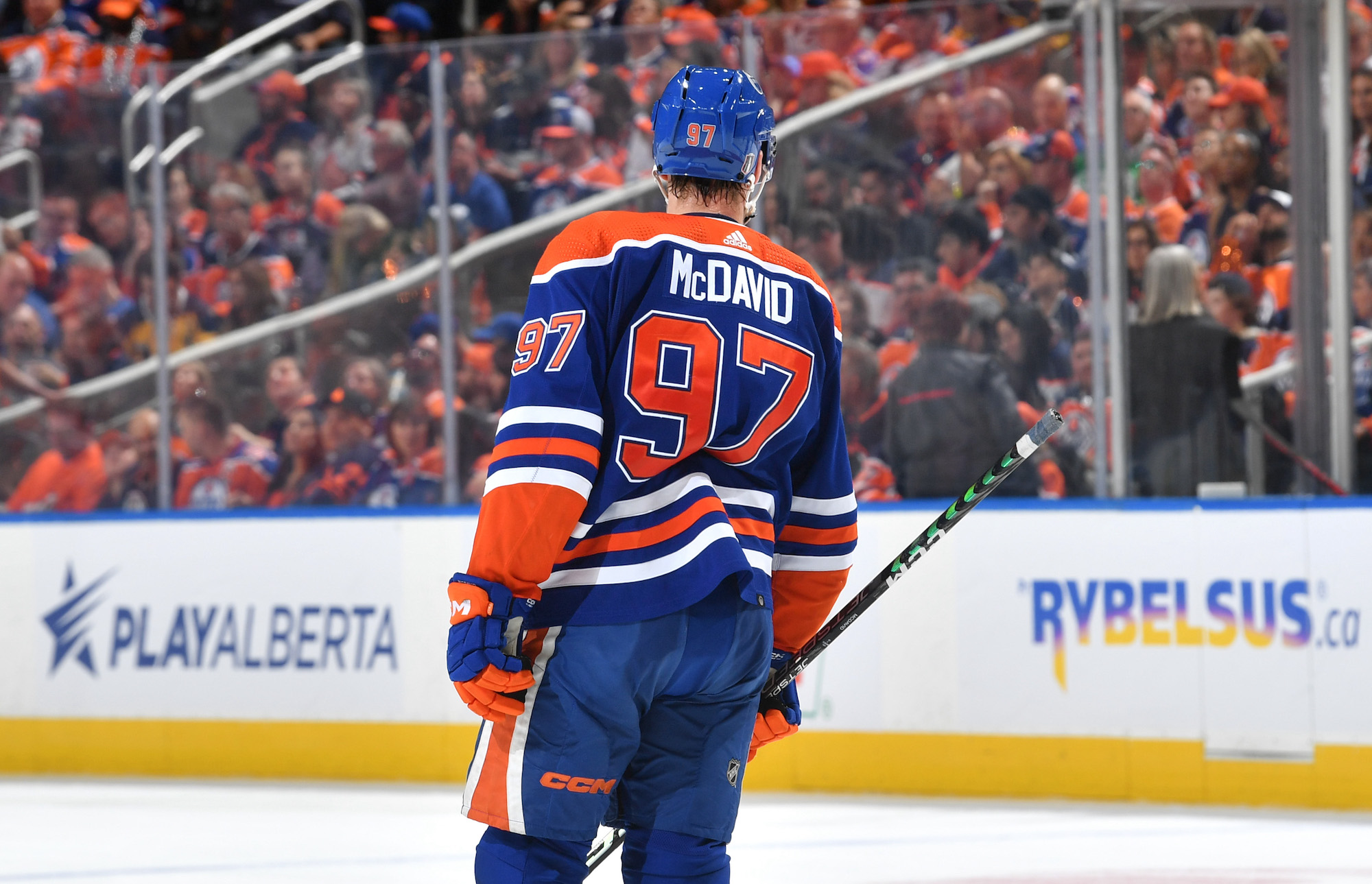 Today is a national floating holiday in Canada and in the National Hockey League offices, one more endured than enjoyed. It is the day that the Stanley Cup Playoffs go on without its best player. Last year, it happened on June 6, the year before that on May 24, and in 2020 it happened in early August. The two years before that it came in early April.
But it comes, if not necessarily like clockwork. It is the day Connor McDavid stops playing, and it is the day that the audience of casual hockey fans dwindles to barely perceptible figures, because Gary Bettman's deepest desire—that McDavid become a mainstream celebrity—is never supported by his teammates, save Leon Draisaitl. The Oilers checked out of their playoff accommodations Sunday night with a rudimentary 5-2 Game 6 loss to the superior Vegas Golden Knights, and the small consolation prize of "Last Canadian Team Standing" was only redeemable for two days.
Here in the states, the holiday is barely recognized for the same reason that Arbor Day is barely recognized. It has been a dozen years since a Canadian team has made the final in a normal season, and the asterisk to that was 2021, when COVID restrictions forced the league to create an all-Canadian division that had to have a team in the last four.
So Sunday night felt slightly inevitable, even though the game was in Edmonton, and even though the Oilers took a 2-1 lead into the second period. The Knights started tentatively, but three Jonathan Marchessault goals in the period changed and eventually crushed the game. The Oilers' arena, not normally a particularly raucous place, got slowly but perceptibly quieter as the annual rite of reality set wedged itself into place. Canada and McDavid in particular would be JWA—Just Watching Again.
Not that this result was necessarily incorrect by hockey standards—Vegas was better in almost all areas, their scoring was more evenly distributed, and they were more solicitous of their lack of experience in goal, where making the change from Laurent Brossoit to Adin Hill mitigated Vegas's one measurable deficiency. The end was clinical, if not necessarily invigorating.
And now, only five teams remain, and the closest one to the border, Seattle, is in Dallas tonight for Game 7. The Kraken have been stubborn newbies, rallying from 2-1 down to beat first the defending champion Coloradii and now to tie their expansionist forebears in Vegas. They are even more egalitarian than Vegas, star-wise, and their greatest achievement has been normalizing human Vezina Jake Oettinger. Tonight will be the sternest test yet for the Fightin' Tentacles, but their chances are at least slightly more appealing than Edmonton's, in large part because the Oilers had two standout players and little else when compared to Seattle's parade of unsexy but devoted workers.
Of those two, the league has spent nine years waiting/hoping to make McDavid an aggressively promotable star in the way the NBA has been able to do with Stephen Curry. One big difference, of course, is rings, and Edmonton hasn't approached one in 17 years nor won one in 33. The Oilers are still for many non-believers the team of Wayne Gretzky, but McDavid's greatness is beginning to take on the slight waft of Joe Thornton, who went without a championship in 21 years as a regular.
What is more, the potential final four this year are from Florida, North Carolina, Nevada, and either Texas or Washington. Bettman's dream of a more American product is renewing itself, and a Sun Belt Final feels likely, but the multinational drawing card is still in Alberta, and the second-most marketable player, Auston Matthews, is in the equally forlorn town of Toronto. Fortunately for us, this needn't be a concern as the hockey will be the hockey no matter who does it, but as McDavid eases into the deathly grim conversation of Best Player Never To Have Won The Cup, the geography still weighs heavy.
That is unless Seattle gets to the all-expansion conference final exactly zero people imagined by Krakening one more game. Or as Canadians will grudgingly come to accept them, the semi-loyal subjects of South British Columbia.
Stay in touch
Sign up for our free newsletter