NHL
October Is A Vacuum
2:55 PM EDT on October 26, 2023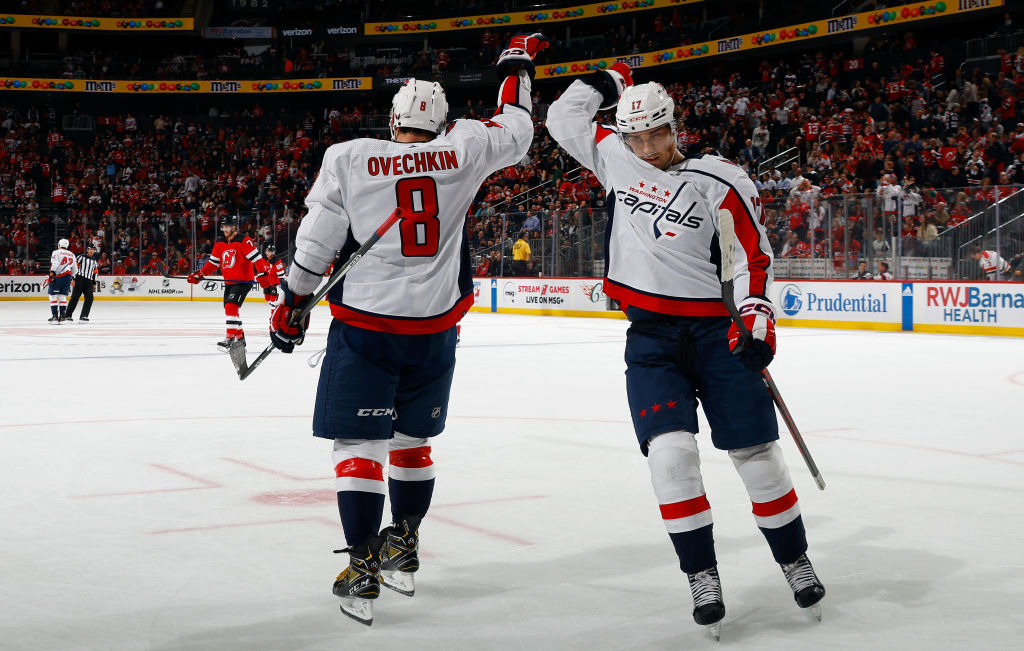 The Washington Capitals won! And Alex Ovechkin scored a goal! If you are a fan of that particular team and/or player, that might be all the information you need right now, at this point in the season. But I'm going to continue.
Devils-Caps was a fun little game, especially considering it was completely alone on the schedule and on national TV. Because every single team in the NHL played on Tuesday, neither side was especially well-rested as they approached puck drop—the Caps had lost at home to the Leafs and the Devils beat the Canadiens in Quebec. But it was Jersey, specifically, that looked foggy and sloppy in the Garden State to start things off. With poor defense and bleary-eyed offense, they surrendered a surprising 3-0 lead in the first, apparently signaling to viewers that this just wouldn't be their night. But after a goalie swap and an intermission, the talent disparity started telling.
The Capitals, following a long run as one of the league's better teams, are on a downward spiral, hampered by years of investing in veterans who have mostly aged out of the ability to keep a championship window open. They're just now at the beginning of the overhaul necessary to manufacture a new one, and their 588-game streak of announced home sellouts came to an end this month, which is justified when you score six goals in your first five games. The Capitals exist, for the foreseeable future, to facilitate Alex Ovechkin's chase of Wayne Gretzky's all-time goals record, and for no other reason.
The Devils, meanwhile, are soaring on last year's breakout season and a squadron of exciting and excitable youth (balanced by some more experienced leaders) that should be the envy of every GM. Jack Hughes, in particular, has his hands in everything so far this year, greasing the offense with a league-leading 13 assists in six games, to go with four goals. His three points on Wednesday all came in the second period, when the Devils nearly scared the Capitals off the ice with a sudden flurry. In a span of just a few minutes, new guy Tyler Toffoli continued his hot start; last year's big deadline add, Timo Meier, finished a set-up from Hughes; and former No. 1 pick Nico Hischier fought for a rebound and converted. A little while later, Toffoli appeared again to sneak one under the goalie and give the Devils a 4-3 lead.
It'd have been fair to tune out at that point. After all, that first period had been the only time all year the Capitals had even held a lead, since their other victory came in a shootout. But the third period was kind to them. Opening the action on the power play, Dylan Strome led a leisurely saunter through the Devils defense and produced the tying goal. And then before you could say Taylor ham, a Devils turnover prompted Anthony Mantha and Connor McMichael to add a clip to Vítek Vaněček's lowlight reel. It stayed 5-4 until Ovechkin, with 90 seconds remaining, scored his second goal of the year. It was an empty netter, but he at least put in the effort to steal the puck. It's not like the record books will know the difference.
The Capitals, earning just their second win out of six, got to enjoy the unfamiliar sensation of an upbeat mood, buoyed by the fact that starting goalie Hunter Shepard had just won his NHL debut. "Through a couple of games here, where we haven't been playing our best, we kind of carried the mistakes of a period into the next one, and it kind of compounds everything," elder statesman T.J. Oshie said. "We learned from that and today we came out, just let it go, got back to our game, and it's a good win against a very good team."
The Devils, meanwhile, could really only blame themselves for the dropped points at home to an inferior opponent. "Our puck play was atrocious," head coach Lindy Ruff said. "We couldn't go tape to tape, and we were a soft team. I thought we got what we deserved tonight."
New Jersey can take plenty of solace in the fact that they're very good, will be in the playoff chase, and will still be playing meaningful games when this night is a distant memory. But I'm more interested in the Capitals and their morale. It's a rough time to be a fan of theirs. Our own D.C. expert, Dave McKenna, tried to convince me before the season that the losing would get so ugly that Ovechkin would eventually break the record somewhere else. (Maybe he'll get that miserable and want to return to a contender, but I think they're locked in together, Miguel Cabrera–style.) Last night was fun, though. They scored, they made their fans worry and moan, and then they heroically fought back. It's as classic a three-act structure as you can write.
Moreover—and this is critical—they did it while it technically still matters. With the win on Wednesday, the Capitals are only three points out of first place! Their chances of overtaking it are quite slim, but the beauty of the early weeks of the season is that the bad teams aren't yet condemned to the fruitless slog. In autumn, success doesn't feel counterproductive to the pursuit of a draft pick, and playing the games hasn't yet devolved into playing out the string. The bad stuff hasn't happened yet, so a win has real value. Dave McKenna won't be so amused by a March triumph sandwiched by losing streaks.
I don't mean to say that we are currently in a land of infinite possibility and imagination. There are bad teams and good teams, and one of each was on the ice Wednesday night. But for now, before the bottom chunk of the standings have time to submerge, the games get to stand on their own. In October a thrilling win is a thrilling win, and the barely evitable outcome of the season can't take away any of the drama or the pride. The games and highlights exist in a relative vacuum. Whether it's Ovechkin and the Capitals, Trevor Zegras and the Ducks, or even, if you must, Travis Dermott and the Arizona Coyotes, watch them now if you're going to watch them at all, before the calendar flips and joy turns to ashes in your mouth.
Stay in touch
Sign up for our free newsletter