NBA
Nikola Jokic Was There When It Mattered Most
2:01 PM EDT on May 21, 2023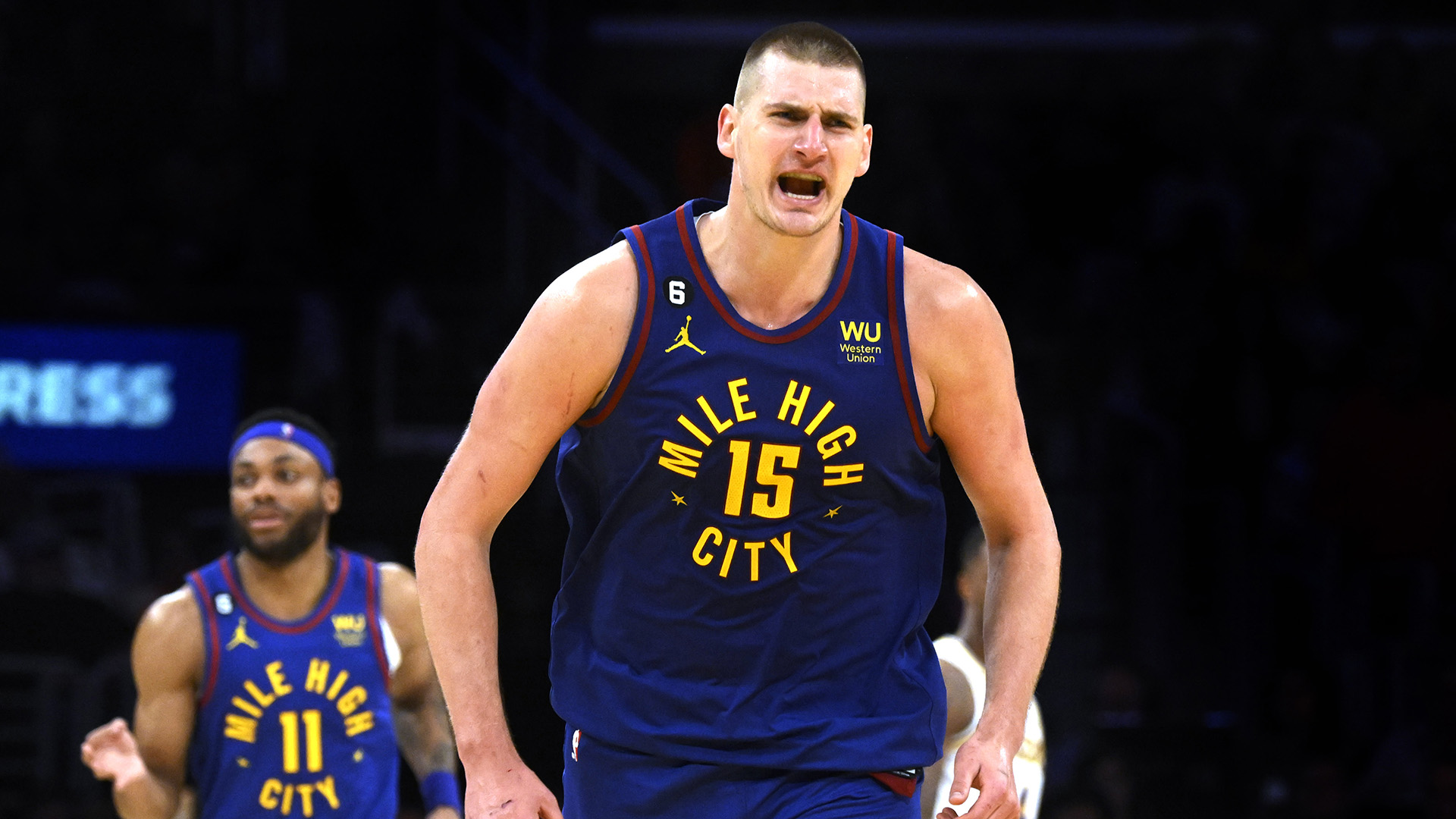 The Denver Nuggets are a team of luxury, at least relative to the remaining playoff field. No other team in the final four could afford to see its best player—a two-time MVP, even—play like something close to his worst self for three quarters and still pull out a road postseason win. And yet that's what happened on Saturday night: Nikola Jokic had a pedestrian first three quarters in Los Angeles, but thanks to Jamal Murray going off in that same time-frame, the Nuggets were in prime position to begin shutting the door on the Lakers. Murray kept Denver in it, and when Jokic finally woke up to his wonky, goofy, world-beating potential, the exhausted Lakers had nothing left to stop the inevitable.
First, let's talk about Murray. Now that Klay Thompson is merely a shell of himself, the Nuggets' 26-year-old flamethrower probably has the most potential of anyone in the league to put up a huge flurry of points. That's what he did on Saturday, scoring 30 of his 37 points in the first half on 13-of-20 shooting. With the Lakers hanging on, thanks to 15 points each from Austin Reaves and Anthony Davis, Denver could have easily fumbled Game 3 away without much cause for concern; after all, a wounded Lakers team winning at home wouldn't have been a shock. But Murray just kept hitting shot after shot after shot, and Denver took a three-point lead into halftime.
The wheels came off a bit for Denver in the third quarter, with Jokic battling foul trouble (he played only 4:26 of the third) and Murray going 0-for-5 in the period. Thanks to Kentavious Caldwell-Pope's 12 points in that frame, though, Denver still held a two-point lead heading into the fourth quarter, and that's when, finally, Jokic woke up and became, well, Nikola Jokic.
That play is emblematic of how impossible it can be to stop Jokic, particularly when he's engaging in some two-man game action with Murray. (Nuggets coach Mike Malone said after the game that the decision to run that action down the stretch was Jokic's decision, calling him "Coach Jokic." For his part, Jokic rebuked that moniker, calling coaching "the worst job on the planet for sure.") How do you stop a near-seven-footer who can take a dribble handoff from his point guard, drive into the lane, and then cut across to find the open Michael Porter Jr. for three? If these playoffs are any indication, the answer is just that you can't.
While Denver's crucial 13-0 run in the middle of the fourth barely featured Jokic on either the scoring or assisting (he only scored a finger roll right before the Lakers stopped the bleeding with their first basket in three minutes), his presence on the court, after missing so much of the third for picking up his fourth foul on a bit of a phantom call, allowed for everything Denver did on offense with its sharpshooting role players. As long as Jokic is involved in the ball movement and drawing defenders into his gravity, the stat-line doesn't matter all that much.
That's not to say the stat-line wasn't there, though. After that 13-0 run, Jokic took over to fend off any potential Lakers comeback, including the above assist to Porter Jr. that served as the final dagger, and a three-pointer with three minutes left that might have been the penultimate dagger, giving Denver a 111-101 lead that they would never get close to losing.
For the night, Jokic finished with a Jokic-esque 24-8-6, a line that anyone would be happy with, but which felt like a disappointment from the big man, at least until the final frame. The Western Conference Finals have been a lopsided mess, with the Lakers running out of steam in every game—this is (usually) what happens when a team has been playing for its life for months—while Denver simply cruised to a 3-0 lead.
Saturday's game was perhaps the best example of this, as LeBron James and company tried so hard to take and hold on to the lead in front of their home fans, only for Jokic to pull off a killer pass or hit a painful three, or simply just exist as the sun in the galaxy of this series. It feels like the Nuggets haven't been pushed to their highest level yet and that's scary news, not just for Los Angeles, which now has to try and become the first team to comeback from being down 0-3, but also for Miami and Boston, one of whom will have to figure out how to beat a Denver that can win with Jokic sleepwalking through games. For opposing teams, there might not be an answer when the rest of the Nuggets can just buy time until Jokic shows up in his playoff best. On Saturday, he woke up just in time to bury the Lakers and get one win away from Denver's first trip to the NBA Finals.
Stay in touch
Sign up for our free newsletter